Berxwedana Sedsalê ya li dijî Komploya Navneteweyî - VII
Mafê parastina rewa yê gelekî ku hebûna xwe hatiye qedexekirin, di nava hiqûqa gerdûnî û destûrên bingehîn ên neteweyî de heye. Ti saziya hiqûqê ji ber bikaranîna vî mafî nikare gelê Kurd sûcdar bike.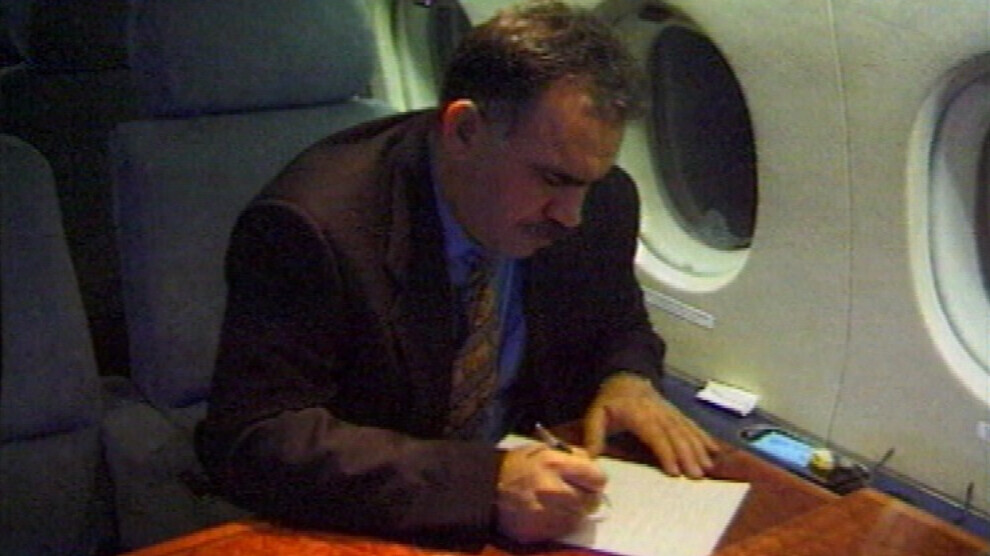 PKK'ê helwesta xwe ya agirbesta yekalî bi pêvajoya Îmraliyê re xurtir kir û vê yekê, hêzên ku bi aboriya rantê ve girêdayî ne xist nava valahiyê û derbeke diyarker li rola wan a pûçkirin û dîlgirtina welêt xist. Li gel hemû tevdanan di vê helwesta xwe de israr kir û vê yekê jî hêzên fermî û ne fermî yên reh berdan nava dewlet û civakê bê bandor kir.
Van hêzan bi biryardarî dev ji helwesta xwe ya ji bo banga li şer bernedan. Pêvajoya bihurî rûyê rast ê van hêzan eşkere kir; raxist pêş çavan bê çima dixwazin şer bidomînin û ji ber ku rola wan a di aboriya rant û nelirêtiyê de eşkere kir, ketin rewşa tecrîdkirî. Wê demê jî derfet afirîn ku pirsgirêk û rastiyên Tirkiyeyê hîn bi rengekî rast bê nîqaşkirin. Hate dîtin ku di pirsgirêka Kurd de lihevkirina demokratîk pêkane û hate fêhmkirin ku ewlekariya neteweyî ya rastî bi çareseriya demokratîk a pirsgirêka Kurd dibe. Ev rewşa ku işaret bi veguherîneke radîkal dikir, hêdî jî be rê û rêbazên çareseriya rast a pirsgirêkan derxist holê û şêweyê herî rast ê jiholêrakirina krîza ku roj bi roj kûr dibe nîşan da.
DU HELWESTÊN DIJBER ÊN LI SER PIRSGIRÊKA KURD
Yekîtiya Ewropa çawa ku pirsgirêkên Bosna, Kosova, Makedonyayê dixe rojeva xwe, pêwîste pirsgirêka herî girîng a Tirkiyeyê jî ku endamên gelek saziyên wê ne, li gorî Peymana Mafên Mirovan a Ewropayê (PMME) ji bo çareseriyê bixe rojeva xwe. Yekîtiya Ewropa heta niha bi cotstandartî tevgeriya, bi hincetên siyasî di vê mijarê de xwe ji bicihanîna hiqûqa xwe vegirt. Vê nêzîkatiyê kir ku Tirkiye di mijara demokrasî û hiqûqê de xemsar be. Piştgiriya herî kêrhatî ya ku pêşkêşî Tirkiyeyê bê kirin, bi gavên li ser mijara dewleta hiqûqa demokratîk ve girêdayî ye.
Rola ku PMME û Dadgeha Mafên Mirovan a Ewropayê (DMME) dilîze, kêm e. Tirkiye di dozên derbarê Kurdan de tenê qîma xwe bi dayina tazmînatê tîne, li gorî peyman û biryarên dadgehê di qanûnên xwe de guhertinan nake. Diviyabû hin encamên girîng ên hiqûqî yên bi hezaran dozên li ser Kurdan bihata dîtin. Diviyabû bi israr û encamgir tevbigeriyan ji bo Tirkiye kêmasiyên di hiqûqa xwe de çareser bike û hin xalên antîdemokratîk rake. Konseya Ewropa ku di vê mijarê de bi şopandin û bicihanîna biryarên DMME û PMME'yê berpirsyar e, di bicihanîna rola xwe ya derbarê Tirkiyeyê de bi xemsarî tevdigere, pirsgirêkê nabe ber destê saziyên pêwendîdar.
Li Kurdistanê nêzî 4 hezar gund û gundik hatin valakirin. Beşeke mezin a ji van bi awayekî ne qanûnî hatin hilweşandin. Ev yek ji her alî ve li dijî PMME'yê ye. Ji xwe DMME'yê li ser gelek ji dozên derbarê valakirina gundan de biryar daye. Ev yek jî bi eşkere nîşan dide ku pirsgirêk ne şexsî ye, lê gel temamî eleqedar dike ku xwedî asteke kolektîf e. Ev yek ispat dike ku pirsgirêk ji asta şexsî derketiye û gihaye asta ku çarenûsa gel bi temamî eleqedar dike. Di vê mijarê de bikaranîna bahaneya 'Terora PKK'ê li pîvanên hiqûqa demokratîk nayê. Rewşeke sosret e ku neheqiya li hebûna Kurdan tê kirin tenê di asta mafên însanî yê şexsî de bê nirxandin û bi tazmînata çend hezar dolarî bê girtin. Li PMME'yê 'mafên sê nifşên bingehîn' hatiye destnîşankirin.
DMME DIVÊ HEBÛNA GELÊ KURD BIBÎNE
DMME dema ku rewşa min nirxand, girîng e hebûna gelê Kurd û pirsgirêkên wan teqez binirxîne. Çavkaniya bingehîn a hiqûqa Romayê ku bingeha hiqûqa Ewropayê ye, hurmeta li kevneşopiya gelan, yanî hurmeta li hebûna qanûnî ye. Hiqûqa Ewropayê ya sedsala 20'an nabe ku li gorî hiqûqa Romayê ya beriya 2500 salî di pozîsyoneke paşdemayî de be. Eger bi vî rengî be hingî wê cewhera xwe înkar bike.
ÊDÎ PIRSGIRÊKEKE EWROPAYÊ YE
Ji ber ku pirsgirêka Kurd êdî bûye pirsgirêkeke Ewropayê, nirxandina min a berfireh li ser hebûna Kurdan wê rêya DMME'yê ronî bike. Ji ber şert û mercên tê de me dibe ku gelek kêmasî û şaşitî hebin, lê belê bi dîtina min; ev nirxandinên ku min nekarî di Parêznameya Îmraliyê de bikim wê valahiyekê dagire. Min hewl da li ser PKK'ê nirxandinên berfireh bikim. D hin biryarên DMME'yê de mebest ne tevahiya civata rêxistinê jî be, li ser hin sûcdariyên 'terorê' hin biryar standie. Min girîngî da wê yekê ku di parêznameya xwe de vê mijarê ronî bikim.
Ji rewşa giştî ya şîdetê heta feraseta şîdetê ya li nava PKK'ê, min cihekî berfireh da mijarê. Bi vê yekê re min hewl da hem helwesta rêxistinê ya li pêşberî şîdetê û şer, hem jî helwesta xwe eşkere bikim. Rastî ew e ku hebûna gelê Kurd ji her gelî bêhtir bûye hedefa şîdeta serdesên biyanî û derfetên pêşketineke azadiyê nedîtiye. Di dîroka şaristaniyan hemûyan de Kurdan xwe li çiyê girtine û tenê bi vî rengî karîbûne hebûna xwe biparêzin.
PKK'Ê XWEST XELEKA ŞÎDETÊ BIŞIKÎNE
PKK'ê xwest vê xeleka mezin a şîdetê bişikîne. Lê belê ji ber zîhniyeta xurt a gundî-eşîrî ya li nava civata xwe, têkoşîna çekdarî ya bi rêbaza rast a parastina rewa nekarî bi temamî bide rûniştandin. Weke ku tê zanîn, mafê parastina rewa yê gelekî ku hebûna xwe hatiye qedexekirin, di hiqûqa gerdûnî û destûrên bingehîn ên neteweyî de heye. Bikarneanîna vî mafî li derveyî hiqûqê ye. Xeta parastina rewa ya PKK'ê hem mafekî destûrî ye, hem jî wezîfeyeke pîroz e ji bo gelê xwe.
Ti saziyeke hiqûqê nikare gelê Kurd sûcdar bike ji ber ku ev mafê xwe bi kar aniye. Ya ku divê bê sûcdarkirin, ew hêz in ku şert û pêwîstiyên hiqûqa hemdem ji gelê me re nas nekirin. Di rewşeke wiha de parastina rewa yekane alternatîf e ku di dest de dimîne. Ev mafê destûra bingehînî hate bikaranîn. Heta ku mafên jêneveger û di PMME'yê de bi vekirî tê destnîşankirin neyên naskirin, heta ku hebûna gelê me bê înkarkirin û di perwerdeya zimanê dayikê de nikaribe zimanê xwe bi rengekî azad bi kar bîne, em ê heta dawiyê mafê xwe yê parastina rewa bi kar bînin ku ev yek jî li gorî hiqûqê ye.
PARASTINA REWA YA ÇEKDARÎ JÎ MAF E
Di gelek biryarên DMME'yê de jî derkete holê ku sûcdarê sereke yê di vê mijarê de, polîtîkayên dewletê ye. Ew çalakiyên terorê ne ku bi hezaran welatiyên sivîl ji aliyê çeteyên xwe ji dewletê xwedî dikin ve hatin kuştin û bi hezaran gund hatin valakirin. Terora ku li gelê me tê kirin, di dîrokê û serdema heyî de li ti gelî nayê kirin. Mînaka Helebçeyê hîn nehatiye jibîrkirin. Lewma bi şêweyê leşkerî jî be bikaranîna mafê parastina rewa, li gorî hiqûqa gerdûnî û neteweyî ya destûra bingehîn e.
DEWLET XWE NADE BER NASKIRINA PIRSGIRÊKA KURD
Agirbesta yek alî ku ji sala 1993'an û vir ve em hewl didin pêk bînin, piştî gelek qonaxan êdî bi dîsîplîneke mezin bi cih tê anîn. PKK'ê beşeke mezin a hêzên xwe yên çekdar derxist derveyî sînor û derbasî sîstema parastina rewa bû. Ji daxuyaniyên rayedarên Tirk jî ev yek piştrast dibe. Bi vê mijarê ev girêdayî, PKK'ê di kongreya xwe ya 7. a sala 2000'î de bi vekirî eşkere kir ku ew ne li pey cihêbûnê ne, bername û stratejiya xwe ya di vî warî de eşkere kir.
Di çarçoveyeke li gorî yekparebûna welat û yekîtiya unîter a dewletê de, gelek caran eşkere kir ku ew ji lihevkirina demokratîk û aştiyane ya pirsgirêka Kurd re amade ne. Ti daxwazekî zêde û giran nekiriye û nîşan daye ku ew alîgir in mafên ku di PMME'yê de jî cih digirin werin bikaranîn. Lê dewletê heta niha bi awayekî fermî bersiv nedaye vê helwestê. Dewlet xwe nade ber naskirina pirsgirêka Kurd. Xwe nade ber naskirina krîterên demokrasî û hiqûqê yên Ewropayê. Tirkiye tevî ku bernamzetê Yekîtiya Ewropayê ye, yekane welat e ku Krîterên Kopenhagenê bi cih nîne.
BIRYARA ERÊNÎ YA DMME'YÊ WÊ BANDORÊ BIKE
Li pêşberî vê rewşê, divê DMME bibîne ku PKK bi berpirsyariyeke mezin derketiye derveyî sînor û du sal in hem bi fermî hem jî di pratîkê de bi rêk û pêk di rewşa parastina rewa de ye. Pêwîste DMME teqdîr bike ku PKK'ê ji hingî ve xwe ji bûyerên terorê yên li derveyî hiqûqê vegirtiye û her tiştên xwe li gorî xeta parastina rewa ya pîroz meşandiye. Teqdîreke bi vî rengî wê bandoreke erênî li nîqaşkirina pirsgirêka Kurd li ser zemîneke rewa bike û tevkariyê li pêvajoya çareseriyê bike.
Biryarên ku dadgeh bide, ji bo pirsgirêk di çarçoveya hiqûqa demokratîk de were nirxandin hem wê bandoreke erênî li saziyên Yekîtiya Ewropayê bike, hem jî li rayedarên Komara Tirkiyeyê bike. Her wiha wê PKK'ê teşwîq bike ku pirsgirêkê li gorî pîvanên hiqûqa demokratîk çareser bike. Lewma dixwazim bêjim, biryarên ku dadgeh li ser vê bingehê bidin, wê ji bo çareseriya pirsgirêka giran xwedî wateyeke dîrokî be.
Wê bidome...
Ji parêznameyên Rêberê Gelê Kurd Abdullah Ocalan hatiye amadekirin.