Li Efrîkayê gorneke 78 hezar salî hate dîtin
Li Kenyayê dema xebatên arklojîk hestiyên zarokekî hate dîtin ku hatiye fêhmkirin ji beriya 78 hezar salî hatiye veşartin, ev jî nîşan dide ku li Efrîkayê rîtûela veşartina miriyan ji dema niha bi gelekî dûrtir diçe.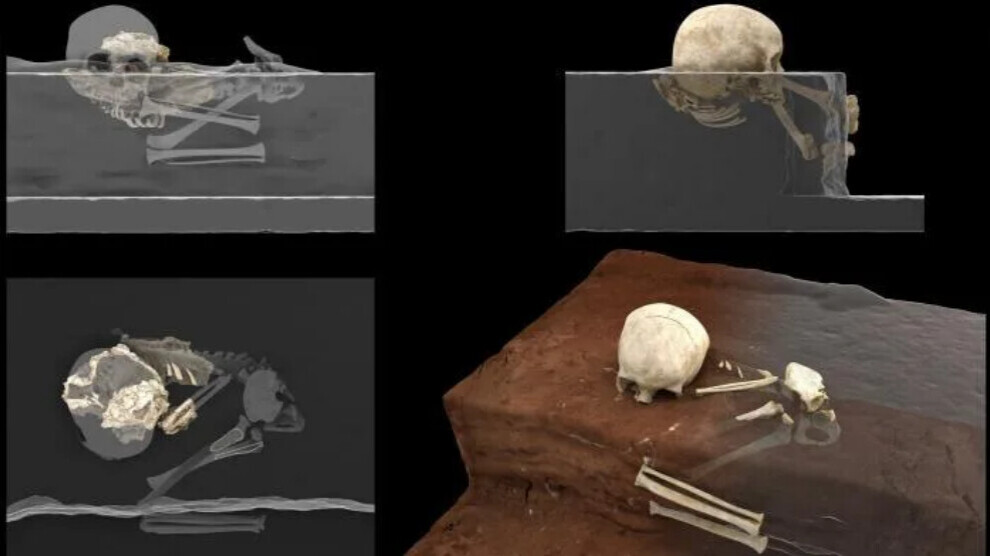 Li herêmên nêzî Okyanosa Hîndê ya welêt di kolanên arkeolojîk de ku li şikefta Panga ya Saîdî hate kirin, termekî zarokî hatibû dîtin ku demên pir berê û bi kefen hatiye veşartin.
Piştî lêkolînan hate fêhmkirin, zarokê ku bi texmînî sê salî ye, beriya bi 78 hezar sal jiyaye. Hate testpîtkirin zarokê ku navê 'Mtoto' lê hatî kirin, ku bi zimanê Swahîlî tê maneya 'zarok', endamekî koma Homo Sapîens e ku wê demê bi nêçîrvaniyê re mijûl bûn.
Di kolanan de ku 2013'an hatibû destpêkirin, hatibû fêhmkirin hin hestî û haletên ku li şikefta Panga ya Saîdî hatine dîtin, yê komeke nêçîrvan e ku serdema beriya dîrokê niviskî û sazûmaniya dewletî hatiye dîtin. Lê hate tespîtkirin, hestiyên mirovên pêşî yên li şikeftê hatine dîtin pir nazik in. Piştre dema ku bi berfirehî xebat kolandinê hatin kirin, 2017'an li kûrahiyê gelek hestiyên biçûk û ji hev belawela hatin dîtin.
Hestî pêşî weke ku yên meymûnan bin hatibû qebûlkirin ji ber ku hestî nazik biûn di nav blokê de hatibûn alçîkirin. Ji nav hesiyan direnk jê ji bo ku dişibiya yê mirovan lêkolîn hatin berfirekirin, ji bo ku bi hûrbînî li ser were sekinandin şandibûn Spanyayê. Li vir bi teknolojiya tomografiyê ew encam derket ku hestî yên mirovan e.
Hate tespîtkirin zarok 3 salî ye û ji rengê veşartina zarok ku tê texmînkirin ji bi kefenê ji nebatan an jî çerm çêkirî hatiye pêçan û veşartin.
Navenda Perasana Mirovî ya Netewî ya Spanya ku encama lêkolînê diyar kirî gihaşte wê encamê ku veşartina zarok ji bo koma ku pê re dijî 'pir girîng e'. Lêkolan bi bîr xist di gorên Homo Sapîens de bi giştî 'veşartina tîkî' heye lê zarokê ku navê 'Mtoto' lê hatî kirin, 'weke ku razayî be' hatiye veşartin û kabên wî bi rengekî ku ber bi zikê wî ve hatibin kişandin hatiye veşartin û ev balkêş hatiye dîtin. Tê gotin dibe ku ev ji bo 'dilovaniyê' be û 'demên sar birêkirine wiha be ku germahiyê dide''.
Lêkol her wiha diyar dikin ev tevger îşareta wê ye ku li Efrîkayê ji berê ve 'li cîhaneke sembolîk dijîn'. Ji ber ku heta niha li Efrîkayê pir kêm caran gorên beriya dîroka niviskî û dewletî hatine dîtin.