Xelîl: Erdogan xeteriya DAÎŞ'ê zêdetir dike
Endamê Desteya Rêveber a TEV-DEM'ê Aldar Xelîl: Em rênadin ku Erdogan bê, heta yek fedayiyê me mabe, em rê nadin bê. Erdogan bê wê xeteriya DAÎŞ'ê hê zêdetir bibe.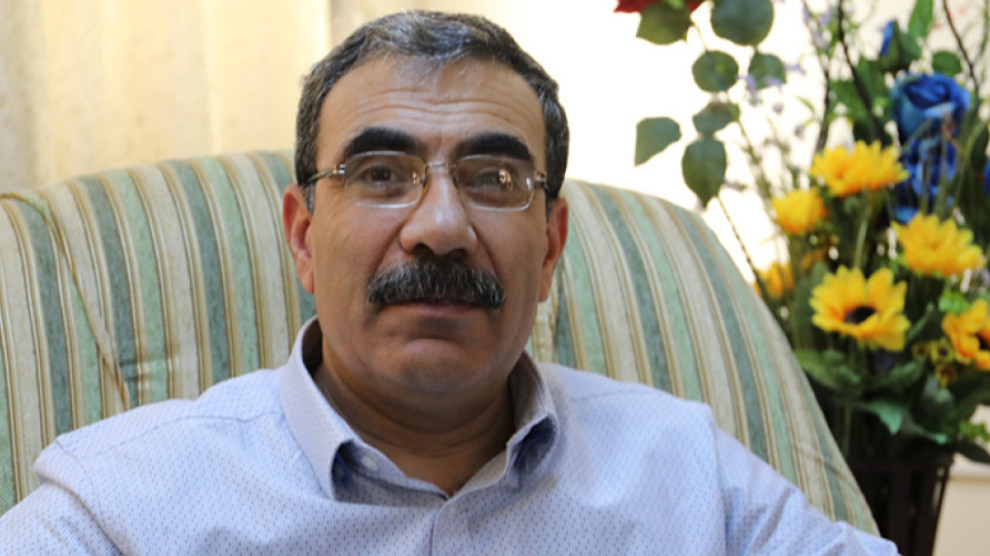 Endamê Desteya Rêveber Tevgera Civaka Demokratîk (TEV-DEM) Aldar Xelîl ê li ser ekranê Ronahî TV bersiva pirsên Mihemed Elî da, peyama heta dawiyê wê li dijî dagirkeriyê li ber xwe bidin, da.
Aldar Xelîl bal kişand ser van xisûsan:
Em di rewşeke berxwedanê de ne, berxwedana rumetê berdewam e û êrîşeke pir giran di ser welatê me de tê. Ev êrîşeke eskerî ku bi dagirkerinê derbas bîbe nine. Ev êrîşeke hebûn tunebûne ye. Ez di serî de şehîdên ku xwe feda kirin û şervanên di vê berxwedanê de jiyana xwe ji dest danê bibîrtînim, şervanên di çeperên şer de silav dikim, ji bo birîndaran şîfayê dixwazim.
Li Serêkaniyê doh bûyereke gelekî bi êş çêbû. Gelê me yê sivîl dema çûn daxuyaniyekê di destpêka Serêkaniyê de bidin, artêşa Tirk êrîşî sivîlan kir, rojnamevan û sivîl hedef girtin. Ev jî hovîtiya devleta tirk dide nîşandan. Hate xûyakirin ji bo ku daxwaza xwe pêk bînin ka pîvanên mirovahiyê çiqas derbas kirine. Ev rastiyekê dide xuyakirin; Erdogan û hukûmeta xwe biryara tinekirina kurdan dane. Êdî di pratîkê de berçav e û hewca nake em li ser biaxivin. Çawa Sekretara Partiya Pêşarojê Hevrîn Xelef li ser rê dîl girtin û paşe şehîd xistin bi rengekî hovanê û bi heman rengî doktorên Heyva Sor revandin, heta niha em nizanin aqûbeta wan çi ye, bi heman rengî li Serekaniyê êrîşî sivîlan kirin. Ev rastiya tabloyekî diyar dike; ji aliyekî ve berxwedan dewam e, me soz daye gelê xwe heta yek ji me hebe wê dewam bike û divê em bi ser kevin. Me biryar daye emê bi ser kevin, hîn şer berdewam e. Bi şewazê niha dimeşe em bawer dikin ku dewleta Tirk wê negihije armancê xwe. Lê rewşeke din heye, li vî welatî em jiyan dikin em ne bi tena xwe ne. Yên li hundirê welat, yên ji derve û yên derdor jî hene. Di nav van de emê çawa siyasetê bikin, li ser hin tiştan bidin bistinîn, xwedî rol bin? Em weke kurditiya berê nikarin bikin û bêjin ´Ev qedera me ye´. Em di nav şerekî mezin yê cîhanê de ne. Ne tenê şerekî tenê bi komekê re ye. Em jî zanibin çawa tevbigerin û destketiyên xwe biparêzin. Heta niha me 11 hezar şehîd dane, gelê me ewqas ked daye, destketiyên pir mezin çêbûne. Soza me çi ye, divê em tiştekî bikin ku ev destketiyên me ji destên me dernekevin, keda wan şehîdan û destketiyên gelê me ji dest neçe. Dema pêvajoya şerê li dijî DAÎŞê danûstaninên bi Emerîka, Hêzên Hevpeymanê heta radeyeke hebû, sûd hat wergirtin heta radeyeke û siyasetek hat meşandin. Ev jî destketiyek bû.
Bi Rusan re heta pêvajoya Efrînê tekîlî hebû. Rûsan bi Efrînê re helwesta xwe guherandin. Dunya şahîd bû ku çawa teslîmî tirkan kirin. Li vir Rus, Emerîka, Hêzên Hevpeymanê, rejîma Sûrî, komên çete, Tirk û em hene. Di rewşeke weha de di bin êrîşê de ku herkes dixwaze te tine bike êşa destpêkê ewe ku tê çawa gelê xwe biparêze be. Berê me rexnedayînek da û tim jî em di bin êşa wê rexnedayîne de ne. Di Efrînê de me got emê çawa gelê xwe biparêzin lê şêwazê parastinê, qewet şer jê derxist. Gotin bila tiştek bi gel neye. Me nehişt li ser gel bombebaran çêbibe, lê bajar çû. Di nav têkoşînê de rewş tên guhertin. Ji ber vê divê em zû tevbigerin. Weke qedereke em jî bêjin an reş an sipî nabe. Emê encama keda şehîdan vî gelî bipêrizin û ji bo çareseriyê jî divê em reyeke vebikin.
Biryara NY ya 22/54 dema derket gotin bila destpêkê li Surî lihevhatinek çêbibe ji bo çareseriyê. Lê nikarîbûn pêk bînin.
Me jî gelek caran got em amade ne ji bo îttîfakê lê wê demê ne rejîm ne jî yên pişta wê digirt qebûl nekir. Niha rewşeke nû derket. Rewşek ne li gorî dilê rejîmê, ne Rus, ne hêzên navnetewî ne jî me ye. Ev jî çi ye? Erdogan êrîş kir. Erdogan ne tenê ye û hêzên li pişta wî de jî hene. Lê ya girîng êrîş pêk hatiye û dibêje kî çi bêjê bila bêje ezê ya xwe bikim. Ev tê nişandan ku wê biryara parçekirina Surî hatiye standin û biryar ewe ku gelê kurd û tevî gelê din were tinekirin hatiye standin. Madem biryarek weha hatiye standin, divê em binêrin bê emê vê çawa pûç bikin.
Ji rewşa Efrînê cudahî hene. Di Efrînê de tenê Rus hebûn, hêzên navnetewî hebûn, refleksên niha yên pêk tên kesî diyar nedikir û pêkhateyên din yên bi me re jî li wir tine bûn. Cografyaya wê jî cuda ye. Lê li vir Hêzên Koalîsyonê hene, berê herkesî li ser vê herêmê ye. Rusya dixwaze xwedî rol be û Hêzên Koalîsyonê lewaz bike. Rejîm ji sedî 60 di destê rejîmê de ye, dixwaze bêje ez heme. Ya girîng em jî dixwazin ji bo dagirkerî çênebe gelê xwe biparêzin û vê bikin bingehek ji bo em bi hev re rûnin. Di vê firsendê de em li hev rûnin gaveke piçûk be jî ev dibe destpêkek. Ev destpêkê, ne peyman e.
Xalê vê lihevkirinê nîne, ne îttîfake ke. Her yek tiştên cûda dibêje. Em dibêjin sînorê vî welatê di bin tehdîde de ye, em naxwazin parçe bibe. Me got eger naxwazin parçe bibe parastina sînoran erka paytextê ye. Peymana navnetewî jî vê dibêje. Rêveberiya Xweseriya Demokratîk jî di peymannameya xwe de dibêjê ku parastina sînorê welat erka hikûmeta navendî ye. Rejîmê digot parçebûnê dixwazin, divê nekin. Me jî got em vê naxwazin were sînorê xwe biparêze. Armanca me ya biryara ku rejîm hêzên xwe li sînor bicîhbike çi ye? Yek; bi navê Şamê divê hêzêk hebe. Ji ber li NY ew nûnertiya Surî dikin. Eger li sînor eskerên xwe bicîh bikin ev di NY de tê wê wate ye li vir jî parçebûn nîne û serweriya Surî tê diyarkirin. Eger dewleta tirkiye tevî vê jî êrîş bike, wê demê tê wê wateyê ku êrîşî serweriya Surî dike.
Em bi tirs û fikar in ku dibe ku rewşeke weke Efrînê jî çêbibe. Ji bo vê jî em hesabê dikin. Em nikarin bêjin Rûsan soz da û qediya. Rûs rast e soz dane me. Rûs jî di nav hevdîtinan de hebûn. Lê ev jî hewldaneke. Me jî got bila hêzên rejîmê were ser sînor, biparêze. Hemû cîhan dît ku me got. Eger soza xwe pêk anîn tiştekî baş e, nekirin jî em berxwedana xwe dewam dikin. Di warê dîplomasiyê de jî gavekî li pêş e. Di aliyekî de nabe weke Efrînê, lê di aliyekî din de dibe ku berovajî bibe. Ew çi ye? Di dema Efrînê de hêzên rejîmê hatin lê Rusya ev qebûl nekir. Vê carê Rûsan ban kirin, hatin li vir rêveberî dîtin û çûn. Rûs ji aliyekî ve gotin erê, emê ji tirkan re bêjin ji bo li rejîmê nexin. Eger soza xwe pêk bîne, mecbûr e biçe qada balafiran bigire. Lê tiştekî din heye, wê Hêzên Koalîsyonê û Emerîka qebûl bikin?
Divê em ti carî xwe sist nekin û nebêjin vaye me bi rejîmê re îttîfak kir, Rusan jî soz da û êrîş çênabin. Me hewldanek kiriye, li kêleka berxwedana gelê me gavekê dîplomatîk avêtiye; ev pêk hat baş e, lê pêk neye wê karê me, berxwedana me berdewam bike. Erdogan cara din ji bo Efrînê bi dest bixwe her tişt dan wan. Niha jî belkî dîsa bi Rûsa re bazare bikin û li ser wê tiştekî din ji Erdogan bigirin. Lê Rusya naxwaze plana Tirkî pêk were. Ji ber dizanin eger plana dewleta Tirk pêk were evder bikeve destê tirkan wê biçe. Erdên vir pir dewlemend e û debara Sûrî li ser vir e.
Hêzên Koalîsyonê jî ketine taye xwe de. Ji ber ku me di masê de kaxez tevlîhev kir, kes li benda vê nebû. Îttîfak li ser rewşa rêveberî û bajaran nehatiye kirin. Berê jî me gotibû ji bo sînoran îttîfakên me çêbibin, lê rejîm qebûl nedikir. Niha jî ne mecbûrî be qebûl nedikirin. Rewşeke awerte ye ku nêrînên herkêsî biguherîne. Me got werin sînoran biparêzin li hin cihan rêya ku bikaribin werin jî nîne. Di navbera Minbic û herêmên di destê dewleta Tirk de li çend cihan bi cîh bûne. Lê bi rastî me kariba sînor bi wan mîsoger kiriba baş bû.
Yanî me wezîfeya xwe kir, êdî gok (top) di qada wan de bila Rus û Emerîkî di navbera xwe de çareser bikin. Li ser navê wan em nikarin biryarê bigirin. Bila rayagiştî ya Areb û cîhanî bizane em naxwazin erdên Surî werin dagirkerin. Ya din dibe mesaleya wan.
Berê Emerîkiyan daxuyanî dane û gotine ez têkîlî sînor nabim û Tramp jî got îşê min ji wan nîne. Rusya jî dibêjin karê min tine. Eger neyên tiştekî were guhertîn nîne. Ji xwe Erdogan bombabaranê dike û gelê me di nav berxwedanê de ye. Lê bi vê biryara me girtiye di nav cîhanî de wê helwestê hîn erênî pêşbikeve. Kes nikare bêje wê şaşîtî kiriye. Me gaveke weha neavêtiba belkî gelê me jî rexne bikira. Herî kêm me gavek bi vî rengî avêt.
Li gorî ku me li hev kiriye, ji Dêrîkê heta Serê Kaniyê, ji Girê Spî heta Kobanê û Minbicê divê em ala Sûrî deynin û bêjin li vir eskerên Surî hene. Deverên şer ne di bin parastina wan de ye. Dema serweriya Sûrî li van herêman çêbibe, tenê li herêmên ku şer lê hene wê şer dewam bike. Di vir de eger em fêde ji vê îtîfakê bigirin û ezman li balafiran were qedexekirin, Rusya soza xwe pêk bîne wê demê em dikarin li vir lêxin. Ya girîng ku em li ser axivîn; em çawa Efrîn rizgar bikin. Me got em Efrîn rizgar bikin, werin sînorê Efrînê jî bigirin. Em tiştekî ji wan naxwazin, ne sîlah ne jî hêzên eskerî dixwazin, tenê bila ezman li firîna balafiran qedexe bikin, rê ji me re vekin, emê Efrîna xwe bigirin. Lê ev bi çend rûniştina naqede, girêkeke mezin e. Hîna pêvajoyeke diyalogê di pêşiya me de heye. Ji niha û pê ve emê hewl bidin îttîfaqê pêş bixin. Emê hewl bidin rejîmê bikşînin wî xetî ku vê rêveberiyê qebûl bike. Wê tekîliya vê rêveberiyê û Şamê çi be, were qebûlkirin, cihê wê di destûra Sûrî de çi be? Hin caran ev mijar bi salan dewam dike. Di hundirê vî welatî de em dixwazin Reveberiyeke Demokratîk bi sîstemekê navendî pêk were. Ev jî bê guman wextekî dirêj dixwaze.
Heremên ku di bin destê QSD de wê di bin kontrola QSD de bin. Tiştê ku me li hev kiriye tenê xeta sînor e. Berê me gotibû bila meclîsên wan bajaran werin sazkirin û ew biryara xwe bidin. Ev biryara gelê li wir e. Lê divê em şer derbas bikin û bi rengekî azad tevbigerin. Wê demê em karin li ser gelek mijaran nîqaş bikin.
Em ti carî dagirkeriya Tirk naxwazin. Emê fêde ji vê îttîfakê an peymanê bigirin ku li ti cihekî dagirkerî nemîne. Derdê me, armanca me serekê Efrînê, lê divê Cerablus û Bab û herêmên din yên hatine dagirkirin jî werin rizgarkirin.
Berê ji me re digotin divê di rêveberiya wê de kurd tenê hebin, lê me ev qebûl nekir. Dema rêveberiyek ji neteweyên cuda be wê demê rewş diguhere, ev dibe sîstemek û ew cuda ye. Di mijara Raqqa û Derazorê de dixwazin em bi Rojava re kîlît bikin. Lê dema em gelên din dixin navê dibê sîstemekê demokratîk û di vir de divê rewşa kurdan jî were nîqaşkirin. Sîstema vê ya demokratîk divê ne tenê ji bo kurdan, ji bo ereb, suryan û hemû netewên din. Ev dibe rewşeke din. Çareseriyê pirsgirêka kurd di hundire Suriyeke demokratîk û di nav vê de ye. Divê di nav herêma xweseriya demokratîk ya heye û di nav rêveberiya ku çêbibe, mafê gelê kurd bi rengekî esasî û sereke bide meşandin.
Di hevdîtinan de ji bo em rêveberiya xwe mîsoger bikin divê em hewl bidin. Sîstemekî di nav hev de û aleqaya xwe di nav hev de dikare pêk were, lê hîn pir zû ye em bahsa wê bikin. Sembolên welat yên giştî divê hebe. Ala Sûrî kû were qebûlkirin çi be emê rakin li cihê ku pêwîst dike. Lê îttîfaka niha ku çêbûye tenê li ser mijara sînor e û divê ti kes xeyalan neke. Niha sîstema rêveberiyê çibe wê weha dewam bike, di dema pêş de di hevdîtinan de her du alî daxwazên xwe bînin ziman. Ev herêm di warê av, petrol û çandiniyê de herêma herî dewlemend e. Rejîma Sûrî jî naxwaze ji destê wê biçe. Naxwe tiştek di destê wan de namîne.
Pir kesan hesabên cuda dikirin, digotin Emerîkî li vir in û teslîmî tirkan nakin. Digotin Emerîka ji bo Îranê bi hêz neke, eskerên xwe wê li vir bihêle. Hesap dikirin ku Erdogan tenê li kurdan bixe û lê têmaşe bikin. Lê Erdogan dibêje ezê herêmê bi tevahî bigirin. Dema Erdogan li NY nexşe çêkir û got ezê vê temamî bigirim, herkes fêmkir û ev herem di hedefê de ye. Tramp jî dît ew cîdî ye û nexwest xwe tekîl bike.
Kesekî ku garantiyê bide ku ev rewş berovajî nebe nîne. Rus soz dan, lê weke kurd dibêjin em nikarin di dewsa wan de sund bixwin. Le fêdeyeke vê heye, Ereb tevahî dibêjin we tiştekî baş kiriye û encamên baş derkeve. Bi vê yekê wê hevalbendên me zêde bibin. Gelek kes li kelake me helwest nîşan dan di vê pêvajoyê de û piştgiriya wan zêde bibe. Komên çete yên bi Erdogan re, Katar û Tirk tenê wê acîz bibin. Yên din wê helweste erênî nîşan bidin.
Lê Emerîka got hun pirsgirêka xwe çareser bikin, karê me qediya û çû. Îhtîmal heye di navbera Emerîka û Rusya de nakokî zêde bibe. Piştî me ev biryar girt belkî dibe sebep îttîfaka wan jî xira bibe, lê ev pirsgirêka wan e.
Divê em misoger bikin ku Erdogan naye, heta yek ji me sax be em nahêlin. Erdogan bihate xetereya DAÎŞ zêde biba. Lê niha di girtîgehan de ne. Ji bo dadgeheke navnetewî çêbibe, vegerin welatê xwe bi NY û saziyên din re, bi Ewrûpa re em biaxivin em dikarin nîqaş bikin û bikevin nav hewldanan.
Erdogan ji ber hat şaneyên DAÎŞ derketin, lê bi vê gavê wê gelek tişt biguherê. Lê bê guman dîsa jî xetereya wê heye.Divê gel rêxistinkirî be
Misogerî û bingeha serketinê ji mîlletekî rêxistinkirî tê. Jiyana xwe rêxistin bikin, kes ji agahiyên nerast bawer nake. Jiyana wan rêxistinkirî be tevlîhevî dernakeve. Lê ev nebe yek derewek bike wê tevlîhevî derkeve. Heta diz li taxên ku nerêxistinkîrî agahiyên şaş belav dikin ji bo diziyê bikin. Divê gel hişyar bê û bawer neke.