Yên ku di xeta PKK'ê de dixwazin bibin xwedî jiyanekê...
Jiyana exlaqî nîşanadana hêza tevlîbûna bi îradeya azad û zîhniyetê ya li rêbaza hebûnê ya civaka mirovan îfade dike. Yên ku bi rastî jî dixwazin bibin xwedî jiyaneke di xeta PKK'ê de divê vê hêza exlaqî raber bikin.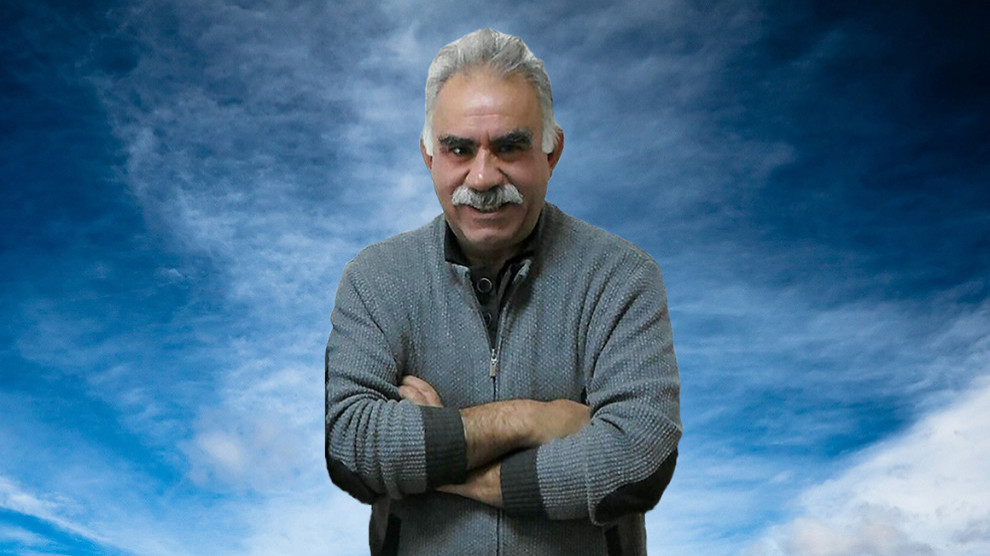 VEJÎNA DESTPÊKÊ
Jiyana xwe ya şexsî û rêxistinî bi sê serdeman dikarim destnîşan bikim. Serdema destpêkê, li ser bingeha 'civakîbûna xwe bi xwe ava bikim' bi têkoşîna min a bi dayika xwe re dest pê kir. Bi helwesta min a li hemberî malbatê û gund re piştî destpêkirina dibistana seretayî bi pêş ket.
Destpêkirina dibistanê gava destpêkê ya cidî bû têkildarî dewletbûnê. Kesayet ji civaka komunal ber bi civaka dewletperest ve gava veguherînê diavêje. Bi bajarbûnê re dimeşe. Nirxên bajar li gorî nirxên komunal ên bejahî serdest tê dîtin. Hîndekariya li dibistanên navîn û serertayî, karmendî û xwendina li zanîngehê amadekariya destpêkê ya ji bo bûyîna mirovekî dewletê ye. Di vî temenî de kesayetiya bajar-dewletê bi rengekî hişt bi her kesî re serdest dibe. Paşdehiştin û rewşa gelê bindest li dijî dewletê vediguhere nerazîbûnê. Sempatîzaniya çep, ji bilî lêgerîna li dewleteke adil, wekhev û tevlîkar nayê wateyek cuda. Kesayet di vê demê de bi rengekî giran ji têkiliyên civakî yên kevneşop hatiye qutkirin. Civaka bejahî ya komunal a dayiksalarî û civaka qewmî, bi giranî hatiye înkarkirin; li şûna wê kesayetekî marjînal ê ku xwe înkar dike, xwe biçûk dibîne, dewlet û bajar mezin mîna perestgehê dibîne, bi rengekî çavgirtî ber bi sîstema fermî ve dibeze ava bûye, komkujiyeke trajîk a kesayetiyê pêk hatiye.
VEJÎNA DUYEMÎN
Serdema duyemîn jî bi ceribandina avakirina koma îdeolojîk a serbixwe dest pê dike, ku vê carê ji civaka bûrjûva û dewletê qut dibe, hewl dide sîstema xwe ya siyasî û civakî ya hemdem ava bike. Civakîbûna destpêkê bi zarokan re jiberkirina duayên olî û çûyîna dibistana seretayî bû, civakîbûna duyemîn jî bi xwendekarên zanîngehê re li ser bingeha îdeolojiya neteweyî û çep pêk hat. Li dijî nirxên kapîtalîzmê û şovenîzma netewetiyê, her çend hewldanek lêgerîna li cewhera xwe ya civakî hebe jî, tevgerên çep û neteweyî ne di wê astê de bûn ku normên jiyana kapîtalîst ji holê rakin û dûrî pêkanîna van armancan bûn. Ev pêvajoya ku mirov dikarin jê re bêjin qonaxa yekemîn a PKK'bûnê, di cîhana dijwar a 1970'î de mîna pelekî li ber bê diket. Bi qasî ku ji cîhana kevneşop qut bû, bi nirxên kapîtalîzmê re jî nebû yek.
Bi lêgerînên teorîk û pratîkî wê bihata xwestin ku civak û welat ji nû ve bê keşifkirin. Modaya çep a li gelemperiya cîhanê dihate şopandin. Êdî fikrekî me yê serbixwe heye. Koma me ji aliyê hejmar ve jî bi pêş dikeve. Îhtimala bicihatina vê hewldanê bilind bû. Mîna kurmikekî ji hêlîna xwe derket, dema ber bi derveyÎ welat ve gav avêt, wê qebûl bikira ku bi rengekî aqilane dest bi serdema jixwebaweriyê û ciwantiyê kiriye. Hêvî diafire ku utopya pêk were. Baweriya ji piştgiriya komî ber bi piştgiriya gel a girseyî wê xurtir bibûya. Hêza çekê nas kir, koma gerîla ya tevgera neteweyî ya hemdem perwerde kir, biçek kir û gihîşt bilindahiya welêt ku xwegihandina wê zehmet e. Dor hatiye pêngaveke nû ya dîrokî.
Beşa destpêkê ya vê demê ku di navbera salên 1972-1984'an a jiyana min bû, ji gelek aliyan ve hêjayî nirxandinê ye. Dikare jê re pêngava hişyarbûna gelê Kurd a li serdemê jî bê binavkirin. Raperîna destpêkê, fîşeka destpêkê ya li qedera kor hatiye xistin jî dikare jê re bê gotin. Weke qîrîna namûs û rûmetê jî dikare bê nirxandin. Weke çalakiyeke dişibe çalakiya destpêkê ya serketî ya Hz. Dawûd a li dijî Golyat, dikare bê watedarkirin. Weke yek ji gavên destpêkê yên ber bi wêrekiya azadiya fikrî jî dikare bê dîtin. Weke pêngava qutbûna ji normên koledariya bi kok a hezaran salan jî dikare bê nirxandin. Demeke watedar e, ku şensê xwe yê serketinê kêm jî be xwedî ked û baweriyê ye û ji nû ve afirandina paradîgmayê ye.
Beşa duyemîn a serdema duyemîn a jiyana min di navbera 15'ê Tebaxa 1984-15'ê Sibata 1999'an e. Ev pêvajoya ji panzdeh salan pêvajoyeke bêhempa ya têkoşîna çekdarî ya pêngava PKK'ê ye. Mirov dikarin bişibînin komên Babek, Harîcî, Karmatî û Hasan Sabbah ên dîroka Rojhilata Navîn. Di beşa destpêkê de Îsewîtî giraniya xwe hebû, di beşa duyemîn de giraniya Mûsewîtî û Mûhammedî heye. Ji bo koma muhaciran a bi zorê dimeşin, ku wezîfeya gihandina xaka diyarî wan hatiye kirin ji wan re hatibû dayin, ked û hunereke mezin divê. Gihandina komê çalakiya Hz. Mûsa tîne bîra mirovan, çalakiyên şer jî çalakiyên Hz. Mûhammed ên li Medîneyê bi bîr dixînin. Rewşeke welê ya baweriyê hebû. Di asta mumînî de bi baweriyê dilsoz e. Sosyalîzma zanistî bi hêza îmanê tê birêvebirin.
Şer çalakiyeke pîroz e. Mirov, şexs dibe hîç, lê armanc dibe her tişt. Bi zorê mirov pê dihese ku bi nexweşiya desthilatdariyê ya dîrokê ketiye. Taybetmendiya herî berbiçav jî fedakirina her tiştî bi baweriya 'tişta herî pîroz çalakî ye'. Ya rast, nirxê herî pîroz jiyan e. Lê li şûna ev yek bê destnîşankirin, bi baweriya 'Armanc her tişt e, jiyan ne tiştek e' di asta fanatîzmê de kesayetek derdikeve pêş.
Serdema duyemîn a jiyanê ji ber ku li dora dewletê bû, ji ber ku taybetmendiyên sekna demokratîk a komunal ji dest nehatibû berdan, bi nakok bû. Encama wê jî wê têkoşîna navbera van nakokiyan diyar kiribûya. Komploya 15'ê Sibata 1999'an di heman demê de darbeya mirinê ya li beşa ber bi dewletê bû. Eger dewletperestî û partîperestiya berê xwe li dewletê ye nexweşî be, wê demê darbeya ku dewletên cîhanê yên kapîtalîst di 15'ê Sibata 1999'an de li min dan di heman demê de derman û rola destpêkirina vejîna sêyemîn bû.
VÊJÎNA SÊYEM
Dema sêyemîn a jiyana min, eger wê jê re û cewherê wê re jiyan were gotin, em dikarin ji 15 Sibata 1999'ê heta qonaxa dawî ya bigihîjê, veqetînin. Taybetiya vê demê ew e ku bi giştî navend dewlet e, lê bi taybetî bi veqetîna ji jiyana hemdem dest pê dike. Ez dîsa li jiyana kovî venagerim. Ezê neçim hezar sal berê. Lê eşkere ye, hin nirxên bingehîn ên mirovatiyê di wan deman de veşartî ne. Ew dema mirovatiyê ku bi hezar dekûdolab û zordestiya şaristaniyê hat qutkirin, heta bi asta zanistî-teknîk negihîje hevdu, wê azadî û rizgariya rastîn a mirov nebe.
Veqetîna ji jiyana navend dewlet û şaristaniyê paşveçûyîn nîne. Berovajî, eger mirov ji xwezayê bibe û ji kesayeta îqtîdarê ya bi derew û xwînê werimiye, negere belkî jî ti car negihîje jiyaneke têkûz. Berê mirovatiyê ji civaka nexweş ber bi civaka bi tendurustiyê, ji civaka tengavkirî, obez û ji hawîrdorê qutbûyî ya mîna kanserî bibe zêde bûye bajarî ber bi civaka ekolojîk, ji civaka dewletdar a ji serî heta binî totalîter û otorîter, ber bi civaka komîn a demokratîk û civaka azad-wekhev e. Eger mirov karibe xwe ji çanda nêçîrvaniyê ya rê li ber komkujiya heywanan vekir, şaristaniya rê li ber komkujiya mirovan vekir û bi awayekî zincîrwarî rê li ber felaketa xwezayê vekir xilas bike, dibe ku mirovatî ji bo jiyaneke nû çirkînî bi derî bixîne. 
Kesayeteke bi exlaq û polîtîk a bi heywan re bûye dost, bi xwezayê re li hev hatiye, bi jinan re jiyaneke xwe dispêre mêzîna hêzê ya bi aştî, azad-wekhev û eşqê parve dike, hêza zanist û teknîkê ji lîstoka şer û îqtîdarê derdixîne, bi qasî hêza Enkîdo dikişand bajêr û bi dewletê ve girê dida, min jî dikişîne û bi mane dibînim. Ji sedî sed ez behsa hesreteke bi sedema girtîhê hatiye afirandin nakim. Ez behsa raman û paradigmayeke mezin a rûhî dikim. Ez ji helwesta kategorîk, ji perestbûna hêza mezin, ji serdem û jiyanên di bin lekeyên xwînê yên şaristaniyê de mîna stêrkan dibiriqin, bi rastî ez hem bêzar bûm û hem jî nefret dikim.
Min di dema zaroktiyê de ji ber çanda nêçîrê ya ketibû genên min jî min serên çivîkan bêperwa qut dikir û bi qurnazî ew zevt dikirin. Ez bi lêborîna xwe ya ji wan heywanên min li wan daye, dixwazim dest bi dema nû ya jiyana xwe bikim. Bi bîrûbaweriya min, şahî û bexteweriya mezin ne li qesir û bircên mezin, li bin mekanên mîna holikan ên bi keskayî hatine xemilandin dibe. Ez bawer dikim ku mirov li hemû reng, deng û maneyên xwezayê guhdarî bike û pê re bibe yek, wê karibe xwe bigihîne dilpakî û fezîletê. Ez bawer dikim, pêşketina rastîn bi avakirina bajar û otorîteya îqtîdarên mezin nîne, berovajî, ew çavkaniyên nexweşiyên mezin in; tevî vê yekê ne gundê berê û ne jî bajarê nû, bi agahiyên herî dawî yên teknîk û zanistê cihûwarê ekolojîk avakirin û lê jiyan şoreşeke rastîn e. 
Ev qabîliyeta teorîk û îdeolojîk ku min nîşan daye, bi du awayan mumkîne hevalbendiya wê were kirin: Yan bi awayekî ji dil, samîmî û bi nefspiçûkî, yan jî bi awayekî têgihîştî û bi hewldaneke xurt bi cewherê wê yê teorîk û qabîliyeta wê ya îdeolojîk re tevlîbûn dibe. Di PKKê de nirxên giranbuha di serî de Hakî Karer, Kemal Pîr, Mazlûm Dogan, Xêrî Dûrmûş û Mahsûm Korkmaz bi hezaran hevalî ev her du şêwaz di zikhev de bi ahengekê û tevlîbûnekê meşandine. Ev tevlîbûna cewherî heta dawiyê ew kirine xwedî helwesta herî qehremaniyê. Li hemberî vê yekê, kesên ji dil tevlî nebûn, bi nefspiçûkî nêzîk nebûn, têra xwe nedan hewldanên teorîk û îdeolojîk timî hilkumîn, carnan komên ehbab çawiş ava kirin û carnan jî wek komên tasfiyeker û meylên çetewarî ber bi bayê ketin. Kesên li hêza zêhniyetê ya bingehîn serwext nebin, jê re rêz negirin, bi dilnizmî û performanseke xurt a teorîk tevlî nebin, zehmet e em bi wan re di zêhniyeta hevpar de bigihîjin hevdu. Di vir de ya divê tevlî bibin zêhniyeta bilind e. Naxwe rêdana zêhniyeta paşverû ji rê derketin e.
Ez bawer dikim ku şaristaniyên mezin ên di navberê de jî goristanên mirovatiyê ne. Ez bawer dikim ku eger meşek ji bo paşerojê bibe, li ser hîmê rastiyan be, wê watedar û hêjayî meşê be Eger mirov xwe ji şaristaniya çînî ya dewletparêz û hîyarerşîk qut bike, ev  xwerexnekirineke mezin e. Ez bawer dikim ku ezê di vî warî de bi ser bikevim. Ez pir dixwazim, ez tevlî zarokatiya mirovatiyê, dîroka gelan û kedkaran a dane ji bîrkirin, cîhana wekhev-azad a utopyayên jin, zarok û pîrên zarok bibim û serketinê li wir bi dest bixim.
Ev hemû utopya ne. Lê carnan utopya di nav avahiyên mîna goristanan de bexteweriya bi tenêne ji bo rizgarkirina jiyanê. Bêguman di roja me ya îro de ji nav avahiyên ji goristanan jî wêdetir beriya her tiştî gavavêtinê bi utopyayan bibe. Rewşa min naşibe ya ti mirovan. Ez naxwazim bişibe jî. Li gorî ku ez baş fêm dikim û his dikim, ez li ser rêya rast im. Mirovekî his û mane wî bide jiyîn ew mirovê herî bi hêz e. Ji sedî sed ezê wî gunehê xwe şibandina mezinan nekim. Jixwe min pir nexwest bişibim û ji min jî nehat. Rabirdûya mirovatiyê hînê rastîn e. Ezê jê re bi hurmet bim û ezê li wir li jiyanê bigerim bibînim û ji nû ve bidim destpêkirin. Paşerojê ji kar anîna van hewldanan zêdetir tiştekî din nebe. 
Kürt Halk Önderi Abdullah Öcalan'ın 'Bir Halkı Savunmak' adlı kitabından derlenmiştir.
Ji pirtûka ''Parastina Gelekî' ya Rêberê Gelê Kurd Abdullah Ocalan hatiye berhevkirin.