Avesta: Yekîtiya gelan wê faşîzma AKP-MHP'ê têk bibe
Avesta destnîşan kir ku HDP ji bo çareseriya pirsgirêkan û demokratîkbûnê xwedî projeyên mezin e, lewma derbasbûna ji benda hilbijartinê têrê nake û got, "Divê rêjeya 15 heta 20 ji sedî weke hedef deyne ber xwe."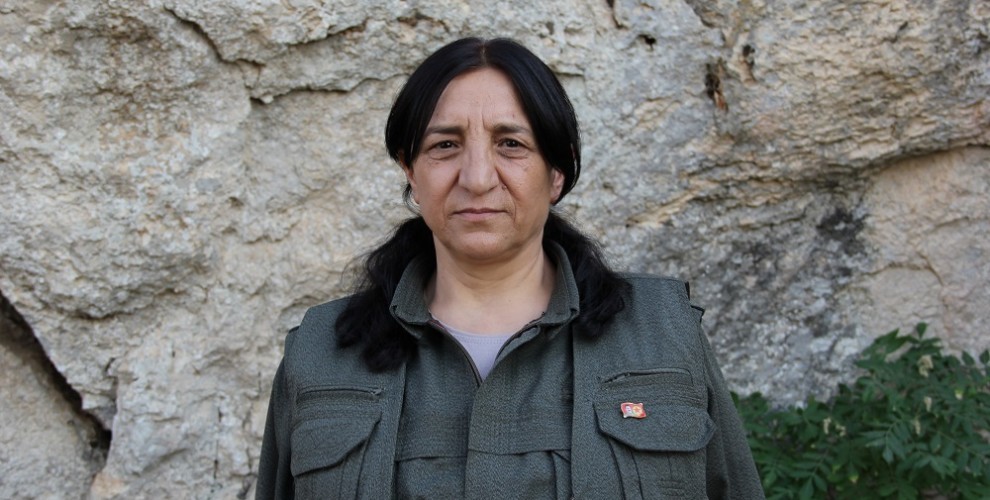 Endama Konseya Serokatiya Giştî ya KCK'ê Sozdar Avesta hilbijartinên li Iraqê, rewşa Başûrê Kurdistanê û Şengalê, hilbijartinên li Tirkiye û Bakurê Kurdistanê yên 24'ê Hezîranê nirxand.
Hûn rewşa heyî ya siyasî çawa dibînin û şîrove dikin?
Em di meheke girîng de ne. Me sê peşengên azadiya jinê di meha Hezîranê de şehîd dane. Her sê hevalên jin israra xwe ya di felsefeya azadiyê de nîşan dan û raxistin pêş çavên me bê berdêlên azadiyê çiqasî giran in û têkoşîn divê li ser kîjan pîvanan bê dayin. Hezkirina xwe di jiyana azad de nîşan dan û ji bo hemû gelan bûn ronahî. Di şexsê Gulan(FÎLÎZ YERLÎKAYA) û hemû şehîdên pêngava 1 Hezîranê de em hemû şehîdan bi rêzdarî, bi hurmet bi bîr tînin û li ber bîranîna wan bi rêzdarî bejna xwe ditewînîm. Ew di têkoşîna me de her tim rêya me ronî  dikin. Hemû pirsgirêkên heyî, bi terzê xwe û jiyana xwe û dilsoziya xwe çareser dikirin. Li ser vê esasê dilsoziya xwe bi vê minasebetê pêşkeş dikim. Em di pêngaveke gelek gîrîng a dîrokî re derbas dibin. Gelek caran li ser vê yekê nîqaş hatin kirin. Li ser van tên rawestandin. Wekî ku tê gotin di Rojhilata Navîn de şerê cîhanê yê 3. dewam dike. Ev tespît cara yekê ji aliyê Rêberê me Rêber Apo ve hate kirin. Beriya niha çend salan bi pêş dîtînên xwe got; em di rewşekê şerê 3. ê cîhanê de ne. Destketiyên bi hezaran şehîdên me, berxwedana gelê me ya li hundir û derveyî welat hişt ku li Rojhilata Navîn encamek bi dest bikeve. Niha hêzên dagirker, hêzên hegonomîk carek din dixwazin van destketiyên gelan li hev parve bikin. Ji bo wê jî hevsengî carek din tên destnîşankirin. Hêzên deshilatdar carek din vê parve kirinê li gorî berjewendiyên xwe dikin. Her wiha hevdîtînên Astana, Soçî ku têne dewamkirin, hevdîtînên Amerîka û koalîsyonên NATO'yê, êrîşên Îsraîl li ser gelê Fîlîstînê, nakokiyê li Îsraîl, her wiha ambargoyên ku niha carek din dixwazin li Îran bikin, mirov dîbîne ku Rojhilata Navîn di nav nakokiyên pir kûr û germ re de ye. Ji bo vê jî dema mirov mêze bike yê ku van nakokiyan çareser bike û bibe wesîleya ku gel bi hev re di nava jiyanekî hevbaş de bijî xwediyê vê persektîfa konferalîzma demokratîk Rêber Apo ye. Di rewşa niha de modernîteya demokratîk û netewe-dewlet di nava şer de ne. Yê ku van planên wan berovajî dike û nahêle bigihêjin armancên xwe, her wiha nahêle ku gelan li gor berjewendiyên xwe bikar bînin û listokên wan pûç dike, Rêber Apo ye. Ji ber vê yekê li ser Tevgera Azadiyê jî êrîşên pir dijwar hene, hevsazkirin û parvekirinên nû û cografya yê Kurdistanê heye. Bi vî rengî mirov dikare bêje ku careke din navenda şerê sêyemîn ê cîhanê, Kurdistan e. Yên ku dixwazin cardin bikin qurbanê berjewendiyên xwe gelê Kurdistanê û bi gelê Kurdistanê re, gelê azadîxwaz in, gelên demokratîk in, gelên ku li hember pergala serdest in. Li ser van gelan lîstok têne meşandin. Yekîtiya van gelan ava kirin, bi hemû awayî li ser konfederalîzma demokratîk û yekîtiya gelan, her wiha bi rêveberiyê xwecîhî were pêşxistin wê van lîstokan tevahî xira bike û çareseriyeke bingehîn biafirîne.
RÊBER APO DI NAVA TECRÎDA GIRAN DE TÊKOŞÎNA XWE BI RENGÎ BÊHEMPA DIDOMÎNE
Di rewşeke wiha de, hûn tecrîda giran a li ser Rêberê Gelê Kurd Abdullah Ocalan çawa dinirxînin?
Tecrîda giran a li ser Rêber Apo bi sala ye dewam dike. Hişmendiya modernîteya kapîtalîst, netewe dewlet, alternatîfa Rêber Apo li pêşiya xwe weke astengiyê dibînin. Rêber Apo çil sal in li Rojhilata Navîn li dijî vê hişmendiyê têdikoşe. Tekoşîneka avakirina yekîtiya gelan, afirandina vîna gelan, vîna azad a jinê, avakirina neteweya demokratîk, li hember dabeşkirina xak û erdnîgeriya gelan, pêkanîna yekîtiya gelan weke tekoşîneke bingehîn ji xwe re esas digire. Bêguman ev yek ne tenê sedema tecrîdê ye, her wiha sedema girtina Rêber Apo ye. Dibe 20 sal ku Rêber Apo li Girava Îmraliyê girtî ye û sê sal û nîv e di nava tecrîdeke şidandî de ye. Bi vê yekê re dixwazin paradîgmaya ku Rêber Apo ji bo tevahî gelê Rojhilata Navîn pêşkêş kiriye bi encam bihêlin. Bi vê yekê dixwazin bidin nîşandan ku yê li hember pergala wan derkeve wê bi vî rengî lê bê kirin û dixwazin di vî alî de çavê gelan bitirsînin. Bi hemû awayî dibêjin kesên ku li hember hişmendî, pergala wan, deshilatdariya wan û berjewendiyên wan derkeve wê berdelên giran bidin. Bêguman sedemên xwe yê cuda jî hene. Bi taybetî bi esareta Rêber Apo xwestin tevgera azadiyê tine bikin. Xwestin ku Rêber Apo li hember tevgera azadî bikar bînin. Xwestin vîna wî bişkînîn û li gor berjewendiyên xwe li hember rêxistinê bikar bînin. Li hember vê yekê Rêber Apo bi vîna xwe ya azad, bi sekin û berxwedaniya bêhempa ya serdemî bi hemû awayî bi zanist û felsefeyeke nû ya mirovî afirand û di nava wê hucreyê de komployon heyî hemû pûç kir. Tevgera azadiyê hîn zêdetir li ser raman û felsefa Rêber Apo bi peş ket, mezin bû, asta heremî derbas kir û li tevahiya cîhanê û gerdûnê belav bû. Ji ber vê sedemê dibînîn ku nikarin tevgera azad tine bikin, tecrît zêdetir giran dikin. Rêber Apo bi pêşdîtînên xwe, bi fikrê xwe bi afirandina paradîgmayeke nû pergaleke nû afirand, lîstokên wan hemû pûç kir û berxwedaneke bi rêzdarî, berxwedaneke bi rûmet li girava Îmraliyê 20 sal in dike. Ev sê sal û nîv e hîn bi dijwar dewam dike û em bi munesebeta vê sekna Rêbertiya xwe bi rêzdarî silav dikin. Em bawerin ku ev ruhê Rêber Apo û felsefa azad a Reber Apo afirandiye bi hemû awayî îro li her çar beşê Kurdistanê û derveyî welat ji bo azadiya xwe û azadiya Rêber Apo ku azadiya Rêber Apo azadiya xwe dibînîn, her wiha azadiya jinan û ciwanan û ya tevahî gelan azadiya baweriya dinirxînin, li ser vî esasî Rêber Apo ne şexseke ku di hucreyekî de tengav bikin û hepis bikin. Rêber Apo di dilê milyona kesî de îro tekoşîna xwe didomîne. Ev armanca dagirkeran û daxwazên wan pêk nehatiye û nikarin encamên ku dixwazin jî pêk bînîn.
EFRÎN JI BO GELÊN ROJHILATA NAVÎN MODELEKE ÇARESERIYÊ BÛ
Êrîşên li ser Efrînê weke dewama komploya navneteweyî û êrîşên li dijî avakirina neteweya demokratîk hatin nirxandin. Di nava şerê sêyemîn ê cîhanê de hûn rewşa Efrînê û êrîşên li ser destketiyên li Rojavayê Kurdistanê çawa dinirxînin?
Niha bê guman êrîşên li ser Efrîn dewama komploya navdewletî bû. Ev komplo li ser gelê Kurdistanê bi salane dewam dike. Bi gotina Rêber Apo hêzên dagirker tim siyasetek wisa meşandin ku dibejin 'kîvroşkê bireve, tajî bigre'. Dîsa jê re digot 'xefika Kurd'. Bi vî rengî careke din piştî şerekî pir dijwar û li tevahî Rojavayê Kurdistanê, Başûrê Kurdistan û li Şengalê dîsa heya sînorê Îran û Lubnanê li hember çeteyên DAÎŞ'ê hêzên Kurd şerekî bê hempa kirin. Bi xwe re gelên din xistin nava liv û tevgerê, kirin ku li ber xwe bidin. Li Rojavayê Kurdistan û Bakurê Sûriyeyê ji van gelan hêzeke hevbeş a parastinê ava kirin. QSD ava kirin. Meclîsa demokratîk ya Sûriyeyê (MSD) ava kirin. Her wiha federasyona Bakurê Sûriyeyê wek modelekê nîşan dan. Bi her awayî berxwedaneke mezin nîşan dan û tenê bi xistina çeteyên DAÎŞ'ê bi sînor neman, her wiha alternatîfa jiyaneek azad afirandin û nîşanî tevahiya cîhanê dan. Ev raman îlham da hemû gelan, bi taybetî Efrînê serkeşiya vê dikir. Herêmeke bi hêza xwe bi têrkirina xwe, xwe bi spartina hêza xwe, rêveberiya xwe esas girtin û bi armanca xweseriya demokratîk rêveçûyin û bi aboriya xwe Efrîn wek modelekê bû. Xwedî taybetmendiyê kantonekê bû. Bi van taybetmendiyê xwe 6 salan şoreşa azadiyê pêk anî bû. Bi rengekî pir xurt jî nûnertiya vê yekê kir û modela vê danî holê. Ji ber vê yekê hêzên dagirker xwe li vê yekê negirt, taybetî dewleta faşîst a Erdogan, faşîzma AKP û MHP'ê li ser Şoreşa Rojavayê Kurdistanê li hev kirin. Di salên derbasbûyî de jî xwestin tevgera azadiyê bi şêwazên cur be cur tasfiye bikin. Gelek zext li Rêber Apo kirin ku bi rêya wî tevgera azadiyê tasfiye bikin. Di van hemû kiryarên xwe de encam ne girtin, wek encameke dawî dîtin ku şoreşa Rojava ji bo wan metirsî ye. Wek noqteyekî lewaz ji xwe re dîtin ku Efrîn ji kantonên din weke cografîk qut e. Zêdetir sînorên Tirkan nêzî Efrînê bû. Dîsa rejîma Îran, Sûriyeyê heta Rûsya tê de cih digre. Mirov dikare bêje ku Efrîn weke giravekî bû. Di vê giravê de xwestin bifetisînin. Dewleta faşîst a Tirk bi van hêzan re li hev kir. Dewleta Rûsyayê di dirokê de cara çenda ye ku li hemberî gelan xayintiyê dike, rûreşiyê dike. Mînaka vê yekê li Mahabatê, di salên derbasbuyî de li hember şoreşa gelan komplo û xayintiyê kir, li Efrîn jî carek din ketin nava berjewendiyeke bi gemarî. Bi dewleta faşîst a Tirk re li hev kirin. Dewleta faşîst jî tenê ji bo cîhekî wek Efrîn bi dest bixin, her tiştekî xwe pêşkeşî Rûsyayê kir. Di bingeha vê hevkariyê de bazara xwe çêkirin. Li ser Rojavayê Firatê, bi taybetî li ser Efrîn bi desteka Rûsya û çevgirtina rejîma Sûriyeyê, êrîş birin ser Efrînê. Berî pêvajoya Astana, Soçî li ser bingeha van meşandin. Her wiha Efrîn xistin navendekê têkbirinê. Yên êrîşî Efrînê kirin ne tenê dewleta Tirk a faşîst bû. Hêzên komploger li ser berjewendiyên xwe li hev kirin û planeke bi dest xistina Efrînê afirandin. Pîştî 58 rojan berxwedaneke mezin a dîrokî ku wek berxwedana serdemê hate binavkirin, rêveberiya Efrîn ji bo ku êşên mezintir û qetlîamên mezintir rû nedin û ji bo ku gel zirarê mezintir nebîne biryara vekîşîna gel dan û xwe paş de kişandin. Bi xwe kişandinê re çûn herêma Şehbayê û niha di şert û mercên giran de dijîn. Dewleta faşîst niha jî di Efrîn de xirabiyê mezin dike. Dişewitîne, nirxên mirovahî tune dike, hemû berhemên dîrokî bi erdê re dike yek, cihên pîroz ên Elewiyan û Ezîdiyan hemû diteqîne, cihê şehîdgeha tune dike û hewl dide de ku demografiya Efrînê biguherîne. Li hember vê jî berxwedaniyeke mezin li Efrînê heye. Ev berxwedan bi dawî nebûye û ket nav pêvajoyeke nû. Ev gel li Şehbayê her roj di nav çalakiyê de ye. Dibêje an ez ê bi rûmet û serbilindahiya xwe bir rengê xwe ez ê vegerim Efrînê an jî dagirkeriya Tirk li wir be em venagerin Efrînê. Her wiha wê ti caran dewleta dagirker a Tirkan li Efrînê nemîne û wê xwe di wir de bi cîh neke. Kes destûra vê nade, gelê Efrîn di vê biryardari yê de ye û dîsa rêveberiya Rojavayê Kurdistanê bi hemû derfetê xwe hewl dide careke din derfetên vegera li Efrînê biafirîne. Efrîn bûye îlhama hemû gelan. Mirov çawa dikare li hember dagirkeriyê li ber xwe bide û nehêlin ku xeta faşîst a dagirker bi ser bikeve, mînaka vê yekê li Efrîn derkete holê.
DI VAN HILBIJARTINAN DE ENCAM ÇI DIBE BILA BIBE PARTIYA PADÊ DI DILÊ GELÊ XWE DE CIHÊ XWE GIRTÎ YE
Li Başûrê Kurdistanê û tevahiya Iraqê hê jî alozî û nîqaşên li ser hilbijartinên 12'ê Gulanê dewam dikin. Ev yek bandoreke çawa li gelan bi taybetî li Şengalê dike?
Tiştên ku me ji bo Rojavayê Kurdistanê û Sûriyeyênirxand, heman tişt ji bo Iraqê û Başûrê Kurdistanê jî derbas dibe. Li hemû herêman pêvajoyeke nazik heye. Hîn hevsengî nehatiye rûniştandin. Hêzên ku di nava hevsengiyan de bûn, li gorî berjewendiyên xwe, cihê xwe çêkiribûn. Iraq bi xwe jî ev çar sal e bi DAÎŞ'ê re di nava şerekî mezin de bû. Pîştî ku Reqa rizgar bû, êdî li Sûriye û Iraqê pêvajoyeke nû dest pê kir. Li Iraqê jî bi rizgarkirina Mûsilê re û bi dawîkirina DAÎŞ''ê re em baş dizanin ku wê demê hêzên Başûrê Kurdistanê bi taybetî PDK û rejîma Iraqê bi xwe jî, hêzên ku li Iraqê hin tiştan bi dest xistibûn, xwestin wane bi şêwazekî din mayin de bikin. Wê demê meha Îlonê li Başûrê Kurdistan, referandûmek çêbû. Referandûmekî ji bo xweseriya Kurdistanê. Tevî hinek hişyarî hatin dayîn, ji hêla tevgera me û ji hêla Serokê me bi salane ev hîşyariyê ku dibeje netewe dewlet ne çareserî ye, çareseriyeke demokratîk pêwîst e. Lê guh nedan van hişyariyan. Di encamê de pîştî referandum, mudelexeyek li ser Kerkûk û navendên din ê Başurê Kurdistan hat kirin. Her wiha erdên ku ji destê DAIŞ hatibûn girtin carek din ket bin kontrola Iraqê. Bêyî ku li ber xwe bide, bê ku helwestek bê dayîn, teslîm kariyek li wir hate kirin. Di serî de ev radestbûyîn di aliyê PDK û YNK'ê de hate kirin. Vê yekê dewleta Iraq û hevalbendên wê ji xwere weke serketinekî dîtin. Li ser van esasan hilbijartin hate kirin. Wisa hesabindin ku Ebadî careke din bibe serokwezîr. Lê ev yek çênebû û li Başurê Kurdistan encameke cuda derket holê. Partiya Ebadî bû partiya sêyemîn. Partiya yekemîn Nuqteda Sedr bû. Ya duyemîn Hadî Amîrî bû. Di van encaman de gelek guman hebû. Hîle, dek û dolab çêbûn. Ev encam nehatin qebûlkirin. Ji %56 ne çûn ser sindoqan. Tenê rêjeya tevlîbûnê % 44 çûn ser sindoqan. Rewabûyîna van hilbijartina bi xwe jî pirsgirêkekî mezine. Di encama van hilbijartinan de gelek îtîraz û ne rihetî derket. Niha tê gotin ku wê deng carek din bi dest werin jimartin. Dibe ku ev yek bi xwe re hinek tiştan biguherîne. Bêguman bandor ne tenê li ser Şengal, bandorê her hilbijartinek li ser gelan tê çêkirin. Ji ber ku her hilbijartinekî bi xwe re pergalekê diafrîne. Ji ber ku partiyên siyasî di Rojhilata Navîn de pergalekê bi xwe re çêdikin. Em di faşîzma AKP-MHP'ê de jî dibînin ku partî xwe dixin şûna dewletê. Ne welatê demokratîk in ku pergalek bi vî şêwazî were rûniştandin. Kevneşopiyeke ku derketiye holê, partiyên siyasî li gorî xwe dikare bi hemû awayî şêweyekî bide dewletê û bide siyaseta demê. Ji ber vê yekê bandora wê li ser Şengal bi xwe jî di dema pêş de wê zêdetir derkeve holê. Di Şengalê de jî qeysî ku me şopand, Partiya Azadiya Demokratîk (PADÊ) di Şengalê de yekemîn derket. Tevî ku partiyeke nû bû. Salek bû, bi awayekî fermî hatibû qebûlkirin û ji % 80' ê gelê wê hîna koçber in, ne li ser xaka xwe ne. Her wiha gelê ku vegeriyaye Şengalê hîna gelek ji wan nasnameya wan nîne. Navê wan li lîsteya dengdêran nehatiye qeydkirin. Ji ber ku xweseriya Şengal bi xwe jî nehatiye pejirandin ev yek bi xwe jî di ketina hilbijartina de alozî bi xwe re anî. Ji bo vê hêzên deshilatdar li hember PADÊ hîle dek û dolaban kirin ku nikaribe bi ser bikeve. Tevî vê yekê li Şengalê partiya yekemîn PADÊ bû. Lê qasî em dizanin li Başûr û li Başîka hîle kirin. Niha kotayeke di destê Ezîdiya de hebû, partiyekî bi serketiye. Eger ji bo berjewendiya gelên Êzidiya tevbigerin, bêguman ferqa xwe nîne. Lê em dixwazin vê bêjin, çi dibe bila bibe, hikumet kî dibe bila bibe pêwîste xweseriya Şengal bibînin. Şengal ne weke ti bajarekî din ê Iraqê ye. Çar sal in xwe ji xweliya xwe ji nû ve bi rêxistin kiriye. Ev civak êdî xwedî parastin e, ev civak xwedî xizmetguzariyê ye. Ev civak xwedî pergaleke perwerde ye. Ev civak xwedî pergalekî çandî ye. Her wiha xwedî meclîs û rêveberiyê ye. Ev hilbijartin û encamên ji xeynî hilbijartinê jî, kî mafê civaka Ezîdî bide, kî mafê gelan bide, bi gelan re di nava diyalog û danûstandinê de be, wê gel jî heman nêzîkatî bide nîşandan. Di vê hilbijartinê de çi encam derkeve bila derkeve lê partiya PADÊ di dilê gelê xwe de cihê xwe girtiye. PADÊ encameke baş bi dest xistiye. Her wiha PADÊ bi hemû awayî di hemû karê xwe de dikare vê ji xwe re bike karekî bingehîn û dikare vêya bidomîne.
DIVÊ GEL DI 24'Ê HEZÎRANÊ DE BI ENCAMÊN XWE, DAWÎ LI FAŞÎZMÊ BÎNE Û KREDIYA AKP XILAS BIKE
Li Bakurê Kurdistanê û Tirkiyeyê di 24'ê Hezîranê de hilbijartinên pêşwext û zordar tên kirin. Çima AKP'ê biryara hilbijartina pêşwext da? Tifaqa AKP-MHP'ê wê bi xwe re çi bîne?
Niha li gorî nêrîna min, çareserkirina pirsgirêka Kurd li Bakurê Kurdistanê ye. Bakurê Kurdistanê navenda mezin a têkoşînê ye. Dewleta faşîst a AKP û MHP di înkar kirin û îmha kirina gelê Kurd de israr dike. Yê ku nahêle Kurd bibe xwedî îrade, bibe xwedî mafê xwe, dewleta faşîst a Tirkiyeyê ye. Hişmendiyeke wele ye ku mafê Kurdan li ku derê be pêwistiyê erîşkirin û tinekirinê dibîne. Di salên derbasbûyî de çawa ku îsyan hate kirin û ev îsyan bi xwînê, bi kuştin û komkujiyan rawestandin, niha di derketina tevgera azadî de jî heman tiştî dixwazin pêk bînîn. Bi sekna mezin, bi ruhê tolhildanê ku ji 78' û vir ve bi rengekî fermî hat avakirin, her wisa berî wê jî bingehek hatibû avakirin. 45 sal in li Bakurê Kurdistan û Tirkiyeyê tekoşîneke azadiyê heye. Maskeya li rûyê faşîzmê xist, gelek partiyên siyasî bi armanca tinekirina tevgera azadiyê hatibûn ser hikume têk çûn, ew bi xwe tine bûn. Tifaqa faşîzma AKP-MHP'ê jî encamê ku ji wan hemûyan derxistine, bi hemû awayî bi teknîka pêşketî dixwazin van desketiyên gelê Kurd tune bikin. Êrîşên wan komple ye. Erîşên wan li ser Rêber Apo ye. Êrişên wan li ser tevahî gerîlayê azadiyê ye. Ji Herêmên Parastinê yên Medyayê heta  tevahî Bakurê Kurdistanê hemû di nav êrîşekî hovane de ye. Di Başurê Kurdistanê de jî serî de PDK û YNK pê re di nav hevpeymanekî de ne. Herî dawî daxuyaniya berdevkê PDK'ê Sefîn Dizayî tam bêrûmetiyekî mezin li hember tevgera azadiyê da diyarkirin. Sedemê ketina Başûrê Kurdistan û dagirkirina xaka Başurê Kurdistanê bi hebûna PKK'ê ve girê da. Dinya tevahî vêya baş dizane ku eger berxwedana PKK'ê nebûya û ewqes mewziyên azad nebûya, dewleta faşîst wê li Silêmanî, li Hewlerê li Selahattîn li gorî kêfa dilê xwe bigeriya. Ji xwe lê digere, lê wê hîn zêdetir xwe bi cih bikira. Me dît 25 Îlonê li hember referandumê yê herî zêde destpêkê tankê xwe ajot deriyê Xabûrê dewleta Tirk bû. Dewleta Tirk tankên xwe birine ber wan. Yê tifaq bi Îran û Iraqê re çêkir dewleta faşîst a Tirk bû. Niha wekî ku ev tişt tevahî çênebûne adeta tevahî xaka Başurê Kurdistanê pêşkeş dikin. Tenê bi pêşkêşkirin re namînîn dikevin pêşiya wan, ajantiyê dikin û muxbîrtiyê dikin. Wan li erebeyên xwe siwar dikin û diçin mewzî mevzî li gerîla digerin. Dewleta Tirk bi van kiryarên xwe dixwaze li Bakurê Kurdistan û Tirkiyê vîzê bistîne. Qetlîama ku li Roboskî kir, qetlîama Pirsûsê, qetlîama Enqereyê, qetlîama Amedê û herî dawî rêveberiya xweser li Şirnex, Cizîr, Gever, Nisêbîn, Hezex, Kerboran, Sûr a Amedê li her cihekî ku faşîzmê û qetlîamên mezin pêk anîn, destê xwe xistin xwîna ciwanên Kurdistanê, cenazeyê dayika bi roja li kolana hiştin, ku dayikeke wek Taybet, li kolana ma. Her wiha weke ku van kiryaran tevahî nekiriye tevdigere. Ev jî têr nekir êrîşê Efrînê kir. Li wir li gelê me komkujî kir, bi sedan zarok, jin û ciwanan şehîd xist, bi hezaran mirovên Efrînê neçariyê koçber kir. Bi dehan zarok parçe parçe bûn. Bi faşîzmekî bê sînor Efrîn dagir kir. Niha êdî dixwaze tevahî Bakurê Kurdistan tevahî Başûrê Kurdistan bi vî rengî dagir bike. Lê di dîrokê de jî hatiye dîtin ku ti rejîmekî faşîst li ser piyan nemaye. Ew ê tê de bifetisin. Eger rejîma zext û zorê rejîma xwe berdewam bikra Hîtler wê berdewam bikra, Musollonî wê berdewam bikra, Çarlikê Rusya wê berdewam bikra. Sadam wê neketibûya. Bi van faşîzman xuya ye ku kesek bi ser nakeve. AKP û MHP dizanin ku ber bi tinebunê ne, bi xwe re tevgera azadî û deskeftiyên Kurdan jî dixwazin tune bikin. Ji xwe di li hevkirina li Efrînê de aboriya wî ya di qeyranê de ye, pirsgirêkên ku li Bakurê Surî û Tirkî berdewam dike û ev du sal in Tirkî bi qanûnên awarte bi rêve dibe. Her wiha bi yek alî, bi zextekî dixwaze biçe hilbijartinê. Lê wekî ku xuya dike di vê hilbijartinê de encamê ku dixwaze wê bi dest nexîne û pêwîste bi dest jî nexîne. Ji bo li bin bikeve ev yek firsendeke dîrokî ye. Ji bo vê gelê Kurdistan, gelê Tirkiyeyê, ji bo jinan, ji bo ciwanan, hêzên demokratîk ê azadixwaz divê neyên vê lîstokê. Weke ku tê zanîn gelek endamên HDP'ê girtîne, namzetê wê yê Serokkomariyê girtî ye. Bi dehan wekîl girtine. Ev yek hemû ji bo hilbijartin dezavantiyek e. Pêwîste gel vê yekê bibîne û valatiya heyî bi kar û xebatê xwe bikaribin dagrin. Nebêjin em rayê xwe bidin jî em bi ser nakevin. Nebêjin em nikarin birez Selahattîn Demîrtaş ji zîndanê derxînin. Gel divê bi xwe bawer be. Bi têkoşîna xwe ya çil salî bawer be. Jin divê bi xeta azadiya jinê bawer be. Dîsa modela ku HDP'ê afiriye pêwiste baweriya wan hebe. HDP modela hevgirtina gelê Kurdistan û gelê Tirkiye. Modeleke ji bo tevahî gelan pêşkeş dike. Bawerî jî bi vê heye. Faşîzm jî dixwaze vê yekê bifetisîne û têk bibe. Armanca AKP'ê ya ji hilbijartinên pêşwext ew e ku tenê ji bo vîze bistîne û çar penc salê dinê emrê xwe dirêj bike. Ger AKP'ê di van hilbijartinan de jî serkeve wê tiştekî cudatir ji dema bohrî de çênebe. Wê hîn xirabtir bibe, wê qetlîam zêdetir pêşbikeve û şerekî dijwar bi hemû awayî wê berdewam bike. Yê dixwazin pêşiya van kiryaran bigrin divê hilbijartin ji xwe re weke firsendekê bibînin û jê re bêjin êdî bese. Em jî di wê baweriyê de ne ku gelê me vîze nede AKP'ê û li hember wî serî rake. Faşîzm li Bakurê Kurdistan û Tirkiye êdî tiştekî ku nekiriye nemaye. Ji vê wêdetir tuneye. Krediyê xwe xilas kiriye. Bi dawî hatiye. Tiştekî din yê ku nû bike nîne.
NEXŞERÊYA KODARÊ WÊ JI BO TEVAHÎ GELAN BIBE RÊYA ÇARESERÎ
Li Îranê pirsgirêkên nav xweyî, hem jî bi tekiliyên derve re pirsgirêkên amborgo heye. Li hember vê yekê KODAR'ê nexşerêyek pêşkeşî Îranê kir. Gelo ev nexşerê ji bo gelên Rojhilatê Kurdistan û tevahî gelên Îran çareseriyeke çawa tîne?
Niha pirsgirêkê Îranê jî weke pirsgirêkê parçeyên din ên Kurdistanê, pirsgirêka sereke çareserkirina pirsgirêka Kurd e. Ev dewletên dagirker li ser Kurdistanê hetanî vê pirsgirêkê çareser nekin, li xwe mukir neyên, li xwe nezivirin, di nava xwe de guhertineke demokratîk nekin, bi Rêber Apo nekevin nava diyalogekê, bi hêzên navxweyî re li hev neyên, nakokî xilas nabin. Ev ji bo Îran bi xwe jî derbasdare. Li Îran hem pirsgirêkê azadiyê, hem pirsgirêkê aborî hene. Pirsgirêkê wekheviyê heye. Hem jî Îran rejîmekî antî demokratîke. Her wiha pergaleke îdamê ye. Rojê bi dehan kes diçin ber sêdarê. Di nava xwe de problemê Îran hene. Temsîla xetekê dike. Heman demê problemê Îran bi derva re jî pir mezine. Nakokiyê Îran bi Amerîqayê re tenê nîne. Bi Îsraîlê re heye. Bi Tirkan re hene. Bi hêzên din re hene. Di heman demî nakokiyê Îran di nav xwede heye. Li şûna ku navxweyî çareser bike tim dikşîne derve û dixwaze li derve çareser bike. Şerekî wiha li derve dike. Ji bo vê pêwîte Îran di nava xwe de, bi hêzên alternatîfê heyî pirsgirêk çareser bike. We mînak da, KODAR ji bo pirsgirêkên Rojhilatê Kurdistan û tevahî Îran nexşerêyeke weşand. Ev rê nîşaneya çareseriyeke di cihê xwe de ye. Parçekirinê ji Îranê naxwaze, guhertineke demokratîk pêşkeş dike. Azadiya gelan pêşkeş dike. Hevbeşbûyînê, jiyana bi hev re pêşkeş dike. Îran pêwîste di nava xwe de pêngaveke reforman ya demokratîk pêşkeş bike. Ger Îran di nava xwe de bi gelan re û bi hêzên alternatîf re têkeve nava diyalog û danustandinê, dikare bi derve re jî ji bo tevahî pirsgirêkan bibe modelekî çareseriya demokratîk. Heta niha şêwazê ku pêk aniye ji wana dûre. Di nav xwe de bi ti awayî îradeya gelan nas nake. Wekheviyê nas nake. Zêdetir hêzeke hegomonîk e. Niha li Sûriyeyê di nava rejîmê de bêhtir Îran û Rûsya, rejîmê rêve dibin. Îran bi xwe li wir wek aktorekî ye. Li Iraqê aktoreke. Dîsa di welatên din ê kendavê de tesîra xwe heye. Ev jî, hêzên Koalîsyonên Amerîqa û Îsraîl ji bona xwe weke tehdîtekî dibinîn. Bi salane jî ev nakokiyên wan berdewam in. Cih bi cih amborgoyê datînin. Ji derve de îzole dikin, cih bi cih jî ji derve pêre dikevin nav diyalogekê. Ev pêvajo jî ji bo Îranê pêvajoyekî bi vî rengî ye. Li ser vî esasî pêwîste Îran pêngavên pêwîst baveje û di vî milî de ev berpirsiyartî herî zêde dikeve ser milê KODAR'ê. Dikeve ser milê KJAR û dikeve ser milê rêxistin buyîna tevgera jinan. Herwiha tevahî gelê Îran û Rojhilatê Kurdistan dibê bi vê erka xwe ya dîrokî tevbigere û ji bo pêşxistina van pêngavan bi rola xwe ya girîng nêz bibe. Ev wê bêhle ku guhertinên demokratîk di Îranê de pêşbikeve. Ji bona wê di dema pêşiya me de qeysî xuya ye Îran him bi hêzên hindir ya nav xweyî, him jî bi hêzên derve re nakokiyên xwe zêdetir bibe. Ji bo çareseriya vê yekê jî pêwîste alternatîfên heyî yên ku xwedî perspektîf û xwedî çareserî ne, pêwîste xwe amede bike û bi hevre ev pirsgirêkên heyî çareser bike û bi hemû awayî ser bixîne.
DI PROJEYA HDP'Ê AZADIYA GELAN, WEKHEVÎ Û DEMOKRATÎBÛNA CIVAKÊ HEYE
Em careke din li hilbijartinên li Bakurê Kurdistanê û Tirkiyeyê vegerin. Dengdanê li Ewropayê dest pê kir. Banga we ji bo gelên Bakurê Kurdistanê, Tirkiyeyê û dengdêrên li Ewropayê çi ye?
Tiştê yekemîn ku ez bêjim mijara jinê pir girîng e. Têkoşîna xeta azadiya jinê ya li Bakurê Kurdistan û Tirkiyeyê bi berdelên giran destketiyên ava kirin. Faşîzma dewleta Tirk dixwaze van destketiyan tune bike. Êrîş bir ser pergala hevserokatiyê. Weke tê zanîn hevserokê berî yê HDP'ê di girtigehê de ye. Parlementerên HDP'ê yê jin, şaredar, kesên ku bi şewazekî aktîf kar dikirin û rola xwe hebûn, vane hemûyan girtin û xwestin derbekê li xeta azadiya jinê bixinîn. Têkoşîna azadiya jinê ji nedîtî ve hatin û hewildan belav bikin. Her wiha asta têkoşîna jinê ya demokratîk, zanista wê û xebatê ku gihandiye astekî, rengê jin ku derketiye holê, xwestin tasfiye bikin û derbekê li vê xetê bixînîn. Ji bona vê jî di van hilbijartinan de barekî giran dikeve ser milê jinan. Helwesta jina di vê de gîrîng e. Di vê meha hezîranê de 17 mehê hevrê Sema gihaşt şehadetê. hevrê Sema Yuce li zindana Çanakkaleyê li hember faşîzm û xiyanetê, her wiha li hember hemû curê xiyanet û bê têkoşînbûyîna ku dixwastin rê li ber vekin, li hember vê yekê hevrê Sema çalakiyeke fedaî ya pir mezin kir. Di wir de çi got; 'Ez dixwazim di navbera gelê Tirk û gelê Bakurê Kurdistanê bibim pirek ji agir'. Bi rastî jî, jin li Bakurê Kurdistan pêwîste di navbera gelan de yekitiyekî ava bikin, pireke ji agir, pireke ji jinan ava bikin. Di van hilbijartinan de jî banga min û nêrîna min ew e ku hemû jinên azadîxwaz, yê ku ji bo tekoşîna azadiyê xwedî israr, îdea û biryar in, yên ku xwedî projeyeke mezin in. Yê berxwedêr, jinên femînîst divê di nava projeyê HDP'ê de bibin yek û li dora parlamenterên HDP'ê kom bibin, nehêlin ku li ser azadiya wan listok were lîstin. Bi tekoşîna xwe dikarin van lîstikan pûç bikin. Serketina AKP û MHP'ê tinekirina destketiyê jinê ye. Divê ev yek were dîtin. Ev 15 rojên ku li pêşiya wan maye dibê weke derfetekî baş bikar binîn. Di van 15 rojan de dikarin paşeroja xwe misoger bikin. Lê berovajiyê vê ger bi erka xwe û rola xwe ra nebin, dibe ku derbeke wisa giran bixwin û ev yek bibe sedema deh sal ser xwe de neyên. Heman tişt ji bo ciwanan ji derbasdar e. Ciwan mafê wan ê perwerdeyê, mafê wan ê azadiyê, mafê wan ê wekheviyê, ji mafê demokratîk buyînê heyanî tevahî qadan ku dikarin xwe îdame bikin, ev qad tevahî ji destê wan hatiye girtin. Maf hatine berovajî kirin, dibêjin yekî 18 salî dikare têkeve hilbijartinê, dikare bibe ber endam, dikare biçe eskeriyê. Ev hemû berî perspektîfê Rêber Apo bû û di bernameya HDP' de hebû. Lê niha dixwazin piştî hilbijartinê leşkeriya bi berdêl derxînin. Ev lîstokekî mezine. Leşkeriya bi berdêl jî leşkeriya bi peyman e. Dixwazin hemûyan bigrin û li Kurdistanê bi şêwazekî din bidin şerkirin. Divê ciwanên Bakurê Kurdistanê, ciwanên Tirkî hemû ciwan ku ji pêkhateyên cuda pêk tên, wan lîstikan têk bibin. Heman demê tevahî gelên Bakurê Kurdistan û Tirkî, gelên ku ji pêkhateyên cuda pêk tên, kesên azadixwaz, demokratîk, rojnemewan, nîvîskar, hunermend wek alternetafekî rola xwe pêwîste bileyzin. Ji ber niha di xetên dijber dikevin hilbijartinan. Yek xeteke demokratîkxwaz û azadîxwaz e. Paşeroja gelan e û xwedî modelekî çareseriyê ye. Xeta din jî qetlîaman bi xwe re tîne. Feqîrtiye, paşdeişadine. Nakokiyê nava gelan mezin dike. Ti cudabuyînekî wan a îdeolojîk û zîhnî nîne. Yê ku di hişmendî de, yê ku di feraset de, yê ku di jiyana azad de, yê ku van hemû ji hev cuda bike em dizanin projeya HDP'ê ye û ceribandinê HDP'ê ya 7 Hezîranê heye. 7 Hezîranê çawa dinya tevahî li hember encamên HDP matmayî ma. Çawa faşîzma AKP'ê têk bir, careke din dikare di van hilbijartinan de encamên wiha matmayî derxîne holê. Namzetê Serokkomariyê birez Selahattîn Demîrtaş, di tûra duyemîn de bîmîne û bi vî awayî dikarin di çareserkirina pirsgirêkan de rolê xwe bileyzin. HDP elbette wê ji bendê derabs bibe, lê tenê derbaskirina ji bendê têrê nake. Pêwîste HDP ji 7 Hezîranê wêdetir be. Ji ber HDP hedefên xwe mezine. Dibê ji %15 heta %20 ji xwe re têxe hedef. Pêwîste hedefê xwe biçuk nebe. Ji xwe hemû dane nîşan didin ku di tûra yekemîn a Serokkomariyê de Erdogan bi ser nakeve. Ji ber, gel ji Erdogan û faşîzma wî re got êdî bese û TAMAM, gel vîze û kredî neda Erdogan. Teqez gel tiştê di hilbijartinê 7 hezîranê de ne karî pêk bîne, di 24 Hezîranê de pêwîste pêk bîne. Ji bîr nekin di çareseriya HDP'ê de azadiya gelan, azadiya civakan, wekhevî û demokratîk bûyînekî heye. Li ser vî esasî dikarin carek din ew bê heqiya ku li wan buye, dikarin derbas bikin. Azadiya Rêber Apo tê de heye. Azadiya dilgirtiyên azadiyê tê de heye. Her wiha projekî dawî anîna bê ehleqiyê ye. Ev mewziyekî girîng û pêvajoyekî girînge. Divê gelê me wisa ji rêzê nêz nebe. Bi bandor nêz bibe, bi zanist tevbigere. Pêkhateyên din jî, wek gelê Ereb, ewqes di bin çewisandina AKP're derbas dibin
Divê misoger dengê xwe bidin HDP'ê. Civaka Ezîdî çawa li Efrîn cihê wan yê bawerî tev ruxandin û şewitandin, çawa jinên Ezîdî direvînîn, faşîzma DAIŞ'ê çawa li Şengal êşên mezin da kişandin, anha li cihên din jî AKP vê faşîzmê berdewam dike, çand û baweriya civaka me ya Ezîdî û Elewî tine hesap dike û faşîzma li ser wan pêk tîne. Li ser vê bingehî gelê me ya Bakurê Kurdistan û Tirkiyê yê ku li Ewropa dijîn, di serî de civaka me ya Ezîdî, Asurî, Elewî û Suryanî teqes biçin ser sindoqan, dengê xwe bikar bînin û pêşî li faşîzma AKP'ê û MHP'ê bigrin. Hêviyên me jî ev in. Hêviyên di 24'ê Hezîranê de bi projeyê HDP'ê de were bi dest xistin ez di wê baweriyê de me ku tevahî gelê me wê bi erka xwe ya dîrokî tevbigerin û encamên xurt derxînîn holê.