Komkujiyên dewleta Tirk ên li Efrînê di çapemeniya cîhanê de ye..
Hewldana dagirkeriyê ya dewleta Tirk a li ser Efrînê û komkujiyên ku kirin di çapemeniya cîhanê de tê dîtin, di gelek analîz û şîroveyan de sedemên şer û tiştên siberojê dibe ku bibin hati nivîsîn.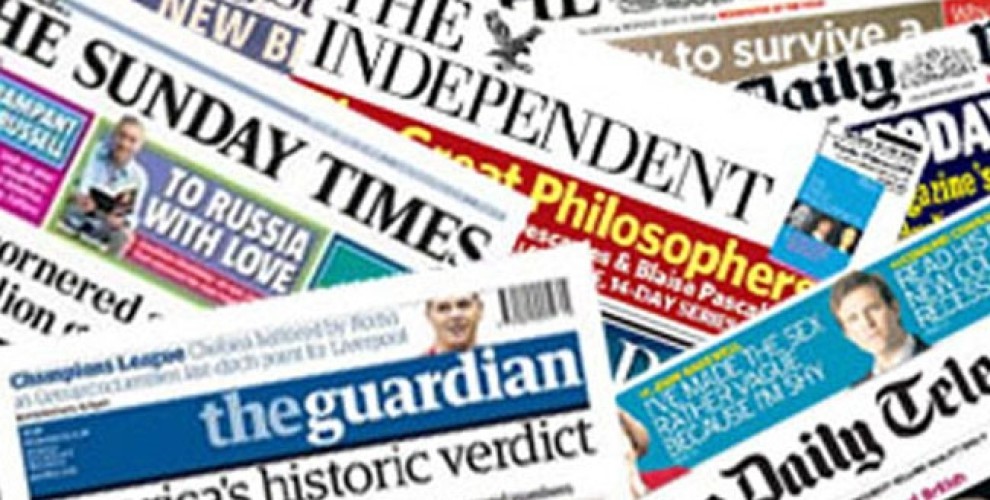 Di Asîa Tîmesê de bi îmzeya Emanuele Scîmîa analîzeke bin vê ''Di navbeyna DYA û Tirkiyê de, li ser Kurdên Sûriyê lêgerîna lihevkirinê ya zehmet' belav bû. Di nivîsê de li ser Rojava rageşiya di navbera du welatan de hate nivîsîn.
Di analîzê de rageşiya Tirkiyê û Amerîkayê ya li ser Efrînê û Minbicê hate nivîsîn û yek bi yek helwesta partiyan hate gotin.  Di nivîsê de hate gotin tenê HDP dibêje ku ev pêşhaziriyeke hilbijartina 2019'an a Erdogan e û behsa rola DYA û Rûsyayê hate kirin.
Di analîzê de hate gotin Tirkiye tifaqa ku bi Rûsya re zevt kirî ji bo êrîşa ser Efrînê bi kar aniye û li gel vê jî Rûsya gumanê ser hevariya AKP'ê û çeteyên Heyet Tahrîr el Şam dibe.
Di analîzê de li ser serdema Wezîrê Karê Derve ya ji bo Tirkiyê, ku vê heftiyê wê pêk were got, DYA di navbera Tirkiyê û Kurdan de zor lê dibe ku biryarekê bide.
Di analîzê de tê gotin her çendî li gorî hinan Tirkiye 'stratejîk' û YPG partnerê 'taktîk' were dîtin jî polîtîkayên domdirêj ên DYA'yê li ser Sûriyê û Rojhiata Navîn hene û ne îhtîmale u DYA ji YPG'ê bixwaze ku Minbicê berde û hate gotin, ''Hevkariya Washîngtonê, ya ku nayê zanîn bê ka çi qasî wê li Sûriyê bimîne, ya bi YPG'ê re wiha diyar e ku heta demeke nediyar wê bidome.''
EURONEWS GOTINÊN SALIH MUSLIM DAN
Sernavê nûçeya qenela Euronewsê jî ku li welatên Ewropayê bi 12 zimanan weşanê dike wiha bû, ''Li gorî rayedarekî Kurd Tirkiye ji DAÎŞ'ê ne cudatir e'.' Euronewsê di nûçeya xwe de got Tirkiye di êrîşa ser Efrînê de YPG dike hedef û cih da gotinên Hevserokê Berê yê PYD'ê Salim Muslim ku gotibû, 'hincetê cuda yên Tirkiyê hene.''
Di nûçeyê de ji hevpeyvînên dîtbar ên bi Muslim re parçe hatin weşandin û ev gotinên Muslim dan: ''Ev ji bo Tirkiyê weke tolhildanek e. Dema ku mirov lê binere ku bi hev re geş bûne û perwerde bûne, Tirkiye ji DAÎŞ'ê ne cudatir e.''
Di nûçeyê de hate gotin YPG parçeyeke ji koalîsyona navnetewî ya dijî DAÎŞ'ê ye û ev gotina Muslim hate parvekirin: ''Koalîsyon hê berdewam dike û bi rengekî sirûştî divê li rex me bin.''
IGNATÎÛS: BERDAN KURDAN WÊ BIBE ŞAŞÎTIYEKE MEZIN
Di nivîsa nûçegihan û nivîskarê navdar ê Amerîkî Davîd Îgnatûs de, ku li Minbicê hatiye nivîsin, hate gotin DYA bêyî ku Kurdan û Tirkiyê ji dest bide li lihevkirinekê digere. Di nivîsê de gotinên generalê Amerîkî Paul Funk ên li ser têkoşîna dijî DAÎŞ'ê gotibû hate bibîrxistin û hişyariyên ku divê dêhn û bala mirov a li ser têkoşîna dijî çeteyan xira nebe.
Ignatûs li ser Minbicê ku Tebaxa 2016'an ji çeteyan hatî rizgarkirin got, teswîra wê ye ku 'piştî DAÎŞ'ê başbûn wê çawa be' û bal kişande ser guherîna jiyanê ya şêniyên bajêr a piştî DAÎŞ'ê. Ignatûs got li bazara girtî ku çeteyan bombe li wir hildiberandin jin bi azadî cilan dikirin û got gelek kes li dij in ku DYA ji herêmê derkeve.
Ignatûs cih da gotinên Adnan el Cemal ku li bazarê pê re hevdîtin kirî û got, piraniya Minbiciyan jî dibêjin, Minbic 'azadiya xwe ya nû deyndarî hêzên bi pêşengiya Kurdan dibînin.''. Ignatûs got li bajêr dîmena herî xweşik jî ew e ku dibistana ku zarok diçûnê û çeteyan ew girtibûn dîsa hatiye vekirin.
Bi berdewamî di nivîsê de hate gotin, ''Lê li Rojhilata Navîn ti tiştek ne bi wî rengî ya, ku xuya dik'. Ignatûs got her serfirazî bi xwe re problemên nû jî tîne û got dema ku Çarşemê çeteyên bi desteka Tirkan êrî bi ser eniyên QSD'ê de anîn, ji Minbicê gelek tirk derbasî wê herêmê bûn ku di bin dagirkeriya Tirk de ne. Ignatûs her wiha got, di heman demê de bi sedan 'milîtan'ên ku di xwepêşandanên dijî dagirkerina ser Efrînê vegeriyan jî ji qadên ku di kontrola rejîmê de ne derbas bûne û dîsa vegeriyane.
Ignatûs di nivîsa xwe de herî dawî got: ''Kurdên Sûriyê ji bo Amerîkayê bûne partnerên wêrek lê her wiha bi arîşe ne. Ew tenê werin hiştin wê bibe şaşitiyeke pir mezin lê her wiha destûr wer dayin ku arîşeyên berbiçav mezintir bibin jî wê bibe şaşîtiyeke mezin. Leşkerên Amerîkayê li Sûriyê karê xwe kirin. Niha dor a dîplomasiyê ye.''
FR TERORA TIRKIYÊ NIVÎSANDI
Rojnameya Frankfûrter Rûndschaû ya sosyal demokrat a Elmanya bi nûçeya 'Teror ji Tirkiyê tê', di çalakiyekê de ya bi mebesta desteka ji bo Efrînê, cih da gotinên nûnerên Kurd û Elman.
Di nûçeya rojnameyê de ku di çalakiya duh a Franfûrtt Haptwache de cih dabû gotinên Dr. Mîchale Wîlk ku bere çûbû Rojava, ramana Wîlk par ve kir, ku Wîlk gotibû Tirkiye di rastiyê de kana terorê ye. Dr. Wîlk got, ''Erdogan YPG'ê bi terorîstbûnê tawanbar dike lê hişkere ye ku teror ji Tirkiyê tê.'' Wîlk xwest ku hikûmeta Elman êrîşan mehkûm bike û firotina çekan ji bo Tirkiyê bi temamî rawestîne.
Aktîvîsteke Kurd a endama Amara û sendîkavaneke Elman û siyasetmedaran jî bal kişandin ser zarok û jinên ku di êrîşên Tirkiyê de têne kuştin. Di nûçeyê de her wiha gotinên, bêdengiya Elmanya û NATO'ê ya li bara vê rewşê 'cihê şermê ye' hate parvekirin.
LE FÎGARO ÎXANAETA LI KURDAN Û CÎHADİSÊN LI QADÊ YÊN TIRKIYÊ NIVÎSAND
Yek ji mezintirîn rojnameya Fransayê Le Fîgaro jî cih da analîza jeostratejîst Gêrard Chalîand a bi navê, ''Şerê Efrînê: Îxaneta Rojavayiyan a li Kurdan'. Chalîand got Kurd ev 3 heftî ne li dijî Tirkiye û çeteyên wê li ber xwe didin û got, ji berxwedanê pê ve ti şansê Kurdan nîn e.
Chalîan got çeteyên ku dewleta Tirk li Efrînê bi kar tîne ji DAÎŞ'ê ne yan jî ji komên cîhadîst ên cuda ên bi heman îdeolojiyên e û li ser OSO jî got êdî ew 'xeyaletek' e.
THE TÎMES SIVÎLÊN KU DI BOMBEKIRINÊ DE HATIN KUŞTIN NIVÎSÎ
Di rojnameya Ingilîz a The Tîmes de jî nûçeyeke taybet bi navê 'Tirkiye bajarê Kurdan Efrînê bombe dike' hate parvekirin. Di nûçeyê de wêneyekî AFP'ê hate parvekirin, ku di wêne de malbateke ku ji bombekirinan direve, a ku di nav tozê de mane. Di nûçeyê de hate gotin ji destpêka hewldana dagirkeriya Tirk ve cara pêşî ye ku navenda Efrînê tê bombekirin.
Di nûçeyê de hate gotin bombekirin piştî ku Rûsya biryara girtina qada hewayî ya li ser Bakurê Sûriyê rakiriye pêk hatiye û hate gotin di êrîşê de 2 sivîl hatin kuştin.