Rêwîtiya sînamageriyê ya Xelîl Dag ..(2)
Em beşê duyan ê serboriya sînamgeriya Xelîl Dag didin, ku Dag li çiyayên Kurdistanê sînamagerî dikir û beriya 12 salan di şer de şehîd bûbû. Rêwîtiya sînamayê ya Xelîl Dag ji nivîsên wî hate berhevkirin.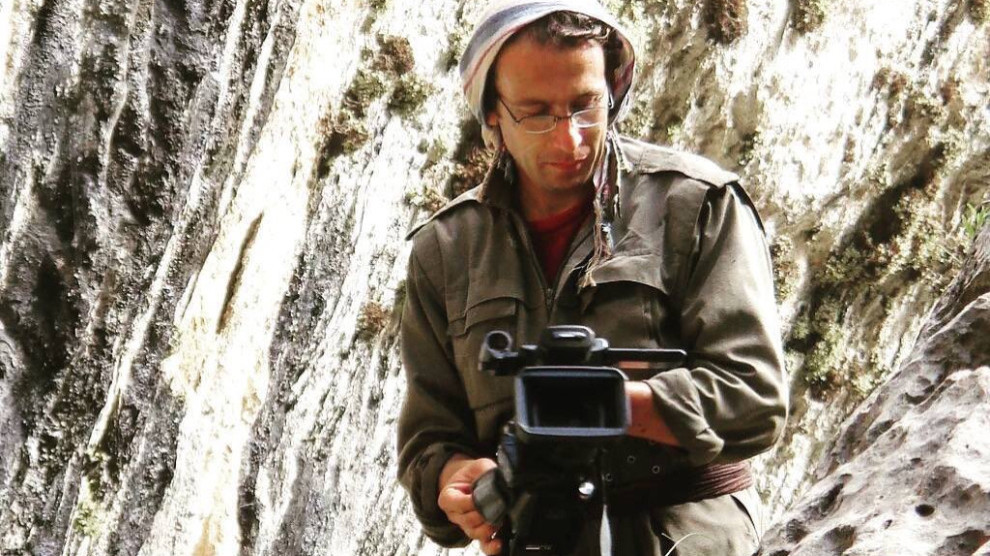 Xelîl Dag (*) di beşê duyê yê nivîsê de, ku 30'ê Adarê Duşemê me beşê pêşî dabû, wiha diaxive:
''Xebatên me yên sînamayê ku bi Tîrêjê dest pê kirî û heta bi Bêrîtanê dom kirî tenê bi me re sînordar nema. Bû ya hemû gerîlayên ku li çiyayan dijîn. Hêla herî xweş a çiyayan ev e. Tişta ku li vir tê kirin a her kesî ye. Ji çalakiyeke leşkerî bigirin heta bi xebateke jirêzê çi tişta ku tê kirin dibe ya her kesî. Hemû gerîla weke ku wan kirine xwedî lê derdikevin. Li ser wê nirxandinan dikin, kêmasiyan rexne dikin..
Her xebata me ji qonaxeke wiha derbas bû. Tenê bi ekîba me re, ya ku xebata fîlm dikir, sînordar nema û li hemû çiyayan berbelav bû.  Hemû gerîlayên li çiyayan nîqaşa wê kir û ji gelek deverên dûr rexne hatin. Destpêkê şîroveyên hevalên ku li ser sînamayê ti agahiya wan nebû li zora min çû. Li vir ti gerîla sînama nekiribû lê hemû gerîlayan li ser xebata ku hatî kirin dixwestin gelek tiştan bibêjin. Destpêkê bi min wiha hat gelek tiştên ku hatin gotin şaş e. Piştî demekê min xeleka sereke zevt kir. Min behsa gerîla dikir. Lê hevalên min di xebatên min de xwe nedidîtin. Naxwe min nekarî ku gerîla vebêjim. Raza li pişt gotin, rexneyên wan ev bû. Naxwe hê jî min dilê wan zevt nekiribû.
Piştî wê bêhtir bi pûtepêdanî û baldar bûm. Min bi baldarî guh da gerîla û min hewl da ku xwe bigihînim a kûr. Li ser sînamayê agahiya teknîk bi kesî ji wan re nebû. Hinan jê ji mêj ve li fîlm jî nenerîbûn. Lê xebatên min weke ku xebata wan be dinirxandin, rexne dikirin û xwe hêrs dikirin. Pêşî van nêzîkatiyan bêhna min teng kir, piştre kêfa min ji van nêzîkatiyan re hat. Tiştekî pir xweş bû ku fîlma ku min çêkirî weke ku berhama wan be bibînin û dixwestin hê baştir be. Vê demê min pê derxist ku bi min re hin tiştin ketine ser hev...Wekî ji bo ku ez gerîla fêhm bikim ez bi rê ketibûm, naxwe dive heta dawiyê min li gerîla guhdar bikira û min dilê gerîla zevt bikira. Çi tişta ku min kirî min li ber gerîla danî. Êdî nirxandinên herî jirêzê jî min giringî didayê. Ya esas a di nav wê de wê rê nîşanî min bida. Huner di gotinên gerîla de veşartîbû, bi hemû tiştên xwe min ev hîs dikir.
Û wan rojan min kêmasiya herî mezin a hunermendê Kurd, a sînamagerê Kurd di rihê xwe de dît. Zevtkirina nakokiyên gel divê agava pêşî ya her hunermendî be. Bêyî ku ev were kirin ne nasnavên akademîk, ne jî perwerdehiyên têr û tije yên teknîk ti serkeftinê bi xwe nayînin. Gel çi dijî, nakokiyên wê yên sereke çi ne, hunermend divê pêşî van pirsan bike.
Ne tenê pirskirin û hîn bûn, divê ev nakokî werin jiyîn jî. Divê hunermend ne li paş û pêşiya gel be, divê tam li nav gerîla be. Divê gelê xwe ne weke objeyekê bibîne ku wê di qadeke hunera xwe de li ser bixebite, divê wê weke kirdeyê jiyana xwe bijî. Heke wê fîlmê şerekî bike, divê cîhana wan şeravnan par ve bike. Heke wê fîlmê gelê xwe bike weke bihara 2006'an divê li kuçeyên Amedê bi dewletê re şer bike. Heke wê fîlmê zarokan çêbike, divê gotina wê dayikê ya ku zaroka xwe ya bi destê polîsan hatî kuştin hêmbêz dike, bibihîse, bi çavê xwe bibîne.
Hunermend ne ku divê ji dûr ve lê temaşe bike, divê nav gelê xwe de bijî. Ê ku jiyana wî dûrî jiyana gel e, bi hîsên xwe penaber e, bi hîsên xwe li xwe xerîb bûbin bi mîsogerî wê dîsa sînamayê bikin lê ev ê nebe sînamaya gel e. Hunermend mirovên wiha ne ku dizanin bi gelê xwe re bikenin, pê re bigirîn, mil bi mil, kuçe bi kuçe pê re şer bikin û hewce bike pê re bimirin.
Heke em sînamagerê civakeke dî bûna belkî wê xebatên me yên sînamayê reheti bûna. Belkî me yê nîqaşa vê nekira. Lê me xwe di ber hunermendiya civakake wiha dikir ku şerê gerîlatiyê dike, heke em dibêjin em ê sînamaya wê bkin, divê em jiyana xwe li holê deeynin û careke dî bi berfirehî bifikirin.
Heta ku em gihane ser fîlmê Bêrîtan bi dilekî rehet min li rexneyên bi sedan gerîla guhdarî kir. Ew zarokên vî gelî bûn. Heke ew dibêjin ev tê maneya ku ji bo gel dibêjin. Yên ku fikra xwe negotin, min pirs ji wan jî kir. Min xwest bibihîsim bê ka çi qasî nêzîkî vî gelî, zarokên vî gelî me. Beriya her xebata xwe ya fîlm demeke dirêj li nav yekîneyên gerîla mam. Min hewl dida bêhna xwêdana li ser rûyê wan bikim, bêrîkiria li ser lêva wan bixwînim, hezkirina li dilê wan zevt bikim.
Ev jî rêya min a sînamayê ye..
Çîvanok û newa..
A rast çîrokên fîlman ji fîlmên min mezintir e. Vê stranê ji beriya min li deverekê dest pê kiriye. Min tenê piştî deverekê des bi guhdarkirina wê kir, bi derengî bi fêhtî min dest bi standina wê kir. Ji ber ku rasterast ez bûme şahidê çîrokên xwe ev pirsgirêkeke mezin e. Heke min li çîrokên xwe guhdarî bikira, ji deverinan bixwenda belkî wê wiha hêsantir bûya. Destpêkê her çendî bi min wiha hatibe ji bo ku ez wan jiyame, rasterast bûme şahidê wan êş, xemgînî û hîsan ev ê ji min re bibe avantajek jî, di nav xebatan de min pê derxist ku ev dibe pirsgirêkek girantir.
Kêmasiya ku mirov nikare çîrokan têra xwe baş bixebitîne, kêmasiya zanîn û tecrûbeya min a li ser vê mijarê bû sedem ku demeke dirêj bi rehetî tevnegerim. Lê her demê min bawer dikir ku divê ji deverekê dest pê bikim. Teqez divê min ji deverekê dest pê pê bikira, da ku ez heq jê derketama. Çîrokê beriya min dest pê kiribû li vê cografyayê. Ez ji deverekê tevlî vê çîrokê dibim. Digihim vê rastiyê..Raza sînamaya Kurd ne rastî, çîvanok e..
Rastiyek e ku ti çîroka ku ez ne aidî wê me, xwe di nav de nabînim, giyanê min ne di nav de ye naxebitînim. Tîrêj ji beriya min li van çiyayan jiya. Doktorek bû û bi wesfê fermandarê gerîla li van çiyayan meşiya. Li şiverêyeke van çiyayan carekê li rasta wî hatim. Ji wê rasthatinê tenê bejna dirêj û çavên Tîrêj di bîra min de man..Piştî bi salan wê şeva ku birîndar bûyî, ji cîhaza bêtêlê li ber hînîkahiya wê şevê ya bêhepa, li nav newaya çar hezar salî min li gotinên wî yên dawî guhdarî kir. Tîrê, ji kozika xwe ya ku lê birîndar bû, dema ku bi hemû bi dilnizmiya xwe slav dayî hemû hevrêyên xwe, dema ku digot serê gelê Kurd sax be, min nekarî ku bi hêstirên çavê xwe bigirim. Û ev gotinên dawî yên Tîrêj ên ku di kozika xwe de kirî, ji cihê herî kûr ê dilê min, li min xist.
Fîlmên min ji çîvanokên wiha tên, ku ji rasteqîniyan bêhtir rasteqî in, her carê dema ku diqedînim û li wan dinerim dibêjime xwe, vê carê jî nebûye. Lê li şûna ku bisekinim çêkirinê tercîh dikim. Bi xemgînbûnê, bi xwînîbûnê ketim nav çîrokên mirovên çiyê.
Belkî wan demên pêşî derfeta min ku li fîlman binerim hebûya helbet wê hin derhenêr bi fîlmên xwe bandor li min bikirana. Wan deman ji fîlman pir dûr bûm. Niha dibêjim baş e ku dûr im. Dema ku min fîlm çêdikirin ji derhêneran lê ji nivîskaran bibandor bûm. Dahurandinên kesayatiyê yên Vîctor Hugo, îmgeyên bêhemya yên Orhan Pamûk û çîrokên Kurdan ên Murathan Mungan belkî jî hîmê sereke yên fîlmên min in. Ez dizanim ku ew wêjekarên pir zîrek in.  Lê min di nivîsên wan de dîtbariyeke bêhempa dît. Honaka xurt a di pirtûkên wan de û rengê vegotina çîrokê bandora xwe li ser min kir. Bêguman nabêjim ku ez weke wan im lê keda wan  a li fîlmê gerîla nikarim înkar bikim.
Û hê jî dema ku dest bi girtina fîlmekî dikim bi mîsogerî li cem min pirtûka yek ji van nivîskaran heye. Wê kîjan be jixwe ez nikarim wê diyar bikim. Ew vê diyar dikin û weke ku di nav xwe de li hev kiribin, bi rêzê yek jê derdikeve pêşiya min, xwe nîşan dide. Di qonaxa destpêkê de li cihekî li hêviya min disekine. Bi bêdengî çîvanokên xwe dibêje û bi carekê re dibe hevkarê fîlm.
Raza sînamagerên Kurd ne di gotinan de, di newayan de ye..
Bi min, sînamagerên Kurd tenê bi çêkirina fîlmên Kurdî, bi xebitîna li ser mijarên Kurdî wê nikaribin xwe bigihînin sînamayê. Kûrahiya di mûzîka Kurdî de dikare bibe mînakek. Hûn li kûderê jî bin, di kîjan şertan de lê guhdarî bikin jî bi mîsogerî mirov newaya Kurdî pê derdixe. Di nav hemû xirecirê de mirov wê zevt dike.
Dibe ku xeyalek be lê di fîlmên xwe de ez dixwazim xwe bigihînim wê newaya bêhempa a muzîka Kurdî û wan rastiyên ji rastiyan bêhtir rasteqîn ên çîvanokên Kurdî. Ev damarê çar hezar salî, ev çîvanok û ev newa haveyna hunera Kurdî ye. Rabûna sînamaya Kurd jî, ne li devereke pir dûr, li cihê pevgihîna çîvanok û newayê, li wê rastiya ku keseke ji me nikare înkar bike, bi denbêjan re ye..
Li van çiyayan gotinek heye ku gerîla pir jê hez dikin û pir dibêjin. Rojekê heke rêya we bi çiyayan bikeve belkî wê wê gotina pêşî ku hûn ê bibihîsin wê ev be..Kuryeyê we wê ji we re bibêje rêya herî baş ew rêya ku tu pê dizanî û wê ji wan şiverêyan biçe ku wan baş nas dike..Min li jiyana çiyayan fêhm kir ku ev gotin ne gotineke wiha ye ku hema ji bo gotinê hatine gotin, ji dilê gerîlayan tê. Min hîs kir, wêdetirî gerîlayan jî, li qurçika herî veşartî ya hişê Kurdan e. Hema hema li xilûxaliya rihê her Kurdî min bi carekê re ev ferq kir..Bi demê re bi dilrehetî min qebûl kir ku jiyana min a li çiyayan bi vê rêgeza neniviskî hatiye pêçan û xebatên ku min kirin li ser vê rêgezê bidirûv bûne. Di xebatên xwe yên sînamayê de ku niha çêdikim, dema ku hebûna vê gotinê seh dikim, ku beriya bi salan kuryeyê min ê ku ez anîm çiyan ev gotibû, ez di ber xwe de dibeşişim.
Ez niha pê bawer dikim sînamaya Kurd jî bi vê rasteqîniya xwerû ya Kurdan re ji nêz ve têkildar e. Şîfreya dilê gelê Kurd jî di vir de ye. Û ez hay jê heme heta ku sînamagerên Kurd vê şîfreyê ji hev neveçirînin, heta ku vê kodkirina jiyana Kurdan zevt nekin wê nikaribin xwe bigihînin mirovên Kurd. Li vir her wiha divê bibêjim, ên ku nikaribin xwe bigihînin gelê xwe wê nikaribin xwe bigihînin rêgezên gerdûnî jî. Ti gerdûnî ji me ne wêdetir e û rêya ku xwe digihîne mirovên din pêşî divê berê xwe bide me û piştî vê gotinê dixwazim vegerim ser mijara esasî.
Yek ji xala herî girîng ku gelê Kurd ji gelên din vediqetîne ev e..Gelê Kurd di nav geşedana dîrokî de neşibiyaye ti gelî. Di nav dîrokê de hemû gel pêvajoyên geşedanên yên hevşib jiyane lê gelê Kurd neşibiyaye yekî ji wan, an geşedana bi şêwaza ku wê daniye domandiye, dema ku ev nebûye jî geşedana xwe rawestandiye, bi ser de jiyana xwe jî rawestandiye...
Li vir dixwazim xwe bigihînim vê; gelê Kurd di dîrokê de tim li ser rêya ku ew pê dizane meşiyaye an jî qet nemeşiyaye. Meşa li ser rêyên ku li hindefên çiyayan vekirî tercihî bazdana li ser aslafta şaristaniyê kiriye. Ev ne ji nezanî an jî cahilbûna wê ye, ji meyla azadiyê ya rihê wê ye. Belkî jî ya ku gelê Kurd kirî civaka herî dêrîn a dîrokê û kirî damara sereke ya şaristanî jê afirî, ev resenî be..
Ez pê nizanim bê ka sînamaya Kurd wê kengî vê rastiyê zevt bike. Ew mirovê xweşik ê li giraa Imraliyê digot, ''Em ji dîrokê pê ve çi ne, li derî dîrokê ji netiştbûnê pê ve çi ne'' û îşaret pê dikir cihê pêrabûna hunermendên Kurd di dîroka gelê wan de ye.
Bastûra Kurdan qebûl nake ku bibe dubareya hinan, bibe kevnika wan û jibergirtina wan. Bi xwerûbûna xwe bi sedan salan wê bisekine lê nekeve rengê hine dî. Ev rengê Kurdî ye. Hunermenên Kurd, sînamagerên Kurd divê vî rengî zevt bikin. Em ji bîr nekin, hemû rêyên dîrokê ji Kurdistanê derbas bûne lê gelê Kurd li çiyayan şiverê ji xwe re vekirine. We divê ji vê re serhildêrî bibêjin, we divê serhişkî. Em çi navê jî lê bikin ev helwest helwesta Kurdî ye. Navekî vê yê dî nîne.
Ez nizanim bê ka hunermendên Kurd wê kengî vê meyla azadiyê zevt bike..
Bêguman Kurd pir derengî sînamayê mane. Cîhan li vê qadê belkî sed salî li pêşiyan Kurdan e. Em nirxên ku hunera sînamayê heta niha ava kiriye nikarin înkar bikn. Sînamagerê Kurd divê lêkolîna vê nirxê bike, hîn bibe û xwe lê zêde bike. Lê ji vê girîngtir divê sînamagerê Kurd rêya xwe xêz bike.
Em dikarin di rêyên hine dî de bimeşin, em dikarin xebatên pir serkeftî jî bikin, bi ser de, di nav van xebatan de em dikarin li ser Kurdan jî bisekinin û dibe ku ji me re li çepkan jî bidin lê ev nayê wê menayê ku em sînamagerên Kurd in û sînamaya Kurdî dikin. Her demê li pişt wan wê bibe weke wan. Û wê bibe delîla wê ku ti caran em ê nikaribin xwe bigihînin wan.
Ez pê dizanim ku di roja berdest de sînama bazarek e, ji bo ku mirov berheman bigihîne ber destê girseyê divê bikeve nav vê bazarê. Ez pê dizanim ku sînamaya Kurd jî hewl dide ku di nav diranên vê çerxê de be. Ez ji van çiyayan hîs dikim sînamagerên Kurd ku sektora wan nîne, bazara wan nîne zor li wan dibe. Her wiha ez ê daxwaza hebûna li nav vê bazarê, vê bêrîkirinê weke şerma sînamagerên Kurd dibînim.
Ez pê dizanim ji bo çêkirina sînamayê hewceyî bi kanên aborî, destekê heye lê ez her wiha dizaim fikra ku sînamaya Kurd pirsgirêka sînameyê ye  şaşitiyek e. Bi min sînamaya Kurd ne li nav vê bazarê encex li derveyî vê dikare hebe. Li şûna ku xebatên min li nav bazarê carê bibe rojev, bibe malzemeyeke oryantal ku derxîninin pêş, ez tercîh dikim ku di dest ciwanên Kurd de kuçe bi kuçe, mala bi mal bigere, qedexe be lê bi wêrekî lê were temaşekirin.
Gerîlayê Kurd çawa ku rêya ku diçe azadiya gelê Kurd li taleyên daristanên Kurdan vekiribe, divê sînamagerên Kurd jî bidin ber çavê xwe ku bikevin nav vê daristanê. Çawa ku zarokên ciwan ên gelê Kurd bi destê xwe rêya xwe xêz kiribin, dîrok ji hunermendên Kurd jî gavên wiha hêvî dike...
Heke huner wêrekîbûn be naxwe em wêrek bin.
Em xwe bernedin wî cihê bazarê. Em sînameya xwe ne di nav têkiliyên bazirganî yê erzankirî e, lê di nav têkiliyên hevrêtiyê de ava bikin..
Heke mijar were ser min..
Ez gerîla me..
Heta ku li ser gelê Kurd şûrê înkar û îmhayê kil bibe li dest min çek ez ê li çiyayan bijîm. Îro kameravan im, sibe wênegir im, roja dî ez ê li firnê nanpêj bim. Heke hewce be ku li ser gir bim ez ê li ser gir bim, heke divê dive nobedar bim, ez li nobetê em. Heke hewceyî pê hebe ku bi rojan bimeşim, ez di rê de me.
Hemû peywirên ku gelê Kurd bide min ez jê re hazir im.
Ez careke dî fîlmekî çêbikim nizanim.
Lê yên ku divê vê bikin heke vê nekin ez dîsa nobedar im..''
(*) Xelîl Dag, 1'ê Nîsana 2008'an li Bestayê di şer de li gel sê hevalê xwe şehîd bû. Xelîl Dag 1973'an li Elmanyayê jidayik bû, 1995'an ji bo belgefîlmekî ku gerîlayên PKK'ê vedibêje çû çiyayên Kurdistanê. Ji wê demê û şûn ve ji bo ku wêneyên gerîla bigire, bike fîlm û binivisîne li çiyayan ma. 6 fîlm, gelek gotarên li ser Kurdistanê û gerîalyên Kurd û rojnivîsk hiştin.