TJA'yê û rêxistinên navneteweyî ji bo girtiyan dest bi kampanyayê kirin
Tevgera Jinên Azad (TJA) û rêxistinên jinan ên navneteweyî bi şiyara "Bi piştevaniyê em dikarin bijîn" dest bi kampanyayê kirin.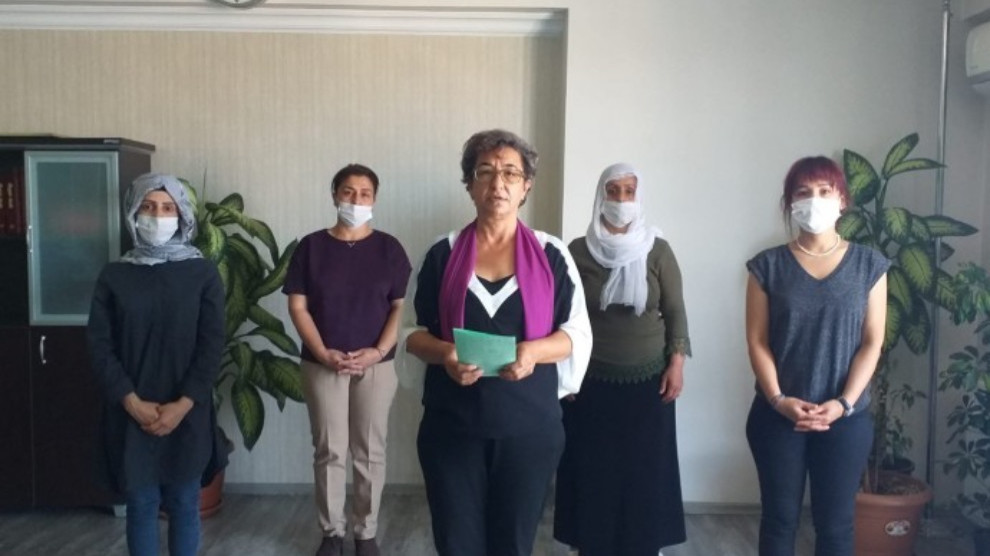 Li ser kampanyayê li Navenda Giştî ya Partiya Herêman a Demokratîk (DBP) daxuyaniyek hate dayin.
Berdevka TJA'yê Ayşe Gokkan, Hevseroka HDP'ê ya Bajarê Amedê Hulya Alokmen Ûyanik, aktîvîsta TJA'yê Summeye Gok, Hevseroka MED TUHAD-FED'ê Elîf Haran û Hevseroka MEBYA-DER'ê Yuksel Almas beşdar bûn.
'ŞEWB ENCAMA KAPÎTALÎZMÊ YE'
Ayşe Gokkan kampanya bi xwendina metnek Kurdî ji raya giştî re ragihand. Metna kampanyayê wiha ye:
"Girêdayî talankirin û wêrankirina ku pergala Modernîteya Kapîtalist li ser xweza, civak û derdorê ava kiriye, îro şewba vîrûsa koronayê li ser jiyan û tenduristiya mirovan tehlûkeyeke mezin e. Berê jî pandemiyên şewb û nexweşiyên wekî Kolera, AIDS, şewba çûkan, Şewba Barazan SARS I / II derketin holê. Herî dawî Covid-19 derket holê. Ev vîrûs encama hewldan û êrîşên pergala Modernîteya Kapitalist e ku ji bo zêde karê bi dest bixe, li ser xweza û civakê dimeşîne ye.
GIRTÎ BI MIRINÊ RE RÛBIRÛ HATINE HIŞTIN
Gelek dewlet vê vîrûsa koronayê ji bo xwe dikin firsend û vê şewbê li dijî kal û pirên ku hişê civakê ye û di nava civakê de kesên herî bê parastin in û li dijî girtiyên bê parastin bikar tîne. Bi taybetî girtiyên siyasî û muxalif, li dervê zagona înfazê ya qaşo ji bo rê li pêş belavbûna vîrûsê ya li girtîgehan bigire derxistin, hiştin û ew terkî mirinê kirine. Dîsa di serî de jin û zarok jî di navde li gelek welatên cîhanê bi sed hezaran girtiyên siyasî li girîgehan di şert û mercên herî xirab de girtî ne.
Xwarinan xerab didin wan, paqijî nayê kirin û malzemeyên parastin û paqijiyê nadin wan. Di şertên bê tenduristî de têne girtin. Li dijî şewbê bê perastin in. Li hin welatan bi hinceta virûsa korona di zagonan de guhertin çêkirin. Lê belê girtiyên siyasî û muxalif ku ji aliyê rejîmên dijdemokratîk ve wekî dijmin tên dîtin, bi zanebûn wan bi talûkeya vîrûsê re rû bi rû dihêlin. Ev polîtîkayek bi zanebûn e.
XWEDÎ LI WAN DERKEVIN Û WAN BIPARÊZIN
Girtîgeh cih û warên ku ji cemaweriyê hatine qutkirin e. Bi taybetî ji bo dengê girtiyên siyasî û muxalifan qut bikin, bi dîwarên bilind û torên têlên bi dirî, wan tecrîd dikin. Ji ber vê yekê pir girîng e ku mirov her dem bibe dengê wan û dengê 'Yên hundir' bigîne 'Derve'. Lê di vê pêvajoya şewba vîrûsa korona de ku tenduristî û jiyana wan di bin telûkeyê de ye, ji her demê bêtir girîng û lez e ku mirov bibe dengê wan. Divê em kesên 'Li derve', di vê pêvajoyê de girtiyên siyasî yên şoreşger, berxweder, muxalif û xwişkên xwe yên li 'Hundir' biparêzin, li wan xwedî derkevin û jiyana wan biparêzin!
Bi taybetî parastina kesên bê parastin û jiyana wan di talûkyê de, ji bo me erkek wîcdanî û sincî ye. Girtiyên siyasî û muxalif, di nava kesên ji bo xelasiya ji kaos û krîza heyî û avakirina jiyana azad, aliyê herî grîng ava dikin. Bêedaletiya heyî, carek din nîşanî me dide ku divê teqez ev pergala cezakirinê bê rakirin. Armanca têkoşîna me jî jiyana cezakirina bê pergal û bê girtîgeh e. Ji ber ku em bawer dikin ku hûn jî wisa difikirin, em vê bangê bi were parve dikin. Em li bendê ne ku hûn jî tev li vê kampanya me ya ji bo girtiyên siyasî û muxalif ên jiyana wan di bin rîskekî mezin de ye bên berdan, bibin.
Em di kampanya xwe ya "Piştevanî dide jiyîn" de van tiştan dixwazin:
• Girtî, bi taybetî girtiyên jin, ji bo bi xizm û hevalên xwe re têkevin nava temasê, ji bo rewş û fikrên girtiyan bi civakê re parve bikin û bidin xuyakirin.
• Ji bo piştgiriyê bidin hemû girtiyên li hemû welatan û ji bo hûn tev li kampanya daxwaznameyan a li dijî polîtîkayên hikûmê bibin.
• Ji bo em ji Neteweyên Yekbûyî, Komîteya Pêşîlêgirtina Êşkenceyê (CPT) û hemû saziyên wekî wan bixwazin ku bi lez girtiyên siyasî serbest berdin, bixwazin ku zorê li welat, hikûmet û partiyên siyasî yên wî welatî bikin.
Vê kampanyayê hûn dikarin bi imze tevli bibin. Hûn dikarin imze, agahî, wêne û dîmen çalakiyên xwe bişînin e-Maila [email protected] Ser malper www.solidaritykeepsusalive.org û sosyal media: Twitter: @solidarityalive / facebook: Solidarity Keeps Us Alive / Insta: solidaritykeepsusalive em ê wan bi agahiyên ji girtingehan re parvebikin.
Vê kampanyayê gav bi gav di demêk dirêj de emê bigijînin merhela serkeftinê.
Kesên kampanyayê organize dikin wiha ne:
Free Women's Movement (TJA), Kurdish Women's Movement – Europe (TJK-E), RONAK, CENÎ - Kurdish Women's Office for Peace, International Women's Alliance (IWA), Women Democratic Front Pakistan (WDF), Ruba odeh Palestine, Abya Yala Feminists, National Front for Egyptian Women, Moroccan Association for Progressive Women, Revolutionary Association of the Women of Afghanistan RAWA, Collective of Support for Women Prisoners in Aragon (C.A.M.P.A.), Leyla Khaled, Janet Biehl, Margaret Owen, Khadija Ryadi, Karima, Hafnawi, Selay Ghaffar, Weeda Ahmad, Dr. Aziz Rhali, Atika Ettaife"