'Muzîk eynîka civakê ye'
Hunermendê Kurd Firat Med diyar kir ku mirov hemû kêliyên jiyanê, hezkirin, êş, destan û çîrokan bi şêwaza muzîkê vedibêje û got, muzîk eynika civakê û kakilê hunerê ye.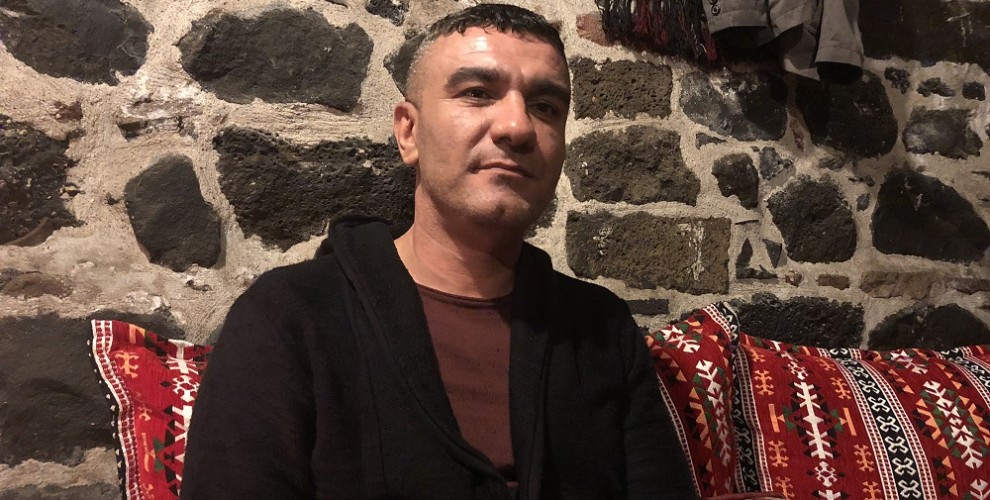 Dengbêjên Kurd ên nemir, Çand û Hunera Kurdan bi awazên xwe yên hestiyar heya vê serdemê anîne. Dengbêjan hem dîroka Kurdan a nehatî nivîsîn, hem jî wêjeya Kurdan a devkî ji civaka Kurd re vegotin. Gelê Kurd çand û dîroka xwe piranî bi stran, ango awazên dengbêjiyê rave kiriye. Ev awaz weke çîrokan hatine guhdarîkirin. Wê awazê dîroka Kurdan a ne nivîskî jî hewandiye. Kurdan muzîka xwe bi dengbêjiyê qîriyaye û heta vê demê aniye. Der barê çand û hunera Kurdî de û girîngiya muzîka Kurdî, em bi Hunermendê Kurd Firat Med re axivîn.
Hunermendê Kurd Firat Med dibêje di 17 saliya xwe de dest bi nivîsandina stranên Kurdî kiriye û sala 1994'an de stirana bi navê 'Dîrok' nivîsandiye. Ev stiran jî ji aliyê Şehîd Hogir ve hatiye bilêv kirin. Med, sala 2012'an jî di albûma xwe ya bi navê 'Spî' de cih daye vê stranê. 
KAKILÊ HUNERÊ
Med anî ziman ku mirov hestên xwe yên nikarin bînin ziman bi rêya muzîkê vedibêjin û wiha axivî: "Mirov hemû kêliyên jiyanê, hezkirin, êş, destan û çîrokan bi şêwaza muzîkê vedibêje. Muzîk eynika civakê û kakilê hunerê ye. Muzîk mirovan azad dike û bi xwe re aştiyê tîne."
'TÊKOŞÎNA NETEWEYEKÊ YE'
Med da zanîn ku Muzîka Kurdî ji muzîka neteweyên din cudatire û wiha pê de çû: "Civaka Kurd ji aliyê hêzên dagirker ve hatiye parçekirin. Ji her alî ve êrîş li Kurdan tê kirin û ji ber vê jî Muzîka Kurdî ji hev tê cudakirin. Di Muzîka Kurdan de xwebûn, azadî, evîn, dîrok, serhildan û berxwedan heye. Ji bo vê jî wateya Muzîka Kurdî bêhtir pîroz e, bingehîn û civakî ye. Di heman demê de Muzîka Kurdî têkoşîna neteweyekê ye."
'DIVÊ HUNERMEND BERDEVKÊ GEL BE'
Med di çand û hunerê de asta Muzîka Kurdî nirxand û wiha dom kir: "Kurd li her qadê li ber xwe didin û têdikoşin. Muzîka Kurdî jî li gorî pêvajoyên siyasî geh bilind dibe geh dikeve. Niha Muzîka Kurd nabe bersiv ji qîrîna Kurdan re. Ji her demê bêhtir diviya bû vê demê Muzîka Kurdî ji qîrîna gel re bibûya bersiv. Di vir de ez destpêkê xwe û hemû muzîkjenan rexne dikim û divê bikarin ji civakê re bibin bersiv. Divê hunermend bibe berdevkê gel û parçeyek ji civakê. Gelê Kurd malbateke berfireh e û em jî ferdekî ji vê malbatê ne. Ji ber vê yekê divê hunermend qala civakê bike û bibe ruhê gel. Divê hunermend ne weke demsalên zivistan û havînê be û bê û biçe. Di vê her hunermendek herdem weke rengê biharê şîn be û civakê bixemlîne." 
'ÊRÎŞ LI HUNERÊ TÊ KIRIN'
Med bal kişand ser zextên li ser Çand û Hunera Kurdî û wiha dirêjî da axaftinên xwe: "Li her derê cîhanê welatên dagirker destpêkê êrîşî çand û hunera neteweyan dikin. Ji ber ku di nava çandê de jiyan, huner, dîrok û hebûna gelan a rast heye. Ji ber wê jî her tim muzîk, çand û hunera Kurdan di hedefa dewletê de ne. Pergala jiyana mirovan li mirovan dide nasîn huner e. Dema ku êrîş li ser wê hunerê hebe û ev huner ji holê bê rakirin êdî ew gel nikare xwe bîne ziman. Civakeke bê huner weke civakekê bê dîroke."
ALBÛMA NÛ
Med di dewama axaftina xwe de mizgîniya albûma nû da guhdarên xwe û wiha got: "Piştî albûma min a bi navê 'Spî' sala 2018'an min dest bi xebatên albûmeke nû kir. Ev albûma min ji 7 stranan pêk tê û hemû stranên di albûmê de jî berhemên min e. Di albûma nû de ji bo bîranîna Teshin Taha min xwest stranek wî bistirêm. Ji ber ku yek ji serkêşên Muzîka Kurdî Tehsin Taha ye."