Di kişika Qerebaxê de pêngava biwêrekî ya li ser Îranê
Dewleta Tirk bi pêngava Qerebaxê re ji bakur li Îranê eniyek vekir, hem jî li Îranê nifûsa Azerî tevgerand. Pêngava Qerebaxê bi wê potansiyelê ye ku gelek kevirên li masê kilît bike û gelek keviran tevbigerîne.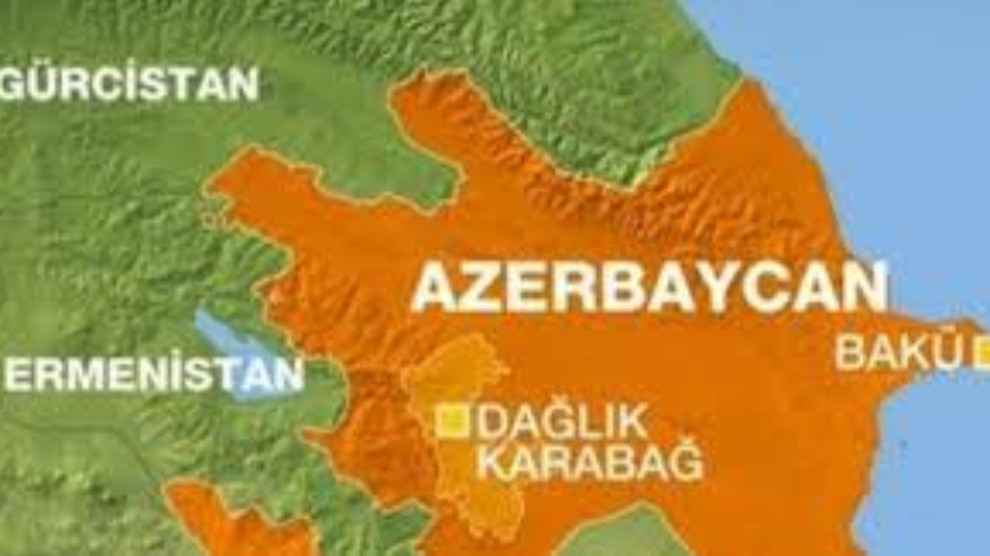 Di navbeyna Ermenîstan û Azerbaycanê de şerê ku 27'ê Îlonê li herêma ku nîqaş li ser hene li Qerebaxê dest pê kirî, didome.
Pirsigirêka di navbeyna du welatan de ku salê 1980'yî dest pê kirî û piştî feşkilîna Sowyetan her du dewlet jî dibêjin a me ye, li Qerebaxê mesele her çendî ne nû be jî piştî ku dewleta Tirk tevlê bû, gelek pirs bi xwe re anîn.
Îdeala Tûranîzmê, hewldana ku Tirkiye Rûsyayê bi Kafkasya re bilebikîne û li gel ku rêgeha xetên enerjiyê ye, meseleya  Îranê weke pirseke sereke li naverasê ye.
Rojhilata Navîn ku qulibandina ser texteya kişikê û li Asyaya pêş gava Qerebaxê ya dewleta Tirk; ji gavên din cudatir pir xwedî wê potansiyelê ye ku gelek kevirên li masê kilîd bike û gelekan tevbigerîne.
Ango ya ku gava dewleta Qerebaxê ya dewleta Tirk ji gavên wê yên liş Sûriyê, Libyayê, Yeman, Malî, Deryaya Spî û gavên weke vê cihê dike ew e ku bi potansiyele zêde ye ku kilîd bike û tevbigerîne.
Li pişt gava Qerebaxê dibe ku motîvên îdeala TuranÎzmê, dijminatiya li Ermenan, daxwaza serwerbûna li xetên enerjiyan hebe û bala Rûsyayê ji Rojhilata Navîn bikişîne ser Kafkasyayê. Lê di hedefa esasî de Îran heye ku hosteyê lîstika kişikê ye.
Ji êrîşa 27'ê Îlonê ve ku Azerbaycanê li dijî Qerebaxê daye destpêkirin û vir ve ne Yekîtiya Ewropayê, ne DYE'yê û ne jî Neteweyên Yekbûyî ti helwesteke cidî nîşan nedane.
Li dijî  êrîşên dewleta Tirk ên bi hêmanên artêşê, balafirên şer, yên keşfê û bi komên cîhadî ku ji Sûriyê kişandine ser civakeke ku wiha ku beriya Şerê Cîhanê yê Pêşî hatî kirine, cîhan bêdeng e.
Bêguman ji bo dewleta Tirk bala Rûsyayê ji Rojhilata Navîn û Efrîkaya Bakur dikişîne ser nîv qada wê ya Kafyayê, di serî de bi dilê DYE'yê ye ku niha di pêvajoya hilbijartinê de ye û bi dilê cîhana Rojava ye.
Bêdengiya Rûsyayê heta vê gavê dibe ku ji ber wê sedemê be ku rêveberiya Nîkol Paşînyan a Ermenîstanê çavê xwe ji Rojava re dişkîne an jî belkî ji ber wê be ku dixwaze hinekî rêveberiya Ermenîstanê biêşîne.
Jixwe Paşînyan ku 2018'an bi encama pêvajoya ku jê re şoreşa Qedîfa diahte gotin hatî ser desthilatê, siyaseteke wiha dikir çav li Rojava dişikand û ev jî zêde ne bi dilê olîgarşiya Rûsyayê bû.
Lê gelo tenê ji vî alî ve mirov dikare li rewşê binere? Faktora Îranê ya gava Tirkiyê li kûderê dimîne?
Ji ber sedema ku Qerebax sînorê xwe bi Îranê re heye, li Îranê nifûseke ne kêm a Azerî heye, gelek baregehên îstîxbarî yên CÎHA û Mossadê li Bakuyê hene û  dewleta Tirk dema ku ji Sûriyê cîhadiyan ji Sûriyê dikişîne ser sînorê bakur ê Îranê, ev bala DYE'yê û Israîlê nakişîne?
Gelo ne ji ber wê daxwaze be ku Îran a ku tê xwestin ji başûrêrojhilat bi Pakîstanê bi Bellûcîstan, ji hêla Kendavê ve bi Erebên Sinî yên Ahwazê û li Rojava bi Iraqê bi dînamîkên cihê were dorpçêkirin, ji hêla bakur ve jî bi eniya Azerî ya li ser fikra Tûraniyê ya dewleta Tirk ev were pihêtkirin..
Jixwe gava Qerebaxê ya dewleta Tirk li nav nifûsa Azerî ya Îranê reaksiyoneke mezin bi xwe re anî. Hedefa vê reaksyionê jî rejîma Îranê ye.
Bi gava Qerebaxê re dema ku mirov li reaksyona Azeriyan a ku li Îranê derketiye holê dinere, mirov dikare bibîne ku ev ne reaksyineke bertekî ye û ev encama xebat û rêxistiniyeke domdirêj e.
Ev xebata qadê û rêxistiniya wê mirov nikare ji dewleta Tirk bêrî bixwîne. Jixwe rêça dewletî ya Tirk rêçeke wiha ye ku li nav cîranan xîtabî mezheb û nasnameyên etnîk ên cihê dike.
Çawa ku li Sûriyê Îxwanî Mislim, li Iraqê Tirkmenan, eşîrên Sinî û hin dînamîkên din xwedî dike, li bakurê Îranê li Urmiye, Erdebîl, Zencan û Tebrîzê jî tê zanîne ku li ser Azeriyan dixebite.
Jixwe çawa ku cara pêşî di êrîşa Azerbaycanê de ya li Qerebaxê, li herêmên li ser sînorê nêzî sînorê bakur ê Îranê dest pê kir, dînamîka Azerî ku dewleta Tirk ji mêj ve ji hêla miliyetgiriyê ve li ser dixebitî, tevgeriya.
Êrîşa li ser Qerebaxê bi wê potansiyelê ye ku ji aliyekî ve reaksiyona Îranê bipiîve û dînamîkên navxwe tevbigerîne, ji aliyekî ve jî çeteyên cîhadî yên ku ji Sûriyê şandin, xuyabûna wan a li vê herêmê weke peyamekê ji bo cîhana Rojava ye.
Li dijî vê gava biaqil reaksiyon dereng neket. Li bakurê Îranê ji Urmiyê heta bi Erdebîlê, Zencanê, Tebrîzê û Persebadê li gelek bajaran meşên ji bo desteka li Azerbaycanê hatin kirin. Ji ber ku li van bajaran nifûsa Azerî zêde ye.
Piştî bi çend rojan Tevgera Şiyarbûna Millî ya Başûrê Azerbaycanê (GAMOH) ku van bajarên bakurên Îranê weke ''Azerbaycan Başûr' dibîne û ji bo vê berê hiç çalakî jî kirin, tevgeriya.
GOMAH ku eyaletên bakur ê Îranê weke 'xakên Azerî' dibîne û pêşbîniya wê dike ku ev herêm 'ji Îranê werin qutkirin', di daxuyaniya xwe ya li ser sîteya xwe dayî bang kir ku ji bo Azerbaycanê çalakiyên destekdayinê werin kirin.
Li ser vê xwepêşandêran gotin îran destekê didin Ermenîstanê, bi dirûşmeyan, ''Qerebaxa Jor a me ye, wê ya me bimîne'' û ''Ji Qerebaxê re mirin''.
Bi ser de, li gorî agahiyên ku hatine bidestxistin, hin endamên GAMOH'yê yên xef û hin radîkalên Azerî yên li Îranê di ser Tirkiyê re ji bo ku destekê bidin Azerbaycanê derbasî herêma Qerebaxê bûn.e
Agahî tên ku ev kes ji Îranê derbasî Wanê bûne, beriya ku biçine Îranê pêşî li kampên perwerdehiyê yên Konya û Kayeriyê yên SADAT'ê perwerde bûne.
Rejîma Îranê di çalakiyan de ya bi îdîaya ku destek dane Ermenîstanê ji 100'î zêdetir xwepêşandar hatin destgîrkirin.
Lê rejîma Îranê qey wê ji ber wê sedemê be ku naxwaze rageşî zêdetir bibe, hin gav avêtin da ku helwestan kêm bike. Nûnerên lîderê rûhanî yê îranê Alî Hamaney ên Azerbaycana Rojhilata û Rojava, Zencan û Erdebîlê daxuyanî dan.
Di daxuyaniyê de hate gotin, ''Bîr û baweriya Îranê ew eku Qerebax a Azerbaycanê ye, hatiye dagirkirin û divê bibin Azerbaycanê.''
Serekerkaniya Îranê jî got, ''Îdîayên ku Îran destekê dide Ermenîstanê ne rast in'' û berdevkiya Wezareta Karê Derve ya Îranê jî got, ''Îran navbeynkariyê di navherdu aliyan de dike.''
Li gorî daneyên ne fermî nifûsa Îranê 16 ji 100'î Azerî û 2 ji 100'î jî Tirk in û piranî jî ji mezheba Şiî ne.
Gava Qerebaxê dewleta Tirk ji bo Azerîyên ku di artêş, bûrokrasî û aboriya Îranê de li cihên girîng in bû motîvasyoneke mezin.
Bêguman ev motîvasyona ku li nav Azeriyên li Îranê hatî çêkirin, ji bo yên ku çaverê ne ku mudaheleyê li Îranê bikin hate dîtin. Di serê van hêzan de jî Israîl heye ku bi salan e baregeha herî girîng a îstîbarî li Bakuyê ye.
Azerbaycan îro li dijî Ermenîstanê hem droneyên Israîlê û hem jî dronayên Tirk bi hev re bi kar tîne, ev ji faktora Îranê pê ve bi çi yê dî dikare were gotin? Jixwe pê tê zanîn ku Ermenîstan sefîrê Israîlê ji ber vê sedemê kişandiye..
Lê dewleta Tirk pêngava Qerebaxê ya bi gelek hedefan e, bi desteka Rojava (DYE, Israîl, NATO û hin welatên Ereb) dike, her wiha li ber Rojav jî radibe û hedefê jî dide şelihandin.
A rast ev lîstik ji bo dewleta Tirk ne nû ye. Li Idlibê ku bi desteka NATO'yê û DYE'yê disekine, dema ku bi Rûsyayê re dihate pêşberî hev li ber NATO û DYE'Yê radibû û hewl dida ku ji xezeba Rûsyayê xwe biparêze.
Îro jî di gavên xwe de ku li Qerebax û Îranê dike, ji bo ku Îranê rasterast neyîne pêşberî xwe hewl dide ku propandaya vê neke. Lê pir aşkere ye ku hêzên Rojavayî yên hesabdanêr ev dîtine.
Bi gotineke aşkere, dewleta Tirk ji DYE û Rojava re dibêje, ''Binerin, ez bi qasî Îranê xurt im. Heke li ser Îranê hesabekî we hebe, min jî ji bîr nekin. Li topiskeke min dinere.''
Helbet aliyekî vê peyamê yê Îranê jî heye. Bi îhtîmalekê ''doqikê Azerî'' şanî Îranê didin, bi vê hem wê hewl bidin ku li ser meseleya Qerebaxê bêdeng bimîne, hem jî li Rojava û Başûr wê li dijî Kurdan û PKK'ê hevkariyê lê ferz bike.
Îran, li dijî vê gava Qerebaxê ya dewleta Tirk a ku bi gelek hedefan e, heta niha bi hevsendanîna di navbeyna Azerbaycan û Ermenîstanê de hewl dide ku siyasetê bike lê problemeke zor re rû bi rû ye.
Li aliyekî Azerbaycan hene ku baregehên dijminên sereke yên Îranê DYE û Israîlê lê hene. Bi klasîkî jî be, nikare siyaseta, ''dostê dijminê min, dijminê min e'' rê ve bibe, ji ber ku li welatê wan nifûzeke zêde heye ku bi mezheba fermî re bi yenî mezhebê ye.
Li aliyê dî jî Ermenîstan heye ku li dijî Azerbaycanê weke hêmana hevsengê dibîne. Aşkere nikare destekê bide wê jî, ji ber ku helwesta nifûsa Azerî ya li welatê wan, dibe ku wî derî lê veke ku tam jî dijminên wê dixwazin mudahele bikin.
Bi qutebirî, di textika kişikiê de ku dewleta Tirk li pêşberî Îran û Rûsyayê bi gava Qerebaxê danî, hem bi wê potansiyelê ye ku keviran ji cihê xwe bilebitîne û hem jî dikare gelek keviran asê jî bike.
Dewleta Tirk ev pêlek e lîstikê ji Iraqê heta bi Sûriyê, ji Libyayê heta bi Yemenê, ji Deryaya Spî heta bi Qirimê berbelav dike û dilîze. Niha jî qada lîstikê Kafkasya ye.
Li van hemû qadan bi qasî Rûsyayê Îran jî bi rengekî çalak heye. Helbet, her ku qad berfireh dibe rîsk û taloke zêde dibin, ev jî rastiyek e. 
Îran a ku bi hostatiya xwe ya di lîstika kişikê de tê naskirin, bêguman vê gava wêrek a dewleta Tirk ku lîstik kirî mala wê li cem xwe qeyd dike. Lê hê ne zelal e bê ka li kûderê, kengî wê çi bersivê bide.