Dema ku Kurd bi ser ketin wê mirovahî bi ser bikeve
"Eger em xwe ji vê xakê dibînin, xwe weke mirovên vê çand û nasnameyê dibînin, hingî dîlgirtina Rêber Apo ya li Îmraliyê divê em weke rûreşiyê bibînin. Heta ku têkoşîna me Rêber Apo azad neke li peşberî mirovahiyê wê serê me bilind nebe."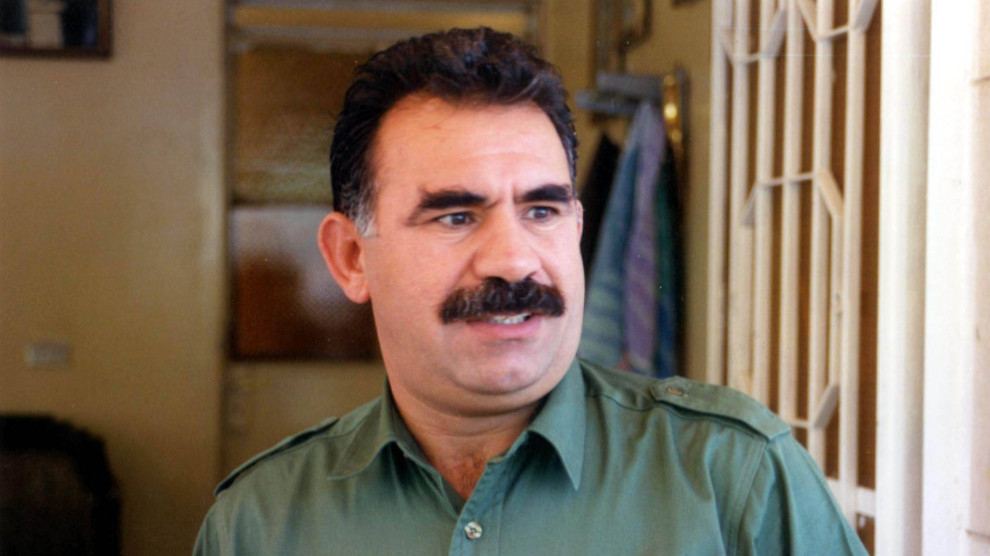 Em sedemên nêzîkatiya tolhildêr û bi hêrs a sîstemê ya li dijî Rêber Apo baş fêhm dikin. Di bingeha vê hêrs û daxwaza tolhildanê de tirs û fikara wê yekê heye ku li ser sûc hatiye zevtkirin heye. Ev sîstema ku li dijî mirovahiyê sûcên herî giran kiriye, ji ber ku zane wê mirovahiya berê xwe li vejînê ye hesab jê bipirse, beriya her tiştî dixwaze şahidan ji holê rake; bi tecrîdkirina Rêber Apo li sîstema Îmraliyê re êrişên înkar û tinekirinê yên li ser gelê Kurd zêde kir. Ev yek operasyona tinekirina şahidan e. Dewleta Tirk ku bi nobedariya li ber sîstema Îmraliyê hatiye wezîfedarkirin, bi gotina 'Tu gefê li me dixwe' her carê 'cezayê hucreyê di nava hucreyê de' lê dibire û ji ber vê yekê tecrîdê giran dike. Rûyekî tecrîda li dijî mirovahiyê ya bi sîstema Îmraliyê li Rêber Apo tê ferzkirin eger tolhildan be, rûyê xwe yê din jî jibîrkirin e. Jibîrkirina hebûna şahid şêweyekî bêbandorkirin û jiholêrakirina şahid e. Navekî din ê vê yekê hiştina li qadeke tarî yan jî xistina nava darbestê û hiştina li hucreyeke dûr e. Ji ber ku pirsgirêkê ji bo xwe weke pirsgirêka man û nemanê dibîne, sîstem serî li rê û rêbazên giran dide.
FERASETA ZINDANÊ YA SERDEMA NAVÎN
Di vir de sîstema emperyal û mêtingeriya qirker hiqûqa xwe jî pêk nîne, bi mejiyê zindanî yê serdema navîn tevdigere. Şert û mercên ku Rêber Apo niha lê tê ragirtin ji şert û mercên zindanên serdema navîn jî paşketîtir e. Cezakirina mîtolojîk ku em ji mînaka Prometheûs dizanin bûye rastî. Prometheûs ê hemdem Rêber Apo vê carê ne li çiyayên Kafkasyayê, lê li tehtên Îmraliyê hatiye zincîrkirin. Belê, eger dewlet 'şeklê berçav ê li ser rûyê erdê yê Xweda' be, eşkere ye ku xwedayên mezin hemû yên vê serdemê hevkarî kirine û ev çalakî pêk anîne. Prometheûs ê ku kezeba xwe ya ku teyr bi nikilê xwe her roj parçe dikir û wî jî nû kir, gelekî dişibe Rêber Apo yê ku di nava neh salen tenêtiyeke giran de xwe gihandiye hêza bilind a wate û hestê. Di vê pêvajoyê de bi rengekî bêhempa eşkere buye ku tişta nekuje mirovên mezin xurt dike. Lewma pêvajoya Îmraliyê ji bo Rêber Apo bûye 'hizirîna bi bask'. Ya rast ew e ku mirov vê pêvajoyê ji pênûsa wî bişopînin:
"Rahîbên Sûrmerî ku dayika min a xudawend û jina eşqê Îştar birina perestgehê û ji wir jî birina qesra xwe, birina gel xweda-qiral her wiha piştî mirinê jî bi saxî wana li gorê cihkirin heta dawiyê min ji dil hîs kiribû. Min ti demê qebûl nekir xweda-qiral jî be, jinê bike parçeyek ji zewq û sefaya sofreya xwe. Lê min ew yek jî famkiribû ku dayika xwedawend û jina eşqê di roja me ya îro de jî hûr bi hûr bi hûrkolîneke mezin helandin û xwarina wê, dîsa bermahiyên jinê yên di bin navê zewacê de pêşkêşî evdan û para bêdengkirinê ya mêr jî. Neqebûlkirina vê xelatê ya weke mêrekê, bi hêviya ku bibin kurekî baş ê dayika xwedawend û jina eşqê, hê zêdetir kêfxweş û serbilind dibim. Cara yekem e ku bi vî awayî hewl dide dayika niştiman di kûrahiya dîrokê de fêm bike, nakokiyên girêkorî yên bi hezaran salî çareser dibin, dikevim wê ferqê de vejîna nû bi wate ye. Min ji bo yên mirin, dîsa hemû komploger, kî dibe bila bibe yên tevahiya sedsala 20'ê mirin sepandin bidim nîşandan ku xwe radigirim, hê jî vê weke peyamekê ji bo hinek dostên ku ji min hê bawer dikin bi nirx e, min qebûl kiribû ku wan jî ev yek ferq kiriye. Sepandina bikaranîna bombeyên paket ên ji Horeşîmayan bi xetertir û wiha bi ser gelê me de hatin hemû aliyên wê dikare bê çareserkirin; min pîmên wê hemû derxist, hemû amûr hemû bombe li rûyê wan da û wiha aram dibûm. Ez alîgirê mirovan bûm, carekî din dîsa xudayên zordar têk çûbûn."
Erê, kurê ciwan ê dayika xwedawend û jina eşqê vê dibêje. Ji ber ku karê kirî li holê ye, rûyê wî heye ku vê ji bo me dibêje. Bê ka çawa li dijî kê li ber xwe daye, li kû û çawa xwe ragirtiye vê yekê bi peyam ji bo me radigihîne. Rejîmeke bê bext, her tim êşkenceyên nû û rêbazên zordariyê diceribîne, dixwaze mirina Rêbertiya me û sepandina bêwatekirinê bê navber dixwaze bidomîne. Di vê mijarê de bi qasî pêwîst weke tevger û gel nenîşandan hestyariyê, dîsa heman demê bêeleqedarbûn û çavê xwe li girtina vê ciret daye dijmin; rê li ber wê vekiriye ku dijmin hê zêdetir bê wijdan û rehm êrîş bike. Hêjî girtina dengan a Erdogan û partiya wî ya li Kurdistanê, wê weke zordarî û zilmê li gelê Kurd û Rêbertiya wî veger. Gotin di cih de be beşek yê vî gelî sedem çi dibe bila bibe, bi dengê dide AKP'ê şûrê destê celadê xwe dizane.
STRANA SÊVDÎN
Li vir gotinên stransa Sêvdîn a navdar a Dersimê ku min guh dabûyê hate bîra min. Welatiyên Dersimê li devera Sêvdîn a Pîlemûriyê ya Dersimê li dijî artêşa Rûsan li ber xwe dabûn. Di demê herî şer dijwar de di navbera birayên bi navê Dûrsûn û Heyder de diyalogek balkêş pêk tê. Dûrsûn ji bo birayê xwe tîne ziman ku eger baş şer bikin û di şer de serketî bibin wê dewleta Osmanî xelata pere bide wan. Di wê baweriyê de eye ku wê xelata per ya dewletê rûhê birayê wî yê şerker derxe holê. Bersiva Heyder dayî wiha ye; 'Xelata ku dewlet bide me ji derveyî fincanek jehr tişteke din nîne, ew jî ne tê xwarin û ne jî vexwarin. Em ji bo welatê xwe şer dikin. Em bi ser bikevin wê welat bê rizgarkirin, eger bimirin jî xelata me cinet e." Bi rastî jî demboriya mirov hê rastir e. Mirovê Kurd ê girêdayî axa xwe, mirovahî û ji dewletê dûr, heta xwe ji derveyî vê girtin, bizane her tiştê dewlet xwediye bi mêtingerî û talanê girtiye, destê xwe dirêjî heramê neke û rabirduya xwe bizane ew rastiya mirov bi xwe ye. Hinek tişt hene tê girtin lê qet nayê firotin, tê dayîn lê nayê firotin, dibe xwedî lê qet nayê dewirkirin; mîna rûmet, namûs, şeref, wijdan û erdemiyê…
DEQEKE REŞE LI SER ENIYA ME
Eger em xwe ji vê xakê dibînin, xwe weke mirovên vê çand û nasnameyê dibînin, hingî dîlgirtina Rêber Apo ya li Îmraliyê divê em weke rûreşiyê bibînin. Heta ku têkoşîna me Rêber Apo azad neke li peşberî mirovahiyê wê serê me bilind nebe.Heta ev deq neyê jêbirin, yanî têkoşîna me Rêber Apo azad neke, wê rûyê me nebe ku em derkevin nava mirovan. Qala wê nakim derketina nava mirovên asayî; eger bi rastî mirovahiyek hebûya, ji xwe wê Rêbertiya me ne di nava mercên wiha de bûna. Mirovatiya ku li vir qala wê dikim şehîdên me ne, şehîdên azadî û demokrasiyê yên hemû mirovhiyê ne.Çavên artêşa şehîdan li ser me ye. Em nikarin bêjin; 'Ew şehîdbûne, nikarin li me binêrin'. Na ew ji yên zindî hê zêdetir zindî ne. Eger ku parçeyek mirovahî li ba me heye, ev bi saya wan pêk hatiye. 'Parçeyek' jî be divê em vê mirovahiyê winda nekin, berovajî hê bihêztir bikin. Zêdekirina mirovahîbûna xwe bi çalakiyên me mimkûn e. Çalakiya herî mezin di azadbûna Rêber Apo de kilîdbûn û ji bo ev yek jî pêk bê çi bê xwestin kirina wê ye. Azadiya Rêbertiya me azadiya welat e, gihandina gel a demokrasiyê ye, mirovahiya azad û jiyana azad e.
Tevgera Hemdem a Îbrahîmî
Divê em jibîr nekin; Îslam ne li xakên Împaratoriya Bîzan û Sasanî yên navenda şaristanî û dewletên mezin yên dema xwe, li çolên Erbisanê derket. Îsewitî ne li navenda Împaratoriya roma li xaka Yahûdî ya li herêmeke ya peravên sîstemê derket û belav bû. Derketina herdu olên mezin hinek nirxên bingehîn yên mirovahiyê windakirî ji nû ve da hev. Eger ev olên mezin derneketiban wê cehalet û hovitî bûbûya qedera mirovahiyê. Îro mirovahiya ku bi hêviyeke li benda derketina pêxemberekî be ku dîsan li herêma li perava sîstemê mayî hê sîstemê bi temamî ne girtiye nava xwe di ber dilê gelekê de bûye. Ez ti caran nabêjim Rêber Apo Qasidê Xwedê ye. Ez qala kevneşopiyek, ji kevneşopiya pêxember, naveroka wê ya pîroz û yê xwedî li vê naverokê hebûna Rêbertiya Tevgerekê dikim. Ez qala rastiya Tevgera PKK'ê ku xwe weke Tevgera Hemdem a Îbrahîm dide naskirin dikim. Ev tevgera ku li dijî jiyana bi lanet ya ku bi mihreqa dewletê disepine derbasbûna raperîna jiyana pîroz û hemû mirovahiyê bigre nava xwe ye.
Ebû Sufyan ku bi xwe jî Ereb e û bi zilamên xwe dixwestin Hz. Mihemed tine bikn. Hz. Mihemed jî li dijî mirovên qewmê xwe ku ji rê derketibû gelek şer kir. Di dîroka dema nû ya Kurdan de rolê Ebû Sufyan hêzên hevkar û bûne cerdevan dileyzin. Waliyê Roma yê Qûdisê di cejnekê de kevneşopiyek kir wesîle, ji Yahûdiyan re got eger bixwazin wê Îsa berdin; lê li cihê Îsa eşqiya Barabbas berdan û Îsa jî li çarmixê dan. Eger li dîrokê were gerin, îro di nava Kurdan de jî ev nêzikatî hene. Başe îro divê dîrok dûbare bibe? Ya hejayî Kurdan ev e? Divê wiha nêzî gelê Kurd yê spartine Tevgera Hemdem a Îbrahîmî bibin? NA! Mirovê Kurd wiha nêz nabe. Tişa ku Kurd ji bîr nekin ev e; Hûn çi dikin mirovatî li wê temaşe dike. Bi awayê mînav hev ya derketina hemû pêxembertiyê de, li Kurdistanê meşa hêviyê ya bi rêbertiya Abdullah Ocalan destpê kir, weke Xirîstiyan û Îslamyetê, meşa ku pêşbiniya hemû mirovahiyê digre nava xwe ye: meşa fetihkirina mirovahiyê ya di bingehê azadiyê de ye. Wek gel divê hûn pêşengtiya vê meşê bikin. Pêşeroja mirovahiyê bi çalakiyên we ve girêdayîye. Dema hûn biserketin wê mirovatî biserkeve, dema we windakir wê hemû mirovahî winda bike. Wê demê ji serketinê zêdetir tu çareyekî we divê nebe. Di rewşa serketinê de herî kêm wek Xiristiyanî û Îslamyetê wê bangora we li mirovahiyê bibe. Wê demê divê ji vê re rev nebe.
MIROVAHÎ LI GEL WE YE
Rêber Apo ji bo we û mirovahiyê dijî. Her tişta Rêber Apo dike ji bo we û mirovahiyê dike. Dibe ku hûn ne di wê ferqêde bin jî lê ew her tim we û pêşeroja we difikire; pêşeroja zarokên we difikire; rojên azad ku zarokên Kurd jidayik bibin difikire; pêşeroja mirovahiyê difirke. Eger bixwesta dikarî bibe bavê malbatekê, di nava sîstemê de bilind bibe, dikarî jiyana endamên xwe bi başî rêxistinbikira. Lê ji ber ew we û hemû mirovahî fikirî di rewşa ku bi vekirî ev rêyên he li peşiya wî, ev weke bêşerefî hebas kir. Her çiqas gefên darvekirinê lê hate xwarin, ew dîsan demekê ji dev ji fikirinadina we û ji bo we dev ji jiyanê berdayîn nexist aqilê xwe de. Ew li hembêza we de derket. Eger çavkaniya wê ne li gel we bûya, dibe ku ew dilpakiya ew xwedî ne di vî asta biîhtişamî de be. Dixwaze bila biçe paşerojê yan dixwaze bila were rja me ji ber ku di civaka Kurd de ev dilpakî hebû kesayetiya Apo bi van xemilî. Ji ber ku ji tunebûnê titşek nayê avakirin. Tişta herî bi nirx a heyî bi teqez li hinek deran kokê wê heye. Eger kok nebe şînayî tine. Wê demê hûn koka wê ava dikin yan jî Rêber Apo li ser kokên ku we xwe spartiye derketiye holê. Li kokên xwe yên dîrokî binêrin û hêza xwe ji wir bigrin. Mirovahî li ge we ye, mirovahî di kokên we de ne. Yên ku bûyina mirovahiyê pêktînin hûnin. Wê demê hêza xwe bibînin, bi xwe bawer bin û derbasî çalakiyan bibin.
Eger rastiya we ya cewherî ev e, mirovahî li gel we ye û eger hûn di mirovahiya tê jiyîn de ne, her tişta ku hûn ji bo xwe dikin wê emê li ser navê mirovahiyê dikin e. Nûnertiya çanda kok û wateya di kokan de cih girtin ev e. Eger Kurd heta neyê vuherîna titşekê ji jiyana komînal nayê veqetandin, nabe netewpereset, nabe dewletperest, nabe diz û xespker. Hilberin û parvekirin qedera wê ye, dayiktiya ji bo mirovahiyê re kirin qedera wê ye, xwedîkirina mirovahiyê qedera wê ye. Di qedera wê de hatiye nivîsin ku xilaskirina nîjada wan ji axayên şaristanî ku xizmetê ji wan re dikin derbasbûna ji demê binemala gelan. Hûn nikarin ji vê qederê birevin, divê hûn ne revin. Ji ber ku qedera mirovahiyê bi vê ve girêdayî ye. Wê demê divê hûn xwedî li Rêbertiya xwe derkevin. Divê demildest zilma Îmralî bidawî bibe, wê bidawî bibe. Ji bo vê jî hêza pêwîst dîsa hûn bixwe ne; Ev di dest, fikir û rûhê we de ye. Dema ku wer pirsî wê desteka hinek din nebe, wê demê we deriyê vê têkoşîna pîroz vekiriye. Divê hûn çare û çareseriyê di xwede bibînin.
Çalakiya bi pêşengiya Leyla Guven a bi şîara "Faşîsmê hilweşînin, Kurdistanê azad bikin" ya di sala 2018'an de destpêkirî û belavî hemû girtîgeh serî de dayikên me, gelê me û raya giştî ya demokratîk ku piştgirî dayî serketinek girîng bidestxist. Hate nîşandan ku tecrîd ne rewa ye û êrîşekî siyasî ku bingehê hiqûqa wê tuneye ne tenê di civaka Kurd de di civaka Tirkiye û tevahiya cîhanê de hate dîtin. Tecrîda li ser Rêber Apo tê pêkanîn giran bû, hêzên demokrasiyê bihêz bûn. Encamên vê berxwana hêza têkoşîna demokrasî û azadiyê ya gelê Kurd hate dîtin. Bi rakirina tecrîdê re gîrêdana di navbera pêşketina demokratîkbûyînê re ya ji aliyê gelên Tirkiye û raya giştî ya cîhanê ve destkeftiyek mezin e. Di vî alî de eger em dixwazin gelê Kurd azad û demokratîk bikin têkoşina li dijî tecrîdê û azadiya Rêbertiya me divê erka me ya bingehîn be. Li ser vî bingehî di sala 22'an a komployê de li dijî tecrîdê têbikoşin derbeya mezin li komplo û komplogeran bxin tenê ne ji bo Tirkiyeyê wê pêşiya demokratîkbûyîna Rojhilata Navên wer vekirin Rêber Apo û gelê Kurd Azad bibe. Li ser vî bingehî di sala 22'an a komployê de parolaya çalakiyên me diyare; Rêbertiya Azad Kurdê Azad, Rojhilata Navîn a Azad û Mirovê Azad e!