Şert û merc çiqasî giran jî bin ez ê hewl bidim xwe lê rabigirim
Şert û merc her çendî giran bin jî ez ê hewl bidim ragirim. Di jiyana xwe ya Imraliyê de, hilberandina sebrê, maneyê û wêrekiyê wê ji min ne zehmet be. Zehmetiyên fizîkî li derveyî vîna min e.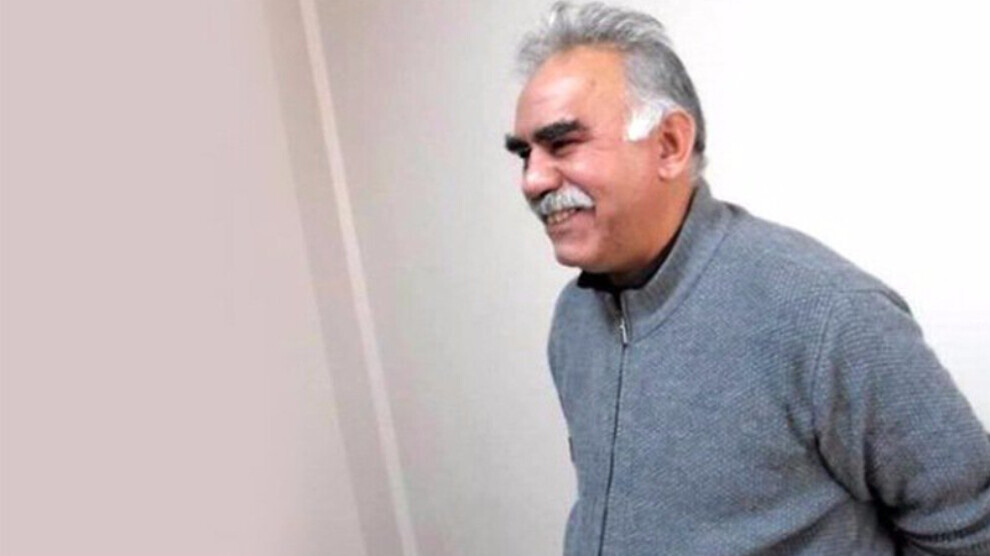 Beriya pêvajoya Imraliyê bi rengên cuda min nîşan dabû ku gera li aştiyê ji bo min ji geşkirina şer zêdetir binirx e. Gelek caran min ev hêl diyar kirin. Di pêvajoya Imraliyê de zêdetir li ser aştiyê kûr bûm.
Min ev ne di ber tawîzeke de wiha kir, min ev bi peywireke mirovî û siyasî fêhm kir. Teorî û pratîka aştiyê bi kêmanî bi qasî teorî û pratîka şer lêzimiyek e. Aştî heke sînordar be jî, heke ji pêngavên azadiyê re vekirî be, ji wan şeran, ku destkeftiyên pir mezin bi dest mirov ve tînin, divê bêhtir were hilbijartin. Ez bawer im ku hîs, hiş û vîna aştiyê zêdetir berz û xurt e. Ez bawer dikim civakeke ku aştiya xwe bi azadiyê bi cih aniye, her demê rêxistinî û bîrewer e û mafê xwe jî bi aştiyê bêtir bi rehetî wê bikaribin bi dest ve bînin.
Ti gumanê jê nabim ku aştî ne qelsî lê xurtiyek e. Bi radestbûna nav dogmayên milliyetgir, li ser navê ''welatê pîroz-al-dewletê'' derbirînên demagojîk ên ku têne nîşandan, bi rengê derewên faşîst şîrove dikim. Bi baweriya min, niştimanperweriya herî hevgirtî bi wê ye, ku mirov hurmetê bide hemû hebûnên çandî. Ez êmin im, ên ku dixwazin herî pir ji neteweya xwe re sûdewar bin, bi qasî ku hurmetê didin çanda xwe, bi hurmetdayina çandên hemû gelan dikarin vê pêk bînin. Sedsala 21'ê wê bibe şahidê aştiya Kurdan.
Pêvajoya jiyana min a li Imraliyê, ti guman jê nîn e, keda xwe tê de heye ku li ser diyardeya aştiyê zêdetir kûr bibim. Bi qasî derfet û delîveyan min hewl da ku ez vê der bikim. Di nermbûna rewşê de ya van du salan a li Tirkiyê, rista van hewldanên min diyarker bûye. Bi taybetî, elîta siyasî, parlamento û hikûmet gavên ku ji wan dihate payin, ji ber ku neavêtin, nehiştin ku rê zêdetir vekin û fersend nedan aştiyeke mayinde. Ez ne ku ji mirinê ditirsim bi vê helwestê me. Ez dizanim ku ev ê ti sûdê neyîne û nebe çare. Lê bi girîngî hewceyî pê dibînim ku diyar bikim, gavên ku bi hewcehiya nasnameya xwe ya îdeolojîk diavêjim bi şaşî neyên şîrovekirin û li ser vê hesabên şaş nayên kirin.
A ku li ser min tê ferzkirin, pergala rizandinê ye. Jixwe tê zanîn bê ka ez bi komployeke çilo anîme vir. Ji bo ku zêdetir fersendê bi dest armancên komlogeran ve neyînim, yên li ser Anatoliyê, Mezopotamyayê û Tirkiyê, ji bo ku zêdetir fersendê bi dest derdorên şowen ve neyînim, ku siyasetê di ser xwînê û şer re dikin, ez biryardar im ku helwesta xwe ya li ser aştî û azadiyê, ya di berjewendiya hemû gelê Tirkiyê de ye, bidomînim.
Her wiha, min diyar kiribû ku îmhakirina min tenê bi şexsê min re ne sînordar e, heke wiha bûya, min ê ev zêdetir venekiriba û nekiriba mesele. Lê ji ber sedema ku komplo hê jî sazkar e û baş pê dizanim ku îmhaya min  mîna xelekê wê ji bo îmhaya, hemû hevrêyan, dostan, gelê me yên dirûst, dilsoz ê welatparêz bi rengê destpêkekê were şixulandin, dema ku îhtîmaleke wiha hate rojevê û dema ku bi rengê talokeyekê derkete holê, haziriya giştî, raperîn û hatina ber bi pergala berevaniya rewa ve, weke mecbûriyeteke xwe nîşan dide.  Ji wan kesan, ku ji bo aştiyê gavên herî maqûl navêjin, her tişt dikare were hêvîkirin. Pûçkirina komployê zêdetir kêferatê hewce dke. Divê mirov baş bihesibîne be ka şêwaza rizandinê dixwazin bi kûderê ve bibin. Destpêkê rengê xwekuştinê li ser min hatibû ferzkirin. Ji bo piştî min gelek plan hatibû girêdan. Ya Talabanî tenê yek jê ye. Planên bi ser Barzanî ve jî hene. Her hêza têkildar û xwedan îdîa bi planekê ye. Ev plan nehatin rakirin, tenê bi demê ve hiştin. Hîç nayê zanîn bê ka şêwaza çareseriyê ya Tirkiyê çiye.  Lê aşkere ye ku hewl dide birizîne, li bendê ye ku  bi demê re alternatîfên herî pir li berjwendiyên wê tên xwedî bike.
Şêwaza me tê zanîn. Şert e ku hezên berevaniya rewa, di nav çar dewletên cîran de, bi qasî ku bikaribe aştiyê û çareseriya yekîtiya demokratîk bi cih bîne, xwedî hijmareke zêde be û bi vê wesfê ve.  Aştiya herî mutewazî jî, hewcehiyê bi hêza berevaniyê ya xurt û rewa dibîne. Kîjan dewlet êrîşê tîne ser bila bîne, divê di wê rewşê de be ku li dijî hemûyan, bi plan be, hazir be û bicihbûna wan bi hemû kûrahî û berfirehiyê be. Tenê ku pergaleke berevaniyê ya rewa ya ku bikaribe li bara her cure êrîşê xwe ragire li pişt hebe,  aştî û çareseriya demokratîk dikare çêbibe.
Dîsa dibêjim; berevaniya rewa ji bo dewletan jî hewce ye. Bi vê çarçoweyê pêdivî bi xebata civaka sivîl a berfireh û bi xebata siyasî heye, ya ku xwe dispêrê hevalbendiya hêzên çareseriya demokratîk. Aştiyê û çareseriya demokratîk bi esasî wê xebatên cviaka sivîl û hêzên hevalbendiya demokratîk bi cih bînin. Derveyî welat û hêzên berevaniya rewa tenê bi qasî ku vê xebatê û hevalbendiyan xurt bika geşdan dikarin erênî û bilez bin.
Şert û merc çendî giran bin jî ez ê hewl bidim ku ragirim. Di jiyana xwe ya Imraliyê de, hilberandina sebrê, mane û wêrekiyê wê ji bo min ne giran be. Zehmetiyên fizîkî ne bi vina min e. Ya herî çaktir, hem dîroka giştî û hem jî dîroka Tevgera Azadiyê, bi hêza hîs û ramanê ya li Imraliyê ez ê gelek caran binirxînim. Ez ê plansaziya hin xebatên wêjeyî bikim. Dikarim vê diyar bikm: Têgihiştina hêza hîs û ramana min a qonaxa Imraliyê wê me bibe wê rewşa ku mirov bi girîngî û hêzeke derasayî be. Mezinahiya dîrokî û mezinbûn, bi wê ve ye ku rastiya min a li Imraliyê were parvekirin û bi xurtî were temsîlkirin.
Jiyîna dîrokê û ya rojane ya bi vî rengê bêhempa û têra xwe kûr, bi avaniyeke weke ya min çavdêriya li vê û encam ji vê derxistin, ji bo kesên bi xwe bawer bi qasî ku hêzê dide wan, peywirên giran jî li wan bar dike. Ez hez nakim ku zêde xwe binepixînim.  Lê ji bo rûberîhevkirinê mirov gelek caran li Îsa, Paulus, Muhammed, Lenîn, Stalîn û mînakên piştî wê binere wê sûdewar be. Ez bawer dikim ev dahurandina vê şêwaza parastinê, wê bandoreke wiha bike ku asoyê li ber mirov veke, di hêla raman û hîsê de mirov dewlemend bike û ji bo hewcehiyan bi asteke girîng bibe bersiv. Lê heke ji bo xwe aştiyeke birûmet û jiyaneke azad dixwazin, her kes li gorî serdemeke derasayî divê hewldana xwe lê zêde bikin.
Hê jî barê dewletê, PKK'ê û gel, 90 ji 100'i ez radigirim. Ez vê ji bo xwe mîna rûmetê dibînim. Lê yên ku nikaribin bar hilgirin, ne xwedî wê siûda ne ku berz bibin û mezin bibin. Ji bo vê jî pêdivî pê heye ku mirov xwe bide şêwazeke  xwe dayinê, wêrekiyê û serkeftinê. Serdemên wiha, bi giraniyeke wiha ne ku dikarin dused salî diyar bikin. Bi vî  rengî şîrovekirin vê, wê nehêle ku sedan sal ecûckî bimînin; serdemên ku mirov dikare jê re bibêje şayanî dîrokê ne, rê li ber heyina hêzên berz û bixisletbûnê vedike. Dema ku ev siûd neyê bikaranîn, ne li ser navê xwe, li ser navê her kesî xemgîn dibim.
Diviya ev xakên ku dibû ku bihişt li ser bihatana avakirin, ne wiha hoveber bûna, ne wiha di nav kavil û xirbeyan de bûna. Mezinbûna hêviya min ji her demê xurtir e. Kêmparvekirinê û temsîlnekirinê li ser navê hevrêyan û  li ser navê hemû mirovên bîrbir weke windahiyekê û kana xemgîniyekê dibînim. Min hîç maneyek jê re nedît ku mirovên ev qasî li pey rastiyê ne, ev qasî ketiyê azweriya jiyana azad in û li pey spehîtiyê ne, çilo nebûne xwedî serkeftinên mezin. Ji bo vê jî, hêviya min a her dem a serkeftinê û çareseriyê mezin e.
Wê bidome...
Ji parêznameyên Rêberê Gelê Kurd Abdullah Ocalan hatiye amadekirin.