Şerê man û nemanê yê li Îmraliyê
Şert û mercên ku ez tê de me ji yên girtîgehên Tîpa F gelekî girantir in. Di rêvebernameya ti girtîgehê de maddeyek li ser van pêkanînan nîne. Nêzîkatiya kêfî û ji bo girtî-hikumxwarekî taybet li min tê kirin.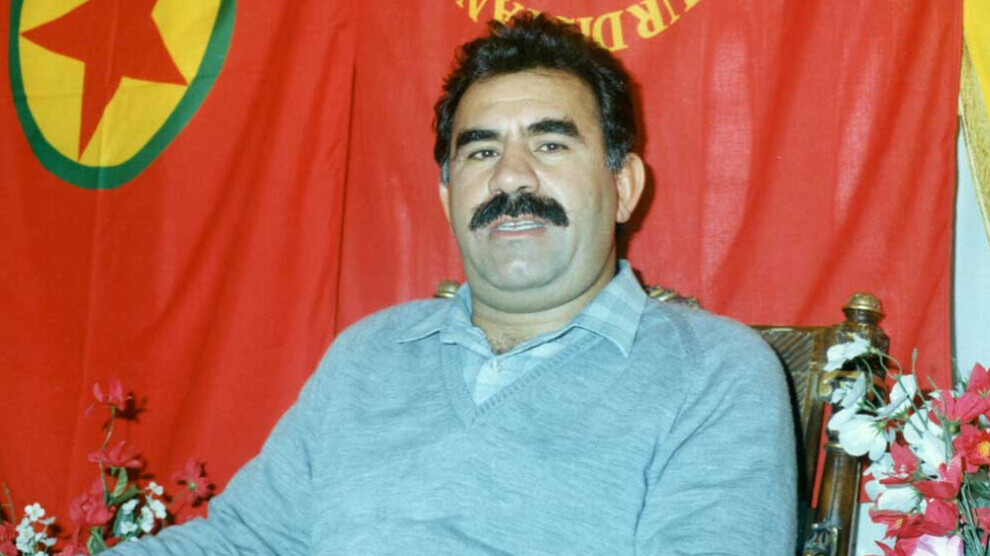 Li gel destnîşankirina bêhiqûqiya darizandina Îmraliyê, bi dîtina min wê kêrhatî be ku hin agahiyan bidim û nirxandinê bikim. Tevlî hemû îdîayên parêzerên xwe dibim ên ku diyar dikin ku xalên 2., 3., 5., 6., 7., 8., 9., 10., 13. û 14. hatine binpêkirin. Parêznameyên di vê mijarê de kirine hem ji aliyê teknîka hiqûqê ve hem jî ji aliyê dewlemendiya navberokê ve ji bo min jî derbas dibin.
Ez ê bi giranî hewl bidim rastiyên di cewhera mijarê de ne yên ne di cih de ne, eşkere bikim. Tevî ku girtî me, li giraveke xweser ku li Tirkiyeyê yekane ye, têm girtin û ev rewş ji bo min gelekî giran e. Ji ber rabûna li ber şert û mercên girtîgehên Tîpa F a li Tirkiyeyê, zêdeyî 50 girtî ya di dema serdegirtinê de ya jî di rojiya mirinê de şehîd bûn. Şert û mercên ku ez tê de me, ji yên girtîgehên Tîpa F gelekî girantir in. Di rêvebernameya ti girtîgehê de maddeyek li ser van pêkanînan nîne. Nêzîkatiya kêfî û ji bo girtî-hikumxwarekî taybet li min tê kirin. Kes nabîne bê çawa dijîm. Ji aliyê hêzên ewlekariya taybet ve ku hejmara wan timî diguhere û ne kêmî 20'an e, 24 saetan timî bi kamera û bi çavan têm şopandin. Eşkere ye ku tenê bi rapora Komîteya Pêşîgirtina li Êşkenceyê ku saziyeke nêzî Dadgeha Mafên Mirovan a Ewropayê ye, dikare eşkere bike bê ev pêkanîn ji aliyê psîkolojîk ve çiqasî giran e. Dema ku rewşa hewayê hinekî nebaş dibe, hevdîtina min a parêzeran a heftane, dibe du sê hefteyan carekê tenê ji bo saetekê. Ancax piştî çend mehan dikarim birayekî xwe û du xwişkên xwe bibînim.
Ji ber cihê jê tê dûr e û xizanin, zehmet e ku hevdîtin ji vê zêdetir were kirin. Alerjiyeke giran bi min re heye û şert û mercên heyî vê girantir dike. Ji xwe avhewaya deryayê tenduristiya min timî tengav dike. Dema dawî serê her deqeyê neçar im aveke tîr a di qirika xwe de biavêjim. Bedena min li asta dawî ya berxwedêriyê ye. Xwarin bi şêweyê karavana ye. Ji bo tenduristiyê nikarim ji bo xwe tiştekî werbigirim. Tevî vê yekê hewl didim têkiliya xwe ya bi Fermandariya Giravê û rêveberiya girtîgehê re di nava pîvanên medenî de bimeşînim. Pirsgirêkên min ji ber wan nîne. Statuya ku bi cih tê anîn, amûra herî mezin a zexta psîkolojîk e.
Van xusûsan zêde girîng nabînim û pêwîstiyê pê dibînim ku sîstema lînça siyasî ku meseleya bingehîn e vebêjim. Dinyayê tev dît ku didema dadgehê de kesên bi kincê sivîl û çapemeniyê atmosfereke lînçê kirin. Li salona dadgehê, ji bo rexneyeke biçûk jî lînç hate kirin. Eger tedbîrên taybet ên leşkeran nebûya, wê bi her awayî dînîtî bihata kirin. Çapemeniyê bi helwesta xwe ya terorê ya li derve re dixwest gelê Kurd bişikîne, bitirsîne û ji dozê vegerîne. Xwestin ku me ji jiyanê poşman bikin. Di vê demê de bi sedan dost û welatparêzan xwe şewitandin. Bi propagandaya ku digotin 'wê teqez bê îdamkirin' dixwestin hêviyan hemûyan bikişînin. Bi taybetî hewl didan ku min daxînin asta mirovekî erzan û biçûk bixînin. Bi karîkatur û şîroveyên ecêb dixwestin berxwedêriyê bişikînin. Sempatiyên herî biçûk ên dostaniyê bi tundiyê dihate tepisandin. Armanca esasî ya sîstema zextê ew bû ku hişmendiya siyasî welatparêz a gel tine bikin û nîşan bidin ku dozeke wan nîne. Gotina stranekê, xwendina helbestekê li ser min, têrê dikir ku di nava civakê de rê li ber lînçê veke. Du sê gotinên aştiyane yên ku hunermend Ahmet Kaya ji bo min got, têrê kir ku ji aliyê siyasî ve bê lînçkirin. Êdî nema dikarîbû li Tirkiyeyê bimîne. Xayin hatibû îlankirin. Piştî demeke kurt nekarî xwe li vê êşê rabigire û li Ewropayê şehîd bû.
Di encama hewldanên me yên lihevkirina demokratîk û aştiyane de, ev atmosfera şoven kêm be jî ji holê rabû. Civakê êdî nakokiyên xwe hê bi rasteqînî dît. Dît ku bi şerê taybet û aboriya rantê çi nelirêtî hatiye kirin û fêhm kir ku sedema rastî ya krîza giran siyaseta rantxur e. Li aliyê din, meqamên dewletê yên berpirsyar timî raporan didin û diyar dikin ku bi rêbaza klasîk a înkar û tinekirinê dewlet nikare xwe ji pirsgirêkan rizgar bike, pêwîstî bi jinûve avabûna demokratîk heye û reformên di vî warî de divê bi cih werin anîn. PKK'ê fêhm kiriye ku rewşa xitimanî ya pratîk û îdeolojîk, bi nêzîkatiyên berê ji holê nikare bê rakirin û çareserî nikare bê firandin. PKK jî ji aliyê xwe ve di gelek waran de xwe ji nû ve birêxistin dike.
Beşên civakê hemû pê dihese ku rewşeke nû derdikeve holê û êşên vê yekê niha tê kişandin. Ya ku derbarê pirsgirêka Kurd diqewime, rewşa 'ne şer ne jî aştî', serdemeke rawestandina şer a li dora agirbestê ye. Alî bi kûr diponijin, hewl didin nêrîn û pratîkên herî guncaw bibînin û li gorî vê yekê polîtîkayê diyar bikin, xwe ji nû ve ava bikin. Civaka Tirkiyeyê jî bi temamî ketiye nava vê pêvajoyê. Her alî ji dîrokê heta serdema heyî û paşerojê, xwe bi pir alî ji nû ve dinirxînin, hewl didin şert û mercên dinyayê, yên navxweyî û derve bi rasteqînî şîrove bikin û program û perspektîfên nû peyda bikin.
Nûbûna jiyan siyasî ji aliyê gelekan ve tê qebûlkirin. Tevî ku ev yek pêkhatina çareseriyê garantî nake jî, ispat dike ku jiyana mîna berê nabe. Şêweyê jiyana ji niha û pê ve bi konsensuseke civakî ya nû ve girêdayî ye ku di serî de Kurd cihêrengiyên nasname, bawerî û zayendê dixe nava çarçoveya xwe. Ji bo vê jî pêwîstî bi qanûn û destûra bingehîn a nû heye.
Pirsgirêka şer û aştiyê ya Tirkiyeyê, ji pirsgirêka Kurd jî wêdetir e. Hem xwedî rabirdûyeke demdirêj a dîrokî heye, hem jî nakokiyên 30 salên dawî yên civakî, olî û etnîkî ev rastî eşkere kirine. Îdeolojî û rêveberiya olîgarşîk a fermî ya komarê bi zext û zordariyê hewl da yekrengiyê li ser civakê ferz bikin, lê ev bi ser nexistin. Nakokî û şer ev hewldan têk bir. Ya ku pêwîstî pê heye, pêkhatina sîstemeke destûrî ya dewlemend e ku ji pir reng û çandan pêk tê. Tirkiye, komara demokratîk û laîk a salên 2000'î neçar dimîne ku ji aliyê cewherî ve xwe ji nû ve birêxistin bike. Qet hebe pêwîstî bi veguherîneke bingehîn a heta salên 1920'î heye.
Pêvajoya jiyan-mirinê ya li Îmraliyê hebûna pêwîstiya veguherînê eşkere kir, hem jî rê û rêbazên pêkhatina çareseriyê destnîşan kir. Bêguman di vir de dilsoziya PKK'ê û gelê Kurd a bi Rêbertî re xwedî rola bingehîn e. Kurd di dîrokê de yekemcar li pêşberî komploya herî pêşketî ya derve û hundir ji hev belav nebûn, berevajî belavbûn bêhtir xwe li hev girtin û helwesta lihevkirina demokratîk û aştiyê nîşan dan. Hêz û durustiya vê helwestê, dibe ku cara yekê bandor li delwetê û civakê kir û cesaret da wan ku ji bo aştiyê û lihevkirineke civakî ya nû gavê biavêjin. Di asta herî bilind de nîqaş tê kirin ku peymana civakî ya ku Kurd jî di nav de ne, wê rêbaza herî rast a yekîtiya dewletê û yekparebûna welêt be û ev nêzîkatî bi giranî erênî tê dîtin. Ya ku diqewime êşên jidayikbûnê ne. Lê belê ev nayê wê wateyê ku her tişt bi rengekî rast bi rê ve diçe. Hêzên şoven paşverû û xwecihî, bermahiyên siyasî Yên berê û statukoyên burokatîk xwedî wê potansiyelê ne ku dikarin rê li ber teqînên nû vekin ku pêşî li her tiştî bigirin. Metirsiya teqîna civakî bi temamî ji rojevê neketiye.
Li ser vê bingehê, pêvajoya Îmraliyê ya jiyana min, der barê rewşa parastina rewa de gelek wezîfeyan dide ser milê min û her kesî. Ji bo ev wezîfe rê li ber aştiyeke erênî û demokrasiya tam veke, mecbûre ku hêzên çekdar ên PKK'ê ji aliyê hejmar û kalîteyê de xurtir bibin. Ne tenê êrîşên hêzên li Tirkiyeyê yên aştiyê naxwazin, ev yek ji bo pûçkirina êrîşên paşverûyên li Rojhilata Navîn û li nava Kurdan, mecbûrî ye. Ev nebe, aştî û demokrasî wê xeyalek be.
Xusûsa duyemîn a girîng ew e, Kurd xwe ji rewşa klasîk a civakî rizgar bikin, bibin xwedî civakeke sivîl a berfireh û ber bi jorê ve piraniya civakê di nava xwe de vedihewîne. Bersiva ku gel bide jiyana min a li Îmrlaiyê, avakirina civaka sivîl a di vê çarçoveyê de ye. Ji bo gelê Tirk ê bira û komên din ên çandî, çare avakirina civakên sivîl e. yek ji projeyên bingehîn ên Tirkiyeyê afirandina civaka sivîl e û ev ne cihê nîqaşê ye. Heta ku civaka sivîl ava nebe, wê tiştekî xapînok be ku mirov li bendê bin ku ji nû ve avabûn bi dewleta klasîk bê kirin.
Di têkoşîna xwe ya mirin-jiyanê ya Îmraliyê de bi vê hişmendî û berpirsyariyê hewl didin vê yekê bikim. Ji bo kes û saziyên pêwendîdar tiştekî jiyanî ye ku fêhm bikin bê ev yek ji bo gelên me tê çi wateyê û baş analîz bikin. Aştiyeke bi rûmet û çareseriyeke demokratîk a tam, xala bingehîn a tercîh û karê me ye. Divê hêza şerxwazan û çeteyan qet neyê jibîrkirin. Çarçoveyeke îmhayê ya ji min destpê bike wê ji Kurdan û gelên Tirkiyeyê bi deh hezaran kesî qetil bike.
Girîng e bê zanîn, armanca bingehîn a hêzên hundir û derve yên komplo amade kirine ev e û divê qet neyê jibîrkirin ku di dem û cihê guncaw de wê dest bi îmhayeke wiha bikin. Şert e ku mîna ev komkujî wê sibe bê kirin bi her awayî amadekariyên parastinê werin kirin. Aştiya bi rûmet a paşerojê û ev nebe, şerê azadiyê yê bi rûmet ancax bi vî rengî dikare bi ser bê xistin.
Wê bidome...
Ji parêznameyên Rêberê Gelê Kurd Abdullah Ocalan hatiye amadekirin.