Demîrtaş: Pêdiviya muxalefetê bi hedefeke hê xurtir heye
Demîrtaş: Pêdiviya mûxalefeta Tirkiyê ne bi partiyeke dîtir, lê bi hedefeke xurttir heye. HDP xwedî vê potanisiyelê ye ku dikarê vê bike, zemîneke wê ya xurt a gel heye û têra xwe hêzeke siyasî ya girîng e.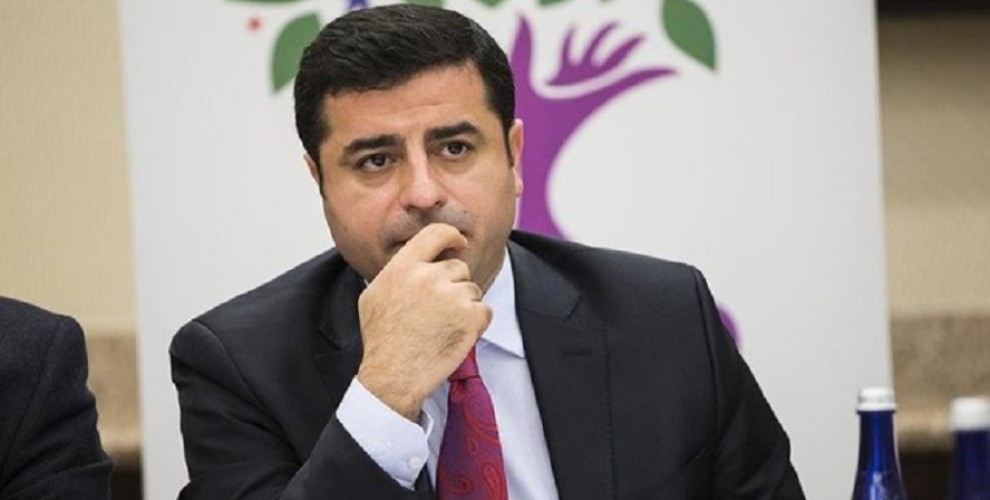 Hevserokê HDP'ê yê rehînkirî Selahattîn Demîrtaş li ser hilbijartinên 24'ê Hezîranê nivîsî. Demîrtaş got, ''Sînordarkirina têkoşînê ya Meclîsa ku fonksiyona wê nehatiye hiştin û li wir lîstina demokrasîtiyê tam jî daxwaza bloka faşîst a  AKP-MHP'ê ye.'
Demîrtaş di destpêka nivîsa xwe e got, ''Nivîsên min ramanên min ên şexsî û pêşniyarên min'. Ji ber ku peywireke min a ku temsîla HDP'ê dike tine, ev raman ji hêla sazûmaniyê ve HDP'ê temsil nakin. Desteyên rayedar ê partiya me û berdevk jixwe vê dikin. Ez di HDP'ê de ne 'rayedar' lê weke hemû hevalên  xwe li bara gelê xwe 'berpirs' im.''
Demîrtaş di nivîsa xwe de bal kişande ser nejirêzêbûna vê hilbijartinê û got, ''Nirxandina hilbijartinên 24'ê Hezîranê  ya tenê bi rengê pêvajoya hilbijartinê ya antî-demokratîk û bi gotina 'Qediya û bû, em li hilbijartinên pêş binerin' wê  nêzîkatiye şaş û kêm be.
Demîrtaş bi berdewamî bal kişande ser 'Hewldana derbasbûna ji krîzê ya pergala kapîtalîst a global ku ji 2008'an ve didome û her diçe giran dibe', her wiha şerê parvekirinê yê hêzên emperyal ên bi hedefa Esya, Efrîka û Rojhilata navîn, destwerdanên hêzên emperyal ên li Iraq, îran, Sûriye ûTirkiyê desetnîşan kir, piştî meşrûîyetê şerê navxwe yê desthilatê ya li Tirkiyê û pozisyona hêzên navnetewî yê di vî şerî de, rojanekekirina modêla netew-dewleta xitimî ya bi bloka faşîst a AKP-MHP'ê û her wiha li dijî van hemûyan li her çar parçeyên Kurdistanê xeta siyasal û îdeolojîk a Kurdan ava kirî û pozisyona hêzên şoreşger a li bara van geşedanan destnîşan kir û got, 'Em hesêb dikin ku rêveberiya HDP'ê dahurandina vê kiribe.''
Demîrtaş got îhtîmala ku bloka faşîst di hilbijartinê de bi paş bixin hebû lê bi astên cuda pêşnedîtînî,ne degelî û xeşîmî hebûye û ji bo vê jî fersend baş nehatiye bikaranîn, ''Di vê de ez jî di nav de berpirsyariya hemû rêveberiyê heye. Di vê mijarê de hê jî bi rengekî ku ji gel re vekirî, nedana rexneyeke têrkar jî kêmasiyeke mezin e.''
Demîrtaş çend kêmasiyên dema hilbijartinê nîşan da, û got, ''Mînak çima pêşî li dizîna dengan nehate girtin, pergala kompitirê ya navenda partiyê ku ev 3 hilbijartinên bê kêmasî sakzar e çima şeva hilbijartinê nexebitiye û rûxîna wê nehatiye vegotin. Lê ji ber ku meseleya sereke ne ev e, ez vê meseleye tenê bi bîr dixim. Ji ber ku, weke ku beriya niha min gotî, antîdemokratbûna hilbijartinê ne surprîzek bû û ne jî ji bo pêşî lê were girtin têra  xwe tevdîr hatibûn standin. Piştî hilbijartinê zelaltir derketiye holê ku meseleya esil ne mijara kêmasiya haziriya hilbijartinê ye.''
ÊN KU JI WAN TÊ HÊVÎKIRIN KU PÊŞENGIYÊ JI GEŞ RE BIKIN, DIVÊ BIRYARDAR Û BERXWEDÊRÊN WÊREK BIN
Demîrtaş bi domdarî got: ''Meseleya esil ew e ku piştî hilbijartinê wê çi wê were kirin, ti haziriya vê nehatiye kirin, nêzîkatiyek bê pêşbînî û bê tevdîr heye. Pirsgirêka mezin ew e ku hem tespîta wê hatiye kirin ku ev hilbijartin wê ne hilbijartineke jirêzê be û encam çi dibe bila bibe wê têkoşîna dijî faşîzmê li her qadê kûr bibe lê piştî hilbijartinê di dest we de ''nexşerêya têkoşînê' nebe. Helwesta muxalefetê ya piştî hilbijartinê, ti kelecanî û hêviyekê bi gel re çênake. Li bara faşîzmê hewayeke wiha tê çêkirin, wek ku, 'di dest de derfeta tekane û dawî hilbijartin bû û ev jî ji bo ku ji dest çû, tiştekî ku were kirin tine', ev tam apolîtîkî ye. Tê maneya ku mirov gel bi insafa faşîzmê re bihêle.
Lê ya ku pêşeng divê pêşî bikin ew e ku demildest xeteke nû ya berxwedanê diyar bikin û di pratîkê de vê deynin holê. Sînordarkirina têkoşînê ya Meclîsa ku fonksiyona wê nehatiye hiştin û li wir lîstina demokrasîtiyê tam jî daxwaza bloka faşîst a  AKP-MHP'ê ye. Ji bo vê jî HDP demildest divê ji hewaya 'betlaneyê' derkeve û dakeve qadê. Di rewşeke wiha de ku parlamento, Destûr, yasa, daraz hatine tekbirin, muxalefeteke ku mafê protestoya demokratîk bi kar nayîn wê çawa hêviyê bide gel? Bi taybeyî hin berdevkên siyasî yê partiyê ji bo ku desthilatdaran aciz dikin, bi peyvên ku putepêdanî hatine hilbijartin, rexnekirina faşîzmê û wiha hewldana avakirina dîmena ku muxalefetê dikin, pir beloq xuya dike û ez bawer im gel jî bêhnteng dike.''
Ew beşên ku hêvi ji wan tê kirin ku pêşengiyê ji gel re bikin divê zêdetir wêrek û xwedî helwesteke biryardar bin. Wiha bi nêzîkatiyên xweparêz, bi lêgerîna lihevkirineke nixumandî ya faşîzmê re, pêşengî ji gel re nayê kirin. Bêyî ku mirov berdêldaniyê bîne ber çavan mirov nikare li bendê be ku hine dî berdêlê bide. Wekî hûn tespîta wê dikin ku li dijî sazûmanîbûna faşîzmê divê muxalefeke demokratîk a karîger were kirin, naxwe divê pratîka we jî li gor vê be. Divê hûn têkoşînê din av gel bi rengekî herî karîger bidin. Divê hûn piraniya wext û enerjiya xwe bidin xebatên rêxistiniyê û çalakiyên demokratîk.''
Li bara kirinên nehiqûqî, neheq divê hûn pêşengiya protestoyên girseyî û mafê çalakiyên destûrî bikin. Mafê demokratîk ê mîtîng, meş, forum û hwd, hewce bike divê hûn her roj bikin. Her wiha bi hemû beşê muxalîf ê civakê re divê hûn derfetên hevkariyê ava bikin. Hemû pirsgirêkên beşên çewisandî divê li meydanan bi rengekî ku xuya bike muxalefetê bikin û karîger bikin.
Li dijî polîtîkayên şer û tundiyê dema ku parastina aştiyê hate kirin divê mirov ne bi fikar be, li her deverê divê mirov dengê xwe bilind bike. Divê hûn bi hemû Tirkiyê bidin fêhmkirin ku rêya herî karîger a şikandina vê xeleka şer, bidawîanîna tecrîda herî bê exlaq û bêhiqûqî ya li Imraliyê ye ku ev 4 sal in didome û bi qebûlkirina wê ye ku Ocalan aktorê herî xurt ê aştiyê ye. Heke hûn fêhm dikin ku ji bilî berxwedanê ti  rêyeke dî tine, divê pêşî hûn li ber xwe bidin û rêxistiniya berxwedanê bikin û layiqî desteka gel bin.
Di rewşeke wiha de ku gefê li dengdêrên HDP'ê tê dixwin, heke bi rengekî xurt mirov li vîna gel xwedî dernekeve ev ê bi gel re şikestineke çêbike. Ji bo vê jî divê bi gel re têkiliyên xurt werin avakirin. Divê bi hezaran hevalên me yên girtîgehê û malbatên wan re û hemû malbatên din re têkiliyeke jidil were danîn. Divê were dîtin ku van demên dawî tê xwestin ku hîsa bêxwedîbûnê were avakirin, tê xwestin ku têkiliya di navbera rêveberiya HDP'ê û zemîna sîsikî ya HDP'ê de têkilî werin qut kirin û li dijî vê divê bi lezgînî tevdîr werin standin. Tevgereke ku li nirxê xwedî dernekeve ti caran nikare li ser piyan bimîne.
PARLAMENTER DIVÊ HDP'Ê WEKE PARTIYA XWE BIBÎNIN
Demîrtaş bal kişande ser wê ku hin parlamanterên  HDP'ê dixwazin ji HDP'ê veqetin û di rêça xwe ya siyasî de xebatên xwe bidomînin û got, ''Divê HDP'ê weke partiya xwe bibînin û hewl bidin HDP'ê mezin bikin. Divê ti kes di nav HDP'ê de xwe mêvan nebine. Divê her kes fêhm bike ku ew tam di nav HDP'ê de ne û xwediyê wê ne. Rêveberiya HDP'ê jî divê rê li ber wê veke ku hemû cihêrengî bikaribin di rêveberiyê de xwedî hêza gotin, biryar û çalakiyê bin û derfeta tevlêbûna herî demokratîk û temsîlê ava bike. Li şûna pêkhate û hiqûqa pêkhateyê nasnameya HDP'yibûnê û sazûmaniya wê divê bi berfirehî were nirxandin û were rûniştandin.
Muxalefeta Tirkiyê pêdivî bi partiyeke nû nîn e, pêdivî bi hedefeke xurtir heye. HDP jî xwedî vê potansiyele ye, zemîneke wê ya xurt a gel heye û hêzeke siyasî ya têra xwe xurt e. A girîng ew e ku rêxistiniya vê potansiyele were kirin û mirov tevbigere.''