''Gurbetellî şoreşgera demên zor bû''             
Endama Komîteya Navendî ya PKK'ê Dilzar Dîlok: " Gurbetellî Ersoz xwedî kesayeteke bi zanîna dîrokî  ya têr bû û her wiha wê zanîn, kevneşopî û welatparêziya xwe di nava PKK'ê de kire yek û nûjen kir."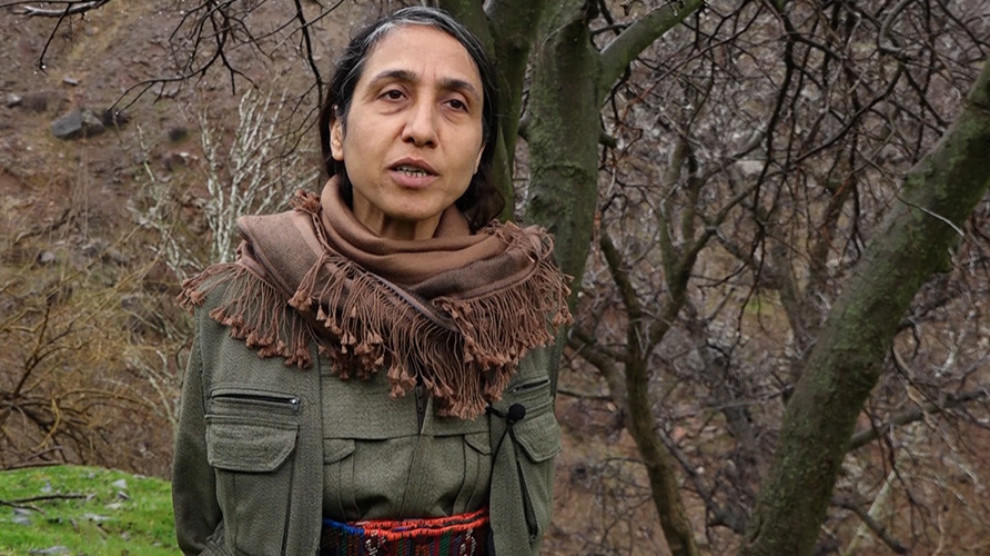 Endama Komîteya Navendî Dilzar Dîlok beşdarê bernameyek taybet  ya STÊRK TV  bû û li ser jiyan û kesayetiya şehîd Gurbetellî Ersoz  bersiv da pirsên rojnamevan Gulan Avrêl
 Dilzar Dîrok di despêka nirxandinên xwe de,  di kesayetiya Gurbetellî û Ş. Bêrîtan Hêvî de tevahî şehidên meha tirmehê û şehîdên tekoşîna azadiyê bi bîr anî û wiha dest bi nirxandinên xwe kir: " Weke destpêk dixazim bêjim ku ji ber ku ew hebûn, ji ber ku wan li ber xwe da û têkoşîna azadiyê gur kirin û xurt kirin em hene. Bi ferastên berxwedaniyê , bi ferasetê têkoşînê, bi ferasetê teslîm nûbûyî em hene, em bi ferasetê îradeya azad  hene, ji bo vê jî em deyndarê wan hevalan in. Dubare ez bejna xwe li ber şehidên cotmeh û şehidên tevgera azadiya jinê  ditewînim. Bêgoman em ê têkoşîna xwe geş bikin û layiqê şehidan bin."
 Heval Gurbetellî Şehida me ya meha Cotmehê ye, ev meh di dîroka têkoşîna me de meheke bi berxwedaniyê tejî ye, ji bo wê ev meh bi şehidan hatiye tacîdarkirin. Ji bo vê yeke naskirina kesayeta heval Gurbetellî  ji bo me pir girîng e. Heval Gurbetellî di sala 1965'an de li Paloyê hatiye dinê, xwedî malbatek welatparêze. Malbata heval Gurbetellî ji gundên xwe koçber bûne û hatine Çukurova ,milê Behra Spî. Li wir mecburî jiyaneke koçber jiyane, rexmê derfetên zor û zextên mitingeriyê xwestine xwe biparêzin û Kurdbûna xwe wenda nekin, xwestine rexmê tevahî asimlasyona û mitingeriyê jî jiyanekê ava bikin.  Ev bêgoman hêzeke berxwedanî û israreke xwedî li çanda û dîroka xwe derketinê dixwaze. Roj bi roj kêlî bi kêlî têkoşîn dixwaze û heval Gurbetellî bi van tevan re jî rû bi rû maye, keçeke bi vî rengiye.  Ji xwe ji bo keçên Kurd di nava metrepolan de mayîn jiyîn zehmetiyên xwe yên pir mezin hene. Cudabûna heval Gurbetellî jî ew e ku di nava wê jiyanê de  ji xirabiyê dûrdikeve û başiyê ava dike. Heval Gurbetellî li Çukurova zanîngehê jî dixwîne, jinek lêgerînên wê pir mezin e. Di sala 1987'an de di zaningehê de tevgera azadiyê PKK'ê nasdike, wê demê tekoşîn pir dijware, ji ber dengê gerîla tê bihistin û yêdî di nava gel de naskirina tevgerê zêdetir dibe û em belavê her deverê dibin, şerê çekdarî dest pê kiriye û qehremaniya rêheval Egid li Kurdistan û cihanê belav bûye. Ev mijar li ser heval Gurberellî bandorê dike. Jixwe me got heval xwedî malbatek welatparêz  e. Ji bo wê zanabûna Kurdbûyînê bi heval re heye. Ev bandorî jî dibe sedem bi heval Gurbetellî re lêgerinê jiyanê û têkoşînê peyda bibe, ev lêgerîn jî dibe sedem heval PKK'ê nasbike, tevlî bibe û di bin banê PKK'ê de xebatan bimeşîne. Ji ber PKK'e welatparêziya nûjen, netewbuyîna nûjen ya Kurdistanê ava dike, ji bo wê heval jî vê yekê dibîne û beşdarî Tevgera Azadiyê ya Kurdistanê dibe.
 'DÎROK Û KEVNEŞOPIYA XWE BI PKK'Ê RE NÛJEN KIR'
 Dilzar dîlok bi van gotina qala zanabûna dîrokî ya Gurbetellî dike û dibêje: "Di dîroka Kurdistanê de civakbûyînê pir biêş hatine avakirin lê civakbûnên ku bi berxwedaniyê hatine avakirin jî hene. Berxwedana Şêx Seyîd û Seyit Riza jî bi vî rengî ye. Hevalên ji van herêmanbi berxwedanî û destanên bi vî rengî re mezin bûne. Heval Gurbetellî jî hevalek bi vî rengî ye;  zarotiya wê bi guhdarkirina çîrokên berxwedaniya Şêx Seyîd derbaz bûye, bi welatparêziya ku li herêma Çewlik û Palo hatiye jiyîn  mezin bûye. Bêgoman gelek ali jî derketin ku welatparêzî berteng şîrove kirin, weke netewgerîyek hoveber tenê nirxandin. Lê belê pir aliyên qehreman jî yên xwedî li welatparêziya xwe û diroka xwe ya bi qehremaniyê tejî derketin, parstin û kûrkirin û nûjenkirina vê dîrokê bi PKK'ê re dîtin. Ferqa heval Gurbetellî jî ewe ku, hem xwedî li kevneşopiya xwe derdikeve hem jî tenê bi wê ve sînordar namîne, li cihê wê zanabûna xwe ya di warê  welatparêzî û dîroka Kurd ya heyî bi PKK'ê re hem dike yek hem jî nûjen dike.
 Heval Gurbetellî xwedî zanabûneke pir mezin e. Zanabûna wê jî di rastiyê de ji dîrokê tê. Her mirovek xwedî zanebÛneke dîrokî ye lê ji kes re dimîne bê ka çi ji wê zanabûnê bike, yan jî wê çawa bi kar bîne. Mirov dikare bêje ev hem bi kesayetê ve girêdayî ye,  hem jî bi çaxa ku mirov têde dijî. Em dikarin bêjin şansê heval Gurbet ew e ku PKK'ê nas dike, lê di heman demê de tiştên heval Gurbetellî bi PKK'ê re dike yek û hem xwe mezin dike, bi mezinbûna xwe re jî PKK'ê mezin  dike ew e ku bi heval re zanabûna dîrokî ya pir xurt heye. Ez dixazim li vir  mînakekê bidim di salên 2000'an de dema guhertina paradîgmaya me çêbû, ferasetê Rêber Apo  ya mêzandina dîrokê hat guhertin. Rêber Apo wê demê ji   me re got pirtûkek bi navê '' Dîrok bi Sûmeran re despê dike''heye wê bixwînin, me wê demê xwend lê heval Gurbet di sala 90'an de ew pirtûk xwendibû. Li vir  mirov dibîne bi rastî jineke ne bi qasî ku jiyan dike dixwaze wate bide, na ji wê hê zêdetir e. Mijar ne xwendina wê pirtûkê ye mijar li vir lêgerînên heval Gurbetellî ye. Mirov dikare bêje heval Gurbet jineke di kêliyên xwe de lêkolînên arkaolojiya dîrokê dike.Em niha weke xebatên Jineolojiyê pênase dikin lê heval hîn di wan deman de ev yek kiriye."
 'GURBETELLÎ MÎLÎTANA KÊLIYA ZOR BÛ'
Dilzar Dîlok di berdewamiya nirxandinên xwe de têkoşîna salên dijwar ya Gurbetellî bi van gotinan bilêv dike: "Heval Gurbetellî du caran diçe qada Rêber Apo cara yekem heval di salê 90'ê de demê beşdar dibe diçe qada Rêber APO li wir perwerde dibîne û derbasî xebatên Bakurê Kurdistan û Tirkêyê dibe. Li Kurdistanê qada rewşenbîriyê weke qadeke mayin kirî ye. Ji ber ferzkirinê wiha hene, yan tu wê weke wan bibî, yan jî tu wê xeta netewperestiya paşverû biparêzî, lê navbera herduyan de tu bi PKK'ê re bîbî û  jiyana civaka Kurdistanê nûjen bikî çi qasê zor be jî lê di wan deman de  heval Gurbetellî bi sekna xwe ew xet avakiriye. Xetek bi xeteriyan tejî bû, ji xwe em dizanin Musa Enter jî ji bo wê xetê kuştin. Lê heval Gurbetellî di vê xetê de  bû û mezin jî kir. Heval Gurbet piştî qada Rêbertî vegeriya, kete nav xebatên Rewşenbîriyê, bi xebatên rewşenbîriyê ve girêdayî ji  xebatê capemeniyê pir hes dike, ji xwe ji bo vê xebatî jî tê erkdarkirin lê tê girtin û du sal û nîv di girtîgehê de dimîne. Pey re derbasî xebatê çapemeniyê dibe û di rêveberiya rojnameya Ozgur Gundemê de dest bi xebatê dike. Dema mirov li jiyana heval dinere  mirov pir vekirî dibîne ku milîtanê kêliyên herî zor û zehmet bûye.  Lê rexmê wê jî xwe û xeta azadiyê bi awayê herî bedew parastiye. Ew pêvajo pêvajoyên pir zehmet bûn ji bo ragihadina me ya azad. Pêvajoyên ezmûnê ne û heval ji wan ezmûna de serkeftî derbas dibe. Piştî pratika çar salan heval ji bû derbasî nav qada Rêber Apo bibe diçe derveyê welat, piştî wê bi 15  rojan êrişî bînaya Ozgur Gundemê dikin, bitemamî bîna tê ruxandin û yek xebat karek li wir şehit dikeve.  Ev vekirî ye, bi van kiryaran dijminên azadiyê, ya rast mirov vê bêje gotinên gelên berxwedanvan nêrinên berdevkên gel û fikrên azad dixwazin ji holê rabikin. Ji bo wê yekê ew êrîş çêdibe, Ji xwe wê demê dirûşma rojnamê ew bû digotin "wê rastî di tariyê de nemîne". Wan xebatkaran di bin vê dirûşmê de kar dikirin. Heval Gurbetellî bi wê sondê kar dikir, em dikarin bêjin ji xwe ji ber pir bi bandor kar dikirin êrişek wiha dikirin, ew êriş li gor min bi qasî li beramberê fikra azad bû, heman demê de li beramberê hêza jinê û heval Gurbet jî bûji ber hêza wê."     
 ''GURBETTELÎ BÛ VATANELLÎ'
Demê heval diçe qada Rêber Apo hevpeyvînên heval Gurbetellî û Rêber Ap pir çêdibin, demê em wan dixwînin ne weke hevpeyvînên Rêber Apo bi şehidan re, di heman demê de em wir girîngiya nêrinên Rêbertî ya ji bo mijarên jiyan çiye û divê çawa bê jiyîn em dinirxînin. Rêbertî di hevpeyvîna xwe  ya dawi de jêre dibêje: "çima navê te Gurbetellî ye" ew jî ji Rêbertî re vedibêje û dibê demê bavê min weke karker diçe derveyê welat, diçe xerîbiyê wê demê vî navî li min dike. Rêber APO ji heval re dibêje: " Êdî tu yê ne li xerîbîyê tu yê ji vir şun de li welat bijî, ji bo wê netenê weke fizikî, te li qada Rêbertî perwerde dîtiye, te ji xwe re wateya rast ya jiyanê ji nû ve avakiriye, ji bo wê navê te bila Vatanellî be." 
Rêber Apo di hevpeyvînên xwe yên pir kûr bi heval Gurbetellî re heye,  bitaybet li ser mijara "Em Çawa Bijîn?" ji xwe bi vî sernavî pirtûkên Rêbertî jî hene. Rêbertî dixwaze bi vê pirsê re pênaseya jiyanê ava bike, heya dibe pêwîste romana wê bê nivîsîn. Dibe jiyan divê çawa bibe, di vê jiyanê de jin û zilam çawa bijî. Li ser vê Rêbertî wê hêzê dibîne bi heval Gurbetellî re û dixwaze ew li ser van mijaran rast hûr bibe û li gor wê kesayetê xwe ava bike, heya dixwaze bibe xetek ji bo wê demê heval Gurbet diçe welat Rêber Apo jê re dibêje: "Tu di rê de yî, tu dimeşî, tu wê mezin bibî lê ji mezinbûnê  netirse ûd ibêje vê bizanibe şervanên azadiyê şervanên zihniyete ne vê jî jibîr neke."
 'DIVÊ EM ŞERÊ POLÎTÎKIRINA HESTAN BIDIN'
Dîlok di berdewamiya nirxandinên xwe de qala hevpeyvînên Gurbetellî û Rêberê gelan birêz Abdulan Ocalan kir û wiha vegot:
"Politikkirina hestan, Rêbertî ji bo tevahî mirovan dibêje lê bi taybet ji bo me milîtanan û ji bo jinan dibêje. Mixabin wateya potîtikbûnê di nav gelên bindest de baş nîne, lê Rêbertî ji bo em politika rast bidin pênasekirin gelek ked da. Rêber Apo  poitîkbûn weke naskirina jiyanê, bûyina bi zanîna jiyanê  û jiyana li gorî wê pênase kir. Lê polîtîkkirina hestan di warê jineolojî de qadeke nû ye, tabî Rêbertî di salên 1995'an de vê pênaseyê dike. Lê Rêbertî ji zarokatiyê heya niha li beramberê hestên xwe û tiştên tên pêşberî wî di nava şerekê de ye. Hertim di nava lêpirsina de ye, minak dibê hestê min yê li bara dayika min, hevalên min û heskiriyên min wê min bibe kû, wê min bigihîne jiyaneke çawa? Ji bo wê ye rêbertî pir li ser van mijaran disekine. Rast e dibe ev mijareke psikolojik be lê di rastiyê de mijareke civaknasî û jiyannasiyê ye. Bi taybet jî salên 87'an şûnde Rêber Apo li ser mijara azadiya jin pir lêhurbûn û tehlîlên xurt çêdike û li astengiyên pêşneketina tevgera azadiyê digire û dibîne kû jin û zilamê Kurd di warê hestan de ne politik in. Raste her zindiyekê hestên wan cuda ne lê weke mirov hebûneke politik e. Ji bo wê divê mirov hemû jiyan xwe politik bijî. Lê weke gelê Kurd em hestên xwe weke politik najîn, ji bo wê jî ya rast civaka Kurdistanê heya niha jî azad nebûye. Miroveke azad nebûbe hestên wî jî azad nabe ji bo wê mirovek azad nebûbe nikare qala hestên xwe bike, ji ber ew hest ew hest in ku  hestên ku mitingeriyê daye. Rêber APO ji bo vê kedên bêhempa da û got ez şerê hestan bikim.''
FÎLOZOFA YAJK'Ê
 Di nav têkoşîna me de her hevalekê ku hatiye rûmetek qezenc kirî ye. Her hevalekê ezmûnên zehmet li pey xwe hiştine, heval Gurbet jî yek ji wan hevalan e, lê bitaybet heval di zankoyê de jixwe beşa kîmya dixwîne û li wir mamostetîyê jî dike.  Pîvan ne xwendina zankoya dewletê ye lê jîrbûna wê, jêhatî bûna wê û xwe gihandina zanista demê ji me re pîvane. Cardin di kesayetê heval de welatparêziyeke hestan tenê na, dixwaze ji bo wê lê kolînên cûr be cûr bike, netenê dema bûrî û dema bê, di heman demê de dema tê de dijî jî dixwaze bi awayke rast tehlîl bike û ji pêşeroja xwe re bihêle û kesayetek di her alî de xwedî ked û zîrek e. Minak sernivîsên wê hene di wan sernivîsan de ne tenê xweşiyan, di heman demê de tehlîlên pir xurt li ser kesayetê xwe, ji paşverotiyên tên jiyîn re jî dike. Pê ve girêdayî pêşketinên tên jiyîn û hêza jinê ya derdikeve pêş jî bi awayekê vekirî û pir xurt dinivîse. Ji ber van mijaran ji heval re dibêjin fîlozofa YAJK'ê. Dema em li wêneyên wê yên ji zarokatî heya beşdar bûnê jî binêrin em dibînin kû heval di yek yek wêneyan de pir bi xwe bawer e û di wêneyan de jî ew hêza wê pir vekirî derdikeve pêşberê me.        
''EW AVAKARA XETA RAGIHANDINA AZAD E'
 Heval Gurbetellî salên 94-95'an  demê li rojnameyê kar dike wêrekiyek mezin bi heval re heye, hem fizîkî li wir kar kirin, hem jî bi şêweyek radikal li beramberî fikrên mêtingeriyê rabûn ji bo wê fikrên azad vegotin û di rojnameyê de honandin wêrekiyek mezin e.  Niha jî ragihandina azad dibin êrîşan, zext, zor û gitina de xebatên xwe dikin, Lê ev berxwedanî mîrasê heval Gurbetellî û hevalên salên despêkê ne. Ji ber bû xetek li pey xwe şopdarên weke heval  Denîz Firat, Nujiya Arhat û Sarya jî derketin û bi mekîn,  pênûs û peyvên xwe di qadên herî pêş de şer kirin.
Dilzar Dîlok di dawiya nirxandinê xwe de bi bûyera şehadeta Gurbetellî û rê hevalên wê ve girêdayî bal kişand li ser hevkariya hinek aliyên Kurd ya bi dijminên gelê Kurd re û wiha anî ziman: "Li gel qehremaniyan mixabin dîroka Kurd bi hevkarî û îxanetê ve jî teji ye. Hîna netewayatiyeke bi ferasetê yekbûyî de çênebûye. Yên sedemê van nêzikatiyanin jî em dizanin di civakê de tiştek wiha nîne, lê aliyên xwe serdestên vê civakê dibînin û ferz dikin ew parçebuyînê ava dikin. Mînak li Başurê Kurdistanê  jî bi vî rengî ye. Sala ku heval Gurbetellî şehit dikeve sala 1997'an  operasyonek pir mezin dest pê kirin. 6 hezar leşkerên xwe anîn Kurdistanê û hinek bajarên Başurê Kurdistanê dagir kirin. Tangên dewletên Elman anîn Kurdistanê û ne tenê li çiyayên Kurdistanê di nava bajaran de jî bi hovane bikartanîn.  Di 14'ê Gulanê E dujminê Kurdan dewleta Tirk operasyon dide destpêkirin. 16'ê Gulanê komkujiya Hewlêrê çêbû li nexweşxaneya ku hevalên me yên birîndar lê diman. Ew hevkariya sala 97'an ji bo PDK'ê mijara şermezariyê ye. Dîsa di bûyera şehadeta heval Gurbetellî û gruba pê re jî destê PDK'ê heye ev ji aliyê herkesê ve jî tê zanin. Di şexsê heval Gurbetellî û rêhevalên wê de êrîşên li vîna jina Kurd kirin. Ez dîsa şermezar dikim. Îro hevkariyek wiha tineye lê tenê şêwaz hatiye guhertin. Lê divê Kurd hişyar bin, encex dema fikrên Rêber APO li tevahiya Kurdistanê hate belav kirin û hînkirin wê demê wê hevkariyên qirêj ji nava Kurdan de rabe, ji ber di vî fikrî de felsefeya jiyana nû heye, di vî fikrî de sistemek ya civakbûnê heye û herkes bi şekleke demokratik dikare cihê xwe di nav de bigire.
Roja me ya îro ger dewleta Tirkiyê nikare bi hezaran leşkerên xwe ve were li ser xaka Başurê Kurdistanê ne ji ber partiyên Başûr in. Ev bi temamî bi hêza me ve girêdayî ye, rast e, roj nîne bi hevkariya NATO'yê êrîşên balefiran nekin,  her wiha di her êrişê de reklamên xwe dikin, bi sîxurkirin kesan dibêje MÎT Û TSK bi hev re van operasyyonan dike. Rast e MÎT bi balefiran êrîş dike lê MÎT çawa tevlî dibe? li Başurê Kurdistanê sîxurtiyê geş dikin. Raste êrîşan dikin, carna şahadetên me çêdibin û heya gelê li herêmên sîvîl jî jiyana xwe ji dest didin lê dewleta Tirk baş dizane, nikare weke berê bikeve Kurdistanê û operasyonan bike. Di 2007'an de dîsa ceriband, lê jixwe hevalên me sitran çêkirin li ser destan Zapê digotin: "siwar hatin peya çun" yanî bi hevkar be jî nikare. Me jî têkoşîna azadiyê ewqas kir ku êdî hevkarî jî weke berê nayêkirin. Divê partiyên Başurê Kurdistanê bizanibin hevkariya bi dijminê Kurdan re ji bo herkesê zerar e.Mînaka wê êrîşên li ser Wargeha Şehît Rustem e, dîsa malbata rojavayê Kurdsitanê ya ku pêşmergetî jî kirin hemû qetil kirin.Divê bizanin bi dijminê xwe re xwe danE îspatkirinê re mezin nabin enceq bi gelê xwe re xwe dana îspatkirinê re dikarin mezin bibin.
Endama Komiteya PKK'ê Dilzar Dîlok bi van gotinan dawî li nirxandinên xwe anî: "Di şoreşên mezin de şoreşên hindirîn yên pir mezin çêdibin, qezenc û êşên pir mezin çêdibin. Heval Gurbet ji bo tevgera me ya jinê serkeftinek ya pir mezin e, em jî wê di xeta çapemeniya azad û fermandariya jina azad ya dayin avakirin de, em ê bimeşin xeta azadî û berxwedaniyê bilind bikin û layiqê berxwedana heval Gurbetellî jî derkevin"