Salih Muslim: Mutabaqata Edeneyê ji mêj ve bihuriye
Salih Muslim diyar kir ku Mutabaqata Edeneyê ji bo Sûriyeyê belgeyeke teslîmiyetê ye, lê belê êdî bêhikum maye û got, li Sûriyeya nû divê ev yek bê betalkirin.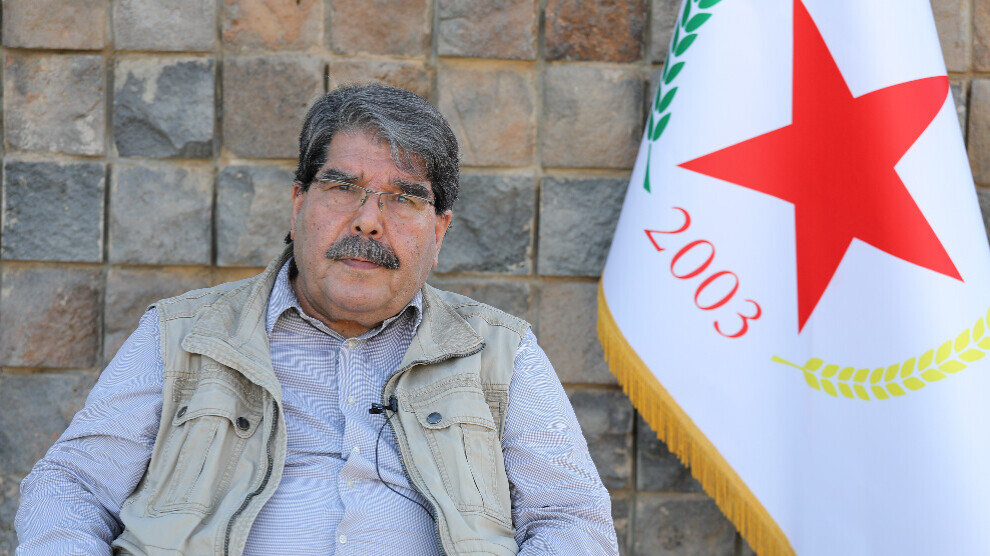 Endamê Konseya Hevserokatiyê ya PYD'ê Salih Muslim diyar kir ku Mutabaqata Edeneyê ne peymaneke navneteweyî yan jî destûra bingehînî ye, belgeyeke ku bi zextê hatiye îmzekirin û got, Tirkiyeyê ev yek bi kar anî û yekser dagir kir.
Endamê Konseya Hevserokatiyê ya PYD'ê Salih Muslim di sala 23'an a 'Mutabaqata Edeneyê' de têkildarî mijarê ji ANF'ê re axivî. Muslim anî ziman ku beriya her tiştî divê şert û mercên îmzekirina Mutabaqata Edeneyê, rewşa konjonkturî ya wê demê neyê jibîrkirin û destnîşan kir ku mutabaqat ji peymaneke navneteweyî wêdetir, di navbera serkêşê îstîxbarata Sûriyeyê Ednan Bedir Hesen û MÎT'ê de hate çêkirin. Muslim diyar kir ku ev lihevkirin pêşkêşî Meclîsê yan jî Desteya Wezîran nehate kirin, lewma ji peymaneke wêdetir, tenê hin sozên li ser kaxizekê ne.
Muslim ji destpêkirina komployê heta derketina Rêberê Gelê Kurd ji Sûriyeyê bal kişand ser rastiya Sûriyeyê ku di bin zext û gefeke mezin de bû û got, "Tiştekî welê bû ku mîna hinekan ew teslîm girt, çek xiste serî û jê re got divê tu vê îmze bike. Belgeyeke ku di nava wan şert û mercan de hatiye îmzekirin. Ne ji aliyê qanûnî ne jî ji aliyê navneteweyî ve derbasdar e. Tiştekî welê nîne ku bi îradeya Sûriyeyê ji aliyê xelk û hikumetê ve hatibe îmzekirin. Lewma derbasdar nîne, negihîştiye asta peymanekê ku li qada navneteweyî bê qebûlkirin."
Muslim diyar kir ku li gorî wê belgeyê, hêzên Tirk divê berê agahiyê bide û bi armanca şopandina germ dikarin bikevin nava xaka Sûriyeyê (Bi 5-10 kîlometreyan), lê divê piştre vekişin û got, "Ev şert û merc ji bo herdu aliyan derbas dibe. Çawa ku Tirkiye dikare bike, Sûriye jî dikare bike. Dema ku mirov bala xwe bide ser rastiyê, tiştekî wiha nehatiye kirin. Tirkiyeyê niha gelek herêmên ji sedan kîlometreyî dagir kiriye. Ne 5 kîlometre ne jî 10 kîlometre, her wiha bi rengekî mayinde demografiyê diguherîne. Meseleya Mutabaqata Edeneyê ji mêj ve bihuriye. Tirkiye ya ku çeteyan perwerde dike, bi çek dike, bi ser Sûriyeyê ve diajo û sewqiyata tankan dike, bi van kiryarên xwe ti eleqeya xwe bi vê mutabaqatê re nîne. Ev yek heye; êdî ji ber ku Sûriye lawaz bûye nikare bêje, 'Ez êdî dest ji vê yekê berdidim. Qebûl nakim'. Dibe ku ji ber ku pêwendiya xwe bi Kurdan re heye. Timî zextê li Kurdan dike û diyaloga bi Kurdan re ti carî qebûl nake. Ew jî li pêşiya bidestxistina mafên demokratîk ên gelê Kurd dibin asteng. Ji ber vê yekê ji bo ev Mutabaqata Edeneyê weke çoyekî li ser serî be dest jê bernade. Naxwe ti tiştekî Mutabaqata Edeneyê nîne. Derbasdar jî nîne, ne ya qebûlkirinê ye."
Muslim destnîşan kir ku eger bi hikumeta Sûriyeyê re yan jî li Sûriyeyê aştiyek pêk were ew hêvîdarin ku karê destpêkê betalkirina vê belgeya teslîmiyetê be û got, "Bahane dan faşîzma Tirk ku bikeve nava Sûriyeyê. Ev yek ji bo Sûriyeyê xiyanet e. Bawerim dema ku îradeya xelkê Sûriyeyê derkete holê wê ji lihevkirinên mîna ya Edeneyê rizgar bibe."