Tofana Jîna
Di 'Tofana Jîna' de dilê mirovan bi hev re lê dide. Ji bo jiyana azad a yeka/î din hewl tê dayin. Her kes şopdarên xwezayî yên mîrateya Jîna ne; raperîna azadiyê ji cihê ku hiştiye, dewam dike.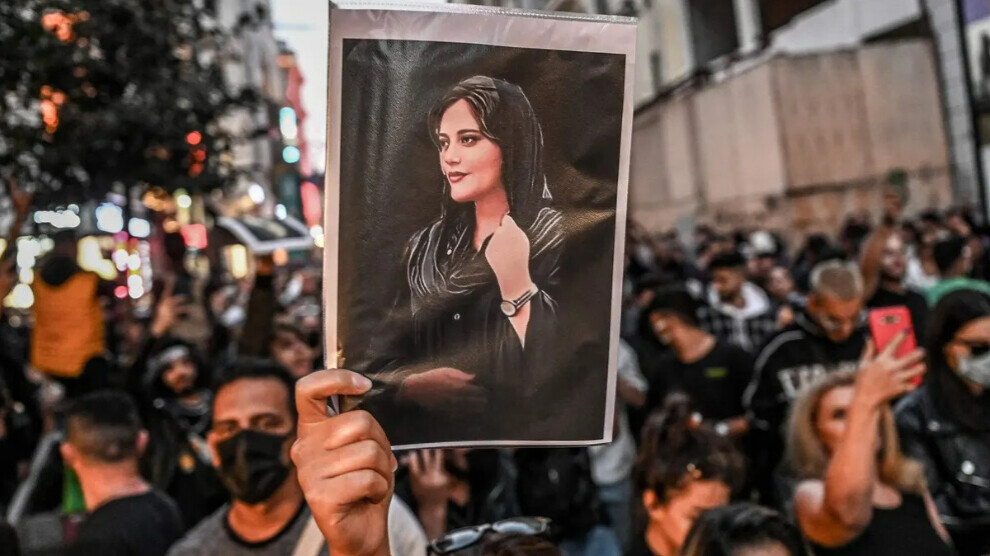 Ji ber ku porê xwe hinekî xuya dike, ma dibe mirov bi êşkenceyê bê kuştin? Belê, eger tu Kurd be bi her awayî mirin rewa ye. Di Ayeta 32'an a Sûreya Maîde ya pirtûka pîroz a olî de ku ji bo berjewendiyên xwe dibêjin 'em jê bawer dikin', wiha dibêje; 'Kî bi neheqî mirovekê/î bikuje, ew mirovahiyê bi temamî dikuje'. Bêguman hikumdarên ku li ser rûyê erdê ji xwe re bihuştê ava dikin, bi bihuştê koleyan dixapînin, bi cehenemê jî ditirsînin. Ol û exlaq ji bo wan maske ye. Ti pîrozmendî nîne ku jê nexwarine, ti nirx nîne ku bi kar neanîne. Xwe dikin nûnerê Xwedê û hikum didin. Halbûkî di dîrokê de Nemrût û Fîrewnên xwe mîna xweda didîtin, textê wan hejiya. Bi tofanan tune bûn. Mîna 'Tofana Jîna' ya bi serê Îranê ve hat, ku xwe weke dewleta Îslamê pênase dike. Di vê tofanê de dilê mirovan bi hev re lê dide. Ji bo jiyaneke yeka/î din hewl didin. Her kes bûye mîna şopdarên xwezayî yên mîrateya Jîna. Li cihê ku wê hiştiye, bi milyonan mirov raperîna azadiyê dewam dikin.
JÎNA, QÎRÎNA HIŞYARBÛNÊ
Jîna Emînî jineke ciwan a 22 salî bû. Porê wê ku di bin desmalê de hate dîtin, îro veguheriye raperîna wijdanê ya mirovahiyê. Her tayekî porê wê bûye hêviya her mirovên berxwedêr. Jîna bûye qîrîneke hişyarbûnê. Kêliya azadiyê ya her timî ya mirovahiyê. Ev kêlî li hemberî heramiyên ku ji tarîtiyê hez dikin bûye meşaleyek. Mîna ku her tayekî porê wê mirovahî rakir ser piyan. Berevajî ezeztiya 'Agir li cihê ku lê dikeve dişewitîne' ku hikumxwar bi ser mirovahiyê ve ferz dike, agirê ku li her tayekî porê Jîna ket, li her derê belav bû. Vî agirî anî bîra mirovan ku ji heman rehmê hatine, xwedî heman ruhî ne.
DI NAVA QIRÊJIYA MODERNÎTEYA KAPÎTALÎST DE
Yên ku qaşo heram û weke şermê dibînin, çima çav, dil û mejiyê xwe naparêzin? Nixumandina serî ku desthilatdarên dewletparêz ji Sumeran ve li ser koletiya jinê ava kirine, veherandina parçeyekî ji serweriya mêr a li hemberî jinê. Modernîteya ku mîna çala reş her cûre pîrozmendiyan dadiqurtîne, gelo her tiştên wê heram e yan jî helal e? Cihê ku modernîteya kapîtalîst lê destpê kir, dîlgirtina ajoyên jiyanê ye. Jiyana ku li ser xwarin, zayîn û ewlehiyê ava kirine, li ber mirinê ye.
Dewleta Îranê ku ji xwe re 'dewleta Îslamê' dibêje, mîna dewletên din hemûyan di nava qirêjiya modernîteya kapîtalîst de ava bûye. Halbûkî feraeta ummetê û cewhera Îslamiyetê ku dibêje 'hevdu nas bikin' ev nîne. Hz. Mûhammed ji bo cihê bihuştê ku warê Xweda ye û mirovên baş, bedew û rast wê biçin wê derê bi vê gotinê pênase dike 'Bihuşt di binê lingê dayikan de ye'. Bi kurtasî ti eleqeya dewleta Îranê bi ola Îslamê re nîne. Ji ber ku dewlet, navên xwe cuda jî be cewhera xwe bi heman rengî ye. Jİ bo dewletên ku hewl didin bi diziyê, guneh û heramiyê li ser piyan bimîne, yekane tişta girîng berjewendiya hikumdaran û kesên bi pereyan kirîn e. Ti nirxekî pîroz nîne ku ji bo berjewendiyên xwe bi kar nînin.
DEWLET ŞEBEKEYÊN SÛC ÊN ORGANÎZEYÎ NE
Li pêş çavan e bê dewlet çawa şebekeyên sûc ên organîzeyî ne. Dirûşma ku molayên dewletê yên Îranê hewl didin bi rêya wê gelên Îranê li gel hev bihêje wiha ye: 'Bimire Emerîka, bimire Îsraîl û Ewropa'. Emerîka, Îsraîl û Ewropa jî qaşo ambargo li ser dewleta Îranê ferz kirine. Yanî her dewlet wan derewan dike ku berê wan li mirovan e lê karaktera wan dişibe fanatîkên her cûreyan ku mirov dixwaze bibihîze. Dijminên welê diafirînin ku sîmulasyon e. Ya tê gotin ev e, gelo rastî çi ye? Gelo tişta ku dibêjin dikin an na? Yên ku di civîna bilind a Neteweyên Yekbûyî de li hev rûniştin kî ne? Dema ku Jîna Emînî hate qetilkirin, lîderê molayan Îbrahîm Reîsî li ku bû?
Molayên Îranê li Emerîka, Ewropa û Îsraîl xwedî mal û milkên bêhejmar e. Dewlemendiya xaka Îranê bi rengekî veşartî bi navên cuda pêşkêşî van dewletan dikin. Mola pereyên ji fûhûşê heta bi eroînê, pereyên ji dewlemendiya binê erdê ya gelên Îranê werdigirin li van welatan ji xwe re dikin bihuşt. Ev dewlet jî mîna ku Tayyîp Erdogan li xanedariya olîgark a Barzaniyan dike, van mal û milkan weke amûreke şantajê li hemberî wan bi kar tînin. Me bal kişand ser aliyekî biçûk ê aboriya vê çerxa wan.
Gelo di nava vê çexsê de nirxên bi esasî têne hêrandin çi ye? Dirûşma 'Jin, jiyan, azadî' ye ku bi Tofana Jîna hate ser ziman. Jin, jiyan û azadî di herikîna dîrokê de timî bûne dijminê hevpar ê serweran. Modernîteya kapîtalîst jinê dike amûreke seksê, parçe bi parçe difiroşe. Bazirganên qaşo olî yên dewleta Îranê jî bi rêbazên fûhûşê yên Sixe, Kirêkirina Rehmê û hwd. jinan li Emerîka, Erebistana Siûdî, Ewropa, Dûbaî, Kanada û gelek dewletên cîhanê li otelên ji pênc stêrkan difiroşin. Bi kurtasî li hemberî rastiya 'Jin, jiyan, azadî' rastiya dewletê diz, qirkerê jinê û kujer e.
EV TOFAN SERHILDANA LI DIJÎ ZALIMAN E
Tofana Jîna divê rast bê fêhmkirin. Bi vê tofanê re divê her mirov li cewhera xwe vegere. Ev tofan serhildana li dijî hikumdarên zalim e. Mejiyê 'Jin, jiyan, azadî' nirxên mirovahiyê îfade dike, veguheriye meseleyeke hezkirinê. Hezkirina ku li dijî hêzên hikumdaran şer dike, digihêje serketinê. Weke ku di Tofana Jîna de jî tê dîtin, hilweşandina ya sexte ne tundî ye, lê belê xweparastin e.