Sakîne cewher û dîroka Dersim û Kurdistanê ye
Ya ku Sakîne ev çend xurt kirî, li bara êşkenceyên giran jî kirî ku serê xwe netewîne ev Kurdatiya gewherî ye ku li Dersimê çêbûye. Sakîne gewhera Kurdistanê û Dersimê, dîroka wê ye.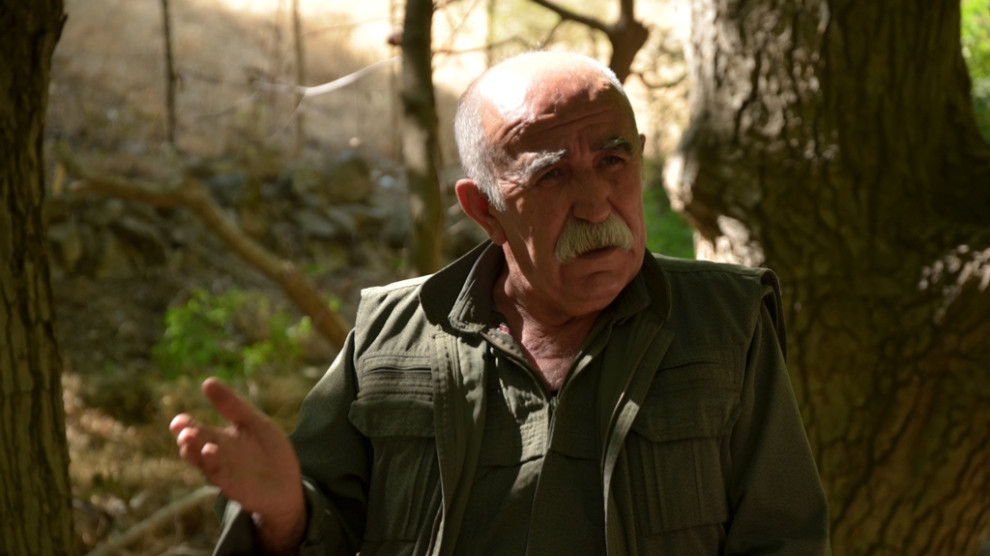 Damarên eslê yên PKK'ê hene.  PKK bi van damarên eslê xurt dibe û dijî. Hakî Karer, Mazlûm Dogan, Kemal Pîr, Xeyrî Durmuş, Mahsûn Korkmaz, Huseyîn Mahîr, Atakan Mahîr, Helmet, Zekî Şengalî, Bêrîtan, Zîlan, Delal, Şevîn Bîngol û Sakîne damarên herî eslî ên PKK'ê ne. Ev nav damarên eslê yên Kurdistanê îro bi xwe re berbiçav dikin û temsîl dikin.
Jinek û Dersimî, bi rengê damazerîner a PKK'ê û kesayata xeta azadiya jinê Sakîne Cansiz xwedî cihekî resen e. Kêm e ku mirov Sakîne tenê weke şexsekê bibîne, tenê weke şoreşger û milîtanekê bibîne. Bi giştî heta ku mirov dîroka Kurdistanê, bi resenî jî dîroka Dersimê û di vê dîrokê de cihê jinê û tiştên ku jiyaye fêhm neke, Sakîne nayê fêhmkirin. Bêguman qirkirina Dersimê ya 38'an li ser çêbûna kesayata Sakîne pir karîger bûye.
Dersim di nav sînorên Osmanî yan jî hin împaratoriyên din de cih girtiye. Lê li Dersimê dewletê nekariye ku hebûna xwe ya îdeolojîk, çandî, bawerî serwer bike. Serweriyeke siyasî çêbûye lê ev ji hêla îdarî ve di Dersimê negeriyaye. Dersim li Kurdistanê û li cografyaya Rojhilata Naîn di nav dewletan de tim bûye xwedî jiyaneke xweser û resen. Ji ber vê rastiyê dema ku Komara Tirkiyê biryarê li ser wê dide ku bibe netew-dewlet ev xisletê Dersimê kiriye hedefa xwe. Êrîşeke wiha ya qirker bi ser Dersimê de aniye hatiye xwestin ku ev xisletê Dersimê yê ku bi hezara salan çêbûye, were serkutkirin. Ji ber ku li Dersimê rastiya Kurd a bi giyanê azadiyê û gewherî heye. Ev Kurdatiya gewherî ku wê netew-dewleta ku wan bike kole qebûl nake mîna serê stiriyê nava çav hatiye dîtin. Jixwe bi gotina, ''Li Dersimê pitka mirovê medenî mezin nabe'' ev rastiya Kurd a bi giyanê azadiyê hatiye destnîşankirin. A rast ji ber ku ew ji rastiya mirovahiyê qut bûbûn, bûbûn paşverû Dersim mîna ku paşverû be nîşan dan. Ji ber ku Dersimê şaristaniya dewletî û ya bi serweriya mêr a mêtinger qebûl nekiriye. Dersim  li ser şaristaniya demokratîk radiwest ku giyanê azadiyê yê jinê hê jî bi asteke girîng lê heye.
1938'an hatiye xwestin ku ev nirxên şaristaniya demokratîk a bi hezaran salan were tinekirin. Ji ber vê jî zilmeke wiha kirine ku ji hemû nifşan re bibe ibret. Hemû tiştên ku hatine kirin bi zanebûn hatine kirin. Ji ber ku careke dî neyê bibîranîn û neçin ser rabirduyê. Da ku tenê bi hişmendiyê û çandê bijîn ku li ber wê hatiye danîn û qirkirina Kurdan û Elewiyan daniye ber xwe. Di vir de hin encam jî bi dest ve anîne. Lê piştî ku Rêber Apo rastiya Kurdistanê û Dersimê hinekî danîn holê û nirxên rabiduryê yên xweşik nîşan da, kir ku ev gewher dîsa rabe ser piyan. Ji ber ku zilm her çendî mezin û dilkevir be jî tinekirina çanda bi hezaran salan ne wiha hêsan e. Ya ku bi şexsê Sakîne re rabûyî ser piyan ev dîrok û gewhera bi hezaran sal e. Ya ku Sakîne ev çend xurt kirî, li bara êşkenceyên giran jî kirî ku serê xwe netewîne ev Kurdatiya gewherî ye ku li Dersimê çêbûye. Ya ku ev Kurdatiya gewherî ev çend kirî berxwedêr û rikdar, baweriya Elewî ye ku Kurdatiya Dersimê û çanda wê gihaniye ev,  baweriya Elewî di vir de xwedî karîgeriyeke mezin e. Di çêbûna Dersîmatiyê de, di çêbûna bîreweriya qewmbûnê de, kûrbûn û berfirebûna wê de Elewîtî bi risteke girîng rabûye. Ya ku wê hişmendiyê dide ku dibêje, ''Ê ku eslê xwe înkar dike heramîza ye'', ''Kî vedigere em ji rêya xwe venagerin'' Elewîtî ye. Pevgihîna Elewîtî û Kurdatiyê li Dersimê rastiyeke civakî ya pir resen û gewherî çêkiriye.
Sakîne dema ku Apoyiyan nas dike, dema ku Rêber Apo nas dike, bûye keçeke Kurd a wiha ku rabirduya xwe ya bi hezaran salan bi bîr tîne, hewl dide ku wê bi xwe re bide jiyîn û bi hêza ku ji vê dîroka pîroz standî hewl dide ku xwe têra xwe xurt bike. Ya ku bi şexsê Sakîn re bi serbilindî dimeşe dîroka Kurdistanê ye, Kurdatiya gewherî ya li Dersimê ye.  Mirov dikare hêza çanda Dersimê bi her rengî bi Sakîn re bibîne. Ji ber wê helwesta wê ya mîna xwedavendên beriya niha bi hezaran salan, her mirovî dikarî xwe bike qurbana wê. Hê dema ku ez li girtîgehê bûm, di nameyê de ku min jê re şandibû, ji ber vê taybetmendiya wê min gotibûyê, ez bi qurbana te bim. Hemû gelê Kurdistanê û jinên Kurdistanê hazir in ku bibin qurbana wê helwesta Kurdistana azad û helwesta gewherî ya Kurd ku di kesayata Sara de berbiçav bûye. Jixwe ev helwesta Sakîne kiriye ku bi hezaran jin berê xwe bidin çiyayên Kurdistanê, kiriye ku bi sed hezaran jin li pêş serhildanan rê ve biçin.
Sakîne rehê eslî yê Kurdistanê, yê Dersimê, yê PKK'ê ye. Dewamkirina hebûna Sakîne di nava rastiya Kurd de, di nava rastiya PKK'ê de xurtbûn û hebûna bi vî rehî, bi van nirxên bingehîn e. Ji xwe Sakîne Cansiz ji ber vê yekê bû hedef. Êrişeke mîna Qirkirina 38'an lê hate kirin. Jiyan û pratîka Sakîne Cansiz tê wateya ji nû ve jîna Kurdên Dersimê ji nava xweliyê xwe, ku hatibûn qirkirin. Bi Sakîne re ew nasnameya eslî ya 'destê biyaniyan lê neketiye' ya Dersimê ji nû ve zindî bû. Kurdên Dersimê ketin pêvajoya vegerîna li rastiya xwe. Jinên Dersimê ku çanda xwedawendiyê bi xurtî jiyan, di kesayetiya Sakîne de şênber bûn. Rastiya ku we ji dest dan hûn dikarin li devera ku ji dest dane bibînin. Rêber Apo di vê der barê de digot, 'Rabirdûya mirovahiyê hîn rastî ye. Ez ê li wê derê li mirovahiyê bigerim, bibînim, peyda bikim û ji nû ve bidim destpêkirin. Paşeroj ji bilî hewldana vê yekê ne tiştekî din e'. Kêm jî be têgihiştina rabirdûyê kir têrê kir ku hevala Sakîne xwe bigihîne koka xwe ya dîrokî. Ya ku bi Sakîne hate ser ziman dîroka gelekî bû, dîroka Kurd û Kurdistanê bû, dîroka Dersimê bû.
Piştî ku di şexsê Sakîne de Dersim rabû ser piya dest bi êrişeke nû ya qirkirinê kirin. Gotin ku ew Dersimeke wiha, Dersimiyeke wiha qebûl nakin. Yên ku niha dixwazin peykerê Seyît Riza rakin û zîhniyeta ku Sakîne qetil kir yek in. Dîtin ku ji Qirkirina 38'an encamek wernegirtin û dest bi êrişeke nû ya qirkirinê kirin. Bi qirkirineke nû ya 38'an a li gorî şert û mercên nû dixwazin encamê werbigirin. Divê mirov êrişên şerê taybet ên piralî yên dema dawî li Dersimê zêde bûne bi vî rengî fêhm bikin. Divê Dersimî hemû vê bibînin û li dijî vê zîhniye tû êrişên qirkeriyê bi rengekî rêxistinbûyî li ber xwe bidin. Eger Dersimî dixwazin bibin ya xwe û bi karaktera xwe bijîn, divê teqez xwedî li bîranîna Sakîne derkevin, hêviya yên ku ew û hevrêyên wê qetil kirin di ber wan de bihêlin, ji bo vê jî têkoşîna azadiyê bi ser bixin.
Di berxwedana dijî van êriş û polîtîkayên qirkirinê de bi hezaran şehîdên Dersimê hene. Di serî de Sakîne, Şiyar, Doktor Baran, Îsa, Baran, Atakan Mahîr, Zîlan û bi hezaran jin û mêr di xeta Rêber Apo de ji bo azadiya gelê Kurdistanê û Dersimê şehîd bûn. Li ser şopa Huseyîn Cevahîr, Alî Haydar Yildiz, Suleyman Cîhan, Cafer Cangoz, Aydin Hambayat, Mahîr, Îbrahîm Kaypakkaya, Denîzan şoreşgerên leheng ji bo Kurdistana azad û Tirkiyeya demokratîk şehîd bûn. Bi bîranîna hevrê Sakîne li gorî bîranîna şehîdên şoreşê hemûyan li dijî yên ku dixwazin qirkirineke 38'an a duyemîn pêk bînin, wezîfeya Dersimiyan û Kurdistaniyan hemûyane ku bi sekna Sakîne bersivê bidin.
Jêderk: Yenî Ozgur Polîtîka