Jêdera vîrusê kapîtalîzm e
Dibe ku lêpirsîna sersebeba vîrusa koronayê ji bo mirovahiyê jî deriyên xêrê veke. Di milê mirovahiyê de pêşketina hişmendiya xwexilaskirina ji kapîtalîzma ku dijminê mirovahî û civakê ye wê pêngavekê jî bi têkoşîna antîkapîtalîst bide avêtin.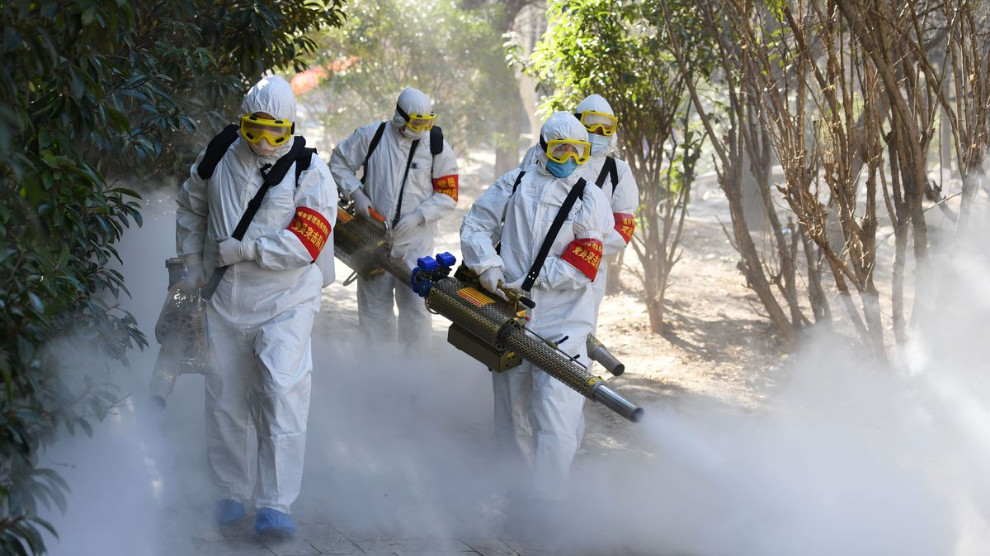 Vîrusa koronayê li dinyayê xistiye. Dewletên ku aboriya wan baş e, teknîka wan pêşketî ye jî li hemberî vê vîrusê ji qidûm ketine. Lê welatên ku di milê aborî û pêşketinên zanista teknîkê de lawaz in dibe ku zêdetir ji ber virûsê bêçare bimînin. Ji ber ku tê gotin heke ev vîrus li Afrîka û welatên din belav bibe wê bi milyonan kes bimrin. Sekreterê Neteweyên Yekbûyî jî jixwe bi vî awayî hişyar kir. Belkî mirovahiyê li hemberî senaryoya herî xerab hişyar dike, lê bi vî awayî rastiya talûkeya vîrusê jî datîne holê.
Em ê li vê derê nebêjin vîrus li filan derê derketiye, îşaretên xwe ev in, bi vî awayî mirov pêşî lê digre filan. Ji ber ku der barê van mijaran de gelek tê axaftin. Heta wisa lê hatiye ku esasên mijarê jî di nav vê keftûleftê de tê jibîrkirin. Helbûkî ji bo careke din felaketeke wisa neyê serê mirovan divê ku mirov sedemên wê jî dayne holê. Divê mirov sedemên wê dayne û ji bo ku careke din dernekeve holê jî li bersiva pirsa divê çi were kirin, bigere.
Sedema van vîrus û van nexweşiyan teqez kapîtalîzm e. Endustrîalîzma ku şêweya hilberînê ya kapîtalîzmê ye. Kapîtalîzm, ji ber arezûya xwe ya kârê tu rêgezeke xwezayê nas nake. Bi pêşketina tevgerên hawirdorê re di van salên dawî de her çend hinek mecbûr mabe ku baldar jî tevbigere dîsa jî hevsengiya xwezayê xera dike. Ji bilî kâra xwe girîngiyê nade ti tiştekî. Li gel ku germahiya kurewî û xirabûna hevsengiya hewayê jî vê hirsa kârê ya kapîtalîzmê ji rastiyan re çavên xwe digre.
Kapîtalîzm, endustrîalîzm dijminên xwezayê ne. Ew dijminê zindiyan, avê û hewayê ne. Hevsengiya xwezayî ya dinyayê xira dike, xwezayê qirêj dike. Ew bi vî awayî bi tenê nabe sedema nexweşiyan, pê re qada jiyana mirovan jî tine dike û bi vî awayî paşeroja nifşên nû jî dixe talûkê. Ji ber vê jî kapîtalîzm xetereke li ser tenduristiyê ye jî. Ew çavkaniya gelek xirabiyan e. Xerabiya wê ya herî mezin jî tinekirina civakîbûn e ku ew cewherê mirovahiyê ye. Lê em ê li vir di çarçoveya tenduristiyê de nirxandin û şiroveya xwe bikin.
Gelek civaknasan diyar kirin ku kapîtalîzm û endustrîalîzmê ji bo mirovahiyê gelek nexweşî çêkirine. Rêber Apo kapîtalîzmê weke penceşêra ji bo hemû qadên jiyanê ya civakê pênase kiriye. Heta hişyar kiriye ku heye mirovahî weke dînozoran biqele. Madem wisa ye wê demê lazim e ku mirovahî forma xwe ya manê û hebûnê ango civakîbûnê biparêze, li ber vê rewşê rabe û qebûl neke. Êdî dem hatiye ku mirovahî nîşan bide bi kapîtalîzmê re jiyan ne mimkûn e. Mirovahî mecbûr e ku li gorî forma hebûna xwe ango li gorî civakîbûnê pergaleke aborî, siyasî û civakî ava bike. Yan na wê stuyê xwe dirêjî bin kêra endustrîalîzma kujerê xweza, civak û mirovahiyê bike.
Helbet lazim e ku li dijî vîrusa koronayê derman û derziyek were dîtin, lê derman û derziya esasî lazim e li dijî kapîtalîzm û endustrîalîzmê were dîtin. Ji ber ku çirava ev vîrus jê derdikeve ew bi xwe ne. Yan na heke tu rabî ji bo nexweşan derman û derziyan bibînî jî wê ev bi tenê kelmêşan bikuje. Li dijî vê gefa mezin a bi vîrusa koronayê derket holê dem ew dem e ku em çiravê zuha bikin.
Hin derdor weke ku tedbîr be daxwaza vegera li rewşa dewleta netewe dikin. Ev daxwaz îşaret pê dike ku ew derdor ji kapîtalîzmê ti tişt fêm nekirine. Dewleta netewe ew pergal e ku kapîtalîzmê ew afirandiye. Dewleta netewe qada hegemonya, mêtingerî û kedxwariya yekdestî ya burjuvaziya netewî ye. Dewleta netewe ji vîrusên koronayê talûketir e. Şerên Cîhanê yên 1'an û 2'yan, van şerên ku hê jî bi nepixandin û mezinkirina nijadperestiyê tê kirin û encamên van şeran gelo ji vîrusa koronayê kêmtir in? Çavkaniya pirsgirêkê ne pêşketina teknîka zanistê ne sistbûna sînoran ne jî globalbûna dinyayê ye. Ya ku nexweşiyan çêdike kapîtalîzm e. Wê demê lazim e lêpirsîn jî ji bo pergala kapîtalîzmê be.
Li Spanyayê nexweşxaneyên taybet didin qada gelemperiyê. Hin welat jî wisa xuya ye wê heman tiştî bikin. Ev gav, gava ku van nexwexşaneyên weke kargerî û şîrketên taybet dixebitin cemawerîkirin karekî baş e. Lazim e ku xizmetguzariya tenduristiyê nebe mijara kirîn û firotinê. Belê rast e, nabe ku tenduristî bibe mijara kirin û firotinê, lê weke berê nabe ku dîsa ya dewletê be jî. Heke dîsa weke berê be ev tê wê wateyê ku wê dîsa di destê serdestan de be û wê ew derdor jê sûdê bigrin. Li ser vî esasî cemawerîkirin divê nebe dewletîkirin. Dema ku mijar tenduristî be divê bijîşk, hemşîre, kedkarên tenduristiyê, nûnerên gel ên bi tenduristiyê re peywendîdar, zanyarên li ser tenduristiyê xebatan dimeşînin, nûnerên jin û ciwanan û meclisên tenduristiyê ku nûnerên gelek derdoran tê de ne, û dîsa koordînasyoneke ji nava wan hilbijartî divê ku pergala xizmetguzariya tenduristiyê û polîtîkayên wê bi rê ve bibin. Yan na heke tu rabî û bikî ya dewletê, ev nayê wê wateyê ku di heman demê de ya gel e.
Di her kar û xebatê de xêrek jî heye. Dibe ku lêpirsîna sersebeba vîrusa koronayê ji bo mirovahiyê jî deriyên xêrê veke. Di milê mirovahiyê de pêşketina hişmendiya xwexilaskirina ji kapîtalîzma ku dijminê mirovahî û civakê ye wê pêngavekê jî bi têkoşîna antîkapîtalîst bide avêtin. Dibe ku ev êşa ji ber vîrusa koronayê bibe wesîleya vê jî. Jixwe encax bi xurtkirina têkoşîna antîkapîtalîst mirov dikare êş û azarên ji ber vîrusa koronayê jî derman bike. Wisa xuya dike ku wê mirovahî hemû bikeve nav proseseke bi vî rengî. Bi baweriya hesabpirsîna ji kapîtalîzm û endustrîalîzma ku belayên mezin bi serê mirovahiyê de anîne û li şûna wê sazûmankirina demokrasiya civakî ya ku xwe dispêre aboriya komunal…
ÇAVKANÎ: YENÎ OZGUR POLÎTÎKA