Keçên Rojê yên li dijî DAÎŞ'ê
"Hebûna we bi xwe serketin e. Rabûna li ber zilmê, serketin e. Şerkirin serketin e. Yekane tişta ku ew dikujin, tirsa me ye. Bi her jineke ku ew direvînin re şervaneke nû derdikeve holê..."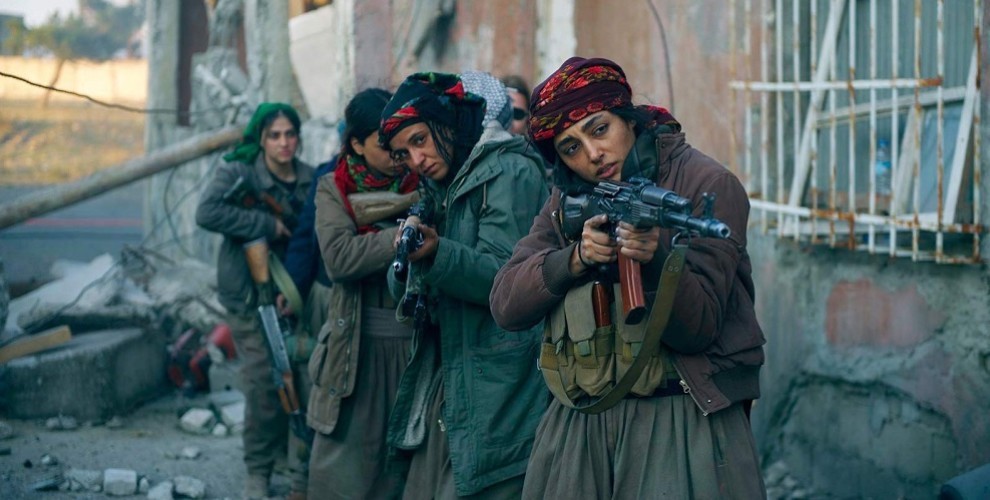 Ev gotinên mîna helbestekê hatine nivîsandin, helbest nîne. Ev gotin, ji fîlmê "Keçên Rojê / Girls of the Sun" e, ku qala têkoşîna jinên Kurd a li dijî çeteyên DAÎŞ'ê dike. "Keçên Rojê" di 71. Festîvala Fîlman a Cannesê ya Navneteweyî de yek ji 21 fîlman e ku ji bo wergirtina xelata "Palmiya Zêrîn" li ber xwe dide. Fîlmê ku bala her kesî li ser bû, pêr hate nîşandan.
Fîlmê ku qala şerê jinên Kurd ên li dijî DAÎŞ'ê dike, saetek û 55 deqeyan didome. Mijara fîlm tevî ku weke têkoşîna li dijî DAÎŞ'ê tê dîtin jî, bi giranî balê dikişîne ser îrade, hêz û baweriya serketinê ya jinan. Derhêner Eva Husson vê yekê di şexsê Êzidî Bahar de radixe pêş çavan ku ji aliyê DAÎŞ'ê ve dîl hatibû girtin û piştre azad bûbû.
SERKETINA JINÊN KURD
Fîlmê ku bi dîmenên dram, aksiyon û rageşiyê dest pê dike, bi nêrîna Emmanuelle Bercot (Mathilde) ku weke rojnamevaneke Fransî tevdigere, tê vegotin. Fîlm balê dikişîne ser êrîşa DAÎŞ'ê ya li ser Şengalê, komkujî û dîlgirtina jinan û serketina jinan a di şerê dijî DAÎŞ'ê de. Fîlm li ser vê yekê radiweste. Senaryoya fîlm ji aliyê derhêner Eva Husson ve hatiye nivîsandin. Derhêner ji xwe dibêje, "Nûçeyên li ser zilm, komkujî û dîlgirtina jinan bandor li min kir û bi vê bandorê min senaryo nivîsand."
ŞER, MIRIN Û PANÎK
Di fîlm de karaktera sereke Bahar e. Ev karakter jî ji aliyê lîstikvana Îranê Golshîfteh Farahanî ve tê lîstin ku Farahanî ya li sirgûnê dijî ji fîlmên Bahman Ghobadî tê naskirin. Di destpêka fîlm de rojnamevana Fransî Mathilde bi rêya helîkopterekê datê çiyayê Şengalê. Rojnamevan ji aliyê şervanên jin ve tê pêşwazîkirin. Ji diyalogê tê fêhmkirin ku berê li Kobanê bûye û hin şervanên jin ên li wê derê nas kiriye. Di fîlm de ku bi sehneyên şer, mirin û panîkê derbas dibe, Mathilde Mathilde û Bahar li hev rast tên. Şervanên jin ên Kurd hewl didin gund û bajarokan ji DAÎŞ'iyan rizgar bikin.
ÊŞ, WINDAKIRIN Û DILDARIYA AZADIYÊ
Bahar karakterek tund, bi hêrs û dîsîplîn e. Rojnamevan jî hewl dide her tiştî hîn bibe. Lê belê taybetmendiya hevpar a herduyan jî ew e ku jin û dayik in. Ev yek wan hê bêhtir nêzî hev dike. Bahar li Fransayê xwendiye û dema tê Şengalê ji bo serdana malbata xwe, di êrîşa DAÎŞ'ê de hevserê xwe winda dike, tevî kurê xwe dîl tê girtin, destavêtin lê tê kirin, piştre azad dibe û dibe şervan. Mathilde jî nûçegihaneke şer e. Hevserê wê ku heman pîşe dikir, di şerekî de jiyana xwe ji dest dide. Kurê wê yê li Fransayê bi tenê ye û timî lê difiikre. Windikarin û lêgerînên wan li jin û dayikbûna wan zêde dibe. Li êşên wan zêde dibin.
TÊKOŞÎNA LI DIJÎ MEJIYÊ MÊR
Fîlmê Keçên Rojê ne tenê şerê jinan ê li dijî DAÎŞ'ê vedibêje. Her wiha şervanî û têkoşeriya jinan a li Şengalê jî destnîşan dike. Bi taybetî balê dikişîne ser hin komên mêr ên şervan ên li Şengalê ku xwe nadin ber têkoşîna hevpar. Şervanên jin ku Bahar fermandariyê ji wan re dike, hem li dijî DAÎŞ'ê hem jî li dijî vê zîhniyetê têdikoşin. Di fîlm de li gel taybetmendiyên şervan û berxwedêr, he rwiha aliyên hestewar, hesas û însanî yên jinên Kurd jî tên nîşandan. Di fîlm de stranên bi Soranî tên gotin û govenda tê gerandin işaretê bi jiyana gerîlayên Kurd dikin.
Di fîlm de hewldanên ji bo rizgarkirina jinên dîlgirtî û rewşa jinên hatine firotin vedibêje. Her wiha rola erênî ya hin meleyan jî nîşan dide. Derhêner ola Îslamê û DAÎŞ'ê ji hev qut dike.
KEÇÊN ROJÊ FÎLMEKÎ JINAN E
Di dawiya fîlm de şervanên jin ên Kurd bi rêya tunelan diavêjin ser navenda çeteyên DAÎŞ'ê. Di dema vê serdegirtinê de hin ji şervanên jin jiyana xwe ji dest didin. Di şerê bajaran de ji ber bomberdûmana balafirên koalîsyonê rojnamevan Mathilde jî birîndar dibe. Di dawiya fîlm de bi sedan zarok tên rizgarkirin. Yek ji wan zarokan jî zarokê Bahar e.
Di rolên sereke yên fîlm de Golshîfteh Farahanî, Emmanuelle Bercot hene. Lîstikvana Êzidî Zubeyde Bûlût jî bi rola Lamîa dilîze.
"Keçên Rojê" yek ji 3 fîlmên derhênerên jin e ku îsal li Cannesê ji bo wergirtina xelatê têdikoşe. Xuya ye wê teqez xelatekê werbigire. Emmanuelle Bercot û Golshîfteh Farahanî di nava namzetên xelata "Lîstikvanên herî baş ên jin" de cih digirin.