Ok: Civîna Soçiyê ya ku Kurd tê de tune be, wê fiyasko be
Endamê Konseya Rêveber ê KCK'ê Sabrî Ok got ku, "Heta ku projeya neteweya demokratîk a ku Kurd pêşkêş dikin serwer nebe, wê kêşe bidomin."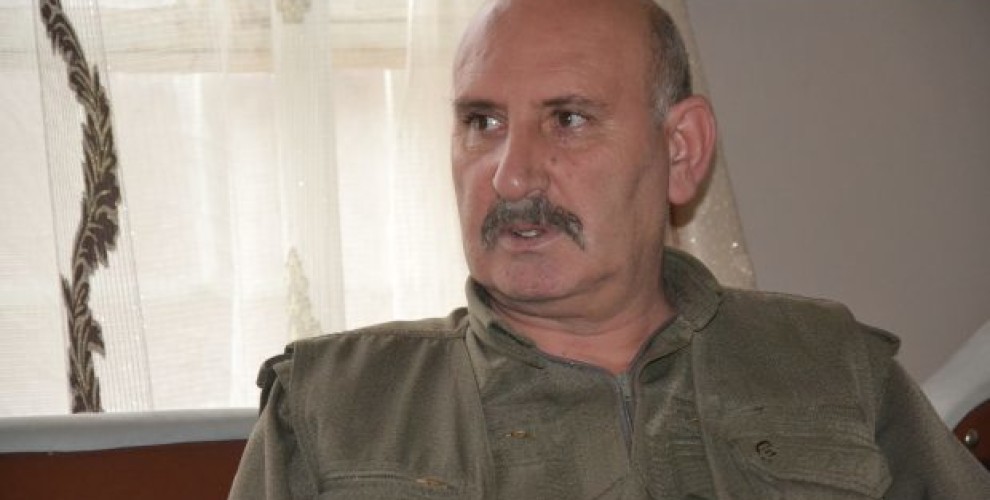 Endamê Konseya Rêveber ê KCK'ê Sabrî Ok pêşveçûnên li Sûriye û Başûrê Kurdistanê ji ANHA'yê re nirxand…
Sabrî Ok diyar kir ku DAIŞ wekî projeyekê ava bû û diyar kir ku Rêberê Gelê Kurd Abdullah Ocalan ji van çeteyan re dibêje "rêxistinên bi kapîtalîzmê ava bûne."
Ok bal kişand ser guherînên piştî DAIŞ'ê û got, "Rejîma Sûriyê hate ber tasfiyebûnê. Êdî neçar in ku biguherin. Rola bi navê îslamiya nerm a ku berê dabûn Tirkiyê ji dest çû. Tirkiye ev rol bi cih neanîn û bi hişmendiya netewdewletê bi çeteyan re bû yek. Îranê li Rojhilata Navîn polîtîkayekî emperyal da ber xwe. Ji bo ku ewlehiya xwe jî li derveyî sînorên xwe bihêle da ber xwe ku ji Iraqê ta bi Sûriye, Lubnan, Bahreyn û Yemenê nîvheyva şiî (Hîlal Şiî) çêbike. Hevsengên di nav Iraqê de feşkilîn. Îmaja Kurdan ku bi têkoşîna dijî DAIŞ'ê çêbûyî, bi serxweşbûna serketinê hate windakirin."
'HETA KU PROJEYA KURDAN NE SERWER BE WÊ KÊŞE BIDOMIN'
Ok diyar kir ku wê şerê wekaletê bidome û diyar kir ku kapîtalîzm ne xwediyê wî exlaq û polîtîkayê ye ku karibe kêşeyan ji binî ve çareser bike û got, "Niha Rûsya jî tevlî vê meselê bûye. Ev bloka dijber e. Tê zanîn ku Rûsya bi kîjan astê sosyalîzma reel jiyaye û bi kîjan astê bi kapîtalîzmê re gihaştiye hev. Ji bo vê jî rewşeke ku roleke demokratîkbûna mayinde xuya nake. Rûsya dixwaze bi hêzên xwe yên hevkar projeyên xwe pêk bîne, Ewropa û DYA jî heman tiştî dikin. Ji bo vê jî şerê li herêmê geh eşkere û geh jî veşartî tê kirin. Zehmet xuya dike ku hêzên global werin pêşberî hev. Ji bo vê jî şerê wekaletê wê bidome.
Li vir tenê Kurd xwedî reseniyekê ne. Bi perspektîfa Neteweya Demokratîk ji her cure desthilatdariyê, nîjatparaziyê dûr, ji bo hemû gel û baweriyan xwedî projeyeke çareseriyê ne. Mînak Rojava li ber çavan e. Heta ku projeya neteweya demokratîk a bi pêşengiya Kurdan serwer nebe arîşe wê her berdewam bin.
'KRÎZA NATO'YÊ NE TESADUF E'
Ok dema ku krîza NATO'yê ya Tirkiyeyê şîrove kir jî ev tişt diyar kir:
"Bi teqezî ne tesadûf e ku li NATO'yê wêneyên M. Kemal û Erdogan di nav ên dijminan de hatine nîşandan. Di serdemeke wiha krîtîk de balkêş e ku Tirkiye ya ku ev 50-60 sal in endamê NATO'yê ye van pirsgirêkan dijî.
(…)Jixwe bûyera Riza Sarraf jî wiha ye. Weke şûrekî li ser dewleta Tirk kil dibe. Navê kesên nêzî Erdogan û wezîrên berê hene. Tirkiye li Rojhilata Navîn li şûna nêzîkatiyeke çêker, çêkirina kaosê tercîh dike. AKP dixwaze bi vê tiştekî bi dest bixe. Di bûyera NATO'yê de jî bangî hîsên şoven ên gelê Tirk kirin û sor kirin. Xwestin ku bûyera NATO'yê ji bo xwe bi cih bînin. Peyamên wiha dane Amerîkayê: ''Heke hûn wiha bikin, ez ê bi Îranê re ku we kiriye hedefê hevkariyê bikim. Ez ê li Rojhilata Navîn bi Rûsyayê re, ku rikberê we ye, hevkariyê bikim.''
(…)Bi vê mêrxasiyê wê nikare berdewam bike. Ji bo ku bikarê van tiştan berdewam bikin divê hêza xwe ya aborî hebe û ew xwedî nirxên demokratîk bin. Hêza leşkerî girîng e, lê ne her tişt e. Ji bo dewletek wek Tirkiyê ku ji aliyê leşkerî û aborî ve bi derve ve girêdayî bêhtir ev derbasdar e.
AKP ji bo ku di hilbijartinan de bi ser bikeve, ji niha de li ser raya giştî ya Tirkiye polîtîkayê dike. Bi vê jî hesab dike gelo wê bi kare bi DYA'yê gav bi paş ve bide avêtin.
'EFRÎN WÊ JI BO TIRKIYEYÊ BIBE GORISTAN'
Ok têkildarî êrîşa Tirkiyeyê ya li dijî Efrînê jî diyar kir ku heke Tirkiye êrîşî Efrînê bike, wê Efrîn ji bo Tirkiyeyê bibe goristan û got, "Yek jê, wê rixmî DYA û Rûsya tiştek wilo bikin gelo? Divê ev tiş hemû bêne zanîn. Yan jî divê van tiştan hemûyan hesab bikin. Tu tiştek ji hevdu qut nîne. Ger ku Rûsya rê nedaba, DYA bêdeng nemaya Tirk wê nikarîbûna têketana Cerablûs û Babê. Dema ku DYA bêdeng bimîne, Rûsya rê bide wê bixwazin hêza xwe li hember Efrînê biceribînin. Ger ku wilo be wê Efrînê ji bo Tirk bibe cihe têkçûnê. Heta wê jê re bibe goristan. Gele Kurd wê li ber xwe bide. Wê bi derfetên xwe yên ku zêde bûne, wê bi tercrubeye xwe li ber xwe bide. Wê bi moral û hêza ku ji mafdariya wê te li ber xwe bide. Dibe ku berdêlan jî bide. Li rixmî her tiştî yê ku li Sûriye û herêmê winda bike wê dewleta Tirk be."
Ok têkildarî nakokiya Rûsya û Tirkiyeyê ya li ser Îdlîbê jî got ku, "Rûsyayê artêşa Tirk kişand Idlibê. Li gor ku em dizanin niha jî ji wan ne razî ye. Bi qasî ku me bihîstiye Rûsan ji wan re gotine polîsên xwe bînin, lê wan artêşa xwe anîne. Gotine hûn ê El Nûsra tasfiye bikin, niha bi El Nûsra re tevdigerin. Ji ber wê di navbera wan de nakokî hene. Li wir polîtîkayên dewleta Tirk û Rûsya wê demdirej hevdu temam nekin. Ji ber operasyona li Dêrazorê, Rûsya û rejima Sûrî hêzên xwe ji Idlibe kişandin. Ew valahiya ku çêbû xwestin bi destê Tirkan tijî bikin. Dema ku pirsgirêka Dêrazorê çareser bû wê Tirkiye avantajên xwe ji dest bide.
SOÇÎ
Ok li ser civîna Soçiyê jî got ku, "Em ji bûyerên ku li herêmê rû didin dişopînin. Yên ku li herêmê hovîtiyê dikin DAIŞ û El Nûsra ne. Beramberî vê yên ku ji bo azadiya gelan berdêlên mezin didin Kurd in. Ji ber vê li Cinêv, Astana, Riyadê bê Kurdan gera li çareseritê bi serê xwe bê edaletî ye. Li aliyê din çareseriyek wilo ne gengaz e jî. Yê ku li ser Sûriyeyê, bi taybet jî li ser bakurê Sûriyeyê û Rojava mafê wan heye Kurd in. Lê li vir dirûtiyek heye. Rola Tirkan pir zêde tê mezinkirin. Ji bo beşdarbûna Kurdan jî DYE dibeje em dixwazin lê Rûs naxwazin, Rûs jî dibeje em dixwazin lê DYE naxwaze. Yan jî ev herdu hêz dibejin ji ber hesasiyeta Tirkan nabe. Ev tiştên han bi ti awayî naye qebûlkirin. Tirkiye ne ew hêz e ku mirov ev çendî mezin bike.
Ji bo Soçiyê Rûsyayê li ber çapemeniyê sond xwar. Got PYD wê tevlî Soçiyê bibe. Li dijî Tirkiyê ev daxuyanî da. Rûsya got Bakurê Sûriyê wê tevlê bibe. Ji vê veger nîn e. Kurd jî wê vê binirxînin. Heke bi zexta Tirkiyê Rûsya wê bê Kurdan civîna Soçiyê bike ev ê bibe fiyasko. Ev her wiha wê bibe sede ku li cem Kurdan ji bo Rûsyayê rewşeke nû diyar bibe. Ez bawer nakim ku Rûsya zêde guh bide gefên Tirkiyê. Dawiyê li Rojhilata Navîn siyasetê dikin. Ez bawer nakim ku bi gefên Tirkiyê tevbigerin. Heke Kurd tevlê bibin wê wateyeke Soçiyê hebe. Heke nebe jî we bibe platformeke dijî Kurdan.
KRÎZA LI BAŞÛRÊ KURDISTANÊ
Ok li ser krîz û aloziya li Başûrê Kurdistanê jî got ku, "Ji bo îmaj û navê Kurdan tiştên ku li Başûr rûdan pir ne baş bû. Divê Kurd vî aqilê ku bû sedema vê encamê bidin ber pirsan. Kurdan li dinyayê îmajeke baş ji xwe re çêkiribûn. Lê tiştên ku piştî referandûmê çêbûn hinekî zirar dane vê îmajê.
Li Başûrê Kurdistanê careke din diyar bû ku arîşeyên gelên ku ji dîrokê ve bi hev re ne bi nêzîkatiyên desthilatdariyê û miletparêziyê çareser nabin. Jixwe sedema arîşeyan ev aqil e. Heke li Başûr demokratîkbûn çêbibe arîşe wê çareser bibin. Berevajî vê wê hesabên desthilatdariya berteng bibin û ev ê bide windakirin.
Başûrê Kurdistanê li binî xist. Jê wêdetir wê çi bibe nizanim. A girîng ew e ku ev nakokî xizmetê ji kê re dikin. Rê li ber siyaseta demokratîk vedikin an na. A girîng ev e."
Ok nirxandina xwe ya li ser Başûrê Kurdistanê wisa domand, "Piştî tiştên li Hewlêrê bûne tangên Sedam anîn. Nİha jî di ser Kerkûkê re hev tewanbar dikin. A rast dema ku mirov bi giştî dinere heke reng hinekî cuda bin jî siyaseteke şaş û aqilekî şaş heye. Bi vî aqilî ne dikarin gel qanih bikin û ne jî dikarin arîşeyan çareser bikin. Berevajî ji bo ku wê bê vîn û qels bimînin Tirkiye, Îran, Iraq zêdetir wê têkilî wan bibin. Divê mirov vê zemînê çêneke.
Ji bo pêşî li vê were gritin divê yekîtiya netewî ya Kurd were avakirin. Heke yekîtiya Kurdan, dîplomasiya netewî, hêzên parastina netewî hebûna Başûr nedihate vê rewşê û ne jî barê Kurdan wiha giran dibû. Berevajî vê kêfxweke mezin wê bidana gel. Ji bo vê jî PDK, YNK û Goran û hêlên din li şûna ku hev tewanbar bikin ji dîrok û rojene divê dersan bigirin û berê xwe bidin yekîtiya netewî. Heke ev nebe jixwe di Kurdistana parçebûyî de Kurdistan di navbera Silêmanî û Hewlêrê de jî wê parçe bibe û encamên xirabtir bi xwe re bîne. Di vê rewşê de wê pergaleke antî-demokratîk were û şepirzebûneke meztir çêbibe. Ji bo pêşî li vê were girtin divê bi rêyên demokratîk hesap ji berpirsan were pirsîn.
Ez bawer nakim ku Tirkiye tu carî serxwebûna Başûrê Kurdistanê nas bike. Baweriya bi vê nasnekirina dewleta Tirk a hêlên wê yên komkuj, dijminatiya bi Kurdan e. Karekterê xwe çi dibe bila bibe di temsîla yên herî ketî de jî serxwebûna Kurdistanê naxwazin. Ev zelal e. Karekterên mêtinger ê dewleta Tirk dewleta serbixwe ya Kurdistanê red dike.
Dema ku Başûr got ez ê serxwebûnê ragihînim dewleta Tirk ji bo ku wan bixe kemînê dibe ku helwesteke tund nîşan nedabe. Lê teqez e ku hem dewleta Tirk û hem Erdogan li dijî statûyeke wiha ne. Ji bo ku vê ji bo xwe weke gêdûkekê dibînin. Heke parçeyek serbixwe bibe nayê wê maneyê ku tim xeta PDK'ê wê destilatdar be. Piştî 3 salan wê çi bibe ne diyar e. Dewlet stratejîk difikrin. Helbet dema ku wiha bû rola Tirkiyê di vê pêvajoyê de stratekîk bû. Ji Iraqê re gotin lêxe em bi te re ne. Di cih de çûna Silopî tetbîqat kirin. Ê ku Îran jî sor kirî Tirkiye bû. Li kûderê li dijî Kurdan tiştek bibe Tirkiye li wir bi rola sereke radibe. Ev rola hilweşînê, xirakirinê, komkuj û înkarê ye. Ev li Sûriyê, li Bakur û Başûr jî wiha ye.
Divê Kurd zanibin ku dewleta Tirk ji wan re nabe dost, ti xêr ji wan nayê. Çi qasî bixwazin bila spasî bikin, bi wan re rûnin. Bi teqezî heta ku wan şepirze neke bi Kurdan re rûnadin. Divê kesek nekeve vê şaşiyê. Mêtingeriya Tirk herî pir ji hêla tevgera me ve tê zanîn. Ji bo vê divê her kes vê mijarê de baldar be.
Dil dixwaze ku fêhm kiribin. Heke dibêjin em siyasetê dikin jî lê dema ku mirov li peyama wan dinere tê ditin ku fêhm nekirine. Ji bo ku fêhm bikin hê li benda çi ne nizanim. Tirkiye ji destpêkê ve her çendî nerm nêzî PDK'ê, Başûrê Kurdistanê bûbin jî bi teqezî ji bo ku têkoşîna Bakur, PKK'ê tasfiye bikin wiha nêz dibûn. Heke rewşa PKK'ê nebûna dewleta Tirk rewşa berdest a Başûr qebûl nedikir. Li Tirkiyê siyaseta asîmîlasyon û entegrasyonê çi be dixwaze ku ev li Iraq, Îran, Sûriyê û hemû dinyayê wiha be. Divê PDK vê wiha bizanibe."
Ok nirxandinên xwe bi banga yekîtiya neteweyî bi dawî kir.