Bîranînên kesayetên Başûr li gel Ocalan: Pêncewînî II
Pêncewînî: Ez li ser soza xwe ya min ji Ocalan re dayî me, li gorî hêza xwe min ji bo pêkanîna karê ku ji destê min hatibe xemsarî nekiriye. Min karî nameya Ocalan ji bo serokê NY'yê Petros Galîbrî papayê Vatîkanê bibim.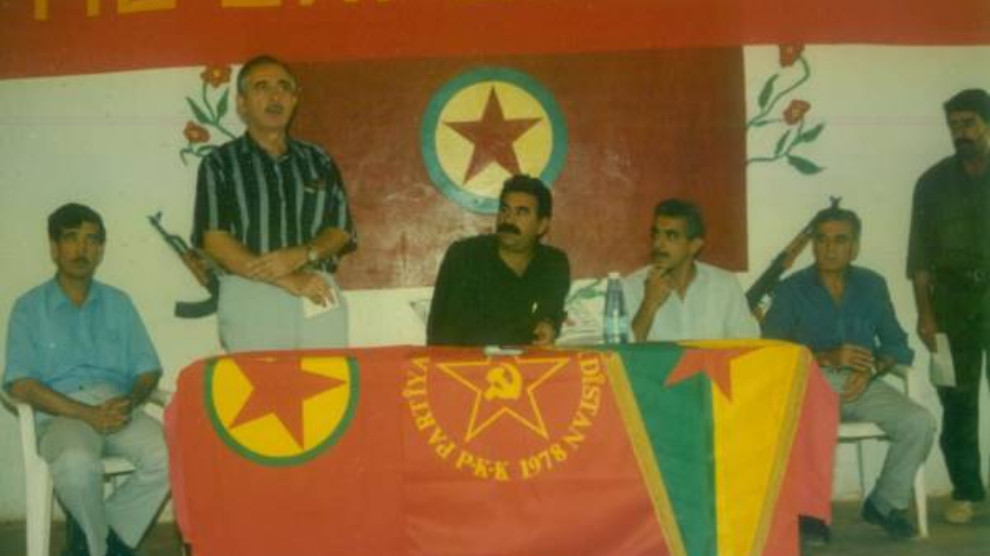 Di navbera sala 1989 heta dawiya 1998'an komek ji siyasetmedar, hunermend, çalakvanê civaka sivîl û rewşenbîrên Başûrê Kurdistanê serdana Rêberê gelê Kurd Abdullah Ocalan kiriye û niha jî qala bîranîn û nêrînên xwe yên li ser jiyan û kesayetiya Rêberê Gelê Kurd Abdullah Ocalan dikin. Bi munasebeta 22'emîn salvegera komploya navnetewî li ser Rêberê Gelê Kurd û dîlgirtina wî ya li Kenya û radestkirina ji Tirkiyê, kesayetiyên Başûrê Kurdistanê qala kesayeta Ocalan dikin.
Penciwînî di beşa duyemîn a bîranîna xwe de bal kişand ser gelek xisûsên taybet.
 'SEROK APO RÊBEREKÎ NIMÛNE BÛ'
Mihemed Emîn Pêncewînî têkildarî naskirina xwe ya bi fikir û kesayeta Rêber Apo de wiha dibêje; "Ji berê ew nivîsînên ku di wêjeya PKK'ê de, nivîsînên li ser Ocalan nivîsandîn û ew nivîsînên ku dşjmin jî li ser APO nivîsandîn min hemûyan xwendine. Min di encama wan nivîsandinan de têgihiştim ku birêz Ocalan xwedî fikrekî nû û başe di siyaset û rêxistinên Kurdî de. Serok APO jî Rêberekî nimûne bû, hinek taybetmendiyên din yên Ocalan hene ku di Rêberên din de nîne."
Pêncewînî wiha qala kesayetiya Rêberê Gelê Kurd Abdullah Ocalan dike; "Ocalan gelek bawerî bi xwe û miletê Kurd hebû, ew pirtûkên ku ji bo wan kirîn Kurdî yan jî Erebî min wan xwend û ji wan têgihiştim ku birêz Ocalan xwedî zanabûnek temam ya li ser dîroka Rojhilata Navîn û dîroka mirovahiyê û zanabûnek temam ya miletê Kurd jî heye. Gelek ji siyasetmedar û Rêveberên Kurd li ser dîrok, erdnîgarî (Coxrafya) û aboriya Kurdistanê nivîsandin nivîsîne, gelek dîrokzanên me çi li Rojhilat û çi li Başur li ser dîroka Kurd nivîs nivîsandine. Her wiha Abdullah Ocalan jî li ser dîroka mirovahiyê û Kurd gelek mijar nivisandine, ewa ku ji yên din cuda dike ewe ku dema ku pirtûkên Ocalan tê xwendin ji wê tê digihîn ku hemû jî bi Kurdiniyê ve girêdayiye, yan jî yê Kurdan e ku Kurd bi xwe rolekî sereke hebû û tê dîtin di avakirina wan şaristaniyên ku li navçeyên wan heyî. Di avakirina şaristaniyên weke: Sûmer, Babîl û Sasanî ku di avabûna dewletê ya li van navçeyan, Kurd pêşengtî jê re kiriye yan jî Kurd beşdarî van şaristaniyan bûne. Ewên ku li navçeyê qala vê yekê dikin çend kesayetên Kurd wan van rolê serekî nadin Kurdan, dibe ku mjarên neyênî hene, mijarên ne baş ku di dîroka Kurd de heye ku wan radixin pêş û qala wan dikin û min wan cudahiyan dît ji Ocalan ya li gel Rêveberên din yên Kurdan.
Beşek gelek ji Rêveberên Kurd ne xwenda bûn, beşek pir kêm xwenda û nivîsandin hebûn ku wan jî rolên serekî yên xwe dabûn miletên din yên ku li navçeyê yên weke: Ereb, Tirk, Faris, Azerî û Ermeniyan ku ew miletên ku li gel wan bi dirijahiya dîrokê jiyan kirîn dabûn wan.
Şaristaniya Sûmer yekem şaristaniye di dîroka mirovahiyê de, Ocalan jî rolê Kurdan ya ku di wê şaristaniyê de bi awayek baş û erênî qala wê kiriye. Ocalan vê yekê baş xwendiye, mejî û hizrên ku li ser vî bingehî hatîn rêxistinê avakirine û siyasetê jî dike. Ocalan dibêje 'Ev milete ku bi dirêjahiya dîrokê vê yekê avakiriye, niha jî dikare xwe li ser hev kom bikin ku şoreşê bikin û serbixwe bibin.'
Aliyek din heye ku nivîsînên felsefîne ku bi baweriya min Ocalan sudek ji felsefeya Yewnan û Ewropaya Kevin dîtine. Di heman demê de sud ji felsefeya dînî jî girtine weke: Felsefeya Zerdeşt, Manî û baweriyên din yên ku li navçeyê heyîn. Her wiha Ocalan wan hemûyan xwendine û ji wan sud girtine, li ser lêkolîn kirine ku di jiyana rojane de çawan bi karbînin û daxwaz ji Kurdan dike ku ji van felsefan aliyên erênî bigrin û di jiyana rojane de xebat, siyaset û di rêvebirina jiyana xwe de bikarbînin.
Yek ji cudahiyên din yên Ocalan ku bi giştî min dayî diyarkirin ew rêkûpêkiya ku di jiyana xwe de heyî, wisankir ku hêz da avakirin û rêxistin damezirand ji endamên xwe re jî got; Divê hûn weke leşkerekî fedekar tevger bikin. Rêxistinbûn wisan nîne ku li pişt maseyekê rûnin û xizmetê bikin ku tu jî bikarî rêxistinê û civakê rêvebibî divê tû bi xwe leşker bî, fedekar bî, kar bikî û karên xwe birêve bibî. Felsefeyek din heye ku ji roja yekê ve giringî daye aliyê aboriyê ku di felsefeya wî deye ku divê ev rêxistine bi xwe aboriyek ya xwe ya serbixwe hebe û li pişt gelê xwe be û ne li benda ti aliyên din be, eger pişt da dewletekê yan jî aliyekê wê ew alî û dewlet şert û mercên berjewendiyên xwe li ser bide ferzkirin.
Di aliyê aboriyê de xelk vê yekê gelek mereq dike ku PKK'ê çawan çavkaniya aboriya xwe bidest dixe. Felsefeya Ocalan ya ji bo mijara aborî bi vî awayî ye, aborî jî tenê ji bo çek, derman û pêwîstiyên şoreşê tê xerckirin. Aliyên din yên Ocalan ew bû ku kesayetekî hêja û taybet ya xwe hebû ku karî li derdor tevger bike ji ber ku bi xwe kadroyên xwe perwerde dikir.
Sala 92'ê ku meha Sibatê bû wê demê kadroyên PKK'ê nû hatibûn bajarê Hewlêrê, rojekê min ji wan re got hûn dixwazin bang bikin ji bo Akademiya Mahsûm Korkmaz (Fermandar Egîd) me ji berê rapor çêkiribû ku me qala te kir ku Serok APO got dikare bê wê demê heval Hesen Haco ji min re got; dikarî çend kesan li gel xwe jî bînî yan jî tû pêşniyar dikî kî li gel te bê? Min jî çend kesayet pêşniyar kir ku yek ji wan jî Muntaz Heyderî bû kesayetiyekî bi nav û deng bû, ji malbatekî Çepgir û welatpatêz yê bajarê Hewlêrê bû. Her wiha kesek din jî hebû ku binavê Çalak niha jî li bajarê Siwêdê dijî û Tariq Canbaz hebû ku min wan pêşniyar kir piştî wê heval Hesen Haco li gel wan jî axivî û hevdû dîtin û em birê ketin. Demek gelek em bi piyan ji Rojavayê Kurdistanê çûyîn Qamişloyê li wê derê jî em bi wesayetiyan çûne Kampa Bekayê me li wir Serok Apo dît.
Dema ku em gihiştin Bekayê Serok Apo jî li Akademiya Mehsum Korkmaz bû em matmayî bûn li wê akademiyê zêdetirî 600 ciwan lê hebûn ku di dewreya perwerdê de bûn. Ji kesên parêzvanê kampê yên ku di çeperên xwe de cuda bûn. Her wiha yek du car birêz Ocalan axivî piştre daxwaz ji min kir ku axaftinek pêşkêş bikim, min jî axaftina xwe pêşkêş kir diyar bû ku axaftinên min lê guncaw bû pêşwaziyek gelek baş li min kir piştre axaftinên min qeyid kir û li rêxistinên Ewropayê belavkir.
Li Akademiya Mahsum Korkmaz her roj Serok Apo danê sibehê saet 10'an ders dida endamên akademiyê heta saet 12'ê danê êvarî jî ji saet 5'ê heta 6'ê ji wan re bi zimanê Kurdî û Tirkî di axivî. Li ser hemû mijaran ji wan re di axivî ev kadroyên niha her yek ji wan weke Serok Apo tevdigeriyan ku PKK'ê ji wan êrîş û pevçûnan diparast û heta gihandin vê astê ku hemû jî bandoriya perwerdeya Ocalan e.
'JI XWE BAWERBÛN TI SINOREK YÊ XWE NÎNE'
Li Rojhilata Navîn kesekî nimûne bû ji ber wê komployek bi wî awayî li ser dan meşandin û destgîrkirin. Ji xwe bawerbûn ti sinorek yê xwe nîne, baweriya bi miletê Kurd jî sinorek yê xwe ne bû ji rêveberên din yên Kurd cuda bû ku baweriyekî bi temamî bi milet hebû. her carê di got Rêveberên Kurd ti tiştî ne kirine ji ber ku zanabûnek bi temamî li ser dîroka Kurd ne bû û bawerî bi miletê xwe ne bûn. Ev yek wisan kir ku dijmin dibêje hemû tişt li derdora Ocalan kombûye, bi girtina Ocalan PKK û Kurd wê bê tinekirin lê niha tê dîtin ku PKK tine ne bûye û mezintir bûye.
'EW TIŞTÊN KU MIN LI BEKAYÊ DÎTÎ MIN BERÊ DI TI JIYANA SIYASÎ YA TI RÊXISTINAN DE NE DÎTIYE'
Ez gelek zû diçûm li gel Ocalan û gelek caran jî li gel wî dimam ku wî jî gelek rêz ji min re digirt. Hemû caran em ji xwe re digeriyan û min pirsyar jê dikir û wî jî bersiv dida. Ew tişta ku min matmayî dihêla ew bû ku nêzîkî 900 kes di yek holê de li hev kom dibûn û guhdar dikirin û ew 900 kesan jî di dema xwarinê de dihatin dabeşkirin û xwarin amade dikirin, her kesê kel û pelên xwe li cihê xwe bi cih dikir ku bê pirsgirêk û bê dengî karên xwe dikir. Ew kesên ku perwerde dibînin, parêzvan, kesên bi amedekirina xwarinê ve eleqeder dibin û ewên ku bi çek ve hemûyan jî weke saet kar dikirin, ew saeta ku ji bo wan hatî desnîşankirin wê saetê karên xwe dikir û piştre komdibûn rexne û rexndayîna xwe didan. Her wiha piştî wê her kes diçû cihên xwe ku jin û zelam ji hev cuda her yek diçûn cihê xwe ew tişt ji bo min jiyanekî nû bû di jiyana min ya siyasî de. Berê ez edamê Rêxistina Şîa bûm ku di nava Şûî yan de ez gihiştim asta herî bilind, min di temenê 17 saliyê de li gel Cihuyên Şîa kar kiriye heta ku gihiştye qonaxa berpirsyartiyê. Ez ji rêxistinên din jî agihdar bûm lê min awayê hev jiyana rêxistina Akademiya Mahsum Korkmas ne dîtibû. Serok kesekî nimuneya taybet bû wan tiştan wisan kir ku di roja dawî de em vegeriyan Serok APO hemû endamên akademiyê kom kir û ji me xatir xwest.
Min got: 'Bi xwîna şehîdan, bi ruhê wan kur û keçan, temenê min yê mayî heta ku ez bikarim ez ê xizmeta tevgera Bakurê Kurdistanê û tevgera PKK'ê bikim, heta ku ez bikarim ez xemsariyê lê nakim.' Rêber Apo ji vê yekê gelek keyfxweş bû. Piştî wê ez vegeriyam û min dest bi kar kir. Min komek ji rewşenbîr, mamosta, hûnermend, siyasetmedar û xelkên bi nav û dengên Kurdistanê birin gel Ocalan. Ew kadroyên ku li Hewlêrê kar dikirin di got; 'em ê hemû xebatkaran kom bikin û tu jî li gel xwe bibe li gel Rêber Apo', min jî got; 'ti cudahî nîne di bavbera me û we de em ji bo yek armancê têdikoşîn û ji bo yek çavkaniyê diçe.'
'AKADEMIYA MEHSÛM KORKMAZ JI BO ME ZANÎNGEH E'
Ew demên ku ez li akademiyê hevalek yê min lê pirsîn dikir ku yek ji keçekî biçûk bû ku temenê wê di navbera 13 heta 14 salî bû ku ji hemûyan biçûktir bû. Li akademiyê her kesê ku di bin 18 saliyê de bûya ne digirt lê ew keç kes û karê şehîdan bû ji ber wê ew hatibû girtin. Ji kur û keç yên herî bi temen heta kesên herî biçûk weke rojnameger min pirsyar jê dikir, piraniya wan ji zanîngehê hatibûn tevlî akademiyê bibûn min ji wan re got; we çawan dest ji zanîngehê berdan û beşadarî PKK'ê bûn ku bersiv dan û di gotin: 'Akademiya Mahsûm Korkmaz ji bo me zanîngehe, em li vir fêrî ehlaq, welatparêzî, azadî û rizgariya gel dibîn. Em fêr dibîn ku çawan ruhê xwe bi bexşînîn ji bo azadî û Kurdistanê."
GERÎLAYÊ FIRANSÎ ÇI GOT?
Min li gel keçekê hevdîtin kir ku xelkê Firansayê bû, li Parîs zanîngeh xwendibû û wê bi bûya doktor û li wê derê jiyan dikir, lê tevlî PKK'ê bibû. Min jê re got; 'ciwanên me xwe dikujin heta ku digihijin Ewropa tu çawan ji Parîsê cihê herî xweş yê cîhanê hatî nava PKK'ê' wê jî bersiva heman ciwanên din da rast, ew jî vedigere aliyê perwedekirin û guherîna hişmendiyê ku vedigere taybermendiyên taybet yên Ocalan."
'HETA NIHA JÎ TİŞTÊN GELEK NÛ LI GEL PKK'Ê HEYE JI BO CIVAKÊ Û BERSIVE Jİ BO DAXWAZÊN GEL'
Pêncewînî derbarê rewşa PKK'ê ya niha ku di çi qonaxê deye çiqas dibe bersiv ji civaka Kurdî re wiha got; "Li gorî baweriya min heta niha jî tiştên nû yên PKK'ê hene ji bo civaka Kurdî dikarin jiyanek nû pêşkêş bikin. Dibe ku di nava çend salên borî de di hinek pêngav û siyasetkirinê de, kêmanî hebe lê di rastiyê de damezirandina PKK'ê û fikir weke xwe maye û li ser kar tê kirin û kadroyên nû tên perwerdekirin. Her çiqas niha dujmin bihêz bûye, zêdetir dikare êrîşan bike lê berxwedana PKK'ê jî zêdertir bûye û berbi pêşve diçe. Eger dinava çend salên borî de xeletî jî hebin ku karekî asayîye ji ber ku weke Lenîn dibêje: 'Eger kar ne kîn xeletî jî na kîn' karê ku hatî kirin di hemû karkirinê de jî her xeletî tê kirin, ji ber wê ez dikarim bêjim PKK'e besiveke ji bo civak û jiyanekî nû.
Divan çend demên dûr û dirêj ên ku min Ocalan naskirî her pêşniyarê ku min dikir bi dilê Serok Apo bû, eger ne bi dilê wî jî be heta dawî temaşeyî axaftinên min dikir ku çend raste ji ber wê derket holê ku ez kesekî çend dilsozim ji bo wê tekoşînê ku dilsozim ji bo şoreşa Bakurê Kurdistanê û PKK'ê. Ew pêşniyarên ku min dikir dilsozî bû ji bo PKK'ê û Ocalan, carekê ji min re got: 'Pêwîst nake ku ewqas bi dûr û dirêj biaxivî ji televîzyonê re xelk nikare ewqas guhdar bike ku ez li Ewropayê wan dizanim.' Heval li derdor bûn matmayî man û gotin: 'Çawan li gel Ocalan dikarin biaxivin' min jî got; 'ewên ku min jê re gotîn dilsozî bû ji bo wan.'
Dema ku projeya aştiyê heyî hevala Perwîn Bûldan û Îdrîs Baluken hatin mala min ji min re got: 'Serok selam ji te re şandiye, her carê selam ji te re dişîne di wêjeya PKK'ê de belav dibe ku agihiya te jê nebi Serok Apo dibêje: 'Ez ê Pêncewînî bikim nûnerê xwe yê kesî li Iraqê eger razî be.'
'MIN NAMEYA OCALAN JI SEROKATYA NY û PAPAYÊ VATÎKANÊ RE BIR'
Mihemed Emîn Pêncewînî herî dawî qala nameya Ocalan ya ji NY û Papayê Vatîkanê re birî kir û got; "Ez li ser soza xwe ya ku ji Ocalan re dayî ku qasî ji destê min hatî ezê bikim. Min karî nameya Ocalan bibim ji Serokê NY Butros-Gali re û ji Papayê Vatîkan re jî. Wê demê Papayê Vatîkan gelek girîng bû heta ku wê demê Papa jê re got: 'Kurdên Iraqê çend sale daxwaz dikin ku me nekarî bibînin ji ber ku em aliyekî dînî ne ku ne siyasî ne ji ber wê pêşwaziya siyasetmedaran nakin. Siyasetmedar siyasetê dikuje û birînê dike lê em li gel xudê diaxivin yanî ew tiştên ku ketîn li ser milên min ku min pêkanî.
Niha jî tişta ku pêwîst bike ezê li ser yek bingehî bikim ji ber ku yek tevgere li beramber hêza herî mezin, herî faşîst û xirab ya cîhanê di raweste artêşa Tirkiyê ye. Ji hemû tiştan girîngtir ew ku Mûstefar Kemal Atatûkr piştî wan hemû şoreşên Kurdan yên li Bakurê Kurdistanê hatîn tinekirin goristanek çêkiriye lingê xwe li ser danî û got; 'me hemû Kurdan kuşt û xistin vê goristanê, ti tişt nemaye bi navê Kurd lê mirovek hat ku bi navê Abdullah Ocalan ew Kurdên mirî ji goristanê derxist ji derve û ruh dayê ji wê rojê heta îro Kurd aniye niha jî Kurd daxwaza serbixwe û kerameta xwe dikin."