'ELN wê tişta ku FARC'ê kirî neke'
Endamê Tevlîbûna Neteweyî ya Kolombiyayê Olîmpo Cardenas anî ziman ku, şêwaza peymana di navbera FARC û dewletê de, wê di navbera ELN û Bogota de pêk neyê û got ku ew ê bikin ku hemû beşên civakê tevlî pêvajoyê bibin.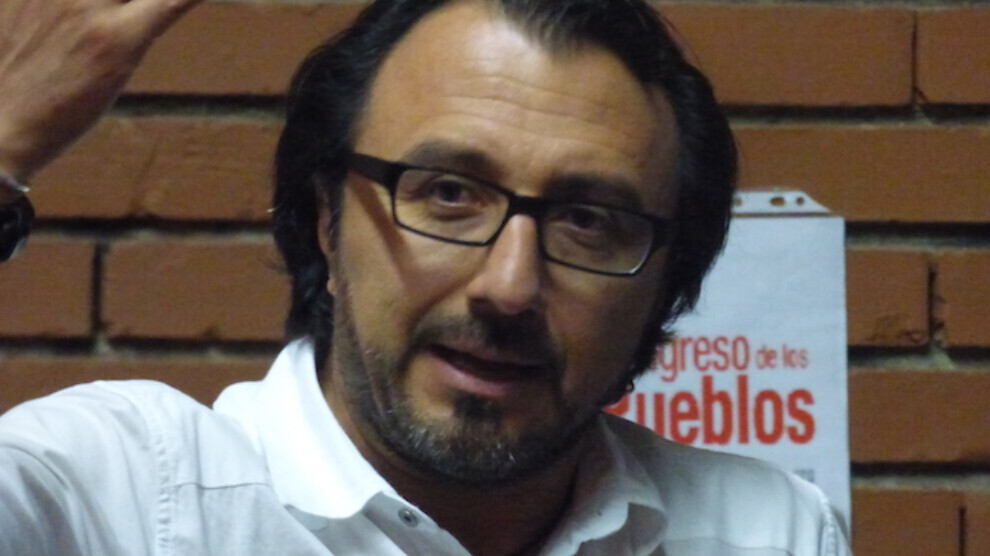 Piştî ku agirbesta di navbera rêxistina Artêşa Rizgariya Neteweyî (ELN) û hikûmeta Kolombiyayê de ket meriyetê, hemû çav zîvirîn ser xebatên amadekariya pêvajoya aştiyê. Komek bi navê Tevlîbûna Netewî ya ku ji delegeyên ji gelek deverên welêt pêk tê, ji bo plansaziyeke aştiyê derxe xebatê dike.
Yek ji beşdarên van xebatan jî Endamê Kongreya Gel Olîmpo Cardenas e. Cardenas li ser hevdîtinên aştiyê yên di navbera rêveberiya Bogota û ELN'ê de nirxandin kir.
ARMANCA ME ÇARESERKIRINA SEDEMÊN ŞERÊ ÇEKDARÎ YE
Cardenas diyar kir ku, armanca hevdîtinên aştiyê ji holê rakirina tundiyê û sedemên siyasî yên ku dibin sedema şîdetê ye û got, "Rola me heye ku em beşdarî pêvajoya aştiyê bibin, lê armanca me ew e ku nêrîna xwe ya aştiyê jî xurtir bikin. Nêrîna me ne tenê çareserkirina şerê çekdarî ye, lê çareserkirina sedemên bingehîn ên ku bûne sedema şerê çekdarî ye. Ev sedem aborî, siyasî, hawirdorî, civakî û çandî ne."
'NEOLÎBERALÎZM LI SER ESASÊ TUNDÎ PÊK HAT' 
Cardenas anî ziman ku, ELN û dewleta Kolombiyayê di serdemên cuda de 9 pêvajoyên aştiyê derbas kirine û destnîşan kir ku, wan daxwaza beşdariya civakê di van hemû pêvajoyan de kirine û hewl dane tevahî civakê yên di dîrokê de hatine biçûk dîtin, bixin nava pêvajoyê. Cardenas da xuyakirin ku, têkçûna van hevdîtinan ji ber bêeleqeya dewleta Kolombiyayê ya ji bo beşdarbûna civakê di vê pêvajoyê de ye û got, "Hikûmeta ku îro dewleta Kolombiyayê temsîl dike, ji hikûmeta 216 salên dawîn cuda ye. Eger ne hikûmeteke çep be jî, serokê dewletê gerîlayekî berê ye. Ew ji beşa demokratîk tê. Hin serokên çepgir hene ku beşek ji vê hukûmetê ne, hin demokrat, lîberal jî hene. Daxwaza dewleteke demokratîk a lîberal dikin ev yek bandorê li rêveçûna hevdîtinan dike.
Cardenas, anî ziman ku makezagona nû ya ku di sala 1991'an de li Kolombiyayê ket meriyetê, her çend hêmanên wê yên baş hebin jî bingeha siyasî û hiqûqî ya neolîberalîzmê pêk tîne û got, "Neolîberalîzm pêk hat. Bi taybetî jî neolîberalîzmeke li ser esasê berjewendî, şîdeta li hemberî xwezayê û kedkaran pêk hat."
WÊ KOMÎTE BEŞDARIYA HEMÛ PÊKHATAN PÊK BÎNE
Cardenas diyar kir ku di muzakereyên bi hikûmetê re di vê pêvajoyê de wê 30 beşên cuda yên civakê ji aliyê 81 delegeyan ve bên temsîlkirin û rêbazên wan ên xebatê bi vî rengî kurteber kir, "Armanca sereke ya vê komîteyê girêdayî çar qonaxên sereke ye. Gava yekem evw e ku mirov pêşniyarek an plansaziyek ji bo tevlîbûna civakê dîzayn bike. (…) Divê ev plan etnîsîte, zayend, herêm û sektoran li ber çavan bigire da ku bi qasî ku pêkan be cihêreng be, ji ber vê yekê kar ew e ku plansaziyek ku piraniya nimûneyên civakê tê de beşdar bibin were çêkirin. Şeş mehê wan hene ku vê planê amade bikin. Di van şeş mehan de, em ê çalakiyên cuda pêk bînin. Wê 10 civînên herêmî û 15 civînên netewî yên sektorî bên lidar xistin. (…) Ev delege dê plansaziyek çêbikin û paşê maseya muzakereyê ku vê komîteyê koordîne dike dê planê bipejirîne.
Paşê em derbasî qonaxa duyemîn a beşdariyê, beşdariya rasteqîn dibin: demokrasî ji bo aştiyê. Ya ku divê were kirin, dayîna teşhîseke kûr a demokrasiya Kolombiyayê ye. Eger em pênaseyeke baş li ser pirsgirêk û mijarên divê li ser bên kirin bikin, ev yek wê rê li ber me veke ku em çawa dikarin wan bi ser bixînin. Divê hûn demokrasiyek din pêşniyar bikin. Li gorî me ev demokrasiya gelan e."
WÊ MÎNA PEYMANA KOLOMBIYA-FARC'Ê NEBE
Cardenas muzakereyên di navbera ELN û hikûmetê de bi pêvajoya ku 7 sal berê di navbera FARC û dewleta Kolombiyayê de bi peymana aştiyê pêk hat, dan ber hev û wiha got: "FARC'ê di heman demê de bi hikûmeta Santos û ELN'ê re muzakere dikir. Û hikûmetê biryar da ku her du maseyên danûstandinan ji hev bên cudakirin. Di xalekê de FARC û ELN'ê tenê ji bo carekê ji bo pêvajoya aştiyê hatin cem hev û dest bi diyalogê kirin. Ji ber sedemeke ku em dikarin analîz bikin, ne hikûmetê û ne jî FARC'ê di dawiyê de qebûl nekir. Ji bo fêhmkirina vê divê em bizanibin ku rewşa li ser maseya muzakereyê ya bi FARC'ê re xwedî rojeveke taybet e. Ji ber vê yekê, dema ku pêvajoya aştiyê ya FARC'ê bi rojevê bi pêş ve diçû, pêvajoya ELN'ê hînê di rojevê de muzakere dikir. Wextkirin ne yek bû.
Lê sedemên din jî hene. Mînak hevsengiya hêzê. FARC pir bêhêz li ser maseya muzakereyê rûnişt. FARC'ê biryar dabû ku gihîştina peymanê kêliyeke ku ji bo wan baş be. Daxwaza wan a sereke têkoşîna ji bo axê bû. (…)
ELN dixwest gav bi gav peymanan çêbike. Ji bo FARC'ê rewş bi temamî cuda bû. Ji ber ku serlêdan xala dawî bû."
Cardenas destnîşan kir ku, ji bo vê jî muzakereyên bi ELN'ê re dijwartir derbas bûne, ji bo vê jî ELN gelek caran weke hêzeke ku aştiyê naxwaze tê binavkirin. Cardenas got, ''Eşkereye ku ELN tişta ku FARC niha dike wê neke.''
PEYMANA AGIRBESTÊ ÇAWA PÊK HAT?
Cardenas li ser çawaniya bidestxistina peymana agirbestê ev agahî da: "Peymana yekem di 10'ê Adara 2023'yan de bi navê "Peymana Meksîkayê" bû. 
Hikûmet û gerîlla belgeyeke siyasî ya hevpar li ser esasê pevçûnê, sedema wê û hêmanên ku şer xwe dispêrin çiye li hev kirin û îmze kirin. Li hev kirin ku nêrîneke hevpar a aştiyê ava bikin. Li wir li hev kirin ku ji bo aştiyê tifaqeke mezin bê çêkirin û 6 xalên di rojevê de bên nirxandin. Xalên yekem, duyemîn û sêyem ên rojevê beşdariya civakê ji bo avakirina aştiyê, demokrasî ji bo aştiyê û veguherîn ji bo aştiyê ye. Di esasê xwe de peyman dibêje ku divê ev sê xal bi hev re bên çareserkirin. Ev hêmana sereke ya peymana ku di Adara 2023'yan de hatiye îmzekirin e.
Dûv re peymana Kubayê ku di 5'ê Hezîrana 2023'yan de hate îmzekirin, li ser rêbazek ji bo tevlîbûnê li hev kirin. Pêşî, wan li ser metodolojiya tevlîbûn û agirbestê li hev kirin. Ev dê bibe agirbesteke neteweyî, demkî û dualî. Ev her du xal di 5'ê Hezîranê de hatibûn îmzekirin. Wan ji bo tevlîbûnê nexşerêyek çêkir. Di nexşerêyê de hate pêşbînîkirin ku komîteyek ji bo pêşxistin û pêşdebirina beşdariya civakê were avakirin. Rola komîteyê ev e. Ew di bingeh de li ser tiştê ku li Meksîkayê di peymana Kubayê de li ser hate lihevkirin ava dike."
HÊZÊN HERÎ XETER ÊN PÊVAJOYÊ PARAMÎLÎTER IN
Cardenas, hêzên paramîlîter weke xetereya herî mezin a li ser pêvajoyê nîşan dide û got, ar"Para-mîlîtarîzm polîtîkayeke dewletê û rêxistineke xurt e. Ev ne tenê kiryareke çekdarî ye, di heman demê de xwedî hêzeke siyasî ye, xwedî hêzeke mezin a aborî ye, niha jî xwedî hêzeke çandî ye. Dibe ku ravekirina ya dawî zehmet be jî, lê hema hema li her derê welêt heye. Pratîkên wan ên fizîkî, madî ne lê her wiha îdeolojîk in û hişmendiyê diguherînin. Bandora wê ya çandî heye.
Yek ji aboriyên sereke yên paramîlîtarîzmê bazirganiya narkotîkê ye. Ji ber vê yekê li ku lê bin derdora xwe ji bo qaçaxçiya narkotîkê bikar tînin. Ji ber vê yekê, tevahiya civak bi bazirganiya narkotîkê ve girêdayî ye, ku ne tenê aborî ye. Bazirganiya jinan jî cureyekî kiryara sûc e ku tê de çete cih digirin. Li herêmê tevgereke pir baviksalarî heye. Muzîka wan heye ku vê şêwaza jiyanê pêş dixe. Muzîk şîdetê teşwîq dike. Ev tiştekî ku mirovan pir xemgîn dike û qirêj e. Li dijî ekolojiyê jî pêkanîn hene. Xweza ne di xema wan de ye. Ango ev çanda ku dibêje pere her tişt e û tekane nirx e, hêza çandî ya ku ez behs dikim.
(…)
Em bêjin em beşeke leşkerî û karsaziyê îqna dikin da ku hin veguherînan qebûl bikin; Ev pêkhateya ku bi terorîzma çekdarî û dewletî û jenosîdê bi kar tîne, wê destûrê nede guhertinê. Ji ber vê yekê di plansaziya çalakiya me de daxwaza me ya sereke ji dewletê rakirina paramîlîtarîzmê ye. Ji ber ku para-mîlîtarîzm ji hêla sektorên karsaziyê yên sereke ve têne fînanse kirin û delîlên wê li ba me heye bi awayekî eşkere. Rewşenbîrên rastgir ên tund hene ku dibêjin para-mîlîtarîzm pêwîst e. Û mixabin hin bingehên wan ên civakî hene."
KONGREYA GELAN ÇI YE?
Cardenas der barê armancên Kongreya Gel a ku di muzakereyan de roleke mezin lîstiye ev tişt got: "Asoya stratejîk a Kongreya Gel sosyalîzm e. Sosyalîzm ji bo me hêza gel e. Ji ber vê yekê armanca me her tim yek e: avakirina hêza gel ber bi sosyalîzmê ve...
Pêvajoya aştiyê çi dibe bila bibe, têkoşîna me ya berdewam û armancên me hene. Lê di vê rewşa taybetî de pir cûda ye, hikûmetek nû heye ku nêrînek çêtir a aştiyê heye û di hikûmetê de mirovên cûda hene. Ji ber vê yekê weke tevgereke civakî û gel têkoşîna me heye û em ê ji derfetên dewlet û saziyan jî sûd werbigirin. Û derfet ji hikûmeta niha derketine û em ê ji wan sûd werbigirin."