Umît: Divê Rêber Apo li navenda têkoşîna me be - NÛ BÛ
Hêlîn Umît got: "Di vê pêvajoyê de divê Rêber Apo li navenda têkoşîna me be. Ji bo vê jî çi ji me tê divê em bikin. Lê divê em bizanin ku di rastiyê de tişta em dikin ji bo me ye."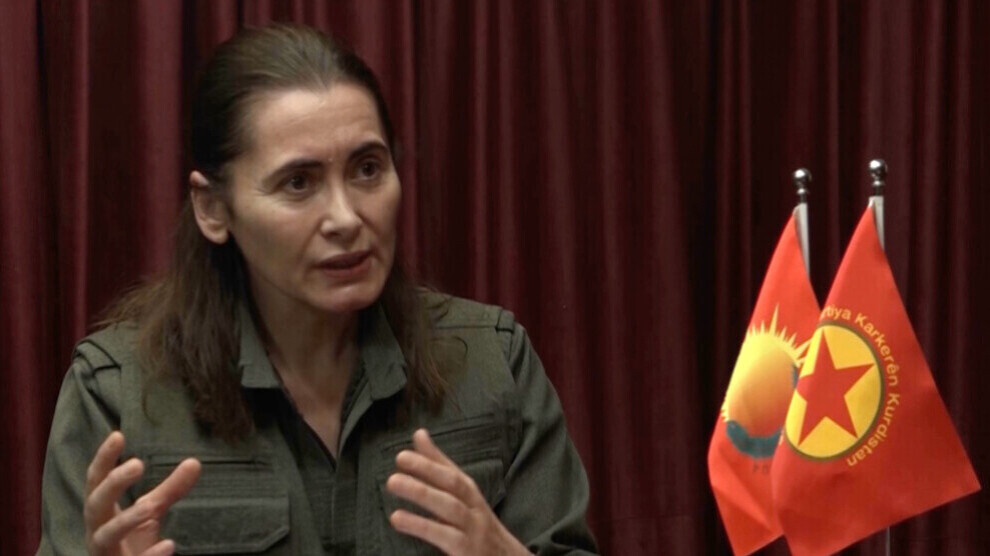 Hêlîn Umît kampanyaya Bi Jin Jiyan Azadî Ber bi Azadiyê ve ku ji aliyê Tevgera Jinên Azad (TJA) ve hatiye destpêkirin, silav kir û got ku kampanya li gorî stratejiya ku jinên Kurd di sedsala 21'an de diyar kiriye ye. Umît îşaret pê kir ku ji bo serkeftina kampanyayê divê mirov piralî bixebite û got: "Divê wisa be ku; ti pêkanîn, êrîş û hewldanên li hemberî nirxên jinê yên li Kurdistanê bêyî bersiv nemînin."
Endama Komîteya Navendî ya PKK'ê Hêlîn Umît tevlî bernameyek taybet bû ku di televîzyona Medya Haber de hat weşandin. Umît têkildarî kampanyaya ku ji aliyê Tevgera Jinên Kurd ve hatî destpêkirin, şerê ku faşîzma dewleta Tirk li hemberî Gerîlayên Azadiya Kurdistanê û gel dimeşîne, hevkariya PDK'ê ya di şerê qirêj de û sernavên siyaseta demokratîk axivî.
Hevpeyvîna bi Hêlîn Umît re bi vî rengî ye:
Têgeha tecrîdê di rastiyê de têrê nake ku mirov bi pêkanînên li hemberî Rêber Apo danasîn bike. Gelê Kurd, rastiya Rêbertî û hêzên têkoşînê rû bi rûyê rewşeke ji vê hîn wêdetir in.
Hûn dizanin têgeha tecrîdê razberiyekê îfade dike. Tê wateya ya hatî razberkirin, ji derve hatî hiştin û cuda tê hiştin. Lê li navenda qirkirin û êşkenceyê ya Îmraliyê di rastiyê de polîtîkayeke ku van hemûyan derbas dike di meriyetê de ye.
Rêbertî ji bo ku rewşa li Îmraliyê vebêje, ji bo bide nasandin, ji bo ku tiştên qewimîne hîn baştir bên fêmkirin berê hinek têgehan bi kar anî. Mesele got, "Ez li vir ne girtî/hikûmxwarek ji rêzê me." Got, "Em di destê sîstema qirkirinê ya Tirk de di statuyek dîlgirtî de tên girtin." Dîsa di dema vegotina rastiya Îmraliyê de têgeha tabûta Îmraliyê bi kar anî. Divê mirov hîn zêdetir li ser rastiya Îmraliyê ya ku di rojên komployê de gelek caran weke sîstema çarmixê dihat binavkirin û van têgînan raweste û fêm bike.
HÎSKIRINA SÎSTEMA QIRKIRINA ÎMRALIYÊ
Çima bi vî rengî? Ji ber ku bi rastî jî bi sîstema qirkirina Îmraliyê re rastiya îmhayê ya hatî ferzkirin heye. Di rastiyê de tê xwestin ku di şexsê Rêbertî de têkoşîna azadiyê ya gelê Kurd bê tasfiyekirin. Polîtîkaya îmhayê heye. Polîtîkaya qirkirinê di wê wateyê de tê domandin. Rayedarên dewletê vê yekê di demên cuda de bi awayên cuda anîn ziman. Gotin, "Ew ti carî nikare derkeve." Gotin, "Em wî ne carekê, her roj wêran dikin û didaleqînin." Ev yek yek ji diyardeya ku em jê re dibêjin sîstema tecrîda mutlaq an jî rastiya ku em hewl didin weke sîstema qirkirina Îmraliyê pênase bikin e.
Me ji ya din re got sîstema çarmix. Çarmix çi ye? Mirov çarmixê herî zêde ji rastiya H.z Îsa dizane; dest û lingên wî bizmar kirin û daliqandin. Di rastiyê de ew dihêle ku hûn nikaribin tiştek bikin û wê vediguhere pêvajoyek bi êş. Ev mirina bi demê re belav dibe ye. Mirineke bi êşkenceyê ye jî. Ev diyardeya ku Rêbertî dixwaze weke sîstema çarmixê jî îfade bike ev e.
Statuya dîlbûnê jî heye. Ev tê wateya amûrkirinê. Sîstema qirkirinê ya Îmraliyê bi vî rengî bi armanceke sê ling tê domandin û girankirin. Aliyek wêrankirin e, aliyek din êşkencekirin e, aliyek din jî bikaranîna amûran e.
Em çiqas wate bidinê jî têrê nake. Em çiqasî sîstema qirkirinê ya Îmraliyê hîs bikin, em ê ewqas bigihijin heqîqeta wê. Her kesê ku tê girtin di rêjeyek diyar de ji civakê tê tecrîdkirin, razberkirin û qutkirin. Ew di rastiyê de perwerdeyek e ku sîstemê dîsa amade bike. Zindan û girtîgeh ji bo vê hatine avakirin. Lê li vir bûyereke din a ku di nava rejîma qirkirinê ya Îmraliyê de pêk hatiye, heye.
Gelê Kurd, jin û ciwan her roja ku derbas dibe hîn zêdetir dikevin ferqa vê rewşê. Dema em li gorî paşerojê lê binêrin, ti kes rejîma qirkirinê ya Îmraliyê normal nabîne. Yan jî her kes hîn baştir fêm dike ku ev ne pêvajoyeke hiqûqî û qanûnî ya ji rêzê ye.
Gelek tişt ji me tên pirskirin; li Îmraliyê çi diqewime, gelo jiyana li Îmraliyê çawa ye, Rêbertî di kîjan şert û mercan de tê ragirtin. Dema ku mijar dibe Rêbertî, gel amade dibe. Ji bo vê yekê jî di her derfetê de her cure çalakiyê pêk tîne. Gelê Kurd tevî zext, zorî û zilmê ji dervey welêt heta çar parçeyên Kurdistanê li her derê ji bo Rêbertî di çalakiyê de ye. Her kes mereq dike, em jî wisan.
RÊBERTÎ HER TIŞTÊ XWE JI BO TÊKOŞÎNA HEBÛNA GELÊ XWE DAYE
Yên bixwazin ji rejîma qirkirinê ya Îmraliyê fam bikin, bizanin bê ka li Îmraliyê çi dibe, bila li rewşa siyasî, leşkerî û civakî binihêrin. Rewşa Îmraliyê û ya derve ji hev ne pir cuda ye. Roj bi roj ji vê baştir tê famkirin. Pêkanîn, polîtîka û polîtîkayên qirkirinê yên li Îmraliyê berdewam in, rasterast vediguherin polîtîkaya li dijî gel, jin, ciwan û hêzên demokrasiyê. Em behsa rastiya rêbertiyekê dikin ku her tiştê xwe daye ji bo hebûna Kurdan. Di dîroka gelên din de jî rêber, pêşengtiyên siyasî/leşkerî hene. Lê rastîniya rêbertiyê ya li Kurdistanê, bi îdeolojîk, hestyarî, siyasî û civakî, heta bi her hicreyê û hemû kêliyên jiyana xwe daye ji bo têkoşîna hebûna Kurdan. Ez yeke ku bûye şahida jiyana Rêbertiyê, dikarim vê bi dilekê rehet bibêjim. Ji dan û standina bêhnê ta xwarinê, ji razanê ta meşînê, ji çalakiyeke xwe ya civakî, heta hewcedariya herî biçûk a jiyanê, her tiştê xwe di ber pêşveçûna têkoşîna hebûn û azadiya Kurdan de daye. Ji wê boneyê Rêbertiyê got: ''Ez jî rastîniya civakî, mehkûmiyetê dijîm.'' Dibêje ku têkiliya tiştên ku dijî bi rastîniya civakî re heye. Kurd ku tên qirkirin, wê êrîşên qirkirinê li Rêber Apo jî çê bibin. Mêtingerî ku li ser Kurdan tên ferzkirin wê êrîşên mêtinger li Rêber Apo jî çê bibin. Ji dilê saf li Kurdan bê nihêrtin wê li Rêber Apo jî bê nihêrtin.''
Rêbertiyê di hevdîtineke xwe de wiha gotibû: ''Hûn ji bo min kampanyayan çê dikin, dest bi pêngavên ji bo azadiya min dikin. Lê rewşa we ji ya min xerabtir e. Lewra hûn nizanin hûn di çi rewşê de ne, êrîşêke qirkirinê ya çawa li we tê kirin. Hûn nizanin ku çi dijîn. Ji lew ma hûn ji wan erîşan re dibêjin ku qeder e û dijîn.'' Rêber Apo ji her kesî re ku dixwest tiştin ji bo wî bên kirin got: ''Hûn pêşî tiştekî ji bo xwe bikin.''
Serdema em tê de ne, divê Rêber Apo di navenda têkoşîna me de be.  Divê em her tiştî ji bo azadiya fîzîkî ya Rêber Apo bikin û pergala qirkirinê ya Îmraliyê perçe bikin. Ji wê boneyê çiyê me hebe divê em deynin meydanê. Lê divê em bizanin ku tiştê em dikin ji bo me ye. Ji her kesî û her tiştî bêhtir pêdiviya Kurdan, jin û ciwanan bi vê heye. Giring e ku em jî azadiya Rêber Apo û rewşa xwe bikin wek hev. Nexwe dibe ku bedel bidin, fedakariyê bikin, bikevin hewilê, wan niyet baş be lê nikarin xwe ji pençika qirkirinê xelas bikin. Ev pençikeke wisa ye ku; aliyê wê yê navneteweyî heye, aliyê wê yê herêmî heye. Kurdên xayin û hevkar hene. Kurdîtiya azad, şer ji bo azadî û hebûna Kurdan, têkoşîna zêdetir ji bo azadiya fîzîkî ya Rêber Apo, ji wê boneyê famkirina hêj baştir ji pergala qirkirinê ya Îmraliyê û bi qasê famkirina jê jî divê em li dijî wê tê bikoşin.
VEBEYÎNA REJÎMA ÎMRALIYÊ LI SER KURDAN
Em bi israr vê dibêjin; Kurd, jin, ciwan, kedkar, bindest roj bi roj bêhtir hay ji pergala qirkirinê ya Îmraliyê çê dibin. Çima? Lewra her kesî vê baş dît. Kengî ku li Îmraliyê derî hatin girtin, tu agahî ji Rêber Apo nehat girtin; faşîzm li Kurdistanê, hêj bêhtir xuya û êrîşkar bû.
Dixwazin pergala qirkirinê ya Îmraliyê bibin çar aliyên Kurdistanê. Li qirkirina Kurdan dewam dikin. Rojeke êrîş li Kurdan nebe û Kurd neyên qetilkirin nîn e. Bi hincetên cur bi cur hema bibêje her roj Kurd li Kurdistanê tên qetilkirin. Dixwazin tu jiyanê ji bo Kurdan nehêlin.
Ji ber ku mijara me ne pênasekirina jiyanê ye, ez ê zêde nekevim nav.  Lê hema bibêje serê her gavê kortikeke mirinê li Kurdistanê çê kirine û dixwazin Kurdan di van kortikan de bifetisînin. Bo mînak; zindan korteke mirinê ye. Xizanî, betalî û xebata bi erzanî… Sazî û dezgehên çandî yên şerê taybet… Tev kortên mirinê ne. Ciwanên Kurdan hema dixin van kotran. Îmrali çawa ku rejîmeke tabûtgeh e, ji bo Kurdan jî derve cihê mirinê ye.
Mirov ku pênaseya jiyanê bike wê bibîne ku her zindî bi nasmameya xwe heye. Ku jixwe mirov behsa jiyana mirovî û civakî bike, jiyana bênasname tu nîn e. Ev ji bo civakan wisa ye. Eger nasname û nirxên civakek pê heye ji bên standin ew civak tê kuştin, ji holê tê rakirin. Niha vebeyîn (şewq)rejîma qirkirinê ya Îmraliyê li ser erdnîgarî û jiyana civakî ya Kurdistanê, wiha ye. Dixwazin pergala li wir bînin û bi vî awayî li Kurdistanê ji pêyan bihêlin. Bi kirineke wiha dixwazin biqedînin.
CIVAKA TIRKIYEYÊ HATIYE JEHRÎKIRIN
Dema komploya navneteweyî pêk hat Rêber Apo ev tişt jî got, "Ev komplo bi qasî ku li dijî gelê Kurd e,  ewqasî li dijî gelê Tirk e. Dixwazin siberoja gelên Tirkiyeyê tarî bikin û pêşî li xurtbûna wan bigirin." Piştî wan pêvajoyên çareseriyê, ev hemû bi mekanîka darbeyê, bi navendên Gladîoyê yên di nav pergala şerê taybet a Tirk de ketin tevgerê, derkete holê ku hêza ku ev şer bi rêxistin kiriye, pêk aniye û bi vî rengî bi rê ve biriye qet li çarenûsa gelên Tirkiyê nefikiriye. Bi taybetî ji bo gelê Tirk. Binêrin, îro civaka Tirkiyeyê vê dewletê wekî xwe difikire. Ji xwe derewa herî bingehîn a netew dewletê jî, bi cewherîkirina netew bi dewletê re ye. Tiştekî wisa ava kirine ku; Dewlet di destê çend kesên dewlemend û çend pêkhateyên olîgarşîk de ye. Dema ku ev kes hemû li ser hemû dewlemendiyan maf îdîa bikin û desteser bikin, civak difikire ku ji bo wan tê kirin. Civaka Tirkiyeyê bi vî rengî hatiye jehrkirin. Civaka Tirkiyeyê difikire ku dewlet çiqasî dewlemend bibe, wê dewlemend bibe. Rewşeke wisa nîne, nabe. Û ev şer û pergala qirkirinê ya li Îmraliyê di rastî de şer û pergala hin elîtên Tirk e. Ew jî çiqas Tirk in jî cihê nîqaşê ye. Ji damezrandina xwe heta niha wisa ye.
Dewlet li her derê amûra xerckirinê ye, lê bi hinceta şerê li dijî kurdan li Tirkiye û Kurdistanê gelê Tirk xistiye nava krîzeke aborî. Lê xwezî ew tenê bi vê yekê tenê sînordar bûya. Xwezî ew tenê bi xizaniya aborî sînordar bûya. Tiştekî hêj girantir pêk tê, ew jî ji aliyê exlaqî ve tê hilweşandin. Ji bo ku civaka Tirkiyeyê li dijî têkoşîna hebûnê ya gelê Kurd pêşkarî bê kirin , bi van fêlbaziyên qirêj re rû bi rû dimîne! Ev gel bi hezaran sal in li vê erdnîgariyê bi hev re dijîn. Em dibînin ku ji Tirkan hema tiştek nemaye.
ŞER HEM CIVAKA TIRKIYEYÊ HEM JÎ DEWLETÊ RÛXAND
Mînak pirsgirêka penaberan. Dema em li rewşa kesên ku ji ber şer neçar mane ji Sûriyê koç bikin, em vê yekê dibînin. Îro yek ji rojeva herî bingehîn a Tirkiyeyê ev e. Bingeha nijadperestiya li hemberî gelên ji cihên din jî, ji helwesta komploger a li hemberî avakirina komara demokratîk a ku divê ji bo gelên Tirkiyeyê bibe projeya jiyana bi hev re tê. Komploya ji bo pêşîgirtina li demokratîkbûna komarê didome. Pergala qirkirinê ya Îmraliyê jî navê vê ye.
Şerê li dijî têkoşîna hebûn û azadiyê ya gelê Kurd, di aliyê aborî de civaka Tirkiyeyê hilweşand û dewlet hilweşand. Bi rastî dewlet deyndar e. Lê ji derveyî vê civaka Tirkiyeyê deyndar e, gelên Tirkiyeyê deyndar in. Dixuye îro tu kes tune ku nedeyndarê dewletê be. Yek ji polîtîkayên herî bingehîn ên AKP'ê jî stratejiya wê ya girêdana civakê bi krêdiyên mîkro ya dema desthilatdariyê ye. Di vî warî de pêşketineke girîng bi dest xistiye. Niha li Tirkiyeyê her kes deyndar e.
Hûn dizanin, ji bo jinan her tim wiha dibêjin; Ger jin dixwazin şert û mercên wekhev û azad bi dest bixin, divê xweseriya aborî bi dest bixin da ku karibin bi vîna xwe tevbigerin û tercîha xwe ya jiyanê bikin. Vê rewşê ji bo civaka Tirkiyeyê weke pîreka bi mêrê xwe ve girêdayî, têkiliyeke dewlet-civak afirand. Lê ev têkiliyek pir xerab e. Civakeke ku mehkûmî têkiliyeke wiha be, ti carî nikare bibe xwedî îrade û xwedî derketina demokratîk. Ji bo xwe, ji bo civakbûna xwe tu carî nikare pêşketinan pêk bîne. Ji ber ku berê ji aliyê desthilatdariyê ve, ji aliyê hêzên sermayê ve hatiye desteserkirin; Divê li gorî wê be. Pîrekbûn pênaseyeke civakî ye, min şaş fam nekin. Ez behsa pênaseyeke zayendperest nakim. Ez bi wateya jina kole ku îradeya wê jê hatiye standin bi kar tînim. Ji bo civakek bi vî rengî bê îrade bê kirin û her tiştî bîne rewşek girêdayî desthilatdariyê, bi rastî ketineke mezin e.
Bi pergala qirkirinê ya li Îmraliyê re, civaka Tirkiyeyê hêj bêhtir ji nirxên azadî û demokrasiyê hate dûrkirin, bê îradekirin û teslîm girtin.
DIVÊ TIRK HÎN BÊHTIR XWEDÎ LI RÊBER APO DERKEVIN
Rewşenbîr, hunermend, kesên xwedî wijdan, karker û kedkarên Tirk divê hîn bêhtir Rêber Apo fêm bikin û xwedî lê derkevin. Ez dikarim bibêjim ku ji gelê Kurd zêdetir pêwîstiya wan bi vê heye. Ji ber ku gelê Kurd her çendî kêm be jî Rêber Apo ji bo wan tê çi wayetê dizane, herî kêm hîs dike. Vê yekê di 50 salên dawî de hişmendiyeke siyasî ya girîng derxistiye holê. Cîhan qebûl dike ku Kurd gelê herî polîtîk in. Ew dizane ku li ku û çi bike. Dizane hem dersê bide dewletê hem jî civakê. Rastiyeke wiha ya gelê Kurd heye, lê gelên Tirkiyeyê ji ber neteweperestî û nîjadperestiyê jehrî bûne û tiştên li ber destê wan mayî jî êdî winda dikin.
YA KU ESARETA RÊBER APO LI SER HÊZÊN NAVNETEWEYÎ FERZ KIR PDK YE
Dema ku mirov hewl bide ku rejima qirkirinê ya Îmraliyê fêm bike û tehlîl bike, divê ku mirov rewşa koma hevkarê kurd baş fêm bike. Komên hevkarên Kurdan di dîrokê de çi rol lîstine, çi kirine, di van 100 salên dawî de kê xwestiye roleke wiha bilîze û çawa derketiye pêş, divê sernav bi sernav bê nîqaşkirin. Ji ber ku tevliheviyek di warê mejiyê de heye.
Her dema ku li Kurdistanê tevgerek ji bo hebûn, azadî û nasnameya gelê kurd çêbûye, hêzên ku hewl didin wê kontrol bikin çêbûne û bi piranî ji hêla beşên ku nav kurdan hatine berhevkirin pêk hatiye. Ya ku mohra xwe li sed salên dawî xistiye, rastiya PDK'ê ye. PDK'ê di vê mijarê de rola herî xerab lîst. Eger PDK'ê nebûya, dîroka komarê ya 100 salî wisa nedibû. Ez nabêjim kurd dê bibin xwedî dewletek cuda, ez di wê baweriyê de me ku divê tifaqa dîrokî ya Kurd û Tirkan bidome û dê dewam bike, ji ber ku ez dikarim bibêjim ku diyalektîka li ser vê erdnîgariyê bi vî awayî ava bûye. Lê PDK'ê roleke wiha ya bêyomî lîst ku ji derketina tevgera me û şehadeta hevrê Hakî Karer dest pê kir, roleke wisa xerab lîst ku bi dehan hevrêyên me qetil kirin. Ji bo ku Operasyona 15'ê Tebaxê pêş nekeve, hewldanek pir dijwar dan; Ev hemû hatine belgekirin, pênasekirin û îfadekirin. Divê ev bên zanîn. Bifikirin; Li Bakurê Kurdistanê Kurdbûn hatiye rewşek qedandinê, bêdengiyeke giran heye, hêviyek ava bûye û ji destpêkê ve PDK'ê û Malbata Barzanî ji bo pêşî li wê hêviyê bigirin xwestin rolê bilîzin. Ev teqez e; Hêza ku dîlgirtina Rêber Apo weke pêdiviyeke pêwîst li ser hêzên navneteweyî û dewleta Tirk ferz dike PDK'ê ye. Wan ev yek di peymana Washingtonê de kir. Kî dizane çi kiryarên din ên qirêj hene. Hêza bingehîn a ku hewl dide Rêber Apo bikeve nava pergala qirkirina Îmraliyê û tecrîda mutleq li ser pêş bixe PDK'ê ye. PDK'ê hêzeke ku rê li ber pêşketina têkoşîna azadiyê li Kurdistanê digire. Ev rola wê ye. Em behsa avahiyeke ku beriya PKK'ê di kuştina Saît Kirmizitoprak de rol lîstiye dikin.
EGER MIROV LI DIJÎ XIYANETÊ DERKEVE, STATUYA LI BAŞÛR JÎ DÊ WERE PARASTIN
Divê em zihniyeta PDK/Barzanî di dîrokê de binax bikin. Pêşî li pêşketina li ser navê Kurdîtiyê digire. Bi vî rengî nêzîkatiyek bi niyeta baş heye; ew jî hêza Kurd e, ew jî bi rengê ku hebûnê nîşa bike ye. Em qala gelekî ku li ber qirkirinê ye dikin, dibe ku di nav de cudahî hebin. Helbet divê hêzên cuda hebin. Lê ewqas dijminatiya li hebûna xwe, li nasnameya xwe, li gelê xwe, li nirxên xwe, ewqasî bazarkirina van, hewldana hebûna xwe bi rêya wan... xwelî li ser be! Mirov encex dikare vê bêje. Di vê wateyê de ji hemû Kurdan re, ji gelê Kurd re, ji her kesê ku dixwaze ji bo gelê Kurd têbikoşe û yên xwedî niyeta baş; Ez vê ji hunermend, rewşenbîr, rewşenbîrên Kurd re dibêjim. Divê di şexsê malbata Barzanî de teqez li dijî xiyaneta li hemberî têkoşîna li Kurdistanê teqez rabin. Ger ev yek bibe, dê gelek tişt biguhere. Ger ev yek pêk were wê statûya Başûr û şoreşa Rojava jî bê parastin. Di nava sîstema navneteweyî de wê cihê Kurdan jî hebe. Yê ku pêşiya vê yekê digire PDK ye.
KAMPANYAYA KU JI ALIYÊ TEVGERA JINÊ VE HATÎ DESTPÊKIRIN, LI GORÎ SEDSALA 21'EMÎN E
Ez kampanyaya Bi Jin Jiyan Azadî Ber bi Azadiyê ve silav dikim, serkeftinê dixwazim. Dixwazim baweriya xwe ya ji serkeftinê re jî diyar bikim. Dînamîka herî bingehîn a têkoşîna azadiyê ya li Kurdistanê, jin in. Di vê wateyê de ev biryara tevgera jinê ya li Bakurê Kurdistanê, di vê demê krîtîk de watedar e.
Tevgera jinê ya li Kurdistanê qet ne sekinî. Tevgereke jinê mijara gotinê ye ku di nava 30-40 salan de mohra xwe li dîrokê xist û her ku diçe bilind dibe, erdnîgariyê bi temamî bandor dike. Encameke vê bû Şoreşa Rojava, lingekî wê bû serhildanek mezin ku li Rojhilat bi Jîna Emînî re destpê kir. Li Bakurê Kurdistanê vugertina demokratîk, veguhertina civakî, bûyîna civaka Kurd a neteweya demokratîk, bi tevahî li ser bingehê azadiya jinê pêş ket. Şoreşa netewa demokratîk, şoreşa jinê ye. Netewbûna demokratîk pêşketineke şoreşgerî û veguherandinke ku wê li ser esasê azadiyê pêş bikeve. Di vê wateyê de biryara ku hatî girtin, li gorî stratejiya ku jinên Kurd di sedsala 21'an de diyar kirî ye. Me got ku sedsala 21'an dê bibe sedsala jinê. Ev ne niyetek e. Ne tenê ji ber ku di dilê me de derbas dibe, em dixwazin bi vî rengî be. Ev tespît beriya her tiştî encamek e ku me xwe li ser esasê çareseriya civakî ya dîrokî gihandê. Jin êdî bi statuya heyî êdî sîstema hiyerarşiyê nahilgire. Jin nikarî vî barî ku bi ser wan de hatî hilweşandin, rakin. Tiştek wisan bifikirin ku, mesele di sedsala 19 û 20'emîn de tevgerên ref hebûn, tevgerên karkeran hebûn, li ser vî esasî helbet di nava hemû tevgerên guhertin û veguhertinê de jin jî hebûn. Lê her ku dem derbas bû, hîn zêdetir rastiya jinê hat fêmkirin û ev hat dîtin. Hemû sîstemên mêtingeriyê li ser esasê ku jinê bixe rewşa mulkiyetê de, pêş dikeve. Di navenda hemû sîstemên mêtingeriyê de koletiya jinê heye. Heta ku jin azad nebe, civak azad nabe, jiyan azad nabe. Formula Jin Jiyan Azadî vê îfade dike. Di vê wateyê de hem di cih de ye û hem jî watedar e ku mirov bi dirûşmeyeke bi vî rengî tevlî pêvajoya heyî bibe û li dijî siyaseta heyî, rewşa civakî, êrîşên çandî têbikoşe.
Hingî ku sîstema qirkirinê ya Îmraliyê giran bû, Jinên Kurd ev yek baş fêm kir; êrîşên li hemberî Rêber Apo çiqas zêde bin, êrîşên li hemberî jinê jî dê ewqas zêde bin. Di her demekê ku agahî ji Rêbertî nehatî girtin û têkilî bi Rêbertî re nehatî çêkirin de, statuya heyî ya jinan paş ketiye. Li ser esasê sîstema qirkirinê ya Îmraliyê, rejîma faşîst a li Tirkiyeyê, faşîzma AKP-MHP'ê ne tenê li dijî jinên Kurd, li dijî hemû jinên Tirkiyeyê şer da destpêkirin. Jin niha di bin êrîşên giran de ne. Hema bêje her roj kuştin, qetlîamên jinan, tacîz û tecawiz hene.
Eger li Tirkiyeyê şoreşek çêbibe, guhertin û veguhertinek demokratîk çêbibe, dê li ser esasê rastiya jinê pêş bikeve. Jin dikarin Tirkiyeyê biguherînin. Teqez zelal e ku aliyek bi vî rengî ya vê kampanyayê heye.
DIVÊ BERSIVA ÊRÎŞÊN LI DIJÎ NIRXÊN JINAN BÊ DAYÎN
Jinên Kurd 30-40 sal in jixwe erdnîgariya Kurdistanê, Bakurê Kurdistanê diguherînin û vediguherînin. Bi vê pêngavê jî li Tirkiyeyê dest bi pêvajoyeke têkoşînê ya jidil bû. Divê mirov ji bo biserxistina kampanyayê bixebite. Ragihandina kampanyayê ne bes e; ji bo pratîkbûna vê divê mirov birêxistinbûnê pir baş bike. Tecrûbeyeke wiha ya jinên Kurd heye. Mîrateyeke gelek giring ku Tevgera Jinên Kurd li Bakurê Kurdistanê ku jê tê, heye. Hem di warê siyasî de hem jî di warê civakî de heye. Divê wisa bibe ku; tu pêkanîn, êrîş, berpêbûna li dijî nirxên jinan li Kurdistanê, bêyî bersiv nemîne. Eger bi israr, rik û biryardarî berdewam bibe, tu sedemeke mirov jê encamê wernegire nîn e. Lewra têkoşîna herî rewa ya cîhanê têkoşîna azadiya jinan e. Çi jineke hay ji xwe çê bibe, nabe ku vê rewşa heyî qebûl bike. Pergaleke wisa heye ku, berpêbûneke wisa ya li ser jinan çêkirî heye ku bi temamî li ser milkbûna jinan e. Aîdbûna hinekan, bûyîna tiştekê hinekan, bûyîna navgînekê hinekan… Vê çiqas bixemilînin jî îro li Tirkiyeyê sektora medyayê ji wê boneyê dixebite. Rêzefîlm, fîlm, piraniya bernameyên civakî bi armanca qedandina civakîbûnê, li ser amadekirina jinan ji bo pergaleke mêrserwer û pêşkêşkirina wan hatine avakirin.
Dixwazin bi jinan bidin qebûlkirin ku ev qedera jinan e, di xwezaya wan de ev heye. Dixwazin pergala destdirêjiyê bi dilê xwe bijîn. Bi ya min jineke hay ji vê çê bibe û serî raneke nîn e. Ji ber vê yekê dibe ku mirov vê kampanyayê li derê  bi formula efsûnî ya 'Jin, jiyan, azadî' ya li gor jineolojiyê ji xwe re bike al û bike ku bandorbar bibe. Em jin, ji nan û avê bêhtir me pêdivî bi zemîna azadiyê heye.
DIJMIN BENÊ XWE QETANDIYE
Şer bi hemû xerakirina xwe li Herêmên Parastinê yên Medyayê berdewam e. Me berê got ku dijmin di şer de asê bûye û dikeve xelaskirina xwe ji vê û em rû bi rûyê rastiyeke wiha ya qirker, mêtinger û dagirker in. Li Herêmên Parastinê yên Medyayê çalakiyên nû yên bandorbar tên lidarxistin lê şer ne bi tenê li Herêmên Parastinê yên Medyayê ye. Li hin deran kêm, li hin deran pir lê bi taybetî bi pêşengtiya mêtingeriya qirker a Tirk şer li dijî Kurdan li çar aliyên Kurdistanê tê kirin. Her roj êrîş li Rojava tên kirin. Herî dawî dek û dolabên li Dêrezorê hatin gerandin; ew jî erîşek bû. Çeteyên dewleta Tirk li Minbicê êrîş kir. Ya rast divê mirov bibêje ku Tirkan êrîş kir. Diyar e ku girêdayê kê ne, meaşe wan kî dide, kî wan xwedî û perwerde dike. Dagirkerî li Başûrê Kurdistanê berdewam e û li Bakurê Kurdistanê hema bibêje li hemû eyaletan şer e. Êrîş li dijî yekitiyê tên kirin.
Şer bi berbelavî tê kirin. Di nava meh û nîv- du mehan de êrîş li dijî gel hatin kirin; bo mînak di êrîşên bi balafirên biçek ên bêmirov de gelek sivîl hatin qetilkirin. Dijmin benê xwe qetandiye. Şer li her derê ye. Divê mirov baş ji vê fam bike û bi ya min di famkirina ji vê de hinek kêmasî heye. Lewma min xwest balê bibim ser vê. Hinekên li Kurdistanê dijîn, dibêjin qey dikarin xwe dûrê têkiliyên şer bikin û derveyê şer bihêlin. Ên dixwazin wisa tevbigerin û bijîn hene. Lê çi heyf e ku cihekê wiha nîn e. Mirov Kurd û Kurdistanî be, xwe Kurd bibîne, di nava şer de ye. Divê her kes bi vê bizane. Rêber Apo berê wiha digot: ''Tiştê heye jî dibe ku ji dest biçe. Dibe ku em bikevin rewşeke wisa ku em nezanin derbe ji kû ve li me tê xistin.''
NAVÊ SIYASETÊ ŞER E
Ez vê ji bo gel dibêjim; ji bo gelê me, ji bo ciwan û jinan dibêjim. Çimkî tu rastiyeke wiha ya Kurdistanê nîn e. Li Kurdistanê şer e. Erê, em behsa şerê cîhanê dikin. Şer li cîhanê jî heye. Em ne tenê behsa şer ji bo Kurdan dikin. Lê rastîniya şer ku li Kurdistanê gur bûye heye û şer siyaset bixwe ye. Yên dibêjin qey dikarin ji xeynê şer siyasetê bikin, şaş in. Siyaset şerê gurbûyî, şer jî siyaseta gurbûyî ye. Li Rojhilata Navîn, vê serdema em tê de ne, navê siyasetê şer e. Divê her kes di vê peywendê de li ser xwe bisekine, nirxandina xwe bike, cihê xwe diyar bike, bizane ku li kû disekine.
Li dijî Kurdan şerê qirkirinê ye. PKK dibêje ku li ser navê Kurdan heye. Ji bo hebûnê tê dikoşe. Vê ser li navê Kurdan dike û hêzên li dijî jî dibêjin tu tu nîn î, ji ber tu nîn î, ez ê te ji dîrokê û ser rûyê erdê bibim. Şerê van du hêzan e. Divê mirov li gorê cihê xwe diyar bike, nêzîkahiya xwe ji bo şerê gel ê bi şoreşgerî li wê gorê nîşan bide, nirxandina şer bi vî awayî bike û tev lê bibe. Nabe ku kes ji vê erka xwe bireve. Bibêje qey reviyaye jî wê li cihekî zerarê bide hebûna xwe. Yên wiha li ser navê niyeta baş, dikevin rewşeke ku xizmetê ji bo dijmin dikin, ya jî dibe ku nizanin dijmin kî ye.
Li Herêmên Parastinê yên Medyayê şer gur bûye. Ji ber ku berxwedaneke bêhevta heye li vê derê. Daxwaza dagirkirina Kurdistanê tê kirin. Herêmên li Başûrê Kurdistanê tên dagirkirin.
Dibêjin ku Mesrûr Barzanî name ji Emerîkayê re nivîsiye. Gotiye: ''Em dikevin, me xelas bikin. Herêma federe ku we daye me, ji destên me diçe. Werin cardin bidin destên me.'' Nûçeyên ku bên vê wateyê derketin. Ez bi vê wesîleyê dixwazim vê bibêjim. Mirov parastina Kurdistanê wiha dike? Ê ku dagirker xistiye nava Kurdistanê, niha dibêje ku werin me xelas bikin. Wiha jî nabêje, me ji Tirkan xelas bikin, ji qirkerî û mêtingerî û êrîşa Tirkan xelas bikin. Sûc dixe stûyê Bexdayê. Dibêje Bexda pere nade min. Nahêle ku ez hemû mal û milkê Kurdistanê bidim ber bazarê. Vê li ser navê malbata xwe dike. Bi vê derdorê re, bi taybetî bi PDK'ê re fikireke Kurdistanî heye? Kurdistan kû der e?  Kurdistaneke wiha heye? Kurdistan Hewlêr e, Dihok e? Kurdistan kû der e? Kurdistan seranserê sînor hat dagirkirin. Niqaş li ser Kerkûkê di rojevê de ne. Mûsil jixwe ji dest hat derxistin, li ser herêmên mayî yên din hesabên cuda tên kirin. Niha gerîla parastina Kurdistanê dike. Li dijî metîngeriya dagirker bi dagirkeran re dibin yek.
JI CIVAKÎBÛNA TÊKOŞÎNA AZADIYÊ DITIRSIN
Şerê li Herêmên Parastinê yên Medyayê bûye şerekî pir tevlîhev û aloz. Bû qada şer a ku hêzên paşverû û azadîxwaz ên li Tirkiye û Kurdistanê rastî hev hatin. Di vê xalê de ez dikarim vê bibêjim; berxwedan, têkoşîn, şer; Şerê xweparastinê didome. Helwesta gerîlayan a li Herêmên Parastinê yên Medyayê di vê astê de ye.
Di rewşa heyî de tişta ku dewleta Tirk, mêtingeriya qirker a Tirk û hêzên hevkar ên xayîn ên li Kurdistanê herî zêde jê ditirsin, civakîbûna têkoşîna azadiyê û bi civakê re bûyîna yek e. Ji ber vê jî bi armanca tecrîdkirin û qutkirina gerîla ji civakê stratejiyeke êrîşê pêk tînin. Ez bang li gelê me dikim ku vê rewşê bibînin û xwedî helwest bin, li her qadê li dijî dagirker, dewletên dagirker ên qirker û hêzên hevkar ên xayîn bisekinin. Ez nabêjim bila her kes çekê hilde, lê teqez bang li wan dikim ku bertek nîşan bidin û têkoşîn bikin.
Ez hevrê Axîn Mûş û 3 hevrêyên pê re yên li Amedê şehîd bûne bi rêzdarî bi bîr tînim. Hevrê Axîn bi rastî jî yek ji fermandarên kêm ên Tevgera Azadiya Kurdistanê bû. Di daxuyaniya Fermandariya YJA Starê de wiha hat gotin; Li ser hinek taybetmendiyên kesayeta Hevrê Axîn axivîn. Lê ez dikarim bibêjim ku gotin pir zêde ye. Hevrê Axîn bi narînbûn, dilnizmî, sadebûna kesayeta xwe û kûrbûna nirxên welatparêziyê bû mînak. Di têkiliyên xwe yên hevrêtiyê de jî pir hevpar bû. Me hevrêyeke xwe ya pir bedew winda kir. Bi vê minasebetê ez Hevrê Axîn û her sê hevalên wê yên ku pê re şehîd bûne, bi rêzdarî û minet bi bîr tînim. Em careke din soz didim ku hem di şexsê xwe de hem jî di têkoşîna xwe de bi kûrkirina zanîn, nirx û helwesta ku weke mîrate ji me re hişt, em ê ber bi serkeftinê ve bibin.
ARMANCA WAN EW E KU KURDÊN BI RÛMET Û SAZIYÊN WAN ÊN LI HEWLÊRÊ DERÎNIN
Ez hevrêyê xwe yê şehîd Denîz Cevdet Bûlbûn bi rêzdarî bibîr tînim.
Me berê li ser kesayeta Hakan Fîdan rawestiya. Ew hat û hinek hevdîtin kirin. Diyar e, ew karê xwe yê îstixbaratê didomîne. Mîna berê hatiye ku êrîşên li dijî nûnerên pêşeng ên gelê Kurd organîze bike.
Êrîşa li dijî buroya KNK'ê ya li Hewlêrê ne bi vê yekê sînordar e û ne jî êrîşeke bi qetilkirina Hevrê Denîz sînordarkiriye. Yek ji armanca wan jî derxistina hemû saziyên kurdan ji vê herêmê ye. Bi vî rengî tê xwestin ku di sedsala Peymana Lozanê de ku KNK'ê weke peymana qirkirinê îlan kir û ji bo têkbirina Peymana Lozanê xebatên yekîtiya neteweyî pêk anî, peyama hûn nikarin li Hewlêrê bimînin bidin.
Weke ku hûn jî dizanin, beriya niha li Hewlêrê karmendekî MÎT'ê yê bi şeklê dîplomatîk hatibû gulebarankirin; PDK'ê her der kir nava aloziyê. Roja duduyan çend kes wek sûcdar girtin û tavilê sûc avêtin ser me. Niha di ser qetilkirina hevrêyê me Denîz re çend roj derbas bûne, yek daxuyaniyek wan nîne. Ma ewqas bê şermî dibe? Li cihê ku qaşo di destê we de ye êrîş li saziyeke fermî tê kirin û tu daxuyanî jî nadin. Ew bi rastî hilweşiyane. Ji aliyê exlaqî û siyasî ve têk çûne. Lê armanc ew e ku tu Kurdên birûmet û azad ên ku cuda difikirin li wir nehêlin. Armanc ti sazî û dezgehên kurd nehiştine.
Em hewl didin fêm bikin ka Hakan Fîdan ji hevdîtinên li Başûr û Iraqê çiqas encam girt. Li Başûrê Kurdistanê dîmenên hev hembêz kirin nîşan didin ku bi PDK'ê re li hev kirine. Bi êrîşa li ser balafirgeha Silêmaniyê re, bi rastî dixwazin YNK'ê û wan herêman teslîm bigirin. Lê belê li ser vê mijarê helwesta Soran û helwesta gelê herêma YNK'ê bi rastî mînak e. Li wir hem bingehek civakî û hem jî rastiyeke pêşengiyê heye ku girêdayî yekitiya netewî ya Kurd û welatparêziya Kurde. Di dîrokê de jî heye. Siyasetek bi navenda Silêmaniyê di dîrokê de her tim hebûye. Di vê wateyê de helwestek tê nîşandan. Lê di rewşa niha de tiştekî wiha heye, hevkariya PDK'ê û Tirkiyê... Bi rastî jî bi hevkariya Bexdayê dixwazin herêma Sîdekanê têxin bin dorpêçê. Dixwazin êrîşê wir jî bikin. Di vir de sûcdarê rastî dîsa PDK'ê ye. Bi teqez dikarim bêjim ku di vê mijarê de rola hikûmeta Bexdayê kêm e. Mînak PDK'ê bi serê xwe nikare bikeve van herêman. Ew hewl dide imajek bide ku ew nak; Dibêje Iraq û Tirkiye dikin. Bi vî rengî hewldaneke pir taybet dide ku xwe di pozîsyoneke ku nekeve nava şerê bi Kurdan re nîşan dide. Ji ber ku dema wisa be wê têk here. Lê hewl dide hemû Kurdistanê bike qurbana berjewendiyên xwe. Ev planek nû ye.
Di vê qonaxê de dewleta Tirk, PDK û paşverûyên herêmê dixwazin bi hev re pêngaveke nû bikin. Çi li herêma Bradostê be, çi li herêmên din ên Behdînan be, wê êrîşên xwe yên dagirkeriyê yên li dijî Başûr bidomîne. Eger wisa bidome wê Tirkiye li Başûrê Kurdistanê tiştekî bi navê statûya kurd nehêle. Ber bi tiştekî wiha ve diçin. Hevkarê sereke yê vê PDK'ê ye.
SIYASETA DEMOKRATÎK DIVÊ XWE BIKE VÊBIJÊRKEK
Li Tirkiyeyê, li Bakurê Kurdistanê rêzecivîn çê bûn. Mirov nirxandina encamên van civînan encax li gor li vebeyîn (şewqdan)an bike.
Pêvajoyên amadekariyê berdewam in, min hêvî ew e ku bi erênî berdewam in. Me hevî ew e ku kêmasiyên heta niha çê bûne rast tespît bikin û bi gel re ji bo çareseriya wan li ser xwe baş bisekinin û biryaran bidin. Lewra bi qasê ku em çavderiyê dikin kêmasiya bingehîn ji vir e. Bi dûrbûna ji gel, tevnegerîna bi hev re, nenirxandin û raçavnekirina meyl û daxwazên gel, berê hin kêmasî çê bûn.
Qada siyaseta demokratîk divê bi rastî bibe qadeke demokratîk. Ji wê boneyê divê bibe mînaka siyaset û demokrasiya beşdarîxwaz. Ev çavdêriyeke min e. Berê di vî warî de qelsî çê bûn. Bi awayê siyasetê yê partiyên mixelefeta navpergalî ya wek CHP'ê, hêzên demokratîk, hêzên çepgir û sosyalîst nikarin siyasetê bikin. Gava dikevin hewilê ku bi wî awayî siyasetê bikin, elîtîzm, desthilatdarîparêzî, rêbaz û têkiliyên serwerîxwaz dikevin dewireyê. Ji lew ma ya esas ev e; birêxistinbûna meclis û kongreyan bi rastî. Eger wek mînaka HDK'ê ya li Tirkiyeyê, bi rastî tevgereke kongreyan derbikeve holê mirov wê bikare feraseteke siyasetê ya nû çê bike. Rêya Sêyemîn, ev e. Siyaseta Rêya Sêyemîn, ketiye ser zimanê gelek derdorên cuda jî. Partiya Akşener jî dibêje em rêya sêyemîn in. Rêya sêyemîn ne ew e ku mirov di navê de be, ji duduyan tercihkirina yekê be. Rêya Sêyemîn ew e ku mirov xwe nede destên her du tifaqên desthilatdariyê, lê xwe bike vebijêrk, beriya her tiştî jî bi awayekê demokratîk awayê xwe yê siyasetê çê bike.
Ya duduyan;  hem bi gotin, hem jî di roportaj û nirxandinên hatin kirin de û di medyayê de gelek caran hat nîşandan ku siyaseta demokratîk a Kurd xwe bi rêxistin dike; ev pênaseyeke şaş e. Ne tevgera siyasî ya Kurd lê siyaseta demokratîk a Tirkiyeyê xwe ji nû ve saz dike.  Partiya Çepên Kesk ne partiyeke Kurdistanî ye. HDP jî ne wisa bû. Derdorek heye ku bi israr dixwaze HDP'ê wek partiyeke Kurd, partiya Kurdan pênase bike. Ya rast, HDP ku partiya siyaseta demokratîk a hemû gel û baweriyên li Tirkiyeyê ye, bi vî awayî dixwazin teng bikin. Niha heman tişt berpêyî Partiya Çepên Kesk jî tê kirin. Helbet ne wisa ye. Partiya Çepên Kesk, sîwan e. Divê bikare bibe.
Herhal yek ji hêmanên herî bingehîn a çepgiran, avakirina yekîtiyê ye. Nûnerên yên hatine çewisandin, xizan û yên ku her tiştê wan ji destê wan hatî standin, dizanin ku bi tena serê xwe ti hêza wan nabe. Dizanin ku bi rêxistinbûn, tê wateya hêzê. Lewma dikarin qada siyasetê ya demokratîk veguherînin qadeke yekîtiyê, qadeke tifaqê. Dikarin bi hev re di teamulên demokratîk de tevger bikin û valahiya siyaseta li Tirkiyeyê dagirin. Bi rastî jî li Tirkiyeyê valahiya siyasetê heye. Derket holê ku ti tiştekî yên xwe di bin sîwana CHP'ê û Tifaqa Gel de rêxistin dikin tune ye. Hêzeke wan a muxalefetê tune ye. Di nava xwe de niha hevrikiya hevdû dikin. Ji aliyê AKP-MHP'ê, Tifaqa Komarê ve jî ti polîtîkayek tune ye. Civakê îdare dikin, rêve dibin. Qada siyasetê vala ye. Di roja me de em nikarin ji qada ku AKP û MHP'ê bi rêve dibe re bêjin siyaset. Pirsgirêkên civakê yên ekonomîk, çandî û perwerdeyê hene. Pirsgirêka baweriya civakê heye. Qada siyaseta demokratîk dest bavêje kuderê, dê bigire. Têkildarî kîjan mijarê polîtîkayê hilberînin, bikevin nava rêxistinbûnê û xeteke çalakiyê diyar bikin dê bigijin encamê. Lê têkildarî vê yekê sankî dudiliyek heye. Rewşeke ku danasîn dike, lê nekariye wê yekîtiyê çêbike. Divê mirov zû ji vê rewşê derkeve. Gelek tiştên girîng hene ku heta niha hatine bidestxistin; bi dîtina van, divê karibin bersivê bidin pêvajoya pêş. Divê hûn bê guman nekevin vê yekê. Navenda şerê taybet bi israr hewl dide îlan bike ku kevneşopiya ku HDP îro hatiyê bi ser neketiye. Hewl didin ku wî wekî neserkeftî, têkçûyî, qelsî û potansiyela dengdanê winda bikin nîşan bidin. Rewşeke wiha nîn e. Zêdetir hebû ku wan bikira, lê tiştên ku nehatine kirin hene. Divê ev rast bên tespîtkirin. Eger ne wisa be, eger rewşa bêhêvîtiyê, rewşa têkçûn û şkestinê ya ku ev amûrên şerê taybet hewl didin ferz bikin, bi ser bikeve, nirxên heyî jî wê ji hev belav bibin û ji destên wan derkevin. Li ser vî bingehî ez dikarim diyar bikim ku divê hêzên li Tirkiye û Kurdistanê di dema pêş de bi avakirina yekîtiyeke zêdetir di siyaseta Tirkiyeyê de bi bandor bin.