Xweşmirovên heta kêliya dawin a jiyana xwe bi hev re jiyan û şer kirin...
Hûn, bûn mîrateyeke dîrokî û romaneke ku qet ji bîr nabe, bûn stran di dilan de ku bi hêvî lê didin. Hûn ew kes in ku bêyî bergîdan dest bi vê jiyanê kir û bêyî bergîdan çûn.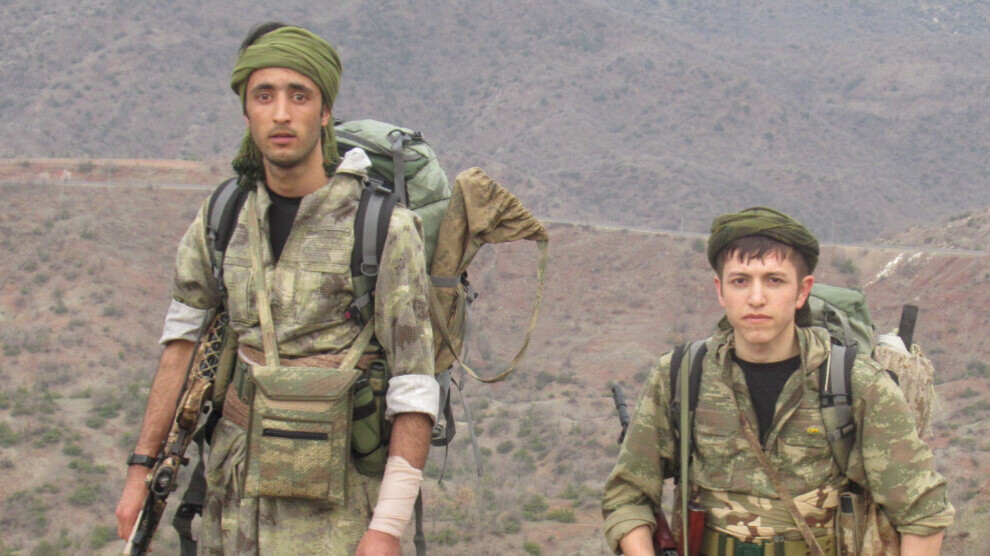 ''Hevrêyekê min heye ku dike ez li ber zehmetiyan tê bikoşim, gava girînê serê xwe didim ser girmilê wî û ji nava dilê xwe dibêjim ax. Hevrêyekê min heye ku gava dengê wî tê min kelecanî dibim û di kenê wî de hêviya jiyanê dibînim. Ji çavên wî ji xweşikahiyên gerdûnê fam dikim. Bi hezkirina wî dikarim hemû cîhanê bidim ber dilê xwe. Hevrêyekê mîna Egîd ku pê hêza li ber hemû dinyayê rabibim di xwe de dibînim. Bi vî hevrêyî re ku qehremanekê mezin ê gel e, heta hilma dawîn a jiyana xwe ez ê şer bikim.''
Ev çiya bi nirxên wisa tije dibin ku şahidiya wan bixwe nîmet û şansekê mezin e. Têkiliya xurt ku bi hev re tê danîn, wateya mezin ku pîrozahiya hezê digihe, dibe lêhiya hêviyekê ku pênaseya wê nabe. Mirovên bi van hestan dijîn, merheleya ku gihîştine, bi nihêrtina li çavên hev û din jî dikarin pir tiştan ji hev re bibêjin. Yek ji tiştekî hez bike yê din jî hez dike. Yek hez ji tiştekî neke û qebûl neke yê din jî hez nake û qebûl nake. Şaşî û rastiyan bi vî awayî ji hev diqetînin û hev wiha perwerde dikin. Bi vî awayî hev vedixwînin berzî û bilindahiyê. Pirsgirêka yekî, dibe ya her yekê din. Yek ku bi pêş ve diçe, yên din jî bi pêş ve diçin û ev dibe kirineke bi esil ku mirov pîroz bike. 
Ew, xeyalên xwe yên sibehê roj wiha dibînin, hest pê dikin, dixwazin û ji wê boneyê her tiştê xwe datînin meydanê. Bêyî ku jê têr bibin, aciz bibin û dev jê berdin digihîjin mexseda xwe. Ew bixwe dibin xeyal, armanc û azadiya her kesî. Her hilma ku distînin divê wateyekê bidin cih û kêliyê, şopekê bihêlin li pey xwe. Gavên wan divê wesiyetekê bihêle ji bo demê. 
CAN DUDU LÊ RUH YEK BÛ 
Bager û Piling li serê van çiyayan bûn nifşê temamkirina bîreweriyeke wiha. Xwe bi ruhî û canî li gor şertên van çiyayan bi pêş ve bir. Ji bo bibin hêviya her deriyekî armanca wan a pêkanîn û famkirina ji Rêbertiyê diyar bû. Vê rêyê ku wan xwe di ber de feda kir egera yekane ya bextewariya wan bû. Rastînîheziya xwe baş parast. Bi şervantiya xwe bûn efsaneyeke destanî li ser zar û zimanan. Di armanca xwe de jidil û camêr bûn. Xwe bi ruhekê Apoyî yê rastîn têr û tije kir. 
Gelek hez ji hev û din dikir. Bi ve hezê mezin dibûn, bi pêş ve diçûn. Ew ji bo hev û din her tişt bûn. Pênaseya herî xweş a her tiştî bûn ji bo hev. Taybetiya wan a herî xweş û baş ji bo mirov bibe mînak ew bû ku girêdayê heza rastîn a hevrêtiye bûn û dilsoz bûn. Pariyek be jî li hev par nekira di ber wan re nediçû, nedibû helal. Felsefeya wan a jiyanê ev bû. Divê ne ewqas zehmet be ku mirov bizane bê ka çawa mirov ji jiyana wan ra ewqas hejmetkar dimîne. 
PKK tevgera yekemîn û yekane ye ku mohra xwe li vê jiyanê xistiye. Ji wê boneyê ye ku jê re ''tevgera mirovan diafirîne'' tê gotin. Ne Rêber Apo bûya û PKK ava nekira, wan çawa hay hebûn û sekina Kemal, Hayrî û Sarayan hebûya û wê xeyalê xwe yê bibin Kemal, Hayrî û Sara pêk bianiya. 
FIKIR Û RAMANAN Û KIRINÊN WAN YEK BÛN 
Ji bo Piling Bager, Bager Piling çi be, ji bo Bager Piling jî Piling Bawer ew bû. Gotin û fikir û kirinên wan yek bûn. Ji bo heman dozê şer dikir û bi hev re diçûn mirinê û tu jê neditirsiyan. Lewra jiyana watedar a ji bo wan, şerkirin û şehadeta ji bo gelê xwe bû. Tirsa wan ew bû yek beriya yekê din bibe şehîd. Taliya talî şer dijwar bû û berxwedana dihat kirin bêhevta bû. Ev fikar li ber wan nedibû astengî lê dikir ku hêj bêhtir bibin hestyar. Bi vî awayî dibû ku kêmasiyên xwe temam bikin û di warê leşkerî de xwe bêhtir bi pêş ve bibin. 
BÛN DILÊ BOTANÊ 
Her du ewladên egîd û cewherên mezin ên Botanê. Yek ji Elbaka Wanê, yê din ji navçeya Silopiya ya Şirnexê hatibû. Bi saya PKK ji nû ve jiyane û hemû xweşî bi awayekê xwerû jiyane û ji bo vê jiyanê canê xwe daye. Bi PKK'ê xwe bi rêxistin kiriye û xwe bi kesayeta xwe ya bîrewerbûyî daye ji bo doza xwe ya nû. Êşên ku wan dîtine ji bo hin zarokên din nebînin û canê wan neêşe, jiyan û xeyalên wan nebin reş û tarî li serê çiyayan bûna tolhildana siberojê. Wek kes bi tiştên ku dikarin bikin, bawer bûne û ev rêya ji bo xeyalên xwe yên siberojê pêk bînin dil daye, kiriye baxçeyê hêviya wan zarokan. Bûne hêviya xelasiyê ya Kurdan û hemû mirovahiyê û bi vê bîreweriye bûne şehîd. Di şehadetê de jî wek li hev kiribin li pey hev çûn. Em hema bibêje bûn şahidê her kêliya jiyana wan. Gotina ''Mirov ku bixwaze ka nikare çi neke'', bû rastî. Axê ew dan ber dilê xwe, erd û asîman bi qîrîna serfiraziyê hejiya. Jiyana wan ne jiyaneke jirêzê bû ji ber ku, ew jirêzêbûn red kir û jiyaneke din jiya bi ciwanî. Şehadet di şexsê wan de ji bû bi  wate bû û bi van her du ewladên xwe şanaz bû.  
DILÊN BIBIN EFSANE JI BÎR NABIN 
Hûn di dîrokê de bûn mîrateyeke mezin û romaneke ji bîr nabe, bûn stranek di dilan de ku bi hêvî lê didin. Jiyan û veqetîna we ji jiyanê bêyî bergîdan bû. We gelek tişt hiştin ji bo dîrokê ku mirov pê têr û tijî bijî, we bi merdî bi du canan lê bi ruhekî şehadet pêşwazî kir. Hemû mirovahî her ku bi we re ji nû ve bijî, wek minetkariya xwe pêşkêş bike. Ev sondeke ji we re hatiye kirin, nabe ku bê înkarkirin û ser bê girtin.