'Şano ruhê zindî yê civakê ye'
Şanoger Kemal Ulusoy diyar kir ku şano ruhê zindî yê civakê ye û got: "Mirov dema wate û rola şanoyê zanibe û hewl bide fêm bike, dikare di hunera Kurd de rol bigre û bide fêmkirin."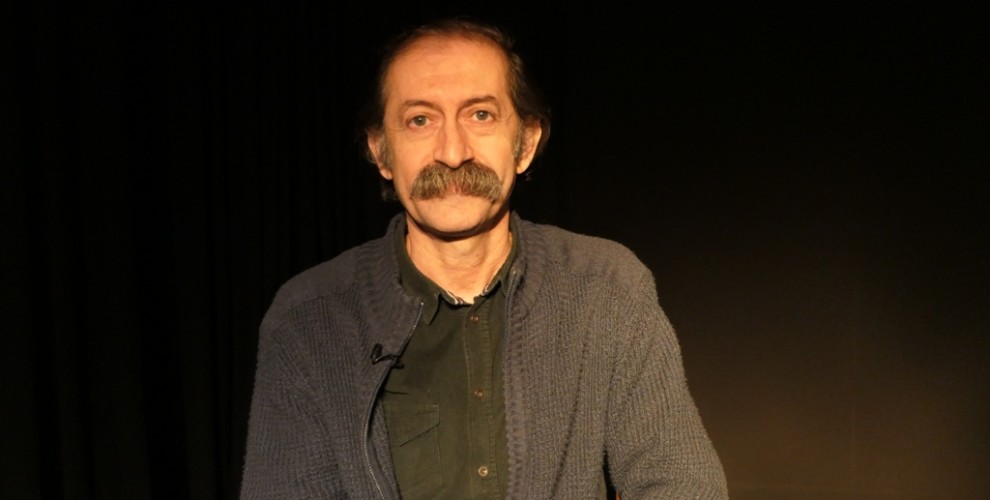 Şano bi zimanê latînî dibêjin, 'Tiyatro'. Wateyê wê, cihekî ku gel lê temaşe dike ye. Karê temaşekirinê xwedî dîrokeke gelekî kevnar e. Di serdema Neolîtîkê de ji şanoyê re dibêjin 'Mimess' ango texlît. Di wê serdemê de dema bûyerek gelekî girîng mînak, heke demsal nû dest pê kiribe, mirin çêbûbe, bûyerên asîman çêbûbin dibin mijara şanoyê. Dema li asîman brûsk lê dabe û mirovek bixwaze vê ragihîne civakê bi awayên texlît wê bûyerê zindî dike, mirovên ew bûyer nedîtine jî temaşe dikin. Di nava civaka Kurd û di çanda Kurd de rola şanoyê em bi Şanoger Kemal Ulusoy re axivîn. Ulusoy dibêje, şano ruhê zindî yê civakê ye û anî ziman ku mirov dema wate û rola şanoyê zanibe û hewl bide fêm bike, dikare di hunera Kurd de rol bigre û bide fêmkirin.
'DI ŞANOYÊ DE HEST PÎVAN E'
Ulusoy diyar kir ku şano hest û ruhê civakê derdixe li ser dikê. Ulusoy destnîşan kir ku şano bi taybetmendiyê xwe yê zindîbûnê mirovan bi mirovan dide hîskirin û got: "Karê temaşekirinê xwedî dîrokeke gelekî kevnar e. Di dîrokê de ji şanoyê re dibêjin texlît. Heke demsal nû dest pê kiribe, mirin çêbûbe, bûyerên asîman çêbûbin dibin mijara şanoyê. Şano di civakê de di hunerê de aliyê hestî û ruhî kêmahiyeke. Minak, di civakê de çawan ji bo gelan edalet pêwîst be û bê hiqûq jî edalet pêk nayê. Di şanoyê de hest jî pîvanke."
'ŞANO RÊWÎTIYE'
Ulusoy bilêv kir ku şano rêwîtiyeke dirêj ya jiyanê ye û wiha pêde çû: "Di şanoyê de herdem lêgerînek nû heye. Şano her dem li cihekê namîn e. Şano li gorî jiyanê herdem xwe nû dike. Şano di nava çand û hunerê de rol û erkek girîng digire. Ji ber ku serpêhatî û jiyana, siyasî, civakî û qadên din bi awayekî hunerî û texlîdî tê hûnandin û vegotin bandorek domdar li ser mirovan çêdike. Ji ber ku hitapî çav û guh dike û zinanê hunerî hatiye xemiladin, pêşeroja wan dixe bin bandora xwe. Di hunerê de rê û rêbaz cudane. Dema ku em li ser dikê kilasikên dinyayê dilîzin jî em hinek tiştên nû lê dikin. Minak, taybetmendiyê jiyana me ya rojan e ango Kurdewarî. 
'ŞANO WEKE DERYAYEKÊ YE'
Ulusoy da xuyakirin ku şano weke deryayekê ye û anî ziman ku li hemû cîhanê her gelek di aliyê xwe de xwe di şanoyê de têr dibîne. Ulusoy da zanîn ku di tevahi Kurdistanê de komên şanoyê hene, her wiha şanoger jî hene û wiha dom kir: "Serdemên siyasî bandorê li şanoyê dike. Li Bakurê Kurdistanê her çiqas zext li ser şanoya Kurdî hebe jî şano di asta herî xurt de ye. Şano di nav gelê Kurd de ji her ku diçe pêş dikeve.Weke deryayekê enerjiya wan ya ji bo şanoyê heye. Em şanoger jî xwedî enerjiyek mezin in ku karibin şanoyê pêş bixin.Ewqas çavkaniyên mezin hene ku em dikarin bi sedan lîstikan binivîsînin û bilîzin."
'ŞANO BANG LI CIVAKÊ DIKE'
Ulusoy derbirî ku şano ji ber ku bi bandore herdem rastî gefan tê û wiha got: "Mirovên şanoger pêwîst e, li hemû cihan karibin kar û xebatên xwe yên şano bi cih bînin. Di salên 90'an de tevî ku zextên pir mezin li ser zimanê Kurdî hebûn jî şanoger û ciwanên Kurd li her deverê karê xwe yê şanoyê bi rê ve dibirin. Eger mirov bê hevî be nikare bigihîje şanoyê. Şano bi xwe jî ji bo gelê Kurd hêviyeke. Her wiha şano ji gelek beşên hunerê sût werdigre. Bandora herî mezin ya şanoyê jî zindîbûne û rû bi rû bandorê li ser mirovan dike. Şano na şibe sînemayê, belê bandora sînemayê heye lê belê rû bi rû bang li mirovan nake. Dîsan ji ber ku çîroka şanoyê mijarên civakê ne bandorê li ser civakê dike û ji ber vê jî herdem dibin gefan de ye."