Destguhertin û bicihanîna kembera reş e
Divê neyê gotin ku komên çete li Efrînê bi hev ketine yan jî di nava şer de ne. Ji ber ku tişta rû dide li gorî konsepta giştî ya dagirkeriya Tirk destguhertin e.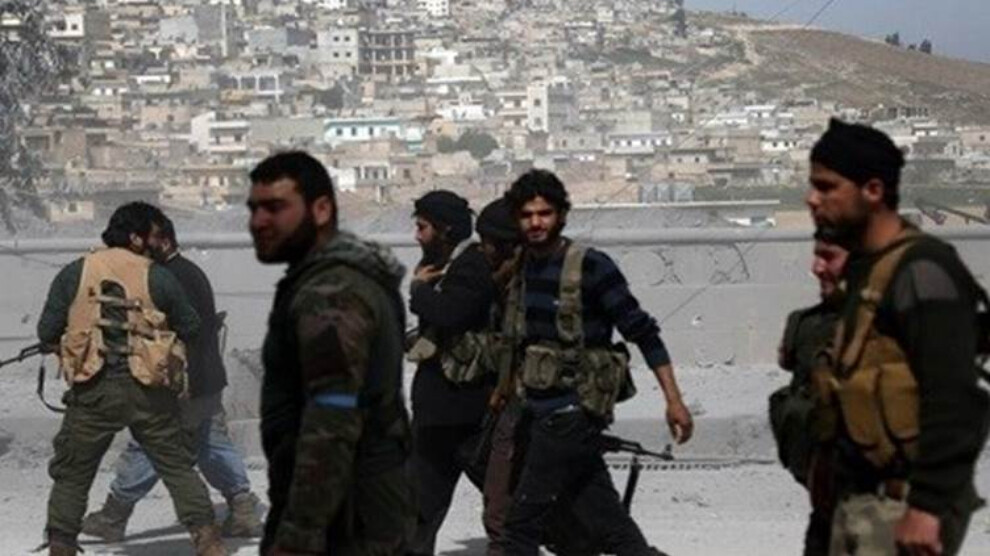 Dema ku artêşa Tirk vedikişe, rê dide koma El Qaîde ya bi navê El Nusra û tûgayên dîtir ên çeteyan bê parastin dihêle. Nexwe radestkirineke bi rêk û pêk heye. Tûgayên heyî jî gelekî şiklên wan hene. Ji ber ku xwefiroş in, gelekan serê xwe ji Tirkan re çemandine û cihê xwe radestî El Nusra kirine. Tirkiye dixwaze komên ku li serê wê bûne bela û êdî nikare ji sûcên ku wan li Efrînê kirine derkevin, ewqas eşkere bûne. Ji ber vê dixwaze li herêmên dîtir li gorî hinek planên veşartî bide şerkirin û bikaranîn. Dibe ku ev herêm hundir an jî derveyî Sûriyeyê bin. Jixwe di vî alî de tecrubeya wan û çeteyan heye. Di heman wextê de lihevkirina wê bi Rûsyayê re ya di derbarê vekirina rêyên bazirganiyê red kirine, dixwaze bi vê yekê terbiye û tasfiye bike. Dixwaze ev kom ji bin sîwana berjewendiyên wê yên mêtinger jî dernekeve. Ya herî girîng vê liv û tevgera bi lez a ku wekî bûyereke ji nişkê ve bûye rojev, piştî bidawîbûna Astana û serdana Wezîrê Karê Hundir Soylû, li Girê Spî dest pê bûye.
Yanê, dibe ku li beramberî nerazîbûna destwerdana wê ya Minbic, Til Rifet û redkirina projeya wê ya bi navê 'herêma bi ewle' lêzivirandinek li hêzên herêmî yên weke Îran û hêzên navneteweyî yên weke Rûsyayê be. Bi taybetî jî li dijî Îranê û hêzên rejîma Sûriyê bertekek nîşanî El Qaîdeyê dabû ku bi tevahî xeta başûr û başûr rojhilatî Efrînê kemberek reş ji van hêzên tarî bide avakirin. Berteka ku Îranê nîşanî daxwaza Tirkiyeyê ya êrişê daye, rûbirûyî hêzeke profesyonal e El Qaîde ya bi navê El Nusra li Sûriyeyê tê nasîn bihêle. Divê neyê jibîrkirin ku ev gava han piştî çar salan zêdetir di ser operasyona guherîna demografîk û qirkirina li Efrînê derbas bûne re, pêk hat. Ev jî xwedî wê wateyê ye ku faşîzm hewl dide dagirkirina Efrînê bixe bin garantiyê ku sînorên wê yên xetên berxwedanê rûbirûyî çeteyên El Nusra bihêle. Taybet piştî ku sînorên Efrînê bi Bakurê Kurdistanê re tije malbat û tûgayên pêbawer ên Tirkmenan kir. Bi gotinek din; kûrkirin û mayîndekirina dagirkeriyê û weke ragihandina fermî ya destpêkirina şerê hêzên herêmî ye. Jixwe ev şer di nava projeya herdu hêzan de bi qasî temenê aloziya li Sûriyê berdewam dike, lê bi terazûya nû ya hêzê re ku bi şerê li Ukranyayê re dest pê kir, hêzên herêmî jî dixwazin sûdê ji vê yekê bigirin û terazûya hêzê ya Rojhilata Navîn a hêzên herêmî, tê de bibin xwedî rist û peywira pêşeng a desthilatdariya xwecihî. 
Ya girîng jî ku divê ji rojeva me neyê dûrxistin û jibîrkirin, nixumandina kiryar û sûcên li Efrînê pêk anîne û mudaxeleya projeyên çareseriya aloziya Sûriyê ye ku gengaz e bi lihevkirina Rêveberiya Xweser û hikûmeta Şamê re, kîjan demê be jî, pêk were. Bê guman, ji ber ku koma El Nusra weke komek terorîst li dunyayê hatiye naskirin, îhtîmal heye ku hêzên navneteweyî bi awayek xapînok rejîma faşîst a Tirkiyê dehvî xefkeke nû kiribin ku li ser bingeha wê jî pergala li ser serê desthilatdariya navendî bûye bela, ji nav bibin. Ev jî rûyek wê ye, kengî hewce be wê bi kar bînin. Tiştekî din ê balkêş heye ku hemû şerên di navbera komên Ehrar Al Şam û Cebhe Al Şamiyê û piştre Tehrîr Al Şam "El Nusra", ji bajarê Babê bigire heya Efrîn were, li gundên Kurdan rû dane. Aliyê Babê li Sosyan, Hezwan, Eble; Ki'êbê, Şidûd, Til Betal û li Efrînê aliyê Şêrawa û Cindirêsê, aliyên başûr, başûr rojhilatî Efrînê rû dan. Hemû herêmên ku şer lê qewimîne jî şêniyên wan ên resen hatine derbiderkirin, ango bi zorê hatine koçberkirin. Tiştekî din jî divê em ji bîr nekin, hemû aliyên şer Suniyên radîkal in. Ti komeke Tirkmen ên cihê baweriya Tirkiyê ne, tê de nînin. Pêwîste weke tasfiyekirin û bêhêzkirina hêza Sune li beramberî hêza Tirkmen di herêmê de bête fêmkirin.
Tê gotin jî; piştî ku tûgayên çete yên Sunî rûbirûyî tunekirina li ser dest terorîstên El Qadî, koma El Nusra mane, derhal berê xwe dane Tirkiyeyê û ji ber hinek bertekên xwe yên li dijî lihevkirinên Astana, lêborîna xwe jê xwestine. Ji lew re faşîzma Tirk rê li ber berfirehbûna El Nusra digire û gefa bombebaranê lê dixwe. Lê ya girîng ew e ku; di bingeha hemû bûyerên van çend rojên derbasbûyî de, konsepta dagirkeriyê heye. Bêalîbûna komên çete yên Tirkmen, vê lîstika dewleta Tirk baş rave dike. Ji ber vê jî, ji şerekî serweriya cografîk wêdetir, destguhertinek terorîst a faşîzma Tirk bû. Reaks,yon, pratîk û vedengên wê van çend rojên pêşiya me de derkevin, dê şiklê tabloya nû ku dagirkerî dixwaze ava bike, baş diyar bike.