'Divê PDK lêborîna xwe ji Êzidiyan bixwaze'
Ji fermandarên YBŞ'ê Dijwar Feqîr bi bîr xist ku PDK a ku hîn lêborîn ji civaka Êzidî nexwestiye, êrişên dewleta Tirk ên li ser Şengalê rewa dike, teşwîq dike.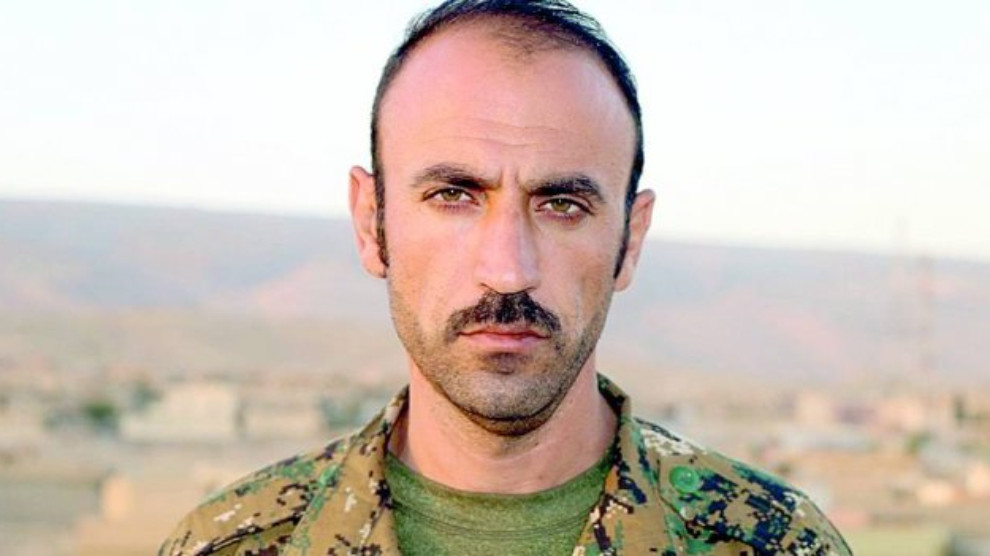 Ji fermandarên Yekîneyên Berxwedana Şengalê (YBŞ) Dijwar Feqîr ji rojnameya Yenî Ozgur Polîtîkayê re li ser rewşa Şengalê, êrişên dagirkeriyê yên dewleta Tirk, nêzîkatiya PDK'ê axivî û bersiv da pirsên Rewşan Denîz.
Dijwar Feqîr destnîşan kir ku wan xwe li piraniya Şengalê bi rêxistin kirine û wê nehêlin ku careke din bi rengê fermana 3'ê Tebaxê komkujî li civaka wan bibe, wê civaka xwe biparêzin.
Hevpeyvîna bi Dijwar Feqîr re wiha ye:
YBŞ di dema şer û berxwedanê de hat damezrandin. Hêza ku YBŞ ji damezrandina xwe ve gihiştiyê, çi ye?
Di destpêka damezrandina YBŞ´ê de ya rastî rewşeke welê hebû ku hesabê damezrandina wê nedihat kirin. Ne ku derfetê avakirina hêzeke leşkerî hebûn. Bi hikmê fermanan û bi tecrûbeyên wan, ji bo ku vê carê bibe dersek, bi hêzeke mayînde rê li ber fermanên wiha bê girtin, YBŞ hat damezrandin. Destpêkê, wexta avakirina YBŞ´ê de derfetê jiyanê kêm bûn, alemê wisa lê dinihêrî ku Êzîdî wê nemînin. Li her derî mirin hebû. Bi destwerdana HPG û YJA Starê, YPG û YPJ´ê, derfetek çêbû, hêvî ava bû. Da ku milet karibe êdî li dijî DAIŞ´ê şer bike û wî miletî êdî biparêze. Ti tecrûbe jî nebû. Cihekî ku Êzîdî pişta xwe bidinê û şer bikin ji bilî şervanên Apoyî û van çiyayan nebûn. Hevalên weke hevalê Berxwedan û Mensûr, Zinar, Cemal û gelek hevalên din ên şehîd bûn hingê, li kêleka hevalan çek rakirin û şer kirin. YBŞ di van şert û mercan de hat avakirin. Hêzên bi dehan salan bi çekên giran û îdîa dikirin şervan in, ti maneya wan nemabû. Ha di rewşeke wisa de YBŞ û YJŞ hatine avakirin. YBŞ esas bi biryardarî û kîna xwe ya ji bo tolhildana ji dijmin û bi rêxistinkirin û parastina milet,hat damezrandin.
Ji hingê ve, rêxistiniya wê ya hundir, fermandariyên wê, rêziknameya wê pergala wê ya navxweyî, têkiliyên civakî hatin avakirin. Bi demê re, piştî şikestina fermanê, gava yekê parastina Çiyayê Şengalê bû, gava duyemîn, milet li vî çiyayî xelas nebin, Êzîdî tê de hebin. Piştî ku ev misoger bû, derfet çêbûn, milet hêdî hêdî vegeriya. Şert û merc hatin guhertin. Milet ev hêz weke hêza xwe ya esasî nirxand. Wisa YBŞ mezin bû, xwe birêxistin kir. Meclîsa xwe hebe, berpirsiyarên xwe hebin, sîstema xwe ya perwerdê hebe, danûstendinên xwe bi xelkê xwe û bi xelkê re hebe. Li ser vî esasî YBŞ´ê xwe gihand astekê ku êdî hêzeke şer be.
Jixwe li Rojhilata Navîn yan aştî nîne, hebe jî hakimiyeta xwe nîne, mirov nikare pê bawer be. Ji bo wê, YBŞ´ê xwe gihandiye asteke welê ku karibe şer bike. Em nikarin baweriyê bi her kesî bînin, em nikarin pişta xwe bidin dîwarê ketî, em nikarin warê xwe li ser erdê xelkê ava bikin. Hingê jî hêzeke me cewherî lazim e. YBŞ´ê wisa xwe kir hêzeke ku karibe hêza bewerî pê were.
YBŞ´ê li Şengalê û deverên Êzîdî lê çi qasî rêxistinkirî ye?
Piştî fermanê, esas bi operasyoneke bergirtinêî, ev milet venegeriya rewşa xwe ya berê. Ne vegeriya wexta Sedam, ne vegeriya wexta beriya Sedam, ne jî vegeriya wan 11 salên PDK li vê derê. YBŞ hemleyek bû, hem di pratîkê de mesela hemleya pêşî ya li dijî DAIŞ´ê, li ser axa Iraqê, YBŞ´ê kiriye. Piştî bi du heyvan, hingê hêzên HPG´ê, YJA Starê hebûn, tevde me DAIŞ ji hin deveran derxist û em li wir mayînde bi cih bûn. Berî wê hêzên din jî şerê DAIŞ´ê dikirin, lê ti kesî erdekî di destê wê de jê nestandibû. Li vir hêzên li derveyî me yên Êzîdî jî hebûn şer kirin. Lê me hemle kir cara pêşî di Iraqê de û DAIŞ ji hin cihan derxist. Di pirraniya axa Şingalê de YBŞ heye. Devera em tê de nebin jî, heger bête xwestin em dikarin ji bo parastina vî miletî xwe bigihîninê. Bi helwêsteke ku ji dinyayê qut be, siyasetê neke, hinek tiştekî deynin ber û ew bibêje, erê yan na; bi helwesteke welê teng Êzîdî nikarin xwe biparêzin. Niha li piraniya cihên Êzîdiyan li Şengalê, li gundan YBŞ heye. Niha rêxistina wê alem vegeriya Tilizêr û Sîbayê wan. Parastina wan di dereca yekê de YBŞ´ê girtiye ser xwe. Lê Êzîdî li deverên weke Behşîqe, Behzanê jî hene. Em behsa Şengalê dikin. Lê YBŞ li wan deverên ser bi Şengalê ne, lê îdarî ji Şengalê hatine qutkirin jî jeye.
Rewşa fermî û heyî ya tekiliyên di navbera dewleta Iraqê û YBŞ/YJŞ´ê de çi ye? Gelo li gorî dilê we ye?
Rewşa me ya fermî, serê pêşî fermiyeta me ji têkoşîna xwe girt li Şengalê. YBŞ´ê li Şengalê şer kiriye, têkoşîna xwe kiriye. Milet heta dawiyê fermiyeta wê qebûl kiriye. Li cem hikumetê [ya Bexdayê] fermiyeteke xwe heye. Bes ne qasî tê xwestin. Mesela gava hin alî zextê li hikumeta Iraqê dikin, wê jî heta niha berpirsiyariya xwe heta dawiyê pêk neaniye. Hin hêz hene, li ser axa Iraqê dagirker in, tevahiya xebata wan li ser wê ye ku zextê li ser YBŞ´ê çêkin. Weke mînak, YBŞ diviyabû yek ji milên sereke yên operasyona Mûsilê bûna. Lê van hêzên siyasî rê lê girt. Heta wan zext kir da ku alîkariya heyî ya ji YBŞ´ê re qut bibe. Ji ber wê demeke dirêj alîkariya YBŞ´ê nekirin. Niha jî alîkariya ji YBŞ´ê re tê kirin pirr kêm e, weke sembolîk be.
Esas danûstendina hikumetê bi Êzîdiyan re di çarçoveyeke pir teng de ye. Ew dibêjin, ferman çêbûbe, jî hatina DAIŞ´ê tesîr li her kesî kiriye. Lê tu li dîrokê binihêrî, li dîroka Êzîdiyan binihêrî li ya li civakên derdorê binihêre, dîrokên wan cuda ne. Bi dehan ferman hatine serê wan. Heta niha kesî berpirsiyariya xwe ya wicdanî beramberî vê civakê bi cih neaniye. Hikumeta Iraqê jî weha ye. Niha bi hinek meaş, bi çend meqaman û çend xaniyan, dixwaze nîşan bide, ev hikumet erka xwe pêk tîne. Ji bo vê divê taybetmendiyên Êzdiyan nas bikin, xweseriya wan. Divê garantî hebe ku taybetmendiyên Êzîdiyan li vê derê bên parastin. Mesela hikumet dikare garantî bike, heger hinek dijminatiya Êzîdiyan bikin, ew dikare bi Êzîdiyan re li dijî wan bisekine. Heta niha ev nehatiye kirin. Ev xaleke esasî ye. Di vî warî de gavên hikumeta Iraqê lawaz in.
Di paşerojê de em hêvî dikin ku ev hikumeta rêzdar Kazimî, ya ku hinekî çalak e û di xîtabên xwe de jî çend caran behsa Şengalê kiriye, di vê çarçoveyê de karibin bikin ku Êzîdî û ew baweriyê bi hev bidin. Yanî Êzîdî xwe weke welatiyên dereca yekê bibînin û hikumet jî erkên xwe bi cih bîne. YBŞ beşek ji vê civakê ye.
Roja îro, rewşa leşkerî li Şengalê çi ye; tekilî PDK û dewleta Iraqê çi ne, hebûna leşkerî, siyasî û statuyan Êzîdiyan çi ye?
Statuya Êzîdiyan navneteweyî tê qebûlkirin ku qirkirinek hatiye serê Êzîdiyan. Ev hatine qebûlkirin. Divê parastina wan bê kirin. Her kes, PDK jî dizane, Tirkiye jî, Emerîka jî Iraq jî pê dizane ku rewşeke wisa ya Êzîdiyan heye.
Herçî PDK ye, niha hewldanên wê hemû li ser dagirkeriya axa Iraqê bi destê Tirkan e. Rêvebeirya Başûr, nexasim PDK dîrokeke xwe ya bi dehên salan li Iraqê heye. Piştî 2003´yan çalak tevlî xebatên siyasî yên Iraqê û heta nivîsandina destûra Iraqê bû. Hêzeke wisa niha rabe, rê ji dagirkeran re veke, bîne ser vê axê, bi taybetî li dijî Êzîdiyan; ji ber Êzîdî weke rokî wan î reş in. Me wisa ji wan fêm kir. Ji ber ku gelek hewldanên Êzîdîyan çêbûn; gotin, xeletiyên we çêbûbin, hûn dikarin wan rast bikin. PDK vê fêm nake. Her tim van êrişên taybet li ser Şengalê rewa dide nîşandan. Ji 2003´yan ve hebûna wan li vê derê çi kêmasî kirine heta 2014´ê: bi hezaran keç û xortên Êzîdiyan kirin destê DAIŞ´ê, zarokên Êzîdiyan kirin destê DAIŞ´ê. Berî wê êşkence bi li sedan xortên Êzîdiyan kirin. Partiyên Êzîdiyan, giraniyeke wan a pirr mezin nebû jî, lê dijminatiyeke wan a pirr zêde hate kirin. Nakokiyên di navbera Ereb û Êzîdiyan de jî… Van xeletiyên xwe hemûyan nabîne. Êzîdiyekî ji bo parastina civaka xwe çek hilgirtibe, weke ku sûcekî mezin kiribe, dibînin. Em nizanin çawa PDK wê fêm bike, em weke Êzîdî vê nameyê çawa bigihîninê. Lê PDK ji vê helwêsta xwe venegere, em behsa şerî nakin, li herêma Kurdistanê wê zirerê ji Kurdan jî bibîne. Kurd li Başûrê Kurdistanê ne kor in. Dibînin ka PDK´ê çi qas zirar daye Êzîdiyan. Lêborînek jî nexwestine ji Êzîdiyan. Niha ketine nav hewldaneke welê, hemû kesayetên li dijî Şengalê di nav xwe de dihewîne û wan êrişên li dijî Şengalê rewa nîşan dide. Ev nêzîkatiyeke neexlaqî ye. YBŞ û YJŞ jî beşek ji vê civakê ne; di fermiyetê de jî me got, hikumeta Iraqê jî me qebûl dike, têkiliyên me jî li ser vî esasî hene. Bes di destpêkê de weke yekîneyên piçûk ji bo şer û berxwedanê bû û ev nav lê hat kirin. Jixwe li Şengalê bû; navekî gelekî tebîî ye. Zarokên vê civakê ne, li ser vê axê şer kirine, û di vê axê de mayîne. Ne me got PDK´ê bireve. Ne di 2003´yan li ser banga Êzîdiyan hatine, tevî ku hingê Êzîdî kêfxweş jî bûn. Ne jî di 20124´an de Êzîdiyan gotiye me bihêlin û birevin, ne jî di 2017´an wexta artêşa Iraqê û Heşdî Şebî hat, Êzîdiyan ji wan re negot birevin. Ew hatine û wan terka Êzîdiyan daye. Ev çend car e wisa çêbû. Beriya niha jî xeletiyên wan şaşîtiyên wan hebûn di teqînên Til Izêr û Sîba de. Parastina Êzîdiyan nedikirin. Parastina xwe jî nakin, ya Herêma Kurdistanê jî nakin; heke weke 2014´an li Şengalê, yek bi pey keve, ew ê bireve, mirov bawer nake bisekine. Wê nikarîbana parastina Başûrê Kurdistanê jî bikin. Di 2014´ê de hêzên HPG´ê li Mexmûrê destûr nedan. 2017´ê hêzên navneteweyî destûr nedan ku hêzên Iraqê ji sînorên 91´ê diyar kiribûn, bibihurin. Bi vî hukmî niha mane; nikarin parastina xwe jî bikin. Em niha parastina xwe ji PDK´ê naxwazin. Ev qas bêwicdanî ne rast e. Weke Êzîdî me hêvî ji ti hêza Kurdistanî nedikir ku wisa bi bêwicdanî nêzîkî Şemngalê bibe. Nexasim piştî fermanê, niha hemû hewldana wan ew e ku dewleta Iraqê bibin ser xeta xiyanetkaran û li hemberî Şengalê bi kar bînin. Çima? Ji ber ku em xwe weke wan nakin. Em ne mecbûr in weke wan bin. Em civakek in, em olek in, em weke wan nabin. Hurmeta me ji Kurdan re heye, lê em wisa nabin.
Niha li Iraqê jî amadekariyên hilbijartinê hene. Helwêstên wan ên beramberî van siyasetên şaş ên PDK´ê wê çi bin, ew jî hêj diyar nîne, ji ber ku ev hikumeteke ne mayînde ye. Demkî ye. Ji ber wê mirov vê helwêstê jî wisa zelal nabîne. Mirov niha nizane, gelo PDK wê karibe bi tevahî hikumeta Iraqê li dijî Şengalê bide karkirin. Gelo hikumeta Iraqê wê şaşîtiyeke wesa bike. Bike bike, ew ê li her du aliyan deriyên xwe ji dagirkeran re veke. Piştî wê, deverên Iraq tê de wê ji destê Iraqê biçin, hêzên dagirker ya xwe li Iraqê xurt bikin. Wê berjewendiyên wan, piştevanên wan li nava Iraqê xurt bibin. Em bawer dikin hikumeta Iraqê vê tiştê fêm bike û bi van lîstikan nexape. PDK li Şengalê dixwaze tevlîhevî hebe, civaka Êzîdî venegere ser axa xwe. Şengal jê re bête valakirin. Cara reviya, Êzîdî jî pê re birevin, cara vegeriya jî Êzîdî jî pê re vegerin.
Gelo ji bo misogerkirina xurtî û mayîndebûna hêza xwe ya leşkerî we sazûmaniya xwe li nava civakê karî belav bikin?
Di nava civakê de qebûla me bi şehîdan, bi xwînê bûye. Şehîdan YBŞ daye qebûlkirin. Eşîreke şehîdên wan di nava YBŞ´ê de çênebûbin, hema hema nemaye. Gundek hema hema nemaye ku YBŞ´ê lê şehîd nedabin. Cihekî Şengalê ku YBŞ´ê tê de şehîd nedane hema hema nemaye. Li ku derê hatibe xwestin YBŞ´ê tê de şer kiriye. Ji ber vê di dilê vê civakê de mirov eşqeke ji bo YBŞ´ê dibîne. Aliyên wê yên civakî li pêş in, parastina xelkê ji qanûnên li ser kaxezê zêdetir esas digire. Wexta hat avakirin, bi biryara zarokên vê civakê hatiye avakirin. Ji ber wê jî ev civak xwedî lê derdikeve. Ew YBŞ weke hebûna xwe dibînin, ji ber ku dizanin gava lazim bû di bin her şert û mercî de parastina wê bike. Di pratîka 6 salan a YBŞ´ê de dostan jî dijminan jî ev yek fêm kiriye. Dost dizanin, hez ji YBŞ´ê kirine, û dijmin jî dizaninYBŞ ti carî ve civakê bê parastin, bê pişt nahêle. Yên ku herî zêde hez ji vê civakê dikin, bê teredut lazim be canê xwe bidin, em in. Em dixwazin ev civak bibe îrade, hêz.
Li hin deverên miletê Êzîdî lê, komeke bi navê Pêşmergeyên Roj bi cih bûne. Ji bo hikumeta navendî ya Iraqê gelo ev fermî ne? Têkiliyên we bi vê komê re çi ne?
Ew ez yeqîn nakim fermî bin. Lewma li gorî hiqûqa navneteweyî jî qedexe ye tu koçberan ji deverekê bînin li devereke din bikî leşker. Ev esas çeteyên Roj in, ne pêşmerge ne. Gotineke me ya Şengaliyan heye dibêjin, ´heke tu beranê bisko ba, tê li deriyê babo ba´. Heke ewqasî bi rastî berxwedêr bane, weke propagandaya wan tê kirin, hêzên şer bana, wêrek bane, ew ê li Rojavayê Kurdistanê şer bikira. Hewce nebû bên Hewlêrê wan. Saziyên leşkerî li Rojava hebûn, roja man û nemanê bû, wanê parastina Rojava bikira. Ji ber wê, ev yan bi axa xwe ve negirêdayî ne, yan jî nezanin, nizanin parastina xaka wan çawa bête kirin. Ketina nêv çerxa lîstikekê de da ku karibin li dijî miletê xwe şer bikin. Mesele, guman hebûn, ka ev di dagirkirina Efrînê de hebûn yan na. Heta di hin medyaya civakî de hat belavkirin ku hinek ji wan di dagirkeriya Efrînê de çalak hebûn. Şer li dijî tevgera Kurd a Rojava kirine. Tirkan esas xwest li ba PDK´ê komekê kom bikin, û berdin Rojava weke çete û bibêjin, ev jî xelkê Rojava ne. Rêxistina leşkerî û civakî ya Rojava zeîf bikin. Esas van xwe firotiye. Bi perspektîfa Tirkan, ew hêzên ku 2017´ê 3´yê Adarê li dijî hêzên me şer kirin û hevalên me şehîd kirin, yek jî ev çete bûn. Di warê navneteweyî de ti rewabûna wan nîne. Ji dewletekê hatine dewletekê û bi ewka Tirkan weke PDK´ê rêxistinkirî ne, lê esas Tirkan li dijî Kurdan bi rêxistin kirine. Ev ê sibe li PDK´ê jî biqulibin. Tirk keysa xwe lê bînin, wê serê PDK´ê jî bi van bide jêkirin.
Ma ne wisa bûye, me li bereya li DAIŞ´ê hingê şer dikin, wê roja ku 30 cenazeyên DAIŞ´ê ketin destê me, wan li Xanesorê êrişî me kir, hevalên me şehîd kirin. Dixwestin sînor bigirin. Esas tişta ku DAIŞ´ê nekarîbû bike, wan dixwest. Lojîstîka me neyî, çekên me neyên. Hingê rêya Başûr girtî bû, ya Iraqê girtî bû, tenê rêya Rojava hebû ku alîkariya civaka me û me dikir. Hingê lijneyeke Iraqê jî li vir bû şahidî li şer kir. Çawa êrişî me kirin. Rewabûneke wan nîne. Lê dibe ku hin kesên li Başûrê ên xwefiroş li ser navê wan bi Iraqê re bidin û bistînin. Lê esas hedefa wan ew e wan derbasî Rojava bikin, ne ku li Iraqê bihêlin. Li dijî rêxistina Rojava, li dijî QSD û PYD´ê bidin şixulandin. Hêzeke li derveyî exlaq e, li dijî Kurdan hatine avakirin. Hêzeke xwefiroş, xayîn û casûs in. Weke wan hêzên serhildanê Kurdan têkbirî ne, hêzeke rêbir û çete ne.
Van demên dawiyê hin êrişên provokatîf hene. Herî dawî ji eşîra Şemir 2 Ereb hatin kuştin.  Bi ya we kî van provokasyonan dike, armanca wan çi ye?
Tiştekî fermî heta niha nîne, provakosyonên li Şengalê bên derxistin, yek jê Parastina PDK´ê, MÎT´a Tirkan û hin derdorên aramiyê li Iraqê naxwazin, dixwazin Iraq li destwerdan û dagirkeriyê vekirîbe, dikarin bikin. Lê belê ev bûyera dawî ya ku tê de her du xortên eşîra Şimer hatibûne kuştin, cihê tê de bûyer çêbû, hêzeke din li wir bû. Kujer hatine girtin, bi qasî ji me re hatiye gotin, li xwe mikur hatine, gotine, em çar kes in, çar ciwan in. Cahil in. Ka kesekî ew daf dane, pere dayne yan wekî din, tiştekî wisa nehatiye tesbîtkirin. Lê ew jî hinek ji wan, yek didu ji wan di nav hêzeke fermî de cihê xwe digirtin. Lê belê bi nezanî, weke siyaseta PDK´ê berê li dijî Êzîdiyan meşandî, weke Êzîdî Ereban hemûyan reş bibînin, dijmin bibînin, kirine. Êzîdî jî Ereban hemûyan wisa bibînin, Ereb jî Êzîdiyan hemûyan wisa bibînin, şaş e, ev du civakan tîne hemberî hev. Mesela têkiliyên me ji destpêkê ve bi eşîra Şemir re alîkarî kir. Di ser Rojava re derbasî gundên ser sînor bûn, me alîkarî da wan, me rê ve kir, heta me şer kir ew gavekê li pişt me bûn ji bo ku fêr bibin. Me ew nedişandin pêşiya şer. Me cih distand, ew dihatin li kêleka me disekinîn. Yek ji wan ên hatiye kuştin, endamê vê hêza han bû. Lê wê siyaseta reşkirina Ereban li pêş çavên Êzîdiyan ya Êzîdiyan li ber çavên Ereban a PDK´ê, beriya niha di 2014´an de pratîka xwe hebû. Ew hêzên ku PDK´ê ew avakiribûn hingê bi ser gundên Ereban de girtin, talan kirin, ev ne çandeke Êzîdiyan e. Li derveyî exlaqê Êzîdiyan hereket kirin. Ti elaqeya me bi kuştina van herdu kesan re nîne, ji bo tevllîheviyê wisa kirin û xwestin bixin sukra me de. Me ne Êzîdî bê pişt hiştin, ne jî li dijî Ereban me pişta hinan girtiye. Berê di nav eşîran de tiştên wisa çêbûne.
Bi qasî me fêmkirî ne bi agahiya eşîra xwe çûne ev ciwan, ne jî bi agahiya dê û bavê xwe. Lê em dîsa bibêjin, kurmê darê ne ji darê be, dar xira nabe. Ew hêzên wisa nîşan didin weke ku Şengal êdî xira bûye, dawiya dinyayê hatiye, di rewşeke wisa de mirovên wisa esas nakokiyan di navbera Êzîdiyan de derdixin û dixwazin Êzîdiyan bi destê Êzîdiyan bidin kuştin. Reşkirina Kurdan li pêş çavê Êzîdiyan, esas PDK vê dike; reşkirina Kurdan li pêş çavê dinyayê. PDK van tiştan li ser medyayên xwe û hêzên xwe re nabêje, ka bêdeng bin, mirov pêşî bi tiştekî zanibe. Helwêsta me ya YBŞ diyar e, dostên me jî hene, berpirsiyarên me yên Ereb jî hene di asta herî jor de, têkiliyên me jî hene; lazim bibe, çawa me Êzîdî parastin, em ê civaka Ereb jî biparêzin. Em vê ferq û cudahiyê nakin. Heke em dixwazin bijîn, Êzîdî, Ereb, Şebek, Tirkmen, Kurmancê Şengalê, bi hemûyan re, em tenê bi DAIŞ´ê re nadin û nastînin.
Divê Êzîdî hemû hişyar bin, hêzên dagirker dixwazin tevlîheviyê çêkin, da ku rê li dagirkeriya xwe vekin. Insanên xwefiroş ên hundir jî hêzên weke PDK´ê desteke van dikin, da ku karibin van provokasyonên xwe li her derî bikin, ne tenê li Şengalê. Îro li Şengalê bi ser kevin, sibe dora Til Efer e, sibe li Til Eferê bi ser kevin dora Mûsil e, li Mûsilê bi ser kevin dora Kerkûkê, Mexmûrê, Zummarê ye. Ev ê Bexdayê jî zeîf bike.
Armanca me ew e em bi mafê xwe yên rewa li Iraqê bijîn.
Di sala 6´an a dagirkerî û fermanê/qirkirinê de di serê de Şengal, rewşeke çawa ya giştî ya Êzîdiyan heye?
Aliyekî Êzîdiyan ê rêxistinkirî heye; Êzîdiyan xwe bi xwe saziyên xwe çêkirine, meclîsên xwe çêkirine. Bi xwe xizmetê dikin. Ji bo ku Êzîdî vegerin ser warên xwe kedek heye. Lê ma ev têrê dike? Naxêr, ji ber ku beşekî zêdetir ê Êzîdiyan li derveyî Şengalê ne. Nexasim jî li kampên li Başûrê Kurdistanê ne, hem li Silêmanî û hem jî li Dihok û Zaxo, Êzîdî li wargehan in. Hin gundên Êzîdiyan hene, hîna Êzîdî venegeriyane wan, ên weke Sîba Şêx Xidir, Gir Zerik, gundê dîtir.
Ev 6 sal di ser fermanê re derbas bûn, me weke YBŞ´ê gelek caran bang kir ji bo tifaqa Êzîdiyan, me gelek caran Êzîdî anîn ba hevdu. Bingehê vegera Êzîdiyan a xurt me karî çêkin. Di warê siyasî de gotin û daxwazên wan yek bin. Bila her yek aliyê xwe yê siyasî hebe, lê bes weke Êzîdî, hewldanên me çêbûn. Di encama wê de saziyên civaka Êzîdî hatin xurtkirin. Tevlîbûn çêbû, ji oldaran, ji eşîran, ji malbatên xuyayî, ji rewşenbîran. Heta niha civaka Êzîdî mesela di warê aborî de, pêwîstiyên xwe bi xwe ew nikarin bi xwe peyda bikin. Hewldanên Êzîdiyan hene ku karibin di warê aborî xwe bi xwe bi rêve bibin, di warê perwerdehiyê de perwerdehiya wan heye, lê divê bê fermîkirin. Li nava Şengalê di nava civakê de rewa ne.
Mixabin partiyên Êzîdiyan jî hinek dixwazin têkilî tenê bi partiyekê re be, rewş weke berê be, xweseriya Şengalê navên, Êzîdî vegerin jî ti statuyeke taybet li ber çavan neyê girtin. Taybetmendiyên partiyên Êzîdiyan ên ji derve yên wisa jî hene. Danûstendina me bi wan re heye. Em dixwazin hikumeta Iraqê me bi taybetmendiyên me nas bike, ne ku vegera serdema Sedam yan jî rewşa beriya 2014´an.
Erê qanûn hene, lê gava ku qewimî qanûnê ev civak neparast, hêza wê ya cewherî ew parast. Qanûnên civakê jî hene. Divê em vê bi beşên Êzîdiyan ên dîtir vê bide qebûlkirin. Şerekî taybet li dijî Êzîdiyan ji serdema Sedam ve heye, nexasim ji 2003´yan ve jî ev şerê taybet heye ku têkiliyên di navbera Êzîdiyan de, yên bi derve re qels kirin. Takekesî bi pêş xistibûn, kes kiribûn modern, hental û bêked. Hege tu mafê civakeke weke ya Êzîdiyan bi alemê bidî qebûlkirin, ev bê zehmetî bê ked nabe.
Ev rewş dikarin li paşê bimînin, danûstendinên bi partiyan re heye. Gelek caran nîqaşan dikin, ka di hilbijartinên bê de Êzîdî dengê xwe bidin kê, mirov dengê Êzîdyan çilo bigihîne alemê. Belavbûne heyî zirarê dide Êzîdiyan hemûyan. Axir aliyekî Êzîdiyan ê rêxistinkirî heye û aliyekî belav heye.
Em hin dostan jê derînin, pirraniya kesên bi Êzîdiyan re didin û dîstinin, dixwazin xwe meşhûr bikin. Yekî silav da Êzîdiyan, di nav alemê de dibêje, ez çûm nêv Êzîdiyan, çûm Şengalê. Divê mirov bipirse te li Şengalê çi kir. Ev alî di ser qirkirina li dijî Êzîdiyan, koçberbûna wan, zehmetiyên Êzîdiyan xwe mezin bikin. Lê her kes mixabin vê yekê nabîne. Doza Êzîdiyan dozek e. Her kes hewl bide û parastin û hebûna vê civakê mayînde bike, mafên wê yên navneteweyî bistîne.
Gelo bi hêza xwe ya berxwedanê we karî bikin ku Şengaliyên li wargehan xwe ewle hîs bikin ji bo vegera Şengalê? Heta niha ji sedî çend vegeriyane?
Heta niha ji sedî 30´ê Şengaliyan vegeriyaye. Rewşa Şengalê jî sedemê xwe hene. Yek jê şerê partiyan li ser Şengalê ye. Didu heke ji Şengalê re xizmetek nayê kirin weke Êzîdî, bingehê vegerê nayê hazirkirin, dereng dimîne. Herî dawî perspektîva hikumeta Iraqê amadekirina vegera penaberan hemûyan bû, ne tenê ji bo Êzîdiyan. Em nizanin ew ê vê çiqasî di pratîkê de bi cih bînin, gotin wê çi qasî bibin emel em nizanin. Lê berxwedana hatiye kirin, heke Êzîdî û em jî dikarin li vir bimînin, ev bi berxwedana YBŞ û YJŞ´ê ye, bi berxwedana hêzên azadîxwaz e. Esasê vê û ewlehiya wê wan hazir kir. Di pratîkê de jî wan parastina vê civakê kir.
Gundên ku 6 salan vala bûn, Êzîdî niha vedigerinê. Bi derfetên kêm jî em weke hêzên leşkerî jî dibin alîkar. Sazî û dezgehên Êzîdiyan ên civakî û siyasî jî hewl didin ji bo bibin alîkar, derfetên xwe hemûyan ji bo vê bi kar tînin. Kampanyayeke li derveyê welat hat destpêkirin ji bo xelkê Şengalê vegere ser axa xwe. Xizmet di wî alî de hinekî zeîf in. Ya din jî ev êrişên Tirkan li dijî Şengalê di 2020´an de hêzên me kir û êrişê sivîlan kir, sivîl jî di êrişan de birîndar bûn, hevalên me şehîd kirin.
Lê biryardariya xelkê li dijî êrişan xurttir bû. Di roja êrişa herê dijwar de xelkê li kampên Başûrê Kurdistanê, hatin Şengalê. Li wir jî xeter heye, li vir Êzîdî dikarin şer bikin, ji derveyî vir nikarin esasekî xwe yê şer deynin ji bo parastina xwe. Li vir qet nebe Êzîdî dikarin ji bo parastina xwe şer bikin bi keramet. Êzîdiyan ev fêm kir û berê xwe dan Şengalê, ev helwêsteke pirr bi rûmet bû, cihê serbilindiyê bû. Herçî xeterên li dijî Şengalê ne, YBŞ û YJŞ dikarin li dikarin li dijî wan parastinê bikin.
Hêzên HPG û YJA STAR´ê tevî ku ji Şengalê vekişiyan, dewleta Tirk dibêje, Şengal tehlûkeyek e û carinan jî êrişî Şengalê dike. Dewleta Tirk ji bo çi êrişî Şengalê dike; çima hikumeta navendî bêdeng e û PDK hewl dide êrişan rewa nîşan bide?
Vekişîna hêzên HPG û YJA Starê sala 2018´an fermî hat ragihandin. Wan got, em ji bo pêşîgirtina li qirkirinê hatin û ji bo ji êrişên li dijî civakê nebe hincet, em vedikişin. Artêşa Iraqê jî li vir çavdêrî kir. Armanca dewleta Tirk ew e li Rojhilata Navîn hindikahiyên weke Êzîdî, Kakaî, Kurd û heta Turkmenên Şîî jî qir bike, tine bike. Hinceta dewleta Tirk a ku digot, em nahêlin Şengal bibe Qendîla duyemîn, derew e. Ma li Idlibê Qendîl heye, ma li Derya Spî Qendîl heye! Armanc nûjenkirina împeretoriyê ye. Ev ê bi çi çêbe? Bi dagirkirina van herêman û qirkirina civak û hindikahiyên tê de. Yên di herêman de mayî jî ji tirsa wan ji wan re bibin çete li ser serê alemê, şer bike ji bo wan. Weke vanê derbasî Efrînê û Lîbya dike.
PDK jî bi polîtîka xwe, belkî çekdarî li dijî PKK´ê şer nekir, lê şer kir. Heke derfet dîtin belkî li Şengalê jî şer bikin. Herçî rewakirina êrişên li dijî Şengalê ye, ya em dibînin, PDK bûye weke saziyeke dewleta Tirk a ragihandinê. Dewleta Tirk çi bixwaze, PDK wê dibêje, wê radigihîne. Mesele ji bo Şengalê dikare bibêje, heke YBŞ li wê derê ye, dewleta Tirk dikare bê Şengalê. Ma YBŞ kî ye, zarokên vê civakê ne, ku li ber qirkirinê rabûn. Ev helwêsta PDK´ê her wiha dibe wesîle ku dewleta Tirk zextê li hikumeta navendî ya Iraqê jî bike da ku xwe li van êrişan kerr û kor bike.
Hikumeta Iraqê bi xwe jî ne hikumeteke wisa ye ku karibe dagirkeriya dewleta Tirk bisekinîne, desthilata Tirk nas dikin. Tenê bi nerazîbûna civakî dikarin tiştekî bikin. Amûrekî şerê taybet ê xurt di destê dewleta Tirk heye; heke hêza te ya bîrdozî ya xurt nebe, dewleta Tirk civakan ji hev parçe dike, zeîf dike û bi ser wan de diçe.
Dewleta Tirk ji zimanê dîplomasiyê, yê siyasî fêm nake. Heke keysa xwe lê anî, ew ê rasterast lêxe. Tu çawa pêşî lê bigirî, gava te qewet çêkir. Hikumeta Iraqê heke bixwaze bi civaka xwe dikare vê qewetê çêke. Yan na hikumeta Iraqê nikare xwe li ber dewleta Tirk bigire.
Herçî PDK ye, em nizanin ew çi feydeyê ji dewleta Tirk dibînin, em nizanin. Referandûm hebû, yên herî dijwar û çalak li ber rabûn Tirk bûn, wê çi statuyê bidin PDK´ê? Li Efrînê çeteyên wan bi xwe bûn, rabûn ji meclîsan girtin, her roj direvînin, fîdye dixwazin, dest diavêjin keçên Kurdan û Êzîdiyan û înfaz dikin.
PDK´ê di asta jor de jî gotiye, rêzdar Nêçîrvan Barzanî di daxuyaniyeke xwe de gotibû, YBŞ ne rewa ye; em jî dipirsin, heke YBŞ ne rewa ye, kî rewa ye? Hêzên ev der hêlan, Êzîdî li ber rehma çekên DAIŞ´ê hiştin, ma gelo ew rewa ne! Ma ev exlaqî ye tu rabî YBŞ´ê ne rewa îlan bike û vanên din rewa! Êzîdî dîsa jî dilnizm bûn, cih li vir danê, lê gava Heşdî Şebî hat, bê tifaq kişiyan. Mesele li vir ne Heşdî Şebî ye. Mesela Tirk jî bihatana, yan jî El-Qaîdeyê xwe ji nû ve bi rêxistin bikira jî, wê dîsa dev ji Êzîdiyan berdabe. Naxwe kî rewa ye? Ew in ne rewa, êdî heqê wan jî nîne li ser Şengalê nirxandinan jî bikin. Niha esas yek mafê wan heye, ew jî rexneya xwe bidin Êzîdiyan, lêborîna xwe ji Êzîdiyan bixwazin. Piştî vêqas zilm, qirkirin û eziyetê ya ku ji destê PDK´ê bûye, ev e mafê PDK´ê, ew divê ji Êzîdiyan lêborîna xwe bixwaze. Ti projeya wan a ji bo siberoja Şengalê nîne, ew tenê dixwazin xwefiroşên Êzîdiyan li ser Şengalê bikin desthilatdar. Qirkirin, dagirkirin û komkujî ne xema wan be. Em vê qebûl nakin. PDK divê êdî vê fêm bike; Şengal ne ya berê ye. Ew Şengala ku dengên wê di hilbijartinên Iraqê de digiritin, budçeya wê digirtin, pê ser nakokiyên xwe dinixumandin, ji alemê sîleh li ser navê Êzîdiyan stendin; ew Şengal çû. Êzîdî ne yên berê ne. Bila ew parastina xwe li Başûrê Kurdistanê bikin. Heke ji bo Êzîdiyan statuyekê yan jî tifaqekê dixwazin, bila derî li koçberên Êzîdî vekin, bila ew vegerin. Bila Êzîdî li vir bibin hêz û PDK jî mutewazî be, dilnizm be û vê qebûl bike. Gelo ev dilnizmî pê re heye? Heke nîne, divê bela xwe ji Şengalê veke.
Heke bi rastî PDK ji bo parçeyên din ên Kurdistanê baş bûya, mesela ji bo Rojava baş bûya, me yê hêvî jê bikirana. Me yî bigota şaşîtiyek kirin, lê xem nake. Lê ne wisa ye. Em eşkere ji wan re dibêjin, Şengal ne ya berê ye. Êdî wisa bi çavkorî nikarin gava xwe bavêjin Şengalê, bikin wê tiştekî din li hemberî xwe bibîne.
Hêzên navneteweyî çima bêdeng in?
Hêzên modernîteya kapîtalîst in ev. Niha hewldan hene Rojhilata Navîn ji nû ve bê dîzaynkirin. Her kes dixwaze berjewendiyên xwe misoger bike. Ji ber vê heke statuyê bidin civakan, belkî ji bo wan ewqasî baş nebe. Mesela belkî em weke PDK´ê her tiştî ji derve ve qebûl nekin. Pîvanên civaka me hene. Ji ber wê jî helwêsta van hêzan beramberî van êrişan ne zelal in. Heta belkî hin ji wan piştevaniya êrişan dikin. Mesela heke NATO qebûl neke, ma Tirk dikarin êrişî Şengalê bikin. Helwêsta Emerîka li hemberî Tirkan zelal be, qebûl nekin, ma Tirk dikarin êrişî Şenaglê bikin. Na. Nakokiyên heyî jî ji ber şêwaza desthilatdariyê ye.
Yê me baweriya me em bi xwe ne. Mesela ragihandina Başûr bi nav û dengê, li dinyayê tê şopandin. Ragihandineke wisa radibe, yekî Şengalî ku ne li Şengalê ye û haya wî ji bayê felekê nîne, çelexwarî diaxivîne, da ku êrişên Tirkan li dijî Şengalê rewa bike. Ev yek di nava alemê de jî pirsan çêdike.
Berê ev saziyên navneteweyî hebûn, PDK´ê zilamên xwe yên îstîxbaratê xistibûn nav wan û raporên xwe wan di ser PDK´ê re radigihandin alemê. Lê ne weke raporên wan e; yên vegeriyane Şengalê ji kêleka wan ji kampan hatine, poşman bûne ku beriya niha venegeriyane Şengalê.
Ev propagandaya ragihandina PDK´ê tesîrê li helwêstên alemê jî dike, dike ku bi teredut bin; û bandorê li xebatên me yên vê derê jî dike.
Gelo, em dikarin bibêjin ji bo ku fermaneke din neqewime, her tişt hatiye kirin, kêmasî û qelsî li ku hene?
Em bibêjin me erka xwe bi temamî bi cih aniye, na. Me çi jî kiribe kêm e. Tişta ku hêza me heta niha gihiştiyê ji bo parastina vê civakê me kiriye. Ji bo fermaneke din neqewime, ya ji me hatiye me kiriye, û em kar dikin da ku parastina vê civakê xurttir bikin.
Qelsiya heyî pirranî ji hêzên din yên li vir heyî tê. Mesela Artêşa Iraqê, helwêsta wê ya ji bo parastina vê civakê ne pirr zelal û tund e. Normal, piştî êrişeke li dijî vê civakê bû, mesela ya Tirkan, lazim bû hikumeta Iraqê têkiliyên xwe bi dewleta Tirk re bi temamî qut bikirana. Heta lazim ba, leşkerî jî pêşî lê bigirtana. Lê di vê astê de xwe berpirsyarê Şengalê nabînin.
Ji bo ferman dubare nebin, weke berê xelk bi ser Şengalê de bê, Şengalî wê birevin. Êdî ev wê nebe. Em dikarin vê bi rehetî bibêjin. Yek bi ser Şengalê de bê, bi armanca şer, qirkirinê, fermanê, wê hêzeke şervan jî û civakê jî li hemberî xwe bibîne. Biryardariya vê heye. Heke êriş bibe, şer wê bê kirin. Hêza hatiye avakirin di nava şer de hatiye avakirin û biryardar e ku vê civakê li vê derê bê parastin. Em tercîh dikin pirsgirêkan bi diyalogê hal bikin, lê ne li Stenbolê; li Şengal û Bexdayê.
Tişta em ji Şengalê re bixwazin, divê zirarê nede miletên din, Şebek, Kurmancên din, Turkmen, eşîrên Cibûr û Şimer jî, lê yên ku hevkariya DAIŞ´ê kirine em ê qebûl nekin.
Ji îro û pê ve erk û berpirsiyariyên miletê Kurdistanê û hêzên wî yên siyasî beramberî civaka Êzîdî çi ne?
Hin hêzên siyasî yên Kurd berpirsiyariya xwe bi cih aniye. Belkî dereng man, di destwerdana hêzên HPG´ê li Şengalê de, mesela Murat Karayilan beriya çendekê di televizyonê de axivî û rexne li xwe girtin. Hinek rêxistinên weke PKK´ê erkên xwe di astekê de beramberî Şengalê pêk anîn. Lê hinek vê weke sûcekî dibînin; çima nehiştiye Êzîdî hemû bên qirkirin. Lewma ew hebûna Êzîdî weke guneh dibînin. Divê mirov ji bîr neke ku Rojavayê Kurdistanê leşkerî, bi sazî, partî û miletê xwe, Başûrê Kurdistanê bi miletê xwe alîkariya xelkê bi me re bûn. Em malavahiya wan dikin. Lê partiyên wan ên siyasî ti hewldanên xwe nînin. Ji niha û pê ve em weke Şengaliya bi hêvî ne ku her Kurd ji bo statuya Şengalê, xweseriya wê, ewlehiya wê û tifaqa Êzîdiyan bikevin nava hewldanê. Heke bi aliyên Êzîdî re peywendiya wan hebe, bila wesiyeta wan li ser van Êzîdiyan ew be ku bi tifaq bin û bi yek dengî derkevin pêşiya alemê. Heke ev bibe, wê destê Êzîdiyan xurt bibe.
Mesela YNK´ê, Rojava banga tifaqê li rêxistinên Êzîdiyan kirin. PDK mesela tevlî vê bibe; nebe jî ew dizane, wê xisara wê li wan be. Ji ber ku statuyeke Êzîdiyan hebe wê ji Êzîdiyan hemûyan re be. Ev statu belkî herî zêde xêra xwe bide yên li derveyî vê tifaqê jî. Hêviya me ew e ku hêzên Kurdî hemû, berpirsiyariya xwe di vê çarçoveyê de bi cih bînin.
Banga we ya li Êzîdiyên koçberbûyî çi ye?
Êzîdiyên ji Şengalê derketine, heke dixwazin Êzîdiya xwe biparêzin, cihê wan Şengal e. Bingehê xwe Şengal e. Belkî deh salan panzdeh salan li derve bijîn, lê wê asmîlasyon çêbe, ew ê bihelin. Çanda ji derve ew ê bigirin, ew ê fêrî ji derve bibin. Erf û adetên wan, eydên wan, cilûbergên wan, stranên wan wê hêdî hêdî bêne jibîrkirin. Ev Êzîdiyan xurt nake. Bila her kes ji bo vegera Şengalê kar bike. Em nabêjin, hema niha hûn vegerin Şengalê. Lê niha derfetên jiyanê li Şengalê hene. Yê ku derfetên wî hene bila vegere Şengalê. Şengal cihekî pîroz e, zeyara navend e. Yê niha venegere jî bila amadekariyên xwe hebin. Serdanan bikin, dîplomasiyê bikin ji bo vegere Şengalê bibe. Daxwazê li alemê bikin. Rûnenên li cihê xwe, ji Êzîdiyan re rûniştine niha heram e. Êzîdiyên ji derve rehet bin, tiştekî nehatî serê me nema, em ê ji çi bitirsin. Divê Êzîdî hewldanên xwe li alemê bikin, bê tirsên gotinên xwe bikin. Heke seriyekî me heye bila di oxira vê civatê de be, ji bo doza vê civatê be. Em hinek zehmetî bibînin. Banga me li Êzîdiyên li derve ew e ku kar bikin da ku li vir em xebateke hê çêtir û xurttir bimeşînin.