Karayilan: Erdogan daxwaz ji me kir ku em agirbest îlan bikin
Karayilan diyar kir, Erdogan mehên borî heyetek ji bo PKK'ê şand û got: "Erdogan got; 'Li bakur agirbestê îlan bikin, li parçeyên din hûn çi dikin bikin, em têkelî we nabin.' Digot nakokiyên we bi PDK'ê re hene, bi wan re şer bikin. Ev lîstokeke dijimine.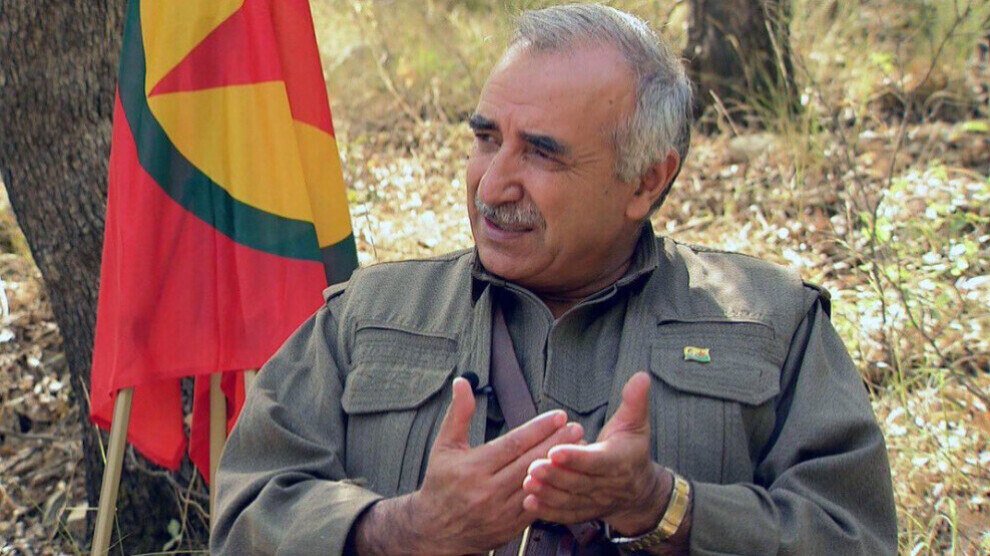 Endamê Komîteya Rêveber a PKK'ê Mûrat Karayilan tevlî bernameya taybet a televîsyona Stêrk TV bû û daxuyaniyên girîng da.
Temamiya Hevpevîna bi Karayilan re wiha ye:
* Hêzên PDK'ê bi wesayitên zirxî li Metîna xwest têkeve kampa gerîla û hinek bûyer qewimîn. Hûn vê hewildanê çawa dinirxînin?
Roja îro doza azadiya gelê Kurd di serdemek pir girîng re derbas dibe. Li ser têkoşîna azadiya gelê Kurd planên dijmin û neyaran heye. Wekî tê zanîn li Bakurê Kurdistan Rêber Apo di sala 2013'an de agirbestek îlan kir û ev agirbest 2 sal û nîv ajot. Feqet dewleta Tirk dît ku ev di herêma Rojhilata Navîn de destê gelê Kurd xurt kir û Kurd dikin di herêmê de bibin hêzek. Ji bo vê rexmê ku hevdîtin gihiştibûn encamekê û peymanek hevbeş ava bû, lê Erdogan ev qebûl nekir û bi partiya herî nijadperest wekî Bahçelî û Dogu Perîncek ên wisa dijminê Kurd re tifaq çêkir û li hemberî tevgera me êrîşeke giştî destpê kir. Hedefa wan ev e ku destpêkê PKK tesfiye bikin û dûvre jî hemû destketiyên gelê Kurd ji holê rabikin. Ne tenê yê di hundirê sînorê Tirkiyê de. Na, hemû destketiyên Kurdan ê di herêmê de dixwazin ji holê rabikin. Jixwe cihêwaziya ev konsepta nû ev e.
Li ser vî esasî ev 6 sal in li dijî me şerekî berfireh heye. Di serê vê salê de jî şer pir bi firehî berdewam e. Destpêkê li Îmraliyê li ser Rêber Apo îşkence heye, zilûm heye. Niha agahiya me ji Serokatî nîn e. Dewleta Tirkiyê şerekî psîkolojîk li hemberî me dimeşîne. 10 hezar hevalên me di zindanên Tirkiyê de ne û ew jî di bin îşkenceyê de ne. Li Bakurê Kurdistan her roj însanên Kurd di bin navê endamtiya PKK'ê de tên girtin, li ser gelê me îşkence û zilûm heye. Cardin li tevahî herêmên Bakurê Kurdistan operasyonên leşkerî hene. A niha li Garzanê, Wanê, Mêrdînê, Botanê operasyon hene. Li Bakur ji biharê û vir ve gelek şer çêbûn di van şeran de me windahî dan û şehîdên me çêbûn. Rojane ev bûyerana dikevin çapemeniyê.
Heman demê li ser Başûrê Kurdistan jî dagirkerî gav bi gav dixwaze axê dagir bike. Piştî dagirkirina Heftanîn û qismekî Xakurkê wekî tê zanîn di 23-24'ê Nîsana îsal de êrîşek li ser herêma Metîna, Zap û Avaşîn kirin. Vaye îro 46 roj temam dibin. Wisa li ser me êrîşeke berfireh heye. Dewleta Tirkiyê bi xwe dibêjin êrîşeke giştî li ser me dimeşînin. Niha li ser Başûrê Kurdistan herêmên hevalên me lê hene her tim 30 balafirên keşfê bi roj û şev hene. Ji xwe balafirên şer her hene. Tu carekê dibînî li Mexmûrê dixîne, tu carekê dibînî nizanim li ku derê dixe. Ango êrîşek li ser me heye.
Niha di serdemeke wisa de ku êrîşên berfireh li ser me hene em ê çawa êrîşê bibin ser pêşmerge? Ma ev tiştekî bi aqilane ye? Çima em ê bi destê xwe cepheyek duyem li xwe vekin? Herkesê ku hinek aqlê xwe heye di şereke wisa dijwar de be, di şerekî hebûn û tunebûnê de be wê çima cepheyek duyem ji xwe re veke? Hem jî li cihekî wekî Metîna. Niha li bakurê Metîna şer heye, li navsera Metîna jî cepheyek duyem li hemberî pêşmerge mirov çima veke? Di vir de çi aqil tuneye û ti bingehê xwe jî tuneye. Yanî gerîla êrîşî pêşmerge nekiriye. Ma gerîla dîn bûye cepheyek duyem li xwe veke.
Wê çaxê ev çi ye? Plan heye ku îleh dixwazin pêşmerge li hemberî gerîla têxin şer. Me ji bo li dijî pêşmerge êrîş bê kirin çi talîmat nedaye û çi biryara tevgera me tuneye. Em şerê Kurd û Kurd di vê serdemê de wekî felaketê dibînin. Wekî şaşiya herî mezin dibînin. Yanî çi nêzîkatiyên me yê wisa tuneye. Me ti talîmatên wisa nedaye û em nafikirin bidin jî. Lê bi rastî leyîstokek heye. Em baş dizanin di vê dema dîrokî de şerê Kurd û Kurd ji bo dahatuya gelê Kurd wê xeteriyek mezin çêbike. Ne ji bo berjewendiyê me ye, ne jî ji bo berjewendiyê gelê Kurd e.
Di vê xisûsê de ev bûyera li Metîna bûye divê bê fêmkirin. Seat 4'ê sibê wisa bi 2 baskên mezin hemû amûrên şer û bi maşineyên zirxî, xwe ji şer re amadekirin û têketine qada gerîla, bi rastî çi wateyek xwe nîn e. Ev cih qadeke leşkerî ye û 25 sal in pêşmerge nehatiye wir û herêmeke di bin serweriya gerîla de ye. Bêyî ku agahî bidin wekî serdagirtinê tên. Di rastiyê de têkilî hene. Dikarin agahî jî bidin. Niha wisa îzah dikin ku tiştekî yasayî kirine û tiştekî eşkereye. Ger tiştekî yasayî û eşkereye dikarîbûn agahî bidana ku tên. An jî 2-3 erebe dikarîbûn bişandana. Ma 100 wesayîtên bi zirxî yên şer werin çiqas rast e? Dibêjin, 'em li vir serwer in. Ji bo em ji girekî biçin girekî, yan jî cihekî nehewce em ji kesekî destûr bixwazin. Em li vir in û em serwer in.' Ser serê min tu serwer î. Kekê min a niha 5 km. li wir şer heye. Niha xwe bide aliyekî. Ma çima tu alîkariya Tirkiyê dikî. Tu serwerî baş e. Şert û mercên awarte heye vaye li hember te mij û dûman e, agir bi araziyê ketiye balafir dixebitin, top dixebitin şer heye tu jî hatiye di piştê re liv û tevgera leşkerî dikî. Ev çiqasî însanî ye, ev çiqasî yasayî ye û çiqasî Kurdewarî ye?
Bi rastî bingehê vê nîn e, îzahata vê nîn e. Dibêjin, 'em li wir serwer in, em di rê de diçûn gerîla êrîşî me kiriye.' Gerîla êrîşî ti kesî nekiriye. Niha beriya hemû tiştî ez vê bibêjim. Niha di navbera me de eleqe heye. Hinek dost di navberê de hene. Roja îro li dinyaya serdema heyî ku em di sedsala 21'an de ne; hemû mirovatî pirsgirêkên xwe bi guftûgo û diyalog çareser dikin. Baş e, em Kurd çima bi diyalog pirsgirêkên xwe çareser nakin, dixwazin bi leşkerî bikin. Wisa bêdeng, leşkerî û ji nişka de êrîş bikin. Çima, ji bo çi û ev xîzmetî çi dike?
* Rexmê ku mecalê diyalogê hebû çima li Metîna ji nişka de mudaxeleyek leşkerî ya PDK'ê çêbû?
Em jî dipirsin çima çêbû. Niha li Bakurê Metîna di xeta Kestê û Girê Zendûra, cardin li herêma Zapê li Kela Bedewê, li Avaşîn di dola Maran û di girê Merwanûs de dagirkeriya Tirkiyê xetimî ye û nikare di pêş de were. Îro bexwedana li girê Zendûra û Merwanûs tê dayin ji bo tevahî Kurdan cihê serbilindiyê ye, şademeniyê ye. Bi rastî keç û xortên Kurd bi şêwazeke nû, ev 43 roj in li hemberî dagirkeriya Tirkiyê li ber xwe didin û nahêlin dagirkeriya Tirkiyeyê di pêş de were. Ev tiştekî nû ye. Bi rastî di dîroka berxwedana Kurdan de em wekî tiştekî nû dibînin. Rast e, berxwedana Kela Dimdimê dirêj ajotiye, lê wê çaxê wekî niha çekên teknolojîk tune bûn. Niha dijmin ewqas çek bikartîne; balafir, top û her cure gazên jehrî bikartînin lê dagirkerî nikare berxwedana gerîla bişkîne. Li hemberî gerîla xetimiye. Ev tiştekî pir girîng e. Ne tiştekî ji rêzê ye. Ev ji bo hemû Kurdan destketiyên mezin dikare peyda bike. Ango li hemberî dewleta Tirk wisa Kurd dibin îrade.
Dewlet niha neçar dimîne serî li Kurdên îxanetkar didin. Hûn dizanin çawa ye? Ji bo bikaribin têkevin girê Zendûra Kurdan bikartînin. Di nava qorîciyên Sêgirkê de Kurdên xayîn hene. Dixwazin wana têxin tunelên şer ên Zendûra, lê nikarin. Kurdan didin pêş û dixwazin bi destê Kurdan ev berxwedanê bişkînin. Mixabin dîroka têkoşînê Kurd her wisa ye. Cardin kamera datînin serê kuçikan û kuçikan dişînin tunelan ji bo vê fêm bikin ku di hundir de rewş çi ye. Lê bi vî şêwazî jî nikare encam bigre. Yanî carna kuçik bikartîne, carna Kurd bikartîne. Heçku Kurdan jî dixin şûna kuçikan. Lê li wir berxwedaneke mezin heye. Dewleta Tirkiyê di wir de xetimiye.
Niha ev biryar û mudaxeleya PDK'ê ya li ser serê çiyayê Metîna tu bixwazî, nexwazî ji bo Tirkiyê bibe pişt ango ji bo berxwedana gerîla ya li girê Zendûra têk biçe hewildanek e. Niha dikarin bibêjin ne wisa ye. Lê tu bixwazî, nexwazî defakto wisa ye. Yekser an jî ne yekser vê rolê dileyîze. Niha ewladên Kurd li wê derê berxwedan dimeşînin, tu pişta wan digrî, ev tê çi wateyê? Ev peyamek wisa ye. Niha ev berxwedan bi rastî ji bo tevahî Kurdan cihê şademaniyê ye. Ez di hinek aliyan de bi rastî saf im, ez vê vekirî bibêjim bila gelê me jî bizanibe. Min hêvî dikir li hemberî dagirkeriyê wê hinek destek bidin me. Wê bibînin em li hemberî dewleta Tirkiyê wisa şer dikin wê alîkarî bidin me. Min wisa hêvî dikir. Lê wisa nebû û ev bûyer pêk hat.
Niha di dîroka Kurdan de em dizanin dema eşîr li hemberî hev şer dikin dema dewleta Osmaniyan, an jî dewletek din êrîş bikira şerê di navber eşîran de disekinî, li hemberî dewletê bi hev re li ber xwe didan. Yan jî dema yekî li ber xwe bida, yê din qet nebe li dijî wan şer nedikir. Çima? Ji ber ku ne tiştekî merdane ye. Dijminekî mezin û hov hatiye li hemberî aliyekî şer dikî tu jî di piştê de şerê Kurd û Kurd bikî ev ne rast e. Ji bo vê ez dibêjim, ev bûyereke ne di cih de ye û hêvî dikim ku rayedarên PDK'ê, yan jî her kê ev biryar daye vê heqîqetê bibînin. Ev ne tiştekî merdane ye. Di kevneşopiya Kurdan de nîn e. Rûmeta Kurdan vê ranake. Niha êrîşek mezin li ser me heye, ger hûn alîkarî nakin qet nebe di pişt me de eniyek nû venekin.
Min bihistiye û agahiya min heye Hulisî Akar ji rêveberiya PDK'ê re gotiye, 'lazime pêşmerge jî beşdarî şer bibe.' Di 20'ê Gulanê de rêveberiya PDK'ê ji bo vê kom bû. Çi biryar girtine pêwîst nake em di vir de bibêjin.
Lê tiştek din jî heye û bi rastî tiştekî veşartî bû. Heya niha min digot ez rojekê Kek Mesût bibînim ez ê bi wî re parve bikim, an jî rayedarên PDK'ê bibînim ez ê bi wan re parve bikim. Lê niha li pêş raya giştî ya gelê Kurd ez parve dikim. Beriya vê çend mehan bi rêya hinek dostan dewleta Tirk heta Tayîp Erdogan bi xwe jî ji me re agahî şandin û gotin, 'Li nava Tirkiyeyê ango li Bakurê Kurdistan hûn agirbestê îlan bikin, lê li beşên din ê Kurdistanê hûn çi bikin jî em pê re mijûl nabin'. Ango li hemberî me agirbestê îlan bikin, vaye nakokiyên we bi PDK'ê re heye, herin bi wan re şer bikin. Ev leyîstokeke dijmin e. Divê em li hemberî leyîstokê dijmin hişyar bin. Dewleta Tirk her tim Kurd wisa xapandine û berdane hev. Bi vî awayî xwe bi ser xistiye. Ev dijmin e. Dîroka me heye. Di dîroka gelê me de dewleta Tirk di kîjan dîrokê de ango hem di wexta Osmaniyan de hem jî di wexta komarê de soz dabin Kurdan, sozên xwe pêk neanîne. Divê mirov vê yekê destnîşan bike.
Ne hewce em dûr herin. Di dema nêz de di encama komploya navneteweyî de di sala 99'an de Serok Apo esîr girtin û radestî dewleta Tirk kirin. Wê çaxê Tirkiye kêfxweş bû û got, 'PKK nema.' Wê çaxê me jî agirbest kiribû. Dewleta Tirk piştî wê çi kir? Li hemberî tevger û siyaseta Başûrê Kurdistan xeta sor îlan kir. Têkilîdanîna bi Başûrê Kurdistan re weke xeta sor nirxand. Xeta sor; ango dijmin e. Kengî ku li Zapê li hemberî gerîla şikestin di sala 2008'an de dîtin ku nikarin li Başûr bi tena xwe bi ser bikevin xeta sor rakirin. Ev tecrûbeyek e. Cardin wê çaxê di salên 90'î de li dijî me Hizbûllah xistin şer. Piştî ku Serokatî esîr hat girtin şûnde li Stenbolê çûn ser serokê Hîzbûllah û hinek hevalên wî yê pê re kuştin. Bermahiyên ji Hîzbûllah mayî jî girtin avêtin zindanan. Dewleta Tirk wisa ye. Her tim di vê derheqê de Kurd xapandiye, lê bi destê Kurdan berxwedana Kurdan tesfiye kiriye û dûvre jî xwe serwer kiriye.
Niha jî dewleta Tirk di planeke wisa de ye. Ez hêvî dikim hemû alî li hemberî vê planê hişyar bin û em nekevin vê leyîstokê. Dewleta Tirk dixwaze şerê navxweyî yê Kurdan çêbibe û xwe serwer bike. Ji bo stratejiya xwe pêk bîne vê dike. Em li bendê ne ku ev heqîqet ji aliyê raya giştî ve û hemû aliyên siyaseta Kurd ve bê naskirin.
* Armanca PDK'ê bi hatina kampa gerîla ya Metîna çi ye?
Niha li serê Metîna neqebeke girîng heye. Metîna dike du perçe. Hêzên PDK'ê di wir de bicih bûne. Li wir di 7 cihan de xwe bicih dikin. Hêzên me jî nêzî wan deran in. Îro agahî dan ku 'ber bi me ve rê çêdikin. Navber me 200-300 metre maye.' Ji me dipirsin dibêjin, 'em çi bikin?' Me got, 'heval niha bisekinin. Ma dikin rê bînin heta cihê we?' Yanî wisa mijareke hesas e. Li wir çeperên şer çêdikin. Kepçe û wesayitên bi zirxî anîne. Heman demê rê ber bi kampên hevalên me ve çêdikin. Me cardin agahiyek girt ku tevî hikûmeta Iraqê jî peymanek çêkirine. Çiqasî peymaneke navendî ye, yan jî na em nizanin. Lê dixwazin hinek hêzên Iraqê jî beşdar bibin. Li wir girê Çarçel heye dixwazin li ser wir operasyon bikin. Ew girê Çarçel bi salan e gerîla lê dimîne, cihûwarê gerîla li wir e. Gerîla bi zexta leşkerî yan jî bi darê zorê paşde nakşe. Ev di ferasetê me de nîn e.
Bi rastî di vê xisûsê de bangî gelê xwe dikin. Ger ew li wir biçin ser hevalan her hêzek leşkerî ger hêzek din ê leşkerî were ser wê xwe biparêze. Ji bo vê jî bi rastî ev mijareke pir hesas e. Ger ku li hemberî me cepheyeke duyem vekin ma çi berjewendiyê gelê Kurd tê de heye? Ev xizmetê kê dike? Tenê xîzmetê ji dewleta Tirkiyê re dike. Niha biraderên me dibêjin, 'hûn li vir çi digerin?' Baş e, em 40 sal in li vir in. Çima heta niha we nedigot. Ya duyem di agirbesta 2013'an de rol û misyona Kek Mesûd jî tê de hebû. Bi destûra wan û bi erêkirina herkesî me gerîlayên Bakur kişand Başûrê Kurdistan. Wê çaxê hemûyan erê kir. Dûvre dewleta Tirk pêvajoya aştiyê xera kir û xwest me bi şer tune bike. Li Bakur û Başûr û li her derê hat ser me.   
Diyalektîkek Kurdistan heye. Me Kurdistan nekiriye 4 perçe, dijmin kiriye 4 perçe. Diyalektîka Kurdistan çi ye? Berê jî wexta li Başûr şer hebû di salên 60'î û 80'î de pêşmergeyan jî Bakur bi kar dianîn. Wê çaxê pêşmergeyan Şemzînan bi kar dianî, Çelê, Komata û çiyayê Cudî bi kar dianî. Ango ev diyalektîkek Kurdistanê ye. Em jî 40 sal in li vir in. Ma niha hat aqlê wan ku li vir serwer in û her derê bixwazin wê biçin. Baş e, hûn serwer in. Em ji bo vê tiştekî nabêjin. Lê niha rewşek awarte heye. Di vê rewşê de ev tevgerîn xizmetê ji doza gelê Kurd re nake. Xizmetê dahatuya gelê Kurd nake. Ev bi xwe re pir xeteriyê tîne. Wekî berê jî me got em naxwazin li hemberî Kurdan çek bi kar bînin. Şerê Kurd û Kurd ne di xizmeta me de ye, ne di xizmeta gelê Kurd de ye. Hinek dûrî me bisekinin. Ev der ji bo me girîng e. Ew jî bi vê dizanin û wan jî wekî me şer kirine û şer dizanin.
Niha li Metîna rewşek xeter heye. Her kêlî mumkûne di navber me û PDK'ê de şer destpê bike. Ez ji bo vê bang dikim. Ez di serî de bangî KNK'ê dikim. Ji bo yekîtiya Kurd kedek wan heye. Ez spasiya wan dikim û pîroz dikim. Ez bangî tevahî partiyên siyasî yên her çar beşên Kurdistan dikim. Bi rastî niha rewşek cidî heye. Em naxwazin şerê kuştina xwişk û bira bibe. Lê ketine nava şerê me yê li hemberî dagirkeriya Tirkiyê. Niha ketine nava hevalan. Her dem gumane ku tiştê ez naxwazim, miletê Kurd û raya giştî ya Kurd naxwaze biqewime. Ji bo vê ez rica dikim hemû partî û hemû hêz li hemberî vê bêdeng nemînin û mudaxele bikin.
Ez bang dikim rayedarên PDK'ê, yê YNK'ê, Goran, Yekgirtû, Komala, Zehmetkêşan, Sosyalîst, Partî Şuî, hemû rewşenbîr, hunermend, saziyên sivîl li hemberî vê xwedan helwest bin û werin. Belkû mirov nikare biçe Avaşîn an jî cihekî din ku zehmete mirov biçe. Lê li Metîna rê vekiriye û tê heta navendê. Herkesê dixwaze dikare were û binêre kî mafdar e, kî nemafdar e. Destê xwe bidin ser bûyerê. Em ti carî ne li dijî serweriya hikûmeta herêm in. Lê wekî me got, diyalektîkek Kurdistan heye. Niha şert û mercên awarte hene, dijmin tê ser me.
Ez bangî kesên xwedan wîjdan dikim. Ez bangî welatparêz û demokratan dikim. Ez bangî kesên naxwazin xwîna ciwanên Kurd birijin dikim. Ez bangî wan dikim. Ev kar wisa nabe. Em li hemberî dijminê dagirker şer dikin. Bi vî awayî hatina ser me û peydakirina şerekî navxweyî xizmetê ji vî gelî re nake. Dibêjin, PKK êrîş dike. PKK li ku derê êrîş kiriye?
Ez bangî herkesî dikim niha hîn derfet heye û di navbera me de şerek rû nedaye. Vê hewildanê şer bisekinînin. Dema ez wisa dibêjim ev ne zeîfî ye. Ez Kurdek im, min emrê xwe ji bo Kurdistan xerç kiriye. Ez ê emrê xwe yê mayî jî heta dawî ji bo Kurdistan xerç bikim. Dilê min dişewite. Partiya me naxwaze, Serokatiya me naxwaze careke din şerê Kurd û Kurd bibe. Di sedsala 21'emîn de şerê navxweyî nabe. Binêrin dewleta Tirk çi dibêje? Dibêjin, 'vana hemû eşîr in, hevûdu dikujin û ne milet in.' Bi vî şerî em îlan dikin ku rast e, em ne millet in em eşîr in. Em di sedsala 21'an de ne; guftûgo heye, nîqaş heye. Ger ku em nikarin bi hev re rûnên temam, ma navbeynkar jî nîn in? Divê vêya nebe.
Lewma em tenê vê dixwazin; niha dewleta Tirk hatiye û em bi xwe bawer dikin. Em ji şer natirsin û em bi xwe bawer in. Em ji şerê navxweyî ditirsin. Em ji şerê bi dijmin re natirsin. Em îdia dikin û ez vê li pêş raya giştî dibêjim, em ê vî dijminî têk bibin. Şerê 46 rojan ispata vê ye û niha dijmin nikare di pêş de were û nikare girê dixwaze bigre. Rast e, bi balafiran li her derê dixin, lê me bi noqteya wan a hesas girtiye û dijmin xetimandiye. Niha agahî ji min re tên li ser girê Zendûra û li hemû giran leşkerên Tirk ketine pêxirtengiyê û psîkolojiya wan xera bûye, moralê wan nemaye û ji bo vê her 2 rojan carekê leşkerên wir diguherînin.
Me dijmin xetimandiye, lê ev dijminekî hov e û bi ser me de tê. Ger hûn alîkariya me nakin, çima hûn li pêş me asteng in û dikevin ber stuyê me. Ewqas sal hûn sekinîn, niha jî bisekinin bila aramî çêbibe wê çaxê hûn dikin çi bibêjin werin bibêjin. Ku me got na, wê çaxê hûn mafdar in. Ger hûn destek nakin, wê çaxê niha bisekinin. Em ji gelê xwe vê dixwazin; banga min bi taybetî ji bo gelê me yê Behdînan ê xoşewîst e. Ewqas keda wan heye. Em dizanin gundê wan niha tên xerakirin û dijmin hemû akarê wan daye berxwe. Ev dijmin dijminekî hov e em bi vê dizanin. Em jî bi vê ne xweşhal in. Ev dijmin bi ser me de tê ku me tesfiye bike, ger me tesfiye bikin bê ka binêr wê bi serê Kurdistanê de çi bînin. Ji bo vê bi rastî em dixwazin gelê me, rûspiyên gelê Kurd têkevin ji bo pêşî li şerekî gengaz ê navxweyî bigire bikeve meriyetê.
* Endamê polîtburoya PDK'ê Fazil Midnê piştî vê bûyerê ji bo partiya we gotinek bikaranî û got kiregirtî ne. Ji bo vê zimandirêjiyê hûn dikarin çi bibêjin?
Vî kesê ku ev gotin kiriye, em wî baş nas dikin. Destpêkê ev gotin bê wîjdaniyek e, îftirayek e. Dûvre jî bi aqlê miletê me henekê xwe kirine. Ew difikirin ku ew çi bibêjin wê xelkê Duhokê jî bibêje wisa ye. Niha xelkê Duhokê rewşenbîr in, dixwînin û medya civakî heye. Hûn nikarin van gotinan bi milet bidin qebûlkirin. Kê PKK'ê kirê kiriye? Îranê? Îran hevalên me şehîd dixînin. Beriya vê 2 hefteyan li Selmasê 4 hevalên me şehîd kirin. Em di bin zexta wan de ne jî û êrîşên wan li ser me hene. Dagirkeriya herî mezin a Tirkiyê ewqasî êrîşî me dikin. Ma hûn behsa kê dikin, hûn behsa Iraqê dikin? Vaye hûn û Iraqê bi hev re rûdinên ji bo operasyona hevpar bikin. Wê çaxê kê me kiregirtî ye? Mirov gotinê dike, divê mirov bifikire tê çi wateyê.
Em fedayiyê vî welatî ne. Wekî wî yê me ne mala me heye, ne milkê me heye, ne malbatê me heye. Me ji bo vî miletê xwe canê xwe bexşandine. Ez û hemû hevalên xwe me madiyat daniye aliyekî, em ji bo manewiyatê, ji bo dahatuya vî gelî em ewqasî cefa dikşînin û hewildan raber dikin. Em serbixwe ne. Çi heqê xwe nîn e gotinên wisa bike. Ev gotin pir berovajî ye. Lê ez bawer dikim ku di serî de gelê Behdînanê û tevahî gelê me heqîqetê baş dizanin çi ye, ew kes kî ye, em kî ne. Em çawa dijîn, tê zanîn. Me jiyana xwe ji bo vî gelî feda kiriye û em aşiqê azadiya Kurdistanê ne. Hinek dibêjin, 'vana dij Kurd in.' Yaw çawa dij Kurd in? Ji xwe vê têkoşînê gelê Kurd wisa kiriye îrade û hêz. A girîng Kurdîtî çi ye? Divê mirov wê îzah bike. Ma ne hebûna gel e. Em ji bo hebûna gelê Kurd vî şerî dikin. Em ji vî dijminî re dibêjin, aştî. Lê nayê aştiyê. Em dibêjin, bisekin. Nasekine dibêje, 'îleh ez ê we bikujim. Hûn herin kî derê ez ê dûv we bikevim.' Em jî li hemberî vê li ber xwe didin. Kesên ku wîjdan pê re heye, keramet û Kurdîtî pê re heye, yan jî demokrat be wê bibêje, 'ev çi bê merhemetî ye.'
Dewleta Tirk ewqas êrîş dike, gundan xera dike, ewqas daristanan dibe difroşe tenê yek gotinê jî li ser Tirkan nakin, lê li ser PKK'ê dikin. Bes e, hûn Tirkan ewqas paqij raber dikin. Ev dewleteke qirêj e û dijminê Kurdan e. Ev tifaqa niha li Tirkiyê çêbûye ev desthilat li dijî Kurdan tifaq çêkiriye. Ne dijî Kurd bin ew nikarin bi hev re bibin yek.
Di wê gotinê de tiştekî pir xeter heye. Xuyaye vana biryara şer girtine. Ez ji bo vê bang dikim. Ev biryareke şaş e. Ji ber ku ew kesekî serkirdayetî ye û agahiya xwe ji tiştan heye. Nexwe biryar girtin û ji bo hacet çêbikin wisa dikin. Jixwe hinek çapemenî tim digerin û nûçeyên propagandaya reş dikin û mijarên wekî ku PKK ji ku derê hatiye, PKK li serê Başûr bela ye. Beriya ku PKK tune bû dewleta Tirk qet merhebe nedida Başûr. Peymana Cezayîr çêkirî ne tenê 2 dewlet bûn. Dewleta Tirk jî pişt perdeyê bû. Dewleta Tirk wê çaxê jî mudaxele kir. Belge hene. Ew dijminek e, tu radibe dewleta Tirk qaşo paqij nîşan dide, PKK'ê jî weke ku her tiştî xera dike û şer aniye Başûr nîşan dide. Me şer neaniye Başûr dijmin hatiye, ta ji wir tê Başûr. Li Dêrsîmê, Amedê, Botanê û li her derê Bakur bi me re şer dike, bi wê nasekine tê Başûr jî. Ji ber ku li gorî biryarê nû girtiye dibêje 'divê li her derê ez ê Kurdan ji holê rabikim'. Biryara xwe wisa ye.
Ger ku van kesana difikirin ku wisa wê dewleta Tirk tê ser PKK'ê, PKK jî lewaz bûye em jî di piştê de lêbidin û bila PKK tesfiye bibe. Ger wisa difikirin ez ji wan re dibêjim, heyf ji we re. PKK tune nabe. PKK tevgereke bîrdozî ye, tu çiqasî were ser PKK; PKK ewqas bertek raber dike. PKK bi xwîna keç û xortên Kurdan ava bûye. Bi mîlyonan dilxwazê PKK'ê hene. Dilxwazin PDK bi xwe jî vê dibînin, temaşe dikin. Tu wisa haqaret bikî û di piştê de lê bidî, ma wê gelê Kurd we efû bike?
Ya din ger PKK wekî ew dibêjin tesfiye bibe, yan jî derbê bixwe ji xwe dûvre bê wê YNK'ê bigrin an jî çi bikin dûvre jî wê we hal bikin. Divê kes xwe nexapîne. PKK ji ber ku nasnameya Kurd diparêze ev êrîş hemû li ser PKK'ê çêdibe. Ma PKK çi Tirkiyê xera kiriye? PKK'ê ji ber nasnameya Kurd diparêze wisa dikin. Ew dibêjin, 'me nasnameya Kurd di Tirkiyê de tunekiribû, lê Abdullah Ocalan derket vê rakir û hemû sûcdar ew in.' Ji bo vê li ser Serokatiya me îşkence dikin û dixwazin me ji holê rakin.
Ya din jî herkes dizane em bi peymanekê hatine vir û ev 40 sal in em li vir in. Di 95'an de jî di navbera me de peyman çêbû û di wê peymanê de jî heye ku 'PKK cihûwarê xwe Heftanîn e, Zap û Xakurkê ye.' Baş e, di 2013'an de ma ne em bi destûra we ji Bakur kişiyan Başûr. Ya din jî PKK ne ji Efrîka hatiye. Raperîna di sala 91'an de li herêma Behdînan li Batufa, Begova wexta gula yekemîn li hemberî zordariya Seddam hat avêtin PKK li wir bû. Musteşarê wê çaxê şahide. Kê tevî wan bi ser sengerê Seddam de girt û ji holê rakir û li Behdînan raperîn da destpêkirin. Ne ku me tenê Kerkûk, Mexmûr û Şengal parastiye li hemberî Daîşê. Beriya wê jî heye. PKK jî Kurd e. Rast e, hûn dibêjin em berpirsyarê vir in. Temam hûn berpisryar in. Feqet hinek çiya hene vana 40 sal in PKK lê dimîne. Lê cardin jî hûn dixwazin werin destpêkê bibêjin ji bo çi hûn dikin werin. Heçku tenê li van çiyana serweriya wan maye, li hemû derên din serwer bûne. Tiştek wisa tuneye.
Ji bo vê em vê mijarê girîng dibînin. Em dixwazin ev hewildanê şer bisekine û dest ji vî fikrê xwe berdin. Ev fikrê ku em PKK reş bikin, wekî kiregirtî raber bikin, wekî bela raber bikin û pê re şer bikin ne di berjewendiya wan de ye jî. Ev ji bo dahatuya PDK'ê bi xwe jî xeter e û divê ji vê siyasetê dest berde.
* Beriya vê bangekek HPG'ê çêbû ku ev bûyera li Metîna qewimiye ji aliyê heyetan ve bê lêkolînkirin. Cardin tê îdiakirin ku ji aliyê PKK'ê ve pêşmerge hatiye kuştin rast e, yan na?
Li gorî ku raporên fermî ji hevalên wê derê girtî û li gorî bûyerên pêk hatî û tiştên berçav dixuye ev bûyer wisa diqewime; Ev hêza di aliyê bakur de ango ji aliyê Kanî Masî de baskek dikeve nava liv û tevgerê û baskek jî ji milê Amediyê dikeve nava tevgerê. Ew baskê di aliyê Kanî Masî de tê, heval li ser rê ji bo bisekinin û neçin ji bo hişyariyê gule diteqînin. Lê belê nasekinin û derbas dibin. Jê şûnde ev wesayît diteqe. Me li ser lêkolîn kir û cardin pirsiyar kir. Hevalên me ti çekê wekî sarox ku wê erebeyê biteqîne û perçe bike, însan tê de jiyana xwe ji dest bide bikarneanîne. Hevalên li wir jî şaş mane ku ev bûyer çawa çêbûye. Feqet heman demê 5-6 balafirên keşfê li hewa bûne. Me li wê erebeyê nexistiye. Niha ew dibêjin, 'PKK li xwe mukir hatiye ku teqe kiriye.' Me teqe kiriye lê bi çekên ferdî me kiriye. Ne ku teqînên ku erebeyên zirxî îmha bikin kiriye. Jê şûnde ev însan ji perçeyên bombe, yan jî teqemeniyê zerar nedîtine, biqasî me fêmkiriye şewitîne. Xuyaye li hemberî wan fûze, yan jî roketê şewatê hatiye bikaranîn.
Ji bo vê me xwest ku yan heyetek ji herdu aliyan çêbibe, yan jî heyeteke serbixwe bila were di warê teknîkî de lêkolînê li ser bike. Me li van însanan nexistiye. Tam di wê demê de bûyerek wisa em guman dikin ku wekî planek be, provokasyonek be. Em vê dixwazin. Nehewceye vê red bikin. Ji bo xatirê ev însanên jiyana xwe ji dest dayî divê mirov vê bike. Ez vê jî bibêjim. Ew kesana bê guneh in. Me fêm kir ku gelek ji wan nizanin diçin ku derê jî. Bêguman însanên bêguneh in, jiyana xwe ji dest dane û şehîd in. Ez ji bo malbatê wan, ji bo mirovên wan sersaxiyê dixwazim. Ji bo hemû birîndaran dibêjim, derbasbûyî be. Vê bûyerê me jî xemgîn kir. Bi rastî ne tiştekî ku kesî dixwest bû. Em naxwazin di navbera me de şerek çêbibe. Lê bes ev bûyer wisa pêk hatiye. Ji bo vê em dixwazin lêkolîn bibe.
Destpêkê çapemeniya alîgirê PDK'ê got balafiran lêxistiye. Piştî wê me got, 'rast e teqeyên hişyariyên çêbû, lê bûyerek wisa jî çêbû.' Hima fertilandin gotin, 'PKK'ê êrîş kiriye.' Ev neheqiyek e li PKK'ê. Bi rastî raya giştî û Başûrê Kurdistan di ferqa wê de be. Li me neheqî dibe û tohmetê ku me nekiriye dixin stûyê me. Jiyana me diyar e, sekna me diyar e. Em di Kurdewarî dijîn û em ji bo Kurdan hene. Mesela dibêjin, ev planeke dijminê Kurd e. Hemû dijminê Kurd li dijî PKK'ê şer dikin. Em dixwazin ev bûyer zelal bibe. Em di vê xisûsê de amade ne ku çi li me dikeve em bikin. Ji bo ronîkirina vê bûyerê em amade ne. Li gorî nîşaneyên heyî wekî êrîşa hewayî ye, yan jî di hundirê wesayîtê de teqîn hatiye kirin. Ji bo vê em dibêjin hewcehiya vê bûyerê bi zelaliyê heye.
* Peyama herî dawî hûn bidin çi ye?
Ev onaxa ku têkoşîna gelê me jê derbas dibe qonaxeke pir girîng e. Qonaxa hebûn û tunebûnê ye. Divê herkes di ferqa wê de be. Ji ber ku dagirkeriya Tirkiyê ji bo gelê Kurd di qirkirinê re derbas bike biryar girtiye. Konsepta dijmin ev e. Ev ne mijareke di navbera hizban de ye. Divê em pirsgirêkên di navber hizban de teqez çareser bikin. Li hemberî me xeterek mezin heye. Ji aliyê faşîzma dewleta Tirk li hemberî hebûn û dahatuya gelê Kurd xetereke mezin heye. Ev pêla niha li ser desthilatê ji sedî sed dixwaze hemû destketiyên gelê Kurd ji holê rabike. Ji bo vê ez girîng dibînim di vê demê de hevbeşî ava bibe. Yekîtiya neteweyî çênebe jî qet nebe zerar nedin hev. Em vê pir girîng dibînin.
Ez nabêjim em çar bi çar in. Dibe ku kêmaniyên me jî hebin. Jixwe ez jî hinek rexne dikim, hevalên me pir caran tiştê dixwazin bibêjin tam bi cih nakin, an jî dereng dimînin. Em jî ji hinek tiştan re tam nabin bersiv. Em nabêjin em çar bi çar in. Lê stratejiya azadiya gelê Kurd dişopînin. Em dizanin ku çarçove rast e. Ger kesek rexneyên xwe li ser me hebe dikarin bibêjin. Lê rabin berovajî bikin ev nayê qebûlkirin. Ez di vê çarçoveyê de cardin dixwazim hemû gelê Kurd, ê Başûrê Kurdistan, Bakurê Kurdistan, Rojava û Rojhilatê Kurdistan di vê pêvajoyê de hişyar bin, me bişopînin, siyaseta Kurd bişopînin û helwesta xwe raber bikin. Rexneyên xwe hebin, rexneyên xwe jî bibêjin. Di vê serdema girîng de em dixwazin Kurd bi ser bikevin. Kurd di herêmê de bibin hêzek. Mafê gelê Kurd jî heye li ser vê axê bi şêwazekî azad bijî. Dewleta Tirk dixwaze vê ji holê rabike.
Lê em jî dixwazin li hemberî êrîşên dewleta Tirk şer bikin û buhayê xwe çi dibe, bila bibe teqez bi ser bikevin. Ger em ev pêla faşîst a qirkeriya dagirkeriya Tirk bişkînin ne tenê wê Kurdistan azad bibe wê Tirkiye jî ji pençê van faşîstan rizgar bibe. Ji bo gelê herêmê, Ereb, Asûrî, Sûryan û hemû gelên herêmê xeteriyê heyî wê ji holê rabe. Ji bo vê li hemberî dagirkeriya dewleta Tirk helwest pêşxistin û berxwedana tê dayin em pir pîroz dibînin. Di vê oxirê de çi bê kirin em dibêjin, di cih de ye. Em di vê xisûsê de bi biryar in û di vê demê de ji bo gelê Kurd û ji bo hemû hêzên demokrasîxwaz em ê vê têkoşînê bi ser bixînin. Hêvî û baweriya me ev e.
Bêguman di vê xisûsê de em piştevanî ji herkesî dixwazin. Bi taybetî di mijara neteweyî de em dixwazin herkes alîgir be ku hevbeşî çêbibe, yekrêzî çêbibe herkes ji bo vê hewil bide û biaxive. Lê kî şaş be li hemberî wan jî divê gelê Kurd bisekine. Ji bo bi rastî jî di vê serdema dîrokî û girîng de em teqez doza azadiya gelê Kurd bi ser bixînin. Ez di vê hêviyê de me û ev hêviyên min zindî ye. Ez bawerim di vê demê de her çendî êrîşên dijmin hebin û pirsgirêkên me hene lê derfetên me jî hene ku em ê bi ser bikevin. Em hêvî dikin û bawer dikin ku wê dahatû dahatuya Kurdistan be.