Engîn: Dem dema ruhê Şêladizê ye
Endamê Komîteya Rêveber a PKK'ê Qasim Engîn: Dem dema ruhê Şêladizê ye. Wisa bibe em ê karibin tecrîdê bişkînin, faşîzmê hilweşînin û Kurdistanê azad bikin.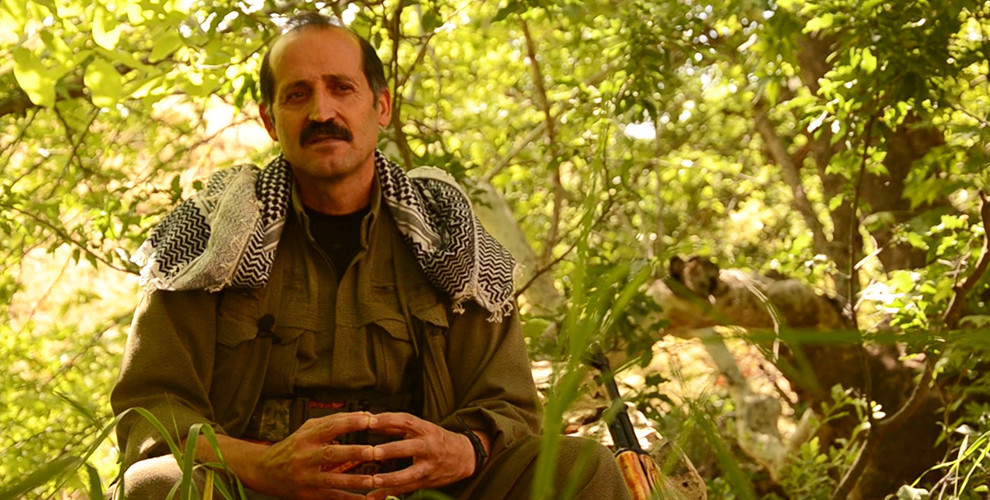 Endamê Komîteya Rêveber a PKK'ê Qasim Engîn, tevlî bernameya Dilistan a Radyoya Dengê Welat bû û bersiv da pirsên rojnamevan Ciwan Tunç. Engîn, piştî silavkirina berxwedana Leyla Guven, Nasir Yagiz û hemû çalakvanên di girêvên birçîbûnê de û yên ku ji bo wan çalakiyên dikin, bal kişand ser faşîzma AKP-MHP'ê ku bingeha xwe ji Îttîhad Teraqî digire, got, "Faşîzm ancax bi têkoşînê hilweşe. Ev faşîzm weke çandekî ye, herî kêm bingeha wê ya sed salî heye. Îro faşîzma sor, spî, kesk hemûyan xwe kiriye yek û bi sosa Hanefîtiyê jî tevdigere."
'LEYLA GUVEN, TEMSÎLA XEYRÎ Û MAZLÛMAN E'
Li ser berdewamkirina tecrîdê jî Engîn got, "Çalakiyên ku tên kirin hêja ne. Tevgerînek heye, em ji wan re jî rêzê nîşan didin. Faşîzm rejîmeke bêwijdan e. Ev rejîm tenê bi berxwedanê têk diçe. Gotina Mazlûm Dogan, Leyla Guven jî anî ziman: 'Teslîmiyet mirin e, berxwedan jiyan e.' Em dibînin ku berxwedan encaman jî derdixe holê. Mînak bi Rêber Apo re hevdîtinek çêbû. Leyla Guven hate berdan. Wan dixwest bi vê yekê berxwedanê paş de bibin. Mixabin ev berxwedana heyî têrê nake ku tecrîd bişkê. Ji vê re çi lazim e? Ruhekî weke yê Şêladizê. Li Şêladizê çi bû? Gelê Kurd, tenê bi keviran di ser tankên faşîzmê de çûn, şewitandin. Mixabin niha ev kêm e. Bêguman hewildanek heye, weke mînak meş hene, mîtîng û çalakiyên cuda hene."
Engîn, di dirêjiya axaftina xwe de, bal kişand ku ev têkoşîn ne tenê ji bo zindanan, an jî Kurdan e û wiha berdewam kir: "Dema ku faşîzm paş de biçe, wê pirsgirêka Kurd were çareserkirin. Bi gotineke din pirsgirêka me hemûyan, pirsgirêka Tirkiyê were çareserkirin. Heta wisa lê hatiye ku pirsgirêkên bi tecrîdê re tên, nahêlin pirsgirêkên Rojhilata Navîn jî çareser bibin, ku tecrîd rabe, yê riya çareserkirina pirsgirêkên Rojhilata Navîn jî vebe.
'EM MIROVÊN WEKE ZÊR ŞEHÎD DIDIN'
Li ser pirseke tendirûstî û dibêtiya şehadeta çalakvanan jî Engîn û domand: "Mixabin, em di cîhaneke dewletperest, xwînmij de dijîn. Ev cîhan tijî neheqî ye. Têkoşînvanên 1968'an were bîra we, digot, 'cîhaneke din gengaz e, mimkun e.' Ev cîhan li ser esasê berjewendiyan dimeşe niha. Ji ber van şert û mercên cîhanê Tevgera Azadiya Kurdistan ev a 40 sal in şehîdan dide. Mirovên weke zêr şehîd dane. Şehîdên me bi xwîna xwe axa welatê me av dane. Ev yek ji bo hemû perçeyên welat derbasdar e. Em îro li Bakur, Başûr, Rojhilat û Rojava şehîdan didin. Bê bêdel nabe. Li ser vê erdnîgariyê hêzên dewlet-netew, mêtînger nahêlin ku Kurd xwe bi rehetî bigihînin mafên xwe yê xwezayî. Ji bo wê jî her roj bedel tên dayîn. Ew gelê ku bîryar da û naxwaze weke koleyan bijî û dixwaze azad bijî; bedelên wê çibe dide ber çavên xwe. Mînaka wê îro li çiyayên azad tê jiyîn. Her roj nebe jî, ciwanên me yê 19-20 salî weke zêr ji bo di pêşerojê de zarokên me yên di landikan de azad bijîn, dikevin axê. Di vê wateyê de dibe ku bedelên grêvên me yê birçîbûnê jî çêbibin. Leyla Guven dema ku ji zindanê derket, ev helwest pir zelal anî ziman, got, 'em nayên van lîstikan. Daxwaza min ne tenê derketina min a ji zindanê ye, min çavên xwe bi nêrînên Rêber Apo vekirin…' Yanî kesên ku hindik be jî tama jiyana azad tam kiribin, zû bi zû ji armancên xwe venagerin."
'PÊŞIYÊN ME GOTINE: DEWLET KER BE JÎ LÊ SIWAR NEBIN'
Engîn, di derbarê hevdîtina bi Rêberê Gelê Kurd Abdullah Ocalan re hatî kirin jî nirxand û binê polîtîka û hîleyên dewleta Tirk xêz kir û ev anî ziman: "Dewleta Tirk di rojên pêş me de jî dikare bi hevdîtinek, du hevdîtinên bi Rêber Apo re bixwaze pêşiya berxwedanê bigire. Di dîroka me de pêşiyên me gelek hişyarî li ser lîstikên dewleta Tirk kirine. Mînak, Seyîd Riza got, 'me bi hîleyên we re serî neanî, bila ev ji min re bibe ders, lê min li hemberî we çok danenî, bila ev jî ji we re bibe derd.' Gotinên weke wê yê Şêx Seîdê Kal, yê Qazî Mihemed hene. Dîsa hevalê me Mûrad Karayilan, digot, mezinê me ji me re digot, 'Ev dewlet bibe ker jî lê siwar nebin'. Ev xwe weke neviyê Osmaniyan dibînin ku ew jî neviyên Bîzansiyan e. Di wan de lîstik zehf in. Dikarin mudaxeleyî Dîlên Azadiyê jî bikin. Dibe ku dewlet sozan bide ji bo çalakî bisekinin û sozên xwe jî pêk neyîne. Mînak li Zindana Amedê di salên 80'î de ev kirin. Vê dewletê bi hezaran caran bi hîle û lîstokan şoreşger û mezinên Kurdan xapandine. Dibe ku îro jî bixwazin bixapînin. Di vir de ez dixwazim gotinên Biro Heskî Têlî bînim ziman, dibêje, 'Ger hûn bi çavê hovan, weke yên berê ji xapandinan re vekirî li me meyze dikin; êdî ew mirovên ku hûn difikirin tinin. Em mirovên hemdem in. Em wan çîrok û lîstokên we dizanin.' Em jî bawer in ku hevalên li zindanan, dewleta Tirk baş dinasin."
'ÊDÎ GOTIN WATEYA XWE WINDA DIKE'
Engîn, li ser rewşa krîtîk ya tendirûstiya çalakvanan sekinî û wiha got: "Her kêliye bêdeng derbas dibe, dibe ku bibe sedem heval şehîd bibin. Sekneke ku şehadetan bide sekinandin lazim e. Ev jî weke ruhê Şêladizê ye. Li Şêladizê, cihekî eskerî bû, tank û topên wan hebûn. Komek mirov, bi bedena xwe tenê, bi keviran di ser wan de çûn. Ew serhildan bû lehî. Hêza gel weke volkanê ye, weke tsûnamî ye. Volkanekî diteqe, çi dikeve ber, dibe. Tsûnamî bi pêlên xwe hemû bendên li pêşiya xwe hildiweşîne.
Hêza gel bi rastî jî ev e, divê mirov ji wê bawer bike. Ti hêzeke bikaribe pêşiya gel bigire tineye. Mînak, Şoreşa Fransa, ya 17'ê Cotmehê çi ye? Di esas de hêza gel e. Dibe ku pêşeng, mîlîtan, fedayî hebin, rê vekin. Lê yên esasî ku wê rê çêkin, tê de bimeşin, gel e. Weke Lenîn digot, 'Şoreş berhemê gelan e', rastî jî wisa ye. Şoreşger, mîlîtan, weke buldozer, dibe ku xwe feda bikin, rê vekin, lê yên ku pêşveçûnê ava bikin, gel bi xwe ne. Ger ku gel nebe, çiqas fedayî hebin jî naçe serî. Em jî dîroka Tevgera Azadiya Kurdistanê dizanin, mînaka herî dawî Fermandar Çiyager û lepek hevalî wî ne. Gotin, 'Çi dibe bila bibe, yê dawî muhteşem be.' Ev mîrasek e. Berxwedaneke pir bilind, hezkirin, hêvî bi wan re hebû. Lê ev ji bo encamgirtinê têrê nake. Ger ku li Sûrê, ew der nehatibana terikandin, yê encam ne wiha bûna. An jî Efrîn. Niha êşa dilê hemû Kurdan e. Ku ew bajar nehatana terikandin, ne gengaz bû ku wiha bûbana.
Divê mirov vê bizanibe, faşîst kengî disekinin? Dema ku dîtin ku mirovên li hemberî wan ji mirinê re amade ne. Ji wê ditirsin. Erê, pêşengtiya wê hinek dikin, weke ku îro Leyla Guven dike. Dibe ku fedayî di nava gel de hebin, lê şoreş ne bi fedayiyan çêdibe, bi gelan çêdibin. Şoreşger pêşengtiyê dikin, bi fikrên xwe û çalakiyên xwe. Lê divê em bizanibin, şoreş berhemê gelan e… Ger ku em dixwazin ev berxwedan bigihê armancê, divê di hemû cepheyan de em rabin ser xwe. Wiha nabe, 'îro nebû, em sibe bimeşin', îro dema wê ye, dibe ku sibe dereng be. Di dîroka me Kurdan de tiştên wisa hene. Di roja xwe de nekiriye, roja din kiriye, lê çûye. Encam di hin kêliyan de tê girtin. Pêvajoya ku em tê de weke momentûm e. Momentûm çi ye? Leyla Guven, Nasir Yagiz û hevalên din, bi sekna xwe enerjiyek ava kirine, ev enerjî momentûmekê îfade dike. Ev enerjî, di hemû cepheyan de rabûnê pêwîst dike. Ez dîsa bêjim, eynî weke gelê me yê Şêladizê, rabûn pêwîst e. Ruhê demê yê Şêladizê ye, li Bakur, Başûr, Rojhilat, Rojava divê ew be. Me dît ku ew encam digire. Bi vî ruhî mirov dikare ser bikeve. Ev ruh dikare yên dudil jî bi hêz bike. Ev ruh, dikare yên ditirsin jî rake ser piyan."
Engîn di dawiya nirxandinên xwe de, bang li hemû kesên li dijî faşîzmê kir û pêwîstiya têkoşîn û berxwedanê anî ziman. Engîn got; "Her kesên ku dixwazin faşîzm hilweşe, lazim e di cepheyek antî-faşîst de kom bibin…Faşîzm, bêdengiyê bi kar tîne û wisa yek bi yek dide ber xwe. Ji bo ku em nebijin 'xweziya', ne sibê, em îro wezîfeyên xwe pêk bînin. Em di pêvajoyeke dîrokî re derbas dibin, dem dema ruhê Şêladizê ye. Wisa bibe em ê karibin tecrîdê bişkînin, faşîzmê hilweşînin û Kurdistanê azad bikin."