Mala Êzîdiyan: Cejna Çarşema Sor pîroz be
Meclisên Gundê Êzîdiyê Bakurê kurdistan û Ewropa, bi peyamekê Çarşema Sor a cejna Êzîdiyan pîroz kir.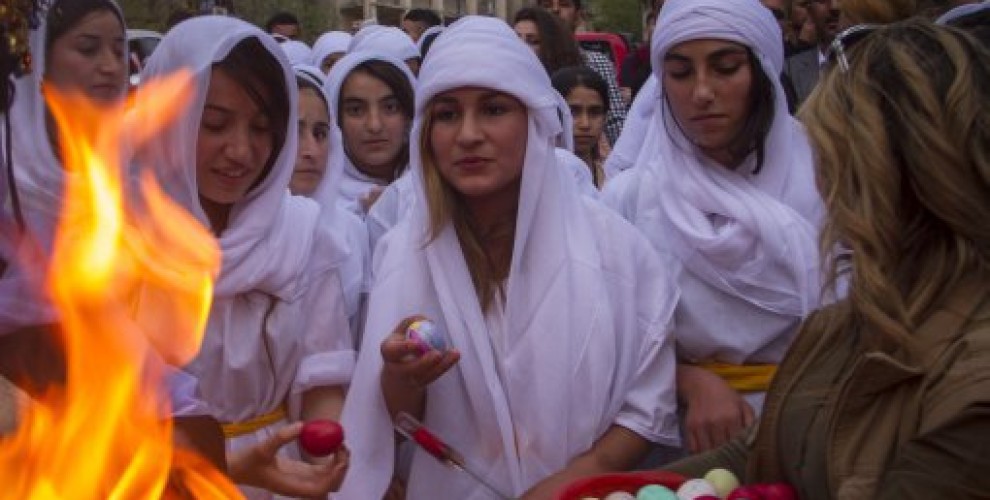 Meclîsa Gundê Êzîdiyên Bakurê Kurdistan û Ewropa, Çarşema serê Nîsanê a weke Cejna Çarşema Sor tê pîrozkirin, li hemû gelê Êzîdî pîroz kir.
Mala Êzîdiyan diyar kir ku di roja Çarşema serê Nîsanê de, li gorî mîtolojî û baweriya Êzîdiyan roja afirandina cîhanê ye. Peydabûna xêr û bereketa axê ye, roja afirandina aştiyê ye.
Di peyama pîrozbahiyê ya Mala Gundê Êzîdiyan de ev tişt tê gotin:
"Tawisî Melek ku ji aliyê xwedê ve şandiye ser ruyê cîhanê ku her derê wê ava bekê. Cîhan salekê ji aliyê melekan ve tê xemilandin. Di vê demê de roj û şev, meh û demsal tên afirandin. Ji ber ku her demsalek reng û wateyek wê heye, tê bawer kirin ku piştî xemla cîhanê ya salekê cîhan ji aliyê Tawisî Melek ve zindî dibe û ruh tê dayînê. Lewma jî li gelek Êzîdî wê roj wekî cejna Tawusî Melek jî binav dikin.
Di baweriya Êzîdiyan de rengê sor pîroz e û rengê jiyanê ye. Çarşema Sor navê xwe ji vê pîrozê girtiye. Di Çarşema Sor de guneh tên efûkirin, dawî li şer û aloziyan tên anîn û wek roja aştiyê tê pejirandin.
Şêxadî di gotareke xwede wuha dibêje. Çarşem rojeke fadilê Tawisî Melek afirandiye. Ji eșq û dilê deng yeke û hezar rêngê di vê cejnê de, Basimbar jî tê çêkirin.
Wata Basimbar xêr, berket, pêşî lê qeda û bela yê te girtin. Basimbar li destê jin, mêr, qîz, zarokan, li ser zad û zeviyê te danin, her tiştekî piroz û navdar ve tê girêdan. Basimbar ji rengên cur be cur tê çekirin.
Di Çarşamê de hek ten sorkirin. Rengê sor ê pîroz, bi hêkên pîroz re dibin yek. Ev Hêkê sor dibe berekêt li nav mal û zeviyan digerê. Hêk dinya bixwe ye, Hêk bingeha hemû rihleberên dinyê ye, tov e, toxim e, bizr e. Hêk Adem e Hawa ye, hemû ruhberên li ser dinyê ne, gul û kulîlk in, dar in hwd.
Cejna Çarşema Sor li tevahî gelê xwe û malbatên xwe pîroz dikim, hêvîdarim ku gelek Çarşemên Sor bi hev re geş û xweş bibînin."