Golshifteh Farahani: Ew jinên herî wêrek ên cîhanê ne
Lîstikvana sereke ya fîlmê "Keçên Rojê" Golshifteh Farahani ji bo jinên Kurd ên li dijî DAÎŞ'ê şer dikin got, "Ew jinên herî wêrek ên cîhanê ne."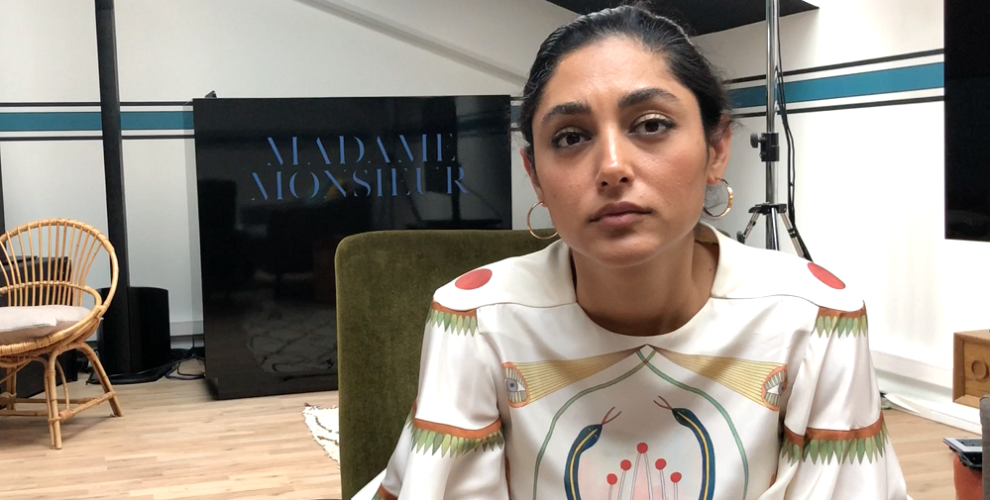 Golfishteh Farahani, yek ji lîstikvanên sînemaya Îranê yên li pêş e. Ew di filma Keçên Rojê de ku di Festîvala Filman a Cannesê ya 71'an de di beşa pêşbirkê de hat nîşandan, xwediyê rola sereke bû. Ew timî ji bo tişta ku jê bawer kir, têkoşiya. Hîna di temenê piçûk de li ber cudakeriya li dijî jinê rabû. Bi pozên tazî wê siyasetên zextê yên li dijî jinan protesto kirin. Ji ber wê jî cezayê îdamê lê hat birrîn. Farahanî niha sirgûn e li paytexta Fransayê Parîsê dijî. Ew ji bo vê dibêje, "Min welatê xwe ji dest da lê niha tevahiya dinyayê ya min e".
Farahanî ji bilî aktrîstiyê, ew hem muzîkjen û hem aktîvîst e. Golshifteh Farahani di qederê 30 filman de rol kiriye û îro yek ji aktrîstên li pêş ên sînemaya dinyayê ye. Ji navên girîng ên Hollywoodê derhêner Ridley Scott di filma xwe ya bi navê "Li ser derewan" de ew li cem Leonardo Di Caprio ve Russell lîstand û kir ku nav û dengê wê li dinyayê belav bibe.
DI 6 FÎLMÊN KURD DE LÎST
Golshifteh Farahani, di filma Behman Qûbadî ya bi navê "Nîvê Heyvê" de û di du filmên Hiner Salem de lîstiye û bi giştî di 6 filmên Kurdan de rol kiriye. Wekî din performansa wê ya di filma derhênerê derasayî Jim Jarmush a bi navê Paterson de têra xwe bal kişand ser xwe. Farahani herî dawî di filma derhênera Fransî, Eva Husson a bi navê Keçên Rojê de rola sereke kir, û ev film di li festîvala Cannesê hat nîşandan. Filma bi navê orîjînal "Girls Of The Sun" behsa şerê jinên Kurd li dijî DAIŞ´ê dike û tê de Golshifteh Farahani fermandara bi navê Behar e. Em pê re li ser filma wê û têkoşîna jinên Kurd peyivîn.
Di filmê de tu şervaneke jin a Êzîdî bûyî. Vê hiseke çawa bi te re peyde kir?
Kirina vê rolê bi rastî jî rûmeteke mezin bû ji bo min û li gorî wê ez bi berpirsiyarê rabûm. Ev jin, ew jin bûn ku êşkence li wan hatibû kirin,. hatinbûn firotin û rastî destavêtinê hatibûn. Lê ev jin xwe li mexdûrbûnê danaynin, têdikoşin. Jinên gelekî xurt in, ji ber wê berpirsiyarî diviya. Min hinekî jî xwe baş kir bi vê rolê.
Di filmê de tu bi rola şervaneke jin radibî. Berê ti amadekarî yan jî lêkolîna te hebû gelo?
Min dîroka Êzîdiyan beriya hingê jî nas dikir. Haya min ji pêşmergeyan jî hebû. Bi Hiner Salem re di dema girtina dîmenên filma "My Sweet Pepperland"ê ez li Kurdistanê bûm. Perwerdeyeke me ya eskerî çêbû. Ka em ê bi sîlehan re çawa miamele bikin, em fêr dibûn. Wekî din diviyabû ez di warê fonetîk de fêrî zimanê Kurdî bibim. Jixwe min hinekî ji Kurdî fêm dikir, dişibiya Farisî. Lê ne li ser Kurmanciyê, min xwe nexasim da fêrbûna Soraniyê. Ji ber ku ji bo min Soranî hêsantir bû. Psîkolojîk jî diviyabû ez xwe amade bikim, ev ê ji min re bibûya tecrûbeyeke gelekî xurt.
 Di filmê de slogana "Jin jiyan azadî" heye, ji bo te ew çi îfade dike?
Min pirr baş fêm dikir ka ez çi dibêjim. Ji bo jinê, ji bo azadiyê hêviyek e. Jina ku berê xwe daye jiyaneke mişt azad e ew. Ev ne tenê ji bo jinê, ji bo mêran û Kurdistanê jî wisa ye. "Ji bo jînê, bi azadi"… Navê çûkê di filmê de jî "azadî" ye. Ez ji bo tevahiya gelê Kurd aştî û azadiyê hêvî dikim. Li kû, li kîjan herêmê dibin bila bibin, ji bo jin û mêran jî vê dixwazim. Ez hêvîdar im ku di dawiya dawî de bigihêjin aştiya ku bi rastî heq dikin.
Karaktera Behar tu çi qasî nêzî xwe dibînî?
Bê guman di navbera min û Beharê de gelek xal û xisletên hevpar hene. Ew xwe weke mexdûrekê nabîne, ez jî wisa. Her çendî, dinya bixwaze min weke mexdûrekê nîşan bide jî, min ev yek red kir. Beha gerîlayek e, şervanek e, pêşmergeyek e, fermandarek e. Ew keça rojê ye. Xurt e; ew ji min bi gelekî xurttir e, hêvîdar im ku ez jî mîna wê wêrek bim û pê re nêzîktirî wê bibim.