Du berhemên Soranî bûne Kurmancî
Eyup Subaşî ku du pirtûkên Mardîn Ibrahîm li Kurmancî anîn, got, ''Zehmetiya herî mezin nebûna ferhengê ye. Ferhengek Kurdî- Kurdî yan jî ferhengek Kurdî Soranî eger ew hebûna wê karê me hêsantir bûna.''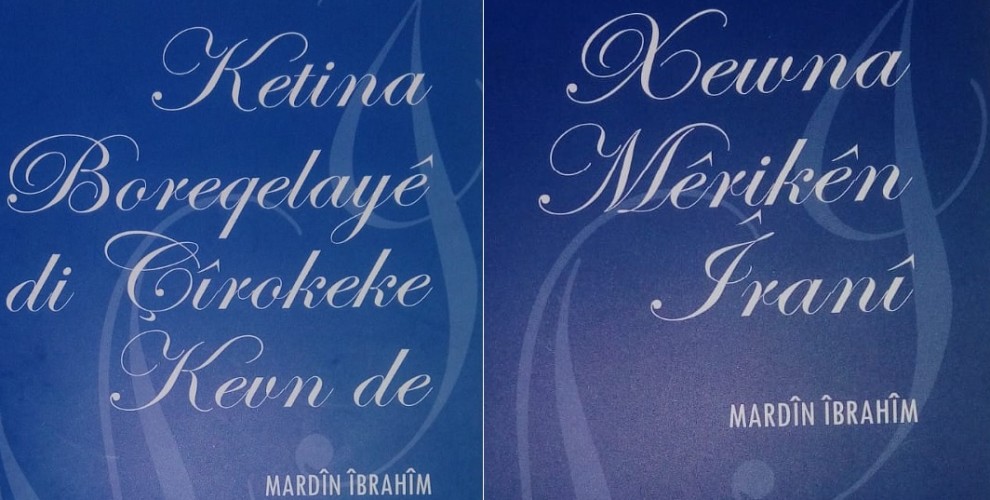 Zehmetiya herî mezin nebûna ferhengê ye. Ferhengek Kurdî- Kurdî yan jî ferhengek Kurdî Soranî eger ew hebûna wê karê me hêsantir bûna.
Du pirtûkên nivîskar Mardin Îbrahim ji aliyê niviskar Eyup Subaşi ve ji zaravayê Soranî bo zaravaye Kurmancî hatine wergerandin. Me bi nivîskar Eyup Subaşî re derbarê van pirtûkên ku ji aliyê Weşanxaneya Peywend ve hatiye çapkirin hevpeyvînek pêk anî. Nivîskar Subaşî, di vê hevpeyvînê de li gel çîroka van pirtûkan, li aliyê din jî derheqê pirsgirêkên zimane Kurdî li ser gelek xalan sekînî. Nivîskar Subaşî ev bersiv dane pirsên me.
Em hinekî di derbarê pirtûkê de biaxivin, ji ber ku di nav zaravayên Kurdî de werger pir zêde nayê kirin, mînak wergera Soranî ji bo Kurdî dema ku we kir çi zehmetiyê hebûn. We ev pirtûk çawa hilbijart girîngiya vê pirtûkê çiye, dema wergera di nav zaravayên Kurdî de we çi zehmetî dîtin?
Destpêkê ez bêjim pirtûk çawa hate tercîhkirin, çima Mardîn Îbrahîm nivîskarên herdu pirtûka ye. Bi weşanxaneya peywendê re têkilî danî, wan daxwaz kir van herdu pirtûkên Mardîn Îbrahîm bikin Kurmancî. Me jî ji Soranî veguhest Kurmancî, yanî têkiliyek tiştek taybet nîne. Herdu roman me hilbijartin, tiştê ku me zehmetî kişandin nebûna ferhengê bû. Ferhengeke baş a Kurdî Kurdî nîne, Kurmancî Soranî nîne, lewma jî wexta wateya peyvekê nizanin yan jî bi saetan lê digerin ji hevalekî dipirsin ji bo ku em peyda bikin. Zehmetiya herî mezin nebûna ferhengê ye. Ferhengek Kurdî- Kurdî yan jî ferhengek Kurdî Soranî eger ew hebûna wê karê me hêsantir bûna.
Çima tune, di derbarê vê de divê ku xebatek hebe?
Helbet di vî warî de divê kar hebin. Mînak li başûr hema bêje sed sal e li wir perwerde heye. Şi wêderê divê hatibûna çêkirin. Ferhengek qet nebe Kurdî-Kurdî. Ynî ferhengên Kurdî - Kurdî hene lê ne diwê astê de ne pêwistiyên me hemûyan bi cih bînin. Mesela hîn hene heta radeyekê tu dikarî tiştan tê de peyde bikî lê hemû tişt tê de nînin ew jî zehmetî ya herî mezin e.
Zaravayê herî nêzî Kurmancî li kîjan deverê tên axaftin?
Soranî li başûr û rojhilat bêtir bikar tê. Li başûr hem Soranî heye hem Kurmancî û hem jî Hewremî û Kelhûrî heye lê Soranî zêdetir tê bikaranîn.Di karê fermî de taybetî li Hewlêr û Suleymaniyê li wê derê zêdetir bikar tê û li wêderê zêdetir xebat li ser hatine kirin. Zimanê fermî yedi perwerdê de, wexta ku dibêjin Soranî başûr tê bîra me jiber ku wek zimanê perwerdehiyê ye.
Zaravayên Kurdî dişibin hev?
Ji bo zimanekî standart divê statûtiyeke Kurdan hebe û wexta ku biryarek hate girtin hem li Amedê bihata bi cih kirin hem Kirmaşanê hem jî li Hewlêrê, ji bo ku tiştek standart derkeve divê navendek Kurdan hebe ku biryarê bide û vê biryarê jî li hemû Kurdistanê seranserê bi cih bike. Wexta ku ev statu çênebû jî zimanekî standart dernakeve, yanî ev zimanê standart dibe ku sedsal berî niha çêbûna. Lê roja îro de ne mimkun e ji ber ku hemû zaravayên Kurdî Soranî Kirmanckî, Kurmancî, Kelhûrî,Hewremî jî êdî standarta wan çêbûye. Yanî bi wan gelek nivîs hene, roman hene, gotar hene lê roja îro de em nikarin bêjin zaravayekî esas bigrin û bêjin bila hemû Kurd bi vê nivîsê binivîsin vêya tiştekî ne mimkun e.
Ku bibe zimanê perwerdehiyê,Soran tîpên Ereban bi kar tînin alfabeya latînî jî dizanin, mînak alfabeya Erebî bandor li zimanê wan dike gelo?
Li başûr ne tenê Soranî heye, mesela li wê derê perwerde bi Kurmancî jî tê kirin. Herêma Behdînan Kurmancî zimanê perwerdê ye lê Kurmanciya wê jî bi tîpên Erebî tên nivîsandin yanî ne bi tenê Soranî. Yan bi Latînî, Erebî, Kurmanc jî bi tîpên Erebî dinivîsin. Helbet eger ku alfabeya Kurdan yek bûna têkiliyên wan hêsantir dibûn. Zêdetir nêzîkî hev dibûn,lê mixabin du alfabe hene ew jî astengek mezin e li ber nêzîkbûna zaravayan
Sûd ji hev girtine Soranî û Kurmancî?
Yanî Kurmancî û Soranî wexta ku xebat bi zaraveyek çêdibin wê demê ew zarava pêwistiyên wan bi terîman çêdibin. Ew jî çi dike diçe li zaravayên din dinêre bê ka di wî zaravayî de iştek heye tiştek tune. Lewma jî têkilî çêdibe. Mesela em li Kurmancî mêze dikin gelek peyv ji Soranî girtine, li Soranî mêze dikin gelek peyv ji Kurmancî derbasî Soranî bûne. Yan jî Soranî jî Hewremî girtine. Yanî wexta ku xebat hebin ev çûn û hatina peyvan jî çêdibe em dibînin di Kurmancî de jî gelek peyvên Soranî hene, di Soranî de jî gelek peyvên Kurmancî hene
Ev pirtûkên ku we veguhestin werger in tan lêanîn?
Yanî lêanîn di wateya wêjeyê de tiştek din e. Lêanîn çawa ye? Ji bo ku lêanîn derkeve divê du zimanên cuda hebin, du çandên cuda gelek ji hev cuda bin. Mesela em bêjin bila çîrokek hebe bi îngilîzî hatibe nivîsîn çavdêrê wê jî yekî îngilîz be navê wî Josef be û herdem biçe dêrê. Wexta ku em lêanînê bikin em ê çawa bikin? Josef bikin Yûsûf dêrê bikin mizgeft û Londrayê jî bikin Amed yanî ji bo ku lêanîn çêbe divê du çandên du zimanên ji hev cuda hebin. Yanî di wêjeyê de wateya wê ev e. Lewma jî ev ne lêanîn, mesela xewnê mêrikê Îranî di vir de behsa Ehmedê Xanî dike. Mesela Mem û Zîn, tê de Botan derbas dibe Amed e. Hewlêr ev tê de derbas dibe. Lewma jî ne lêanîn e, dikarim vê pir rehetî bêjim ji ber ku du zimanên cuda nînin du çandên cuda nînin yanî serboriya Kurmancî û Soranî awqas ji hev dûr nîne ku karibin bêjin ev lêanîn e.
Bi we van xebatên bi vî rengî wê bandorek çawa li wêjeya Kurdî bike, zaravayê cuda ne, ev pirtûkek bi qiymet e jiber ku ji Soranî wergerandiye Kurmancî, wekî din wê wêjeya Kurd çi sûd jê wergire?
Ev çawa çêdibe, mesela haya me ji nivîskarek başûr çêdibe em dizanin ku livir gelek xebat hatine kirin, gelek nivîskar hene ku berhemên hêja dane. Wexta ku em zanibin ku li başûr nivîskarê wê derê çi nivîsîne em tecrûbeyên wan sûdê werdigirin. wê demê bandorek baş ji bo wan berhemên ku bi Kurmancî tên nivîsîn ji bo wan jî çêdibe. Yanî dawiya dawî Soranî beriya Kurmancî yanî beriya Kurmancî nebe jî derfetên perwerdeyê dîtine û gelek nivîskarên hêja derketine. Em bizanin ka ew serboriya wê derê ew pêş ve çûna Soranî çawa çêbûye. Ev baştir dibe ji bo Kurmancî ji ber ku em bêj in ev 20 sal in ku hinekî pêşiya wî vebûye ew jî gelek sînordar e. Yanî hê jî ne zimanê perwerdehiyê ye, bi çend enstîtuyan bi çend saziyan pêşvebirin ev jî rê liber Kurmancî girtiye ku pêş ve here. Eger ku Kurmancî sûdê ji Soranî bigre dikare zêdetir û asantir rê li ber xwe veke.
Em hinek jî qala pirtûkan bikin. Mardîn Ibrahîm qala çi kiriye di pirtûkên xwe de?
Ez wiha bêjim ev xewna mêrikê Îranî behsa Ehmedê Xanî dike. Ehmedê Xanî çawa destnivîsa Mem û Zînê parastiye. Ji bo ku ew çeteyek hebûye li wêderê çeteyên ku ji aliyê Osmaniyan ve hatiye rêxistin. Wî çaxê hewldaye ku berhemên hêja bigre û ji nav bibe û vê çeteyê hay ji wan çêbûye ku berhemek bi navê Mem û Zîn hatiye nivîsîn û gelek hêja ye û hewldidin ku wê ji nav bibin. Diçin peyda dikin 3 nusxeyên wê hene 2 nusxe peyda dikin nusxeya dawî bidest dixin. Ew kesê ku bidest dixe dilê wî nade ku bişewitîne, ji wê derê digre û diçe derekî din û bi vî awayî ev çîrok berdewam dike.
Ya din jî ketina murexeleyê çîrokek kevn de ye, ew jî behsa Îskender Tîmûrleng dike çawa hatiye Şamê, Şam çawa dagir kiriye behsa wê dike bi ser wê çîrok pêş ve diçe.
Aniha we ji Soranî wergerandin Kurmancî, lê xebatek ji Kurmancî wergerê Soranî hene?
Belê hene qasî ku ez jê agahdarim berhemên Helîm Yûsûf hatine Soranî kirin yanî ez ji bo yên modern dibêjim. Yên Mehmet Uzun haya min jê heye ew hatine Soranî kirin, tabî Mem û Zîn ji berê de di Soranî de heye
Ji vê wergera ji Soranî hatiye Kurmancî kirin, we çi reaksiyon girtin ji derdora xwe?
Baş e, kesên ku dibêjin Kurmanciya wî hinekî dijware hene, kesên ku dibêjin Kurmanciya wî başe hene. Çima dibêjin dijwar e? Ji ber ku min peyvên Soranî gelek tê de bi kar anîne. Dest neda wan, dawiyê me ferhengokek ava kir. Ji ber wî dibêjin hinekî zehmet e. Ji ber ku peyvên Soranî tê de hene. Lê eger têkilî hebe di navbera Kurdan de mesela sînor tunebin Kurdekî Amedî biçe Suleymaniyê û were wê ev peyv jî bi me nas werin. Ji ber têkilî tunene sînor hene pir rehetî nikare here Suleymaniyê yan jî Hewlêrê. Yan jî Kurdekî Hewlêrê nikare were Amed û Mêrdînê bigere, ji ber ku ev têkilî tuneye peyv ji me re xerîb tên, peyv peyvên Kurdî ne ha Soranî bûye ha Kurmancî
Piştî vê jî wê xebatên we yî vî rengî hebin?
Belê wê hebin yanî em hewl bidin ku bikin
Wekî ferheng.
Dibe ku îro ne lê karê ferhengê karekî ciddî ye. Bi kesekî nabe divê mirov li ser qadê xebat bimeşîne. Dibe ku ez alîkariyê bidim wan kesan ku dixwazin ferhengeke amade bikin lê aniha halî hazir de ez bi xwere nabînim.Hem derfetên min nînin hem jî ew tecrûbeya min nîne ku ez ferhengek Soranî Kurmancî bikim
Ev bandora li ser hemû zaravayên Kurdî de hûn çawa dinirxînin,bandora xwendekarên Kurd jî li ser heye yan na, bêtir were xwendin dibe ku ev bandor were şikandin?
Helbet eger ku em Kurd xwedî li zimanê xwe derkevin, mesela li Bazîdê peykerê Ehmedê Xanî rûxandin wexta ku êrîş li ser nirxên me çêbibe em bertekek tund nîşan bidin wê demê nikarin bi rehetî werin ser zimanê me. Divê refleksa me xurt be wexta êrîş liser zimanê me çêbû yan jî li ser nirxên me çêbû divê refleksên me xurt bin. Refleks çawa tê xurtkirin bi saziyan, yanî sazî û çapemenî dikare vê xurt bike, wexta ku çapemeniya Kurdan yan jî saziyên Kurdan girîngî deynin ser vê, êrîş li ser ziman û nirxekî Kurdan çêbû saziyên Kurdan refleksên baş û xurt bidin nîşan dan wê demê êrîşên wan bi hêsanî nabin.
Belê li ser medyaya civakî naskirina pirtûkê çêbû, jiber ku ne berhema min e, bi tenê ji Soranî wergerandî ye Kurmancî, ji bo îmzeyê divê nivîskarî wî hebe.