Hunermend Berfîn Aktay: Divê hunermend netirse
Hunermenda Kurd Berfîn Aktay destnîşan kir ku divê hunermend ji gel qut nebe û ji kesî netirse. Aktay got, berhemên bi zimanê dayikê tên afirandin hê mayînde û bedew in.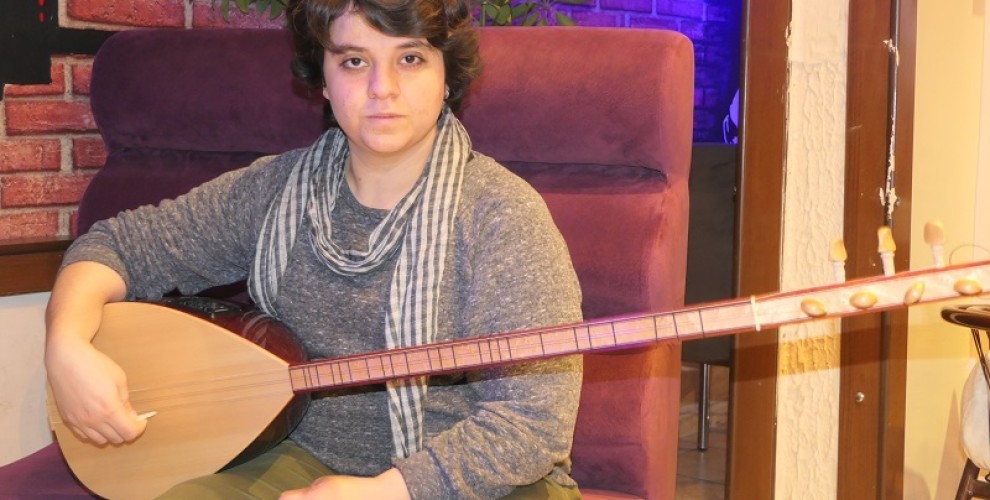 Berfîn Aktay hê di pênc saliya xwe de li tembûrê xist. Aktay ku sala 1992'an li navçeya Nisêbîn a Mêrdînê ji dayik bû, konsera xwe ya destpêkê di şeş saliya de bi tembûra xwe, di salvegera damezrandina PKK'ê de da. Aktay ku stran û helbestên bi Kurdî dinivîsîne, li Navenda Çand û Hunerê ya Mîtanî û gelek navendên hunerê perwerde dît. Ji bo pêşvebirina muzîka Kurdî, bi eşqeke mezin li tembûrê dixe.
HÊ ŞEŞ SALÎ BÛ KONSER DA
Aktay diyar kir, ji ber ku bavê wê mûzîsyen bû hê bêhtir bala wê diçû ser muzîkê û got, "Bavê min muzîsyenke bû, hem dinivîsand hem jî distira. Min jî bi vî rengî muzîk nas kir. Di 5 saliya xwe de min li tembûrê xist. Lê belê bavê min kêm caran dihişt ku li tembûrê bixim, lewma min jî bi dizî lê dixist. Min bavê xwe dişopand, li tiliyên wî dinerî û bi vî rengî hînî tembûrê bûm. Konsera xwe ya ewilî jî min di şeş saliya xwe de li Nisêbînê tevî bavê xwe di salvegera partiyê de da. Sala 98 bû, min li wir strana 'Amedê Xweş e' got."
'YÊ KU HERÎ ZÊDE DESTEK DA MIN, BAVÊ MIN BÛ'
Aktay anî ziman ku di karê muzîkê de yê herî zêde piştgirî da wê, bavê wê bû û destnîşan kir ku ew hê bi coşa roja destpêkê li tembûrê dixe. Aktay got, "Bavê min di vê mijarê de gelekî alîkarî da min. Yê herî zêde destek da min, bavê min bû. Û ji min re digot, 'Bavê min destek nedida min, lê bavê de destekê dide te'. Piştre li Nisêbînê Navenda Çand û Hunerê ya Mîtanî vebû. Wextekê min li wir perwerde dît. Li wê derê bernaeya me û koroya me hebû. Di zarokatî de bavê min ji kîjan hunermendî hez dikir û ew ji xwe re dikir mînak, me jî ji xwe re dikir mînak. Me li Koma Amed, Ciwan Haco, Mihemed Şêxo guhdarî dikir. Hestên zarokatiyê cuda ne. Ji roja ku min rahişt tembûrê û heta niha hewl didim ku wê kelecana xwe ya roja destpêkê ji dest nedim. Di zarokatiya xwe de dema min stranek digot bi kîjan hestan min digot, niha jî bi heman hestan dibêjim. Tenê hesta estetîkê bi pêş ket."
'MUZÎK ZIMANÊ JIYANÊ YE'
Aktay got, "Tembûr ji bo min mîrateyeke ku ji bavê min maye. Ne tenê weke mîrateya bavê xwe, her wiha weke mîrateya hemû nirxên me dibînim" û wiha dewam kir: "Ez tembûrê weke zarokekî, weke hevalekê/î dibînim. Hemû hunermend bi vî rengî ne. Muzîk zimanê jiyanê ye. Tu pê nizanibe jî dikarî bi straneke bi zimanekî ku qet nizanî, xwe vebêje. Dema Farsek distirê, Kurdek jî, Tirkek jî jê fêhm dike. Tenê zimanê awazê nîne. Di heman demê de dîrok e. Tu dikare dîroka xwe, çanda xwe bibîne. Muzîk dermanek e, xwîna mirovan li gorî awazê li gorî ahengiyê diherike. Lewma mirov dikarin muzîkê weke nasnameya civakê bibînin."
'DIVÊ HUNERMEND NETIRSE'
Aktay işaret bi cihê girîng ê muzîkê di çanda Kurdî de kir û anî ziman, ji bilî bedewiyê divê ti gumana hunermend nebe. Berfîn Aktay destnîşan kir ku nabe hunermend ji gel qut be û wiha dewam kir: "Divê hunermenda/ê Kurd bibe dengê gelê xwe. Nabe ku ji civakê ya jî hunerê qut be. Eger ne bi vî rengî be wê nikaribe mayînde bibe. Ji bilî estetîkê lazim e tirseke din a hunermend nebe. Divê nekeve bin zexta hinekan."
'NIVÎSANDINA BI KURDÎ RÊ LI BER MAYÎNDEBÛNÊ VEDIKE'
Aktay da xuyakirin ku wê dîtiye stranên bi Tirkî tên nivîsandin mayînde nînin û got, "Heta 17 saliya xwe min bi Tirkî dinivîsand, lê ji wê wextê û pê ve min dest bi nivîsandina bi Kurdî û strana bi Kurdî kir. Ji bo hîn bêhtir mayînde bibe û ji gel qut nebe."
'EM DEYNDARÊ WAN E'
Di dawiya axaftina xwe de Aktay got, "Min helbestek li ser êşên dayikên me, li ser Dayikên Şemiyê nivîsand. Helbesteke min hebû ku min li ser Rizgar nivîsand. Rizgar ciwanekî ji Nisêbînê bû û di dema şer de jiyana xwe ji dest da. Ji zarokatiyê ve min Rizgar nas dikir. Ji destdana wî bandoreke mezin li min kir. Li pêşberî wî min xwe deyndar dît. Ev saleke li ser stranekê dixebitim, lê min hê cesaret nekiriye û dernexistiye. Ji ber ku nizanim gelo dikarin bi têrkerî qala Ferîde bikim. Ferîde hevala min bû ku li jêrzemînên li Cizîrê jiyana xwe ji dest da. Hevaleke gelekî nêzî min bû. Di demeke nêz de ez ê berhema xwe biweşînim. Ya girîng ew e ku em ê karibin çiqasî bibin bersiv. Fikara min ev e. Em deyndarê wan e û divê em vî deynê xwe bidin."