Hozan Comert: Huner neynîka civakê ye
Hozan Comert diyar kir ku muzîk û wêjeya Kurdî xwedî rabirdûyeke dewlemend e û got, muzîka Kurdî bi Tevgera Azadiyê ya Kurd û paradîgmaya Rêberê Gelê Kurd Abdullah Ocalan li dijî qirkirina çandê li ber xwe dide.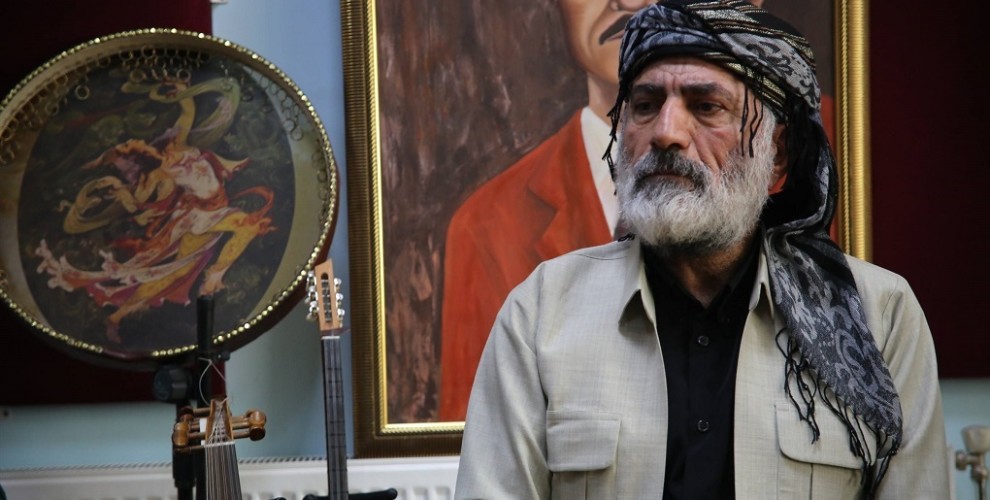 Dengbêjên Kurd ên nemir, çand û hunera Kurd bi awazên xwe yên hestiyar heya roja me anîne. Dengbêjan di heman demê de, hem dîroka Kurdan a nehatî nivîsîn, hem jî wêjeya Kurdan a devkî ji civaka Kurd re vegotine. Gelê Kurd çand û dîroka xwe piranî bi stran, ango awazên dengbêjiyê rave kiriye. Ev awaz weke çîrokan hatine guhdarîkirin. Di heman demê de awazê dîroka Kurdan a ne nivîskî jî hewandiye. Kurdan muzîka xwe bi dengbêjiyê vegotine û heta roja me ya îro hatiye. 
Di çand û hunera Kurdî de girîngiya muzîkê û asta muzîkê, rola hunermedan, me ji Hozan Comert pirsîn. Wî jî bi hemû dilnizmiya xwe bersiv da pirsên me.
 * Destpêkê hûn dikarin hinekî qala xwe bikin?
Ez di sala 1950'an de li gundê Sûrê yê li ser navçeya Xozat a Dersimê hatime dinyayê. Dayika min di  komkujiya Dersimê ya sala 1937'an de 8 salî bûye. Dayik û bavê wê tevî 3 xwişk û 4 birayên wê ji aliyê Dewleta Tirk ve, wekî ku Recep Tayîp Erdogan dibêje; li Dersimê 50 hezar kuştî hene, lê belê kesên şahidên wê roje dibin, li dor 100 hezar mirov li Dersimê hatine qetilkirin. Dayika min Qumrî û xwişka xwe Xecê 3 rojan bi birîndarî di nav termên Kurdên ku hatibûn qetilkirin de dimînin. Piştre tevî Kurdên ji komkujiyê filitîne, nêzî 3-4 salan di şikeft û nava daristanan de jiyana xwe derbas dikin. Dayika min ji Eşîra Kalan e. Ev Eşîr ji Kirman û Dimiliyan pêk tê. Navê bavê min Husên e. Dayika bavê min tevî 7 zaroyên xwe û nêzî 200 kesî ji malbata wan, 3.000 kes jî ji eşîra Bextiyaran di navbera Xozat, Pilur û Sirtikan de tên qetilkirin.
Bavê min ji eşîra Bextiyaran e û Bextiyar jî kurmanc in. Di sala 1957'an de ez heft salî bûm, bavê min ez şandim medreseya olî. Medrese li gundê Qayîka Jêrîn a girêdayî navçeya Kanîreşê ya Çewlîkê bû. Min li wî gundî li cem Seydayê Husênê Kamil 4 salan feqetî kir. Dîsa 2 salan jî li navçeya Dep a Xarpêtê xwend. Di temenê xwe yê 9 salî de  min dest bi dibistana seretayî ya Tirkî kir. Li gor kar û barên bavê min,  piştî gera çar bajaran min ew dibistan xilas kir. Di jiyana min a van bajaran de, çîrokên min ên taybet hene. Bi taybetî çîrokên civakê û muzîkê hene. Di vê demê de ez jî wek ciwanekî wê demê, di nav sosyalîstan de mam û li ber bayê sosyalîzmê ketim. Ji sala 1965'an û vir ve bayê sosyalîzmê li Ewropayê rabû û Başûrê Emerîkayê da ber xwe, li Afrîka û Asyayê belav bû. Her wiha bandora wê li Vîetnam û Koreya Bakur derket û xwe gihand Kurdistanê. Bi taybetî li Dersimê ev bandor gurtir bû. Wê demê em di nav fikr û ramanên sosyalîzmê de li çareseriya pirgirekên olan û neteweyan digeriyan. Helbete ez jî li ber vî bayê azadiyê ketim û tevlî karwanê fikr û ramanên sosyalîzmê bûm. Kar û xebatên min bi salan di qadê de berdewam kir. Di nav van kar û xebatan de giraniya xebatên min li ser muzîkê bû. Di sala 1971'ê de ez hatim girtin. Di bendên Qanûna Cezayê ya Tirk, di xalên 141-142 ku ev xal piropoganda komînîzmê dikin, min 4 sal cezayê girtîgehê li min birî.
Di 18 saliya min de bayê evindariyê li min ket û ew dem jî bi stranên evindariyê derbas bûn. 3 zarokên min hatin li ser rûyê dinyayê. Navê yekî Bilal bû. Di wan deman de berxwedana Filistînê bandorekî mezin li ser civaka Rojhilata Navîn kiribû. Bi taybetî xwendekarên sosyalîst ên wek Denîz Gezmîş, Mahîr Çayan û Îbrahîm Kaypakkaya û yên din. Wexta min medrese dixwend, bandora Bîlal-î Hebeşî li ser min hebû. Bilal-î Hebeşî di destpêka Îslamê de bi dengê xwe yê xweş û bi xwendina Bang û Sela û Îlahiyan bandoreke mezin li civakê kirîbû. Deng û muzîka wî ruhê aştî û hezkirinê dabû civaka Îslamê. Ji bo van nirxên pîroz navê yekî me Bîlal lê kir. Navê yê duyê jî me Cemgîl lê kir. Şoreşgerekî bi navê Sînan Cemgîl, di sala 1971'ê de li Meletiyê li çiyayê Nûrheqê şehîd bû. Ji bo bîranîna wî, me navê wî  Cemgîl lê kir. Kurê min yê sêyemin Taylan Ozgur. Taylan Ozgur şehîdê destpeka jenerasiyona 1968'an e. Ji bo gotina wî ya "Azadiya Tirkiyeyê bi Azadiya Kurdistanê re dikare bigihêje encamê." Ji ber ku di vê dirûşmeyê de gotina "Azadiya Kurdan" jî derbas dibû, Taylan Ozgur ji aliyê devletê ve hat qetilkirin. Ji bo bîranîna Taylan Ozgur me navê wî Taylan Ozgur lê kir.
Em werin ser çavkaniya pirsê. Rojekê di destpêka televzîyona Kurdî MED TV'yê de, pîrozbahiya sersala Partiya Karkerên Kurdistanê (PKK) hebû. Gelek hunermendên Kurdan tevlî pîrozbahiyê bûbûn, hunermend Seyîdxan jî pêşkêşvanê programê bû. Ji min pirsî, got: "Comerd, te Tevgera Azadiyê çawa nas kir?" Min got: "Hevalê Seyîdxan ez di evîna xwe ya yekemîn de evîndarê Xweda bûm. Min li ser Xweda û nirxên xwedayî bi salan îlahî, qesîde û beyt bi derûniya dilê xwe xwendin, nav û dengê min di nava civaka herêmî de bela bû. Evîna min a duyemin ez evîndarê Şengê bûm. Şengê hevjîna jiyana min bû. Bi stranan min evînî xemiland. Paşê ji destê min firda çû û ket nav Tevgera Azadiyê. Ez bi vê encamê pir kêfxweş im. Evîna min a sêyemîn jî Tevgera Azadiyê ye. Bi nirxên xwedayî, bi nirxên xwezayî û bi nirxên mirovahiyê ez gihîştim nirxên Tevgera Azadiyê û mirovahiyê.
* Kengê, çawa û bi çi rengî we dest bi hunerê kir?
Çand û huner, hezkirina wêjeyê di sala 1957'an de hîna ez  heft salî bûm bi aliyê olî dest pê kir. Bi Tecwit û qiratê min Qûrana pîroz xetim kir. Bi xwendina mewlûda Meleyê Batê, îlahî û qesideyên Kurdî, bang, selat û selaman min ew pêvajo domand. Wê demê dersa qirat û meqeman jî li medreseya Depê ji hafiz Feti Kaya digirt û em fêrî meqaman dibûn. Ev meqam, weke Raqs, Sebah, Kurdî, Kurdî Hîcaz, Beyat û meqamê Husêynî. Bi vî awayî temamên deng ji xweda û xwezayê dihatin. Ji derveyî fêrbûna çand û hunera olî, li gundê Qayikê tu kesekê/î Tirkî nedizanî û jiyan bi Kurdî derbas dibû. Dawet, şîn, şahî bi hestên Kurdewarî dihatin ziman. Çîrok, henek û pêkenok tevahî bi Kurdî bûn. Jiyan temamî zelal û pak Kurdî bû. Ez dikanim bêjim, zemînê hunera min li ser zimanê çand, wêje û muzîka medreseyên Kurdan ên olî ava bûye. Eger gotin û muzîka stranên min baş bên guhdarîkirin, mirovan dibe qonaxa destpêka feqîtiya min.
* Hûn muzîkê çawa bi wate dikin, muzîk ji bo we tê çi wateyê?
Li ser muzîkê zanyar û lêkolîneran xebatên pir girîng dane meşandin. Lê belê muzîk sirra dinyayê ye. Çawa ku mirowahî hîn negehiştiye sirra dinyayê, negehiştiye sirra muzîkê jî. Muzîk havîna gerdûn û xwezayê ye. Dikarim bibêjim civaka mirovahiyê jî parçeyek ji wan e. Di xwezaya mirovahiyê de jî muzîk heye. Her du jî ji dinya û xweyazayê peyda bûne. Di çanda mirovahiyê de muzîk xala herî girîng e. Muzîk şertê hebûna civakan e. Konfûçiyûs ji bo rêvebirina civakan û muzîkê 2.500 salî berê wiha gotiye: "Muzîk ahenga navbera erd û asîmanan e. Eger hûn bixwazin cewhera gelekî nas bikin, berî her tiştî divê hûn li muzîka wî gelî binêrin. Wexta muzîka gelekî xirab be ew gel, bi têkçûyîn û xirabûyinê re rûbirû ye. 
'MUZÎKA KURDÎ WEKE DERYAYEKÊ YE'
Muzîk, di xwezayiya xwe û mirovahiyê de nîşana aştî, wekhevî, evîn û arîşanê ye. Şîroveya mirovan û hemû nirxên qedîm, ji destpêka kaînatê heya roja îro bi xemla muzîkê hatiye xemilandin. Lê muzîk ket destê dewletan bi teybetî netewe dewletan ji xwezaya xwe qut bû û ket dibin bandora desthilatdaran. Şerxwazan ji bo berjewendiyê dewletekî an jî çînekî pîrozbahiya muzîkê û hemû nirxên heqîqetê têk birin. Muzîk wek hemû nirxên mirovahiyê ji heqîqeta wê qut kirin û jê dûr xistin. Gelên ku bi xwezayê ve girêdayî ne di jiyana xwe de pîrozbahiya muzîkê bi pîrozbahiya xwe diparêzin. Îro yên ku ji wan gelan mane yek jî gelê Kurd e. Gelê Kurd di dîroka xwe de nebûye desthilatdarê gelan û qewman û li ser axa Mezopotamyayê bi hezaran salan bi awayekî xwezayî jiyaye û bi muzîkê hem xwe hem jî xwezaya xwe ya bihuştî parastiye. Xweda li dinyayê çi afirandiye, di xwezayê de çavên mirovan çi dîtiye, guhên mirovan çi bihîstiye, bi zimanê xwe yê qedîm, bi dengê pîroz bi hezaran stran û kilaman nirxên xweda xemlandine. Nirxên xwezayê xemilandine. Ruhê mirovahiyê xemilandine. Muzîka Kurdan wek derya di nav deryayê de ye. 
* Di çand û hunerê de hûn asta muzîka Kurdî çawa dibînin?
'ZIMAN DAYIKA ÇAND Û HUNERÊ YE'
Belê, di aliyê huner û muzîkê de divê Kurd û hunermendên Kurdan, bi yek ziman, çand û hunera xwe baş nas bike. Ya duyemîn dewleta dagirker a ku di vê sed sala dawiyê de li ser ziman, çand û hunera Kurdan êrîş de ye û li ser çanda Kurdan komkujiyan dimeşîne, baş nas bike. Di serî de nasnameya gelekî çand û zimanê wî ye. Ziman dayika çand û hunerê ye. Eger di aliyê hiqûqa xweda û dinyayê de binêrin, em ê bibînin ku dewleta Tirk bi salan e polîtîkayên pişaftinê li ser ziman, çand û hunera Kurdan dimeşîne. Di sala 1921'ê de di komkujiya Koçgiriyê de nêzî 20 hezar Kurd ji ber ziman û çanda xwe hatin qetilkirin. Her wiha di sala 1925'an de Şêx Seîdê Pîran li gel 47 hevrêyên xwe li Amedê li sêdarê  dan. Her wiha bi hezaran Kurd hatin qetilkirin û şandin sirgûnê. Dîsa di sala 1928- 1933'an de li geliyê Zilan û di sala 1937-1938'an de zêdetirî hezaran mirovên Kurd hatin qetilkirin. Dewlet herdemê bi du şêwazan êrîşî gelê Kurd dike. Yek bi awayê fîzîkî êrîş dike. Ya duyemîn jî bi awayê ziman, çand û hunerê êrîş dike. Li her çar parçeyên Kurdistanê ziman, çand û hunera Kurdan dibin gef û êrîşan de ye.
 
* Di Têkoşîna Azadiyê ya Gelê Kurd de çand û hunerê çawa dibînî û dinirxînî?
Têkoşîna Azadiyê ya Gelê Kurdistanê ji bo gelê Kurd ji bo gelên Rrojhilata Navîn mizgîniya bihara mirovahiyê ye. Bi vê biharê re muzîk ji bo gelê Kurd wek xemla biharê. Hunermendên Kurd bi awazên xwe yên xweş hezaran stran û kilam weke rengê biharê xemildandiye. Bi van awazan bi hezaran mirovan destê hevdû girtin û derdorî agir bûn rist. Dengê çiya bi awazên gerîla ji bo serxwebûna Kurdan weke rengên kesk, sor û zer li seranserî dinyayê belav bû. Di Têkoşîna Azadiya Gelê Kurd de muzîk li hemberî dijminan bû mertal. Di Têkoşîna Azadiyê ya Gelê Kurd rol û rista hunerê gelek girîng e. 
* Di civakê de rol û rista hunermendan çiye?
Ji dîrokê heta niha nasnameya civakê çand e. Yên ku ruh dide muzîkê jî hunermed in. Çand ne be huner jî nabe û hunermend jî wê tunebe. Heya sala 1995'an dîroknasên dinayê di heman ramanê de bûn ku dîroka civakbûna mirovahiyê 8 hezar sal e. Li gorî zanyariyên rewşenbîr û ronakbîran dîroka dewletan ji Sûmeriyan dest pê dike. Li Girê Xirawreşkê (Gobeklî Tepe) nêzî 30 qadên cuda yên xwedawendan hene. Wêne û peykerên dîrokî bi hunera hunermendê demê hatin afirandin. Hunermend rênasên civakê ne, piştî Girê Xirawreş Sûmeriyan, fîrewnan, pêxember Zerdeşt, Îbrahîm,  Hz. Mûsa wek Konfîçyûs, Eflatûn, Sokrates, Împaratoriya Romiyan, rêberê Budîzmê Buda, ola Hînduîzmê, pêxemberê Xirstiyanan Hezretî Îsa, pêxemberê Îslamiyetê Hezretî Muhemed, ronesensa Ewropayê û hemû nirxdarên ku min anîn ziman, di çand û hunera civakan de xwediyê rolên sereke ne. Li gel van bi hezaran hunermend ji civakan re rêbertî kirine. Civak beden e, hunermend ji ruh ê bedena civakê ne.
Rêber Abdullah Ocalan dibêje; "Em di destpêka dîrokê de veşartî ne, dîrok jî di roja me de veşartî ye." Di vê dîroka veşartî de şaristanî ya gelan û Kurdan bi çand û hunerê hatiye afirandin. Mezopotmya û Kurdistan dergûşa mirovhiyê, warê pexemberan û dayika çand, huner û hunermendan e.
* Di vê dema dîrokî de divê hunermend çawa tevbigerin û rola hunermendan çiye?
 
Di vê pêvajoya dîrokî de ji bo nirxên neteweya Kurd rola herî mezin dikeve li ser milê hunermendan. Tevgera Azadiyê 40 sal e bi felsefe û ramanên Rêber Abdullah Ocalan bê navber têkoşîneke seranserî dinyayê dimeşîne. Di 12 hezar salên dîroka civaka Rojhilata Navîn de civak bi nirxên xwedawendên pirxwedayî, bi yekxwedayî ya Zerdeşt û Hz. Îbrahîm hat birevêbirin. Li Rojhilata Navîn cara yekemîn bi fikr û ramana Rêber Abdullah Ocalan felsefe ket nava jiyana Kurdan û Rojhilata Navîn.  Bi felsefe û ramanên Rêber Ocalan bi saya têkoşîna lehengên Kurd berxwedana gelê Kurdistanê rastî û heqîqeta dîrokê derketiye holê. Di destpêka têkoşîna azadiyê de hunermendan, bi taybetî yên muzîkê li gor zanistî û kapasîteya xwe xizmeteke pîroz meşandin. Bi dehan hunermend wek ronahiya hunerê û hunermendan ketin nav dîroka çanda Kurd. Jiyana her cangoriyan ji bo hunermendan wîjdan e, hest e,  giyan e û deng e. Hunemend beriya hunermendiyê divê bibe şagirtê Ehmedê Xanî, Baba Tahîrê Ûryan. Divê bi deng feylezof û nivîskarên Kurdan bixwîne û nas bike. Hunermendek eger negihêje vê deryaya çanda Kurdan û Ariyan, xwe nikare ji bandora asîmîlasyona dewletan rizgar bike. 
TÊKOŞÎNA ÇAND Û HUNERÊ
Eger wiha dom bike, hunermendên Kurd nikarin rola xwe ya di nava civakê de bilîze. Weke ku Rêber Ocalan dibêje, 'Çandvanên bê çand',  hunermendên Kurd divê di her qadên jiyana xwe ya rojane de bi Kurdî bifikre, bi Kurdî biaxive û bi Kurdî biafrîne. Heskirin û berxwedana herî pîroz ji bo gelê Kurd û ji bo hunermendên Kurd ev e. Dijmin sed sal e bi polîtîkayên xwe yên pişaftinê ruh û mejiyê Kurdan kiriye dibin bandora xwe. Li hemberî dagirkeran têkoşîna herî mezin têkoşîna çand û hunerê ye.
 
* Di strana we ya "car caran" de gelek hestên cuda cuda hene û balê dikşîne ser çar parçeyên Kurdistanê. We bi kîjan hestan ew berhem nîvîsandiye, hûn dikarin qala vê berhemê bikin?
Belê, ji bo sererastkirina jiyana civakê, ji bo maf û heqîqeta dinyayê li seranserî dinyayê bi hezaran Rêber derketine. Di mîtolojiya civakan de xwedawendê weke An, Enlîl, Enkî, Mardûk, Artemîs, Ra, Înanna, Hûrmûz û hwd. yên bi nav û deng hene. Civak û Rebertiya pêxemberên yekxwedayî Hz. Îbrahîm, Hz. Îsa, Hz. Muhemed û bi dehan pêxemberan ji civakan re rêberî kirine. Zerdeşt rêberê destpêkê yê yek xwedayî ye. Ji bo nirxên gerdûnî û mirovahiyê rêberên heqîqetê li hember Romiyan serî hildana Sipartakûs ji bo gerdûniya Îslamê heqîqeta Îmam Huseyîn û Kerbelayê ji bo heqîqeta li hember desthilatarên Rojhilatê, Sekn û şahadeta Şêx Bedredîn, Mansurî Hellac, Nesîmî, Pîr Sûltan, Ehmedê Xanî, Şêx Seîdê Kurdî (Nursî), Şêx Seîdê Pîran. Alî Şêr, Zarîfe, Seyîd Riza, Qazî Mihemed, Mele Mustafa Barzanî. Her wiha li dinya û gerdûnê ji destpêkê heya roja îro nirxên ji bo mirovahiyê hatine afirandin. Îro nûnertiya xwe di ramanê Rêberê Gelên Kurdistanê Abdullah Ocalan de jîn bûye û jîn dide. Gelê Kurd gelê Rojhilat û her deverê Dunyayê. Strana Car cara Îlhama vê heqîqetê û vê jiyanê ye.
* Gelo amedekariyên we ji bo albûmeke nû heye, ger heye di kîjan astê de ye?
Belê, amadekiariyên min ê ji bo albûmek nû heye. Berhemên ku ez li ser dixebitim berhemên îrfanî ne. Ji berhemên Melayê Bateyî, Melayê Cizîrî Wefayî, Pertew Begê Hekarî hatine girtin. Ji bo ku ez bikarim bibim şayanê wan û gelê Kurd û vê berhema pîroz diyarî gelê Kurd dikim. Ez li ser zaravayên Dimilkî, Soranî û Hewremanî jî dixebitim. Heta Newrozê ku tu astengî dernekeve em ê derkevin li pêşberî guhdarên xwe.