Beriya 1.4 mîlyar sal rojek 18 saet bûye
Beriya niha 1.4 mîlyar sal heyv êzî Cîhanê bûye. Rokek 18 saet bûye. Her ku çu Heyv dûr ket û roj dirêjtir bûne.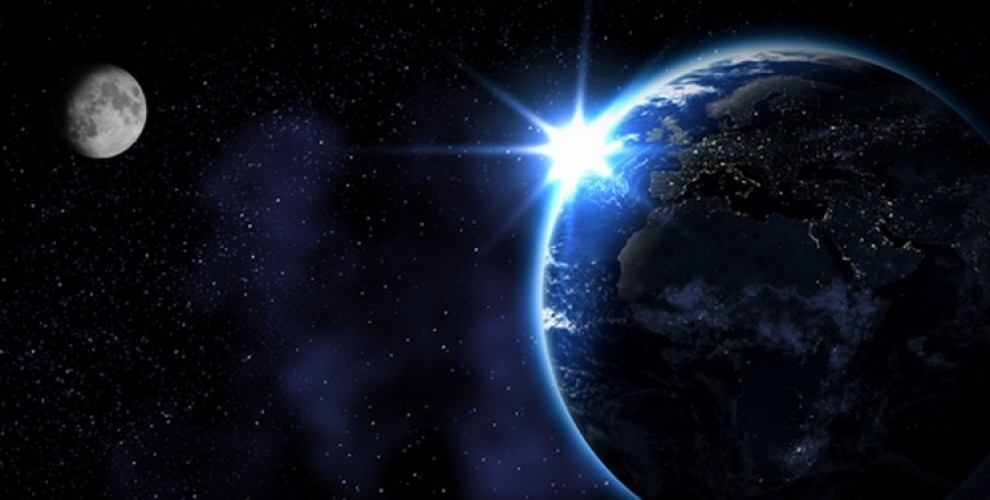 Li gorî nûçeya profesor Stephen Meyer a di kovara Sîence et Avenir de; "Dema ku Heyv dûr dikeve, Cîhanê çenqên xwe hêdî hêdî vedkir û weke artîsteke patînajker bûye". Mayers ê ji Zanîngeha Wisconsin-Madison têkildarî têkiliya di navbera Heyv û Cîhanê de lêkolînên xwe li kovara Proceedings of the National Academy of Sciences dinivîse.
Di lêkolînê de Mayers diyar kir ku Heyv ji Cîhanê di salekê de 3.82 santîmetre dûr dikeve. Ev dûrketina bi merhele demeke dirêje ji aliyê astronoman ve dihate zanin.
Dûrketina Heyvê û kêmbûna leza vegera Cîhanê dibe sedem ku  her sal roj 1.8 mîlîsaniye dûrbikeve. Piştî 3.3 mîlyar sal rojek wê 24 saet û deqîqeyekê bidome. Dema ku Heyv dûrketina xwe didomîne piştî 620 mîlyon saî  wê Roj êdî kêmtir were girtin.
Berê Heyv nêzî Cîhanê bû û Cîhan bi lez dizîvirî. Bi vê ve girêdayî nêzîkbûna Heyvê ne bi rengê xetkêşanê bû. Ji ber vê sedemê jî hesabkirina nêzikbûn û dûrbûna beriya bi mîlyarek sal yan 2 mîlyar sal gelek zehmet e.
Stephen Mayers şopên nobetê ya avhewaya berê yên li ser  latên beriya niha bi 1.5 mîlyar sal analîz kir û hesab kir ku beriya niha 1.4 milyar sal Heyv bi 340 hezar kîlometreyan ji Cîhanê dûr bûye. Di heman demê de rojek 18,68 saet bûye. Ji bo piştrastkirina van encaman pêwîstî bi rêbazên din yên astronomîk heye.