'Muzîk lêgerîna li heqîqet û evînê ye'
Hunermend Bermal Çem diyar kir kir ku muzîk ji bo Kurdan lêgerîna li heqîqet û rastiyê ye û got, her gerîlayek bi bandora stran û awazekê dest bi lêgerîna li azadiyê kiriye.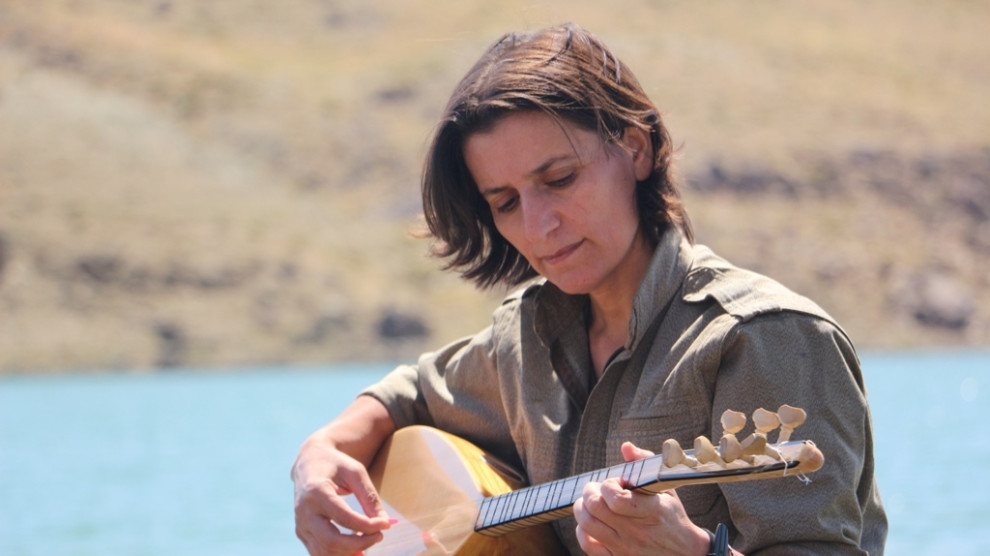 Bermal Çem anî ziman ku gerîla efsuniyek veşartiye ku di nav notayên hîn nehatine nivîsandin de û got, ew noteya nehatiye nivîsandin jî diyariya azadiyê bi xwe ye ji bo paşerojê.
Dengbêjên Kurd ên nemir, Çand û Hunera Kurdan bi awazên xwe yên hestiyar heta roja me anîne. Dengbêjan di heman demê de, hem dîroka Kurdan a nehatî nivîsîn, hem jî wêjeya Kurdan a devkî ji civaka Kurd re vegotine. Gelê Kurd çand û dîroka xwe piranî bi stran, ango awazên dengbêjiyê rave kiriye. Ev awaz weke çîrokan hatine guhdarîkirin. Di heman demê de wê awazê dîroka Kurdan a ne nivîskî jî hewandiye. Kurdan muzîk xwe bi dengbêjiyê qêriyaye û heta roja me ya îro hatiye.
Di çand û hunera Kurdî û di Têkoşîna Azadiya Gelê Kurd de girîngiya muzîkê û asta muzîkê, rola hunermedan me ji gerîla û hunermeda navdar Bermal Çem pirsî û wê jî bi bersiv dan pirsên me.
* Li gor we muzîk çiye? Hûn muzîkê çewa dinirxînin?
Ez muzîkê her tim weke bêhna jiyanê dinirxînim.Di demên gewriya mirov zuha dibe de, dil êdî di qefesa singa xwe de teng dibe muzîk dibe bêhna jiyanê. Ev gotin tenê ji bo jiyînê nîne. Wate barkirina jiyanê ye, qasî bêhnek jiyan di kêliyan de avakirine. Deng ango muzîk bi herîkîna gerdûnê re hevpar e. Ger muzîk di herîkîna gerdunê de nebûna wê her zindiyek ewqas bi muzîk bandor nebûna wê jiyan bi muzîkê neherikiya. Hîn zarokek dema malzaroka dayikê de ye bi muzîk bandor dibe. Dibe ku ew bandor herîkîna jiyana wê bide guhertin. Lewma ji hebûna zindiya heta roja me muzîk tenê deng nîne. Bêhn û nefesa gerdûnê ye ku dide hemû zindiyan. Demên ez tembêrê lêdixim, dibînim ku zindî di nav xwezayê de li gor rîtma muzîkê tev digerin, weke ku bi hevre di nav lîstîkek bê dawî de bin. Çûkên ku li ser serê min difirîn û her nizim û bilind dibûn min jî bi xwe re dibirin rastiya wateya muzîkê. Ew li nav ewrên reş tarî, şîn û spî de bask didan û difiriyan. Hemû hest di nav de xwe nîşan didan. Hevparbûna jiyanê min didît. Weke ku hemû rengan di nav hev de hevdu hembêz dikin. Wê demê ez jî bi wan re dibûm çûkek û min bask dida li asîmanên bê sînor. Lewma wateya muzîkê di wateya hemû zindiyan, jiyan û gerdûnê de veşartiya. Tenê nayê dîtîn ku hîn zêdetir tê hîskirin.
* Di hunera Kurd de rola muzîkê çiye?
Muzîk, wêne di despêka jiyana mirovande pêşketin e. Weke tê zanîn bi pêşkeftina çand û hunerê de civak jî pêşdikeve. Ev pêşkeftin herî zêde jî li ser xaka mezopotamya çê dibe. Yekem ji hunerên despêkê yek jî muzîke. Amûrên ji hestî û çerp hatine çêkirin meyzekirina civakê daye guhartin. Despêkê armanca yekem jî ji van amûran ne muzîk çêkirin be jî wek pêwîstiya jiyanê hêdî hêdî veguherîn awaz û rîtmên jiyanê. Bê guman gelê Kurd jî li ser axa Mezopotamyayê gelek kevin û qedîme, lewma muzîk li ser pêşkeftina civaka Kurd gelek bi bandora. Em ji amûrên destpêkê bigrin heta ol bawerî û afirîneriya civakê gelek rol lîstiye. Bi taybet di hunera Kurd de beşên hunerê din jî girtiye nav xwe û pêşketiye. Mînak, bi muzîkê govendê digerînin. Lîstîkan bi muzîkê nîşan kirine ku bandoreke mezin heye. Wek armoniya cîhanî ango civakî herikiye. Bi taybet di civaka Kurd de çanda dengbêjiyê hiştiye ku huner pêşbikeve. Bê guman em dengbêjiyê tenê weke muzîk nanirxînin. Lê dengbêjî nehiştiye ku çanda me wenda bibe bi devkî be jî serpêhatî kêfxweşî êş û şahiyên civakê, destan û çîrokên me bi saya dengbêjiyê hatîne parastin lewma hunerê din jî li ser vê dîrokê nehatiye jibîr kirin û pêşketine. Wêje ango peyker, şano, govend û hwd. li ser bîra dengbêjiyê berhemdar bûne. Dengbêjan gotinan berya dem herikandine. Li pêş dem bûne rastiya civakê. Lewma di hunera Kurd de ger rola muzîk were nirxandin, pêwîset dike ku em berê xwe bidin dengbêjiyê. Ji ber ku koka muzîka Kurdî di hebuna dengbêjî ango stranên gelerî de veşartiye.
* Muzîk kesayeta mirovan çawa dinirxîne?
Muzîk kesayetek bi pîvanê etîk û estetîkê perwerde dike. Çewa me got nefese, heman demê bê ku mirov yek kêlî raweste pêwîste bi wê nefesê di nav bezekê bê dawî de be. Ji ber ku kesayetên bi muzîk diherikin, bi fikir, hest û her tim di nav lêgerînan de ye. Ger kesayet sekinî, wê demê wê ew nefes jî biçike û dibe ku bibe dawiya jiyanê. Ango her tim berhem û afirênerî guhartin û veghartin dixwaze. Weke ku mirov ber bi lutkeyê herê jor ve bibeze her ku mirov nêz dibe lutîk bilindtir dibe. Lewma kesayet li lutkeya muzîkê dibe lutkeya herê jor, lê belê ew lutke her diçe bilindtir dibe. Ango armanca kes ticar bi dawî nabe di muzîkê de, her dem mezintir dibe. Min di jiyana xwe de bandora muzîk ango amûrek muzîkê kur de dît. Dikarim bibêjim ku meyzekirina min a cîhanê da guhertin. Ez li vir gotinek Şehîd Hêlîn Murad mînak bidim. Waha digot Hêlîn; "Ger ku her mirovek di jiyana xwe de amurek muzîkê lêbixista wê demê wê şerê cîhanî yên qirêj biqediyana." Dibe ku her kes nebe muzîkjenek lê pêwîste ku her mirovek amîrek lêbixe. Wê demê weke ku şehîd Hêlîn dibêje, wê mejî û hestên mirovan jî pak û zelal bibin.
*Ji bo Kurdan çi wateya muzîkê heye?
Gelê Kurd gelek ku hemû hestên xwe bi muzîkê tîne li ser ziman. Di hemû kêliyên jiyanê de zindiye. Dema ku em zarokbûn em li ber lorîna dayikên xwe mezinbûn û me muzîk nas kir. Her mirov hîna di zikê dayika xwe de muzîkê ji dayika xwe hîn dibe. Di kar û bar de li nav zevî bax û bostanan de ger muzîk nebe wê tevir û bêrên me neçin û neyên. Di govend û şahiyan de em bi muzîkê şah, aram dibin û carna jî xemgîn dibin. Dema mirov jiyana xwe ji dest dide, li ser gora wî stranên şînê dibêjin. Ev hemû di nava civakê de xwezaya xwe dibîne. Muzîk zimanê xwe anîna ziman ya civakê ye. Zarok, ciwan, jin, mêr û kal ev ji bo hemû ferdên jiyanê heman e. Bi taybet dema civaka me ya Êzidî bi lexistina mey miriyên xwe oxir dikin, mirov vê weke bê dawîbûna zindîbûnê jî dikare pênase bike. Ango beden biçe jî ruh û hest ango hucreyên heyî wê her jiyan bikin.
Di demên herî zahmet de muzîk ji bo civaka Kurd bûye nefesek. Ango qedera civakê daye guhertin. Em ji Evadalê Zeynikê bigrin heta Meryemxanan, rola van navdaran li ser pêşkeftina civakê geleke. Bi zimanê muzîkê tekoşîna hebûn û mayîne hatiye dayîn. Mînak rola radyoya Êrîvanê û radyoya Baxdatê di guhertin û parastina çanda Kurd de gelek e. Navên wek Gerapet, Egîdê Cimo, Fatma îsa, Eyşeşan Îsa Berwarî û hwd. gelek navdarên Kurd di dîroka muzîka Kurd de mînakin û di nav civakê de tekoşînek dane meşandin wek lêgervanên rastiyê meşiyane. Lewma Rêbertî wateya heqîqetê bi wateya muzîkê pênase dike û bere me dide, dengê dilê me. Di dengê zurna Kurdî de li heqîqeta gelekî digere. Lewma dema dengê def û zurna Kurdî li dilê gelê çiyayî dixe, erd û ezman di nav ahangek de digrin dîlanê. Wê demê ew dibe rastiya heqîqeta gelekê.
* Muzîk çi bi we dide hîskirin?
Di kêliyên herî bê deng de ez stranek dibêjim. Ew dibe dengê dilê min. Dema ku li hember dengê gemar dixwazim guhê xwe bigrim, stranek guhdarî dikim. Dema ku çavê min dixwazin ronahiyê bibînin cardin li awazan temaşe dikim, ew awazên ku tenê yek deng û rengek nahewîne hundirê xwe, hemî reng û dengan dihewîne nav xwe. Ez ruhê jiyanê bi muzîk dijîm û dixwazim wate li jiyanê bar bikim. Çiya, xweza azadî ango tekoşîn bi muzîk xweşe. Her kêlî, bi huner di kar mayînde bibe. Ji dîrokê re rastiya vê jiyanê bihêle. Ez dema Zarok bûm bi demjimêran li kûçeyan dimeşiyan û distiriyam carna digiriyam carna jî dikeniyam, ez li xwe digeriyam. Min nizanîbû ku di wan awazan de rastiyan de civaka min rastiya zarokatiya min de veşartiye û ez li li du wan awazên zarokatiya xwe bazdam. Vaye îro xweza çiya û gerîla wek orkestrayek hembêza xwe ji min re vekiriye û çavê zarokê welatê min dikenin.
* Di çand û hunera Kurdan de muzîk kengê û çawan destpê kiriye?
Belê, heta niha di derbarê dîroka muzîka Kurdî de lêkolînên pir berfireh nehatine kirin. Lê gelek belge hene ku dîrokek qedîm û dirêj ya muzîka Kurdî nîşanî me dide. Temenê muzîka Kurdî û civaka xwezayî bi hev re herikiye. Di dîrokê de jî gelê Kurd, geleke ku pêşengtiya civakan kiriye. Hem di warê muzîk de û hem jî giştî çandê de. Amûrên bi têl bi nefes û yên rîtîm despêkê li xaka Mezopotamya hatine dîtin û bi kar anîn. B.Z 280 de bi navê Avgar muzîkjenek Kurd jiyabû û li Mezopotamya avahiya zimanê muzîkê sîstematîze dike. B.Z 3/ 5 hezar sal li Rihayê ji kevirê kirêcê figûrek mirov ku bi wêneyê wek keman hatiye sembolize kirin tê dîtîn. Îbrahîm Mûsilî yekem li Baxdayê dibistana muzîk ya ola Îslamê vedike. Îskak Mûsilî kurê ÎbrahÎm Mûsiliye û pergala Avgar bi hêz dike û avahiya melodik pêş dixe û weke vê gelek mînak dikare were dayîn. Piştî 1300 sal êdî tenê muzîka gelerî li pêş talan û qirkirin dijwartir dibe.
Heman demê li Rojhilata Navîn û Mezopotamya gelek navên tên nasîn di koka xwe de Kurd in. MÎnak, salên 1224/1294'an de Safiyuddinê Urmiye-vî jiyaye, di ziman felsefe û teoriya muzîkê de pêşengtî ji Rojhilata Navîn re kiriye. Lê Ermenî, Ereb, Fars û Tirk dibên yê meye. Dîsa mamoste Abdulkadir Mergî salên 1353/1453'an de jiyaye û ilimdarek muzîka Kurdî ye. Her waha Muzîkjen Ziryab bixwe Kurde û amûra ku îro tê gotin gîtar ji rojhilat dibe Rojava û li Rojava de wek ilimdarek tê nasîn. Bê guman rola muzîka devkî jî ku em dibên dengbêjî gelek girîng e. Me got ji Evdalê Zeynîkê heta roja me ev her zindî maye. Bi taybet di dengbêjî de rola lorîkên dayikan gelek girînge.
* Di Têkoşîna Azadiya Gelê Kurd de muzîk cîhê xwe li kûderê digre? Têkiliya gerîla û muzîkê çawane?
Şehîdê yekem yê tevgera me Alî Doxan Yıldırım hevalek muzîkjen ango hunermend e, bi helbest û awaza xwe tevlî şoreşê dibe. Weke civaka xwezayî derketina tevgera azadiyê jî bi xwe re huner û muzîka Kurdî herikand, ango cardin zindî kir. Gelek komên NÇM, komên li Rojava yê Kurdistanê û HUNERKOM pêşengtî kirin. Ruhê şoreşê bi muzîka Kurdî û şoreşgerî can da û civak jî ber bi şoreşê ve herikî. Ji Mîzgînan, Sefkanan heta Zanîn, Devrîm û Delîlayan pirek bi hêz di nav civak, şoreş û muzîkê de hat avakirin. Lewra derketina tevgera azadiyê derketinek huneriye û bi awazên lehengan bû stran.
Her gerîlayek ji stranek bandorbûye û ketiye nav lêgerîna azadiyê. Lewra gerîla bixwe efsuniyek veşartiye ku di nav notayên hîn nehatine nivîsandin de. Min li gelek cihan aniye ser ziman, ew notaya azadiyê ye û wê strana wê jî gerîla diyar pêşerojê bike. Lewra gerîla di cengê de li dor agir li lutkeyê zinarekê, li ber avekê û li ser xaçireke kê dema dimeşe her bi stran e. Ew bê stran nikare dest bavêje qileşê, cudahiya gerîla ev e.
*Di nava civaka Kurd de hun asta muzîkê çawa dinirxînin?
Gelek berhemên hêja di warê muzîka Kurd de derketin, lê koka muzîka Kurdî ango çanda Kurdî ji vê wêdetire. Pêwîste ku bi çavek hunerî û çandî yên rexnekir jî em lê binêrin. Di warê teoriya muzîka Kurdî de mixabin gelek kêm hunermend hene ku serê xwe diêşinin û bi zimanek Kurdewarî, gelerî û akademîk xebatê muzîkê dimeşînîn. Dema li gor rastiya hêza çanda Kurd were nirxandin wê muzîka îro kêm û lewaz bimîne. Berhemên rojane li pêşin êdi stranek çêkirin gelek hêsan bûye. Rojane berhem dertên û wenda dibin mirov ji van re nikare bibêje muzîka Kurdî. Tenê çanda salonan, pêşî li resenî û hestên afirîner digre. Ez bi giştî ne li dijî vê me lê sînorên dîwaran gelek caran me ji civak dur dixe, lewma hunera kolanan gerek zêdetir were xurtkirin. Her waha xwe zêdetir spartina teknîk û wek org, tarzê arabesk, çanda playbek û amûran ne bi zindî bi kar anîn ruhê muzîka Kurdî dikûje. Şêweyek populer ango zedetir xwe spartina aborî nahêle ku berhemên mayînde derbikevin. Jiyana hunermen eyna berhemê wê ye lewma bi ku û têr tijî bijî bi armanc û wate bijî jî asta berhemên me diyar dike. Em gelek dewlemend in, lê berhemên me hîn jî gelek caran ne li gor vê dewlemendiyê ye. Lorîka dayikên me çavkaniya me ne. Gelek kesên navdar bi van lorîkan navdar bûne. Yê ku bi navê muzîka Kurdî berheman diafrîne berya her tiştê pêwîste ku rastiya xwe û dîroka xwe baş bizanibe. Êdî derfetên me hene lê afirandin kême. Ked li ber hunerê danîn kême. Yên ku dîrokê de cih girtine yek kêlî nesekinîne bê hempa di rêya huner û muzîkê de xebitîne. Weke ku jiyane afirandine. Di roja me de mixabin ev kêm e. Gelek nirxên ku bi şoreşê hatine avakirin hene lê mixabin hîn jî muzîka Kurdî van wek tê xwestin hembêz nekirye. Wek hijwar berhem gelekin lê wate kêm e. Ez asta heyî ji nedîtîve nayêm lê pêwîste yên vî karê dikin wek lêgervanên heqîqetê bi hemû hebûna xwe jiyan, huner û muzîk hembêz bikin.
*Di van serdeman de divê hunermend çawan tevbigerin û rista dikeve ser li ser milên wan çiye?
Em di serdemên dijwar de derbas dibin, şerek qirkirinê fîzîkî û çandî li ser gelê Kurd tê kirin. Ji bo rondikê dayikan lîstikên zarokan bi azadiyê were tackirin, divê di her alî de hunermend bixebitin û ji bo civakê pêşengtiyê bikin. Lê ji bo vê tekoşîna hunermendan gelek girîng e, zimanê huner pêşengtiya hunermenda dikare pêşeroja gelan diyar bike. Lewma çawa ku dengê Mizgînan di xeyalên me de lêgerîna heqîqetê avakir û îro xeyal dibin rastî, deng û hestê îro jî li ser vî şax dide. Hunermend ji divê bibe deng û wijdana gelan.
Bi vê boneyê herî dawî dixwazim kedkarê hunera Kurdî Huseyîn Çîftçî jî bi rêzdarî bibîr tînim ku beriya demekê bi nexweşiya penceşêrê jiyana xwe ji dest da û em ê li xeyalê van rêhevalên xwe jî xwedî derbikevin.