'Li dijî tecrîdê Pîvanên Nelson Mandela bi cih bînin'
Bi dehan kesayetên navdar ên Îngilîstanê ku parlamenter, sendîkavan, hiqûqnas, nivîskar, rojnamevan, akademîsyen û profesor jî di nav de ne, nameyek ji Sekreterê Giştî yê KE'yê re şandin û jê xwestin, li dijî tecrîdê 'Pîvanên Nelson Mandela' bixe meriyetê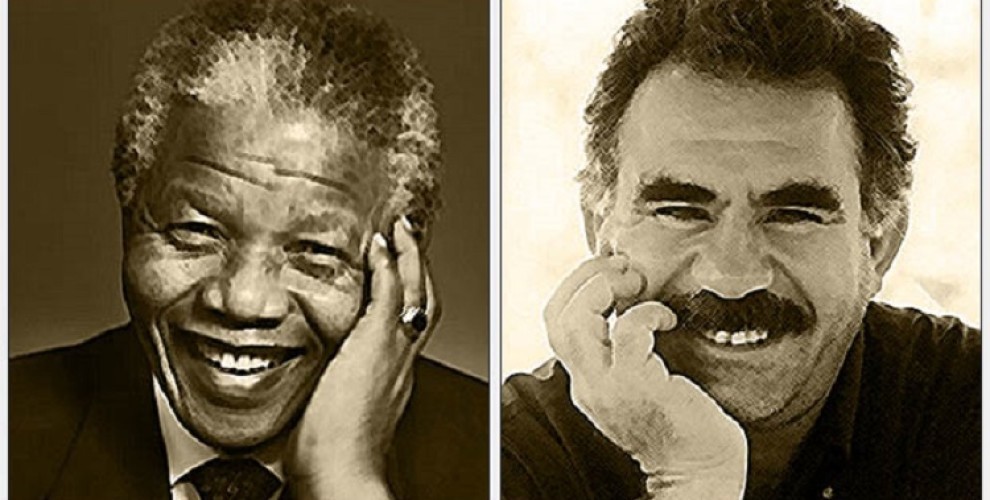 Di nameya vekirî de ku ji Sekreterê Giştî yê Konseya Ewropayê (KE) Thorbjorn Jagland re hate nivîsandin, bang lê hate kirin ku bi lezgînî li dijî tecrîdê bikevin nava liv û tevgerê û zextê li Tirkiyeyê bikin.
'PÎVANÊN NELSON MANDELA TECRÎDÊ QEDEXE DIKE'
Di nameyê de hate gotin, ne ya qebûlkirinê ye ku Konseya Ewropayê kiryarên li girtiyên li girtîgehên Tirkiyeyê tên kirin mehkûm neke û hişyarî hate dayin ku helwesta Konseya Ewropayê zerarê dide nirxên Peymana Mafên Mirovan a Ewropayê (PMME). Di nameyê de hate bibîrxistin, pîvanên li ser nêzîkatiya li girtiyan sala 1957'an ji aliyê Neteweyên Yekbûyî (NY) ve hatine qebûlkirin û hate xwestin, pîvanên Neteweyên Yekbûyî yên weke 'Pîvanên Nelson Mandela' jî tên naskirin, bi cih werin anîn.
Di nameyê de hate gotin, li gorî Pîvanên Nelson Mandela mehkûmên li girtîgehan di rewşeke îstîsnaî de dikare bê tecrîdkirin û kesek herî zêde 15 rojan û rojê herî zêde 22 saetan dikare ji mirovên din bê dûrxistin.
MAFÊN GIRTIYAN HATIN BIBÎRXISTIN
Di nameyê de li ser mafên girtiyan jî ev yek hate bibîrxistin: "Tevî gelek mafên din, pêwîste şert û merc û defret ji girtiyan re bên dayin ku bi wexteke têr û li cihekî veşartî karibin parêzerên xwe bibînin. Di çarçoveya standartên navneteweyî de divê karibin ji alîkariya hiqûqî ya xurt sûdê werbigirin. Tevî mafê hevdîtinê, her wiha mafê mehkûman e ku bi rêya telefon û nameyan karibin pêwendiyê bi malbat û hevalên xwe re deyne. Mafê mehkûman e ku li ser şert û mercên girtinê, transfer, birîndarî ya jî nexweşiyên cidî agahiyê bidin hevalên xwe yan jî malbatên xwe."
OCALAN BI RENGEKÎ GIRAN HATIYE TECRÎDKIRIN
Di nameyê de hate bibîrxistin, Rêberê Gelê Kurd Abdullah Ocalan ji sala 1999'an û vir ve li Girtîgeha Îmraliyê tê hiştin û hate gotin, "Di nava 20 salan de bi demên dûr û dirêj hate tecrîdkirin. Di 3,5 salên dawî de destûr nehatiye dayin ku ne doktorek, ne jî parêzerên wî serdana wî bikin."
Di nameyê de hate gotin, "Di meseleya Abdullah Ocalan û girtiyên din ên siyasî de, eşkere ye ku Tirkiye Pîvanên Nelson Mandela binpê dike" û hate ragihandin, yek ji mehkûmên din ku bû hedefa heman pêkanînê, parlamenter Leyla Guven e ku ji ber li ber dagirkeriya Tirkiyeyê ya li Efrînê derket hate girtin. Di nameyê de hate bibîrxistin, Guven li dijî polîtîkaya tecrîdê ya li ser Ocalan û girtiyên din ên li Tirkiyeyê ji 7'ê Mijdarê ve di greva birçîbûnê de ye û tevî mehkûmên siyasî zêdeyî 300 kes ji bo piştgiriyê bidin Leyla Guven ketine greva birçîbûnê.
'BI MILYONAN KES XWEDÎ LI DAXWAZA GUVEN DERDIKEVIN'
Di nameyê de agahî hate dayin ku Guven piştî derketina ji girtîgehê diyar kir ku heta tecrîdkirina Ocalan neqede wê çalakiya xwe neqedîne û hate gotin, "Li dinyayê bi milyonan mirov hene ku daxwazên Leyla Guven dipejirînin û heyranî cesareta wê ye ku xwedî li pîvanên hiqûqê derdikeve. Em hêvîdar in hûn ê jî bi vî rengî tevbigerin."
'DIVÊ BI LEZGÎNÎ GAV WERE AVÊTIN'
Bi navê kesayetên mohra xwe danîn binê nameyê, bang li Sekreterê Giştî yê Konseya Ewropayê hate kirin ku ji bo Tirkiye li gorî Pîvanên Nelson Mandela tevibgere, dawî li tecrîdkirina Rêberê Gelê Kurd Ocalan û girtiyên siyasî bê anîn, mafên bingehîn ên mîna hevdîtina bi parêzeran û malbatê re ben naskirin, bi lezgînî gav were avêtin.
Gelek parlamenter, sendîkavan, hiqûqnas, nivîskar, rojnamevan, akademîsyen û profesoran mohra xwe danîn binê nameyê. Yên ku îmze kirine wiha ne:
Mike Mansfield QC; Dr Radha D'Souza, Reader in Law, Westminster University; Geoffrey D. Shears, trade union lawyer; Vice-Chair of Centre for Labour and Trade Union Studies;Professor Bill Bowring, School of Law, Birkbeck College, University of London; Paul Scholey, Morrish Solicitors LLP; Rajiv Menon QC, barrister; Stephen Knight, barrister; Thomas Schmidt, Secretary General, ELDH and EJDM; Margret Owen OBE, human rights lawyer; Maxine Peake, Actor; Julie Ward MEP; Martina Anderson MEP; Jean Lambert MEP; Professor Kariane Westrheim, Chair, EU Turkey Civic Commission (EUTCC); Dr Thomas Jeffrey Miley, Lecturer of Political Sociology, Cambridge University; Dr Derek Wall, Goldsmith, University of London; Doug Nicholls, General Secretary, General Federation of Trade Unions (GFTU); Manuel Cortes, General Secretary, TSSA; Tony Burke, Assistant General Secretary of UNITE; Christine Blower, Ex-President of National Union of Teachers (NUT); Simon Dubbins, International Director UNITE; Clare Baker, International Officer UNITE; Stephen Smellie, Deputy Convenor, UNISON Scotland; Steve Sweeney, International Editor, Morning Star; Les Levidow, Campaign Against Criminalising Communities (CAMPACC); Saleh Mamon, CAMPACC; Alastair Lyon, solicitor; Robert Atkins, lawyer; Thomas Phillips, University of Liverpool; Tony Simpson, Bertrand Russell Peace Foundation; Eric Allison, journalist; Dr Felix Padel, author, researcher; James Kelman, writer; Nick Hildyard, policy analyst; John Hunt, journalist; Jonathan Bloch, writer; Rahila Gupta, journalist and writer; Greta Sykes, writer; Dr. Federico Venturini, independent activist-researcher; Mary Davis, Visiting Professor Royal Holloway University London; Bruce Kent, peace campaigner; Maggie Bowden, General Secretary, Liberation; Isabel Kaeser, PhD student SOAS University; Sarah Parker, writer; Dr Sarah Glynn, architect, artist; Trevor Rayne, journalist; Hagir Ahmed, human rights campaigner; David Morgan, journalist; Khatchatur Pilikian, writer; Yashar Ismailoglu, poet; Paul Maskey, MP for West Belfast; Francie Molloy, MP for Mid Ulster; Michelle Gildernew, MP for Fermanagh South Tyrone; Mickey Brady, MP for Newry & Armagh; Elisha McCallion, MPfor Foyle; Chris Hazzard, MP for South Down; Órfhliath Begley, MP for West Tyrone; Chris Stephens MP; Jill Evans MEP; Hywel Williams MP; Ben Lake MP; Dafydd Iwan, Former President Plaid Cymru; Stephen Gethins MP; Tommy Sheppard MP; Chris Stephens MP; Melanie Gingell, Peace in Kurdistan; Estella Schmid, Peace in Kurdistan.