Gotara Rêberê Gelê Kurd Abdullah Ocalan di kovara Jacobin de hate weşandin
Gotara Rêberê Gelê Kurd Abdullah Ocalan di kovara Jacobin a li Emerîkayê weşan dike de, hate parvekirin.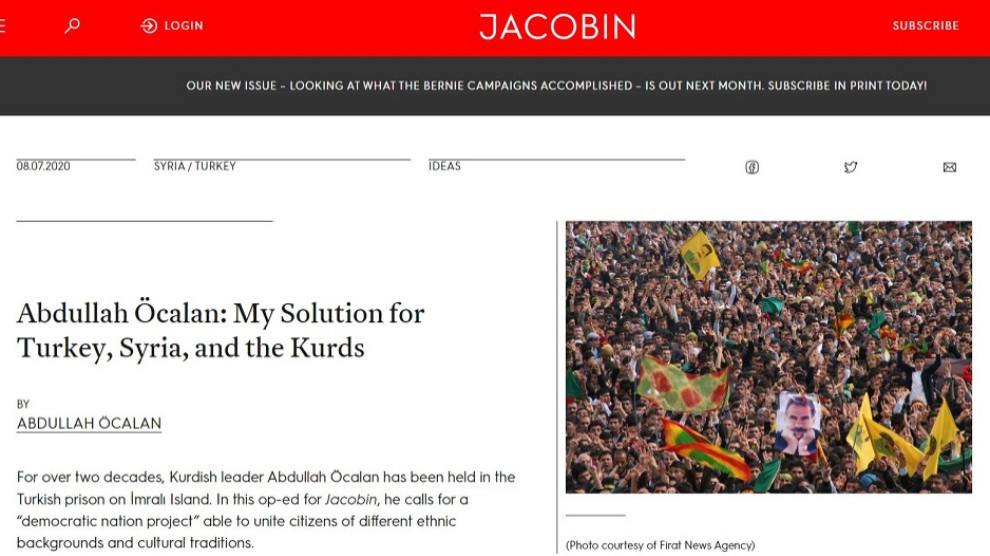 Gorata ji parêzname û daxuyaniyên Rêberê Gelê Kurd Abdullah Ocalan hatiye berhevkirin, bi zimanê Îngilîzî û Elmanî di kovara Jacobin de hate parvekirin.
Di kovarê de ji bo Ocalan ev tê gotin; 'Damezrênerê Partiya Karkerên Kurdistan (PKK) ye. Yek ji nûnerên siyasî herî li pêş ê Kurdan e û statejîstê herî li pêş e' û bi domadarî ev hate gotin: "Sala 1998'an ji Kenyayê hatiye revandin, piştre jî pêvajoya darezandin û cezayê darvekirinê, ev yek piştre veguherî cezayê muebetê ku derfetê berdana bi şert ne mimkûn, her wiha piştre jî li Girva Îmraliyê di nava îzalasyona mutlaq de tê ragirtin. 11 salan bi tena serê xwe li giravê girtî bû."
'OCALAN KLÎDA ÇARESERIYÊ YE'
Kovarê bal kişand ser nivîsên berfireh ên Rêberê Gelê Kurd Abdullah Ocalan ên li ser dîrok, felsefê û polîtîkayê û got: "Di warê çareseriya polîtîk a pirsa Kurd de, wek kesê kilîd tê dînin. Ji ber ku gelek salin têkiliya wî ji cîhana derve re hatiye qûtkirin û ji ber ku rê nayê dayîn parêzer û kes serdanê bikin ev nivîs ji parêzname daxuyaniyên wî yên demê nêz hatine berhevkirin."
Di nava pirtûkên Ocalan ên demê dawî de derketî 'Sosyolojiya Azadiyê (2020) û Hizrên Siyasî yên Abdullah Ocalan (2017) 'The Sociology of Freedom (2020) and The Political Thought of Abdullah Öcalan (2017)' jî hene.
Gotara Rêberê Gelê Kurd Abdullah Ocalan a hatiye kurtkirin a bi ser navê; 'Ji bo Tirkiye, Sûriye û Kurdan çareseriya min Netewa Demokratîk e' di Kovara Jacobin de hate parvekirin wiha ye:
"Mirov dikare binirxîne ku modernîteya kapitalîst di nava tengezariyeke bingehîn de ye, bi rastî jî ev tengezariya herî mezin a bi mirin a di nava vê sîstema şaristaniyê de ku bi lez dibe ye. Li dijî qiyameteke ku bi şêweyê xelekê ye, em dibînin ku reaksiyonên şikestinê dixuyê. Bi giştî 5 hezar sal û bi taybetî jî texrîbatên 2 hezar salên dawî, ji xelekên gerdûnê yên bi milyonan sal, jêvekirina bi hezaran di demekî rekorê de pêk aniye. Nayê zanîn bê ka wê çawa bê sekinandin. Encamên hilweşîner ên di cîhana nebat û lawiran de pêk hatîn, belkî tam di wateya xwe de derneketiye holê. Lê di her du cîhanan de jî mîna atmosferê îşareta S.O.S vekirî hebû.
Mirovahî wê heta kengê modernîteya ku hemû derdor û civakê dihelîne bikişîne? Wê çawa êş û jana rê li ber ewqas şer, bêkarî, birsîtî, hejarî vekirî bidin sekinandin?
Îdîaya avakirina desthilata netew-dewlet a avakirina civakê, şaştiya herî mezin ava dike. Civak ne tenê bi vê, bi şikestinê re rû bi rû ye. Her ku diçe civak bi temamî netew-dewlet milîtarîze dike, wekû xisiye di nava rewşekî şer de. Ev rewşa şer a disepîne ku min navê 'qirkirincivak' lê kirî, bi du baskan tê kirin. A yekem; amûrên desthilat û dewletê ku bi çavdêriya civak, kontrolkirin û zextê. Ya duyemîn jî, di nava 50 salên dawî de teknolojiya yekbûyî a pêş ketî (Yekdestiya medyayê) civaka rast cihê xwe ji civaka dijîtal re hiştiye. Nîjatperest, olperest, zayendperest, zanayan û hûner (spor, dîzî û hwd.) li pêşberî medyaya ku bi topên xwe bîstû çar saetan li civakê dide, civak wê çawa bê parastin?
Mînîmalîstên li Rojhilata Navîn pir vekîr da nîşandan ku netew-dewletî bûye amûra zordariya modernîteya kapitalîst, sererastkirina netew-dewletê ya sed salên dawî nebûye rizgariyê modernîteya kapitalîst. Li Ewropayê Peymana Versaîlles a weke 'Aştiya Dawî li Aştiyê Anî' a rol lîstî, ji bo Ewropayê çibe, ji bo Rojhilata Navîn jî Peymana Sykes-Pîcot ew e. Hinek deman walîtiyên li herêmê yên Împaratoriya Romayê dihate çi wateyê , di roja me de jî netew-dewlet jî heman wateyê li xwe digire ye. Hê zêdetir bi hevkar e û ji kevneşopiyên çandî yên herêmê dûr e. Mîna organîzasyonên li hundir li dijî gelê xwe û ji derve jî li dijî hev di rewşekî şer de ne. Tesfiyekirina civakî ya kevneşop, tê wateya şerê li dijî gelan. Nexşeyên ku bi rastkêşê hatin çêkirin, tê wateya banga şer a di nava dewletên hatine çêkirin de ye. Ev ketine rewşeke welê ku nikarin tengezariya xwe ya kûr bûye bidomîne, hebûna wan her ku diçe tengezariya wan kûrtir dike.
DI NETEW DEWLETIYÊ DE ISRAR JIBILÎ KARESATÊ TI TIŞTÊ DIN NAHILBIRÎN E
Di roja me de jî Sêyemîn Şerê Cîhanê tê jiyîn nayê înkarkirin, bi giranî navenda wê erdnigariya Rojhilata Navîn û nîvenga çanda wê ye. Ev şer, di hêla berfirehî û wext de, ji her du yê destpêkê kûrtir û dirêjtir e. Di heremê de ne potansiyela xwe nûkirina pergalê heye ne jî ava dibe. Tiştê pêş dikeve, rizandin û belavbûn e. Di serî de li welatên sereke yên wekî Iraq, Sûriye, Afganîstan, Libnan, Pakîstan, Tirkiye, Yemen, Somalî, Misir, Libya û hwd bîlançoya rûdawên pêk tên, ji nimêj ve ji bîlançoya her du şer ên cîhanê bi her awayî ve derbas kiriye, ji bo rastiya vê şerî were fêmkirin ev têr dike. 
Ev şer, encax bi avabûna hevsengiyek nû ya heremî an jî kurewî bi dawî bibe. Di roja me de modernîteya kapîtalîst ji aliyekê ve jî çarenûsa 'Sêyemîn Şerê Cîhanê' jî dê bi pêşketinên li Kurdistanê ve diyar bibe.  
Di şênberiya Rojhilata Navîn de pêşketinên di Iraq û Sûriyê de vê rewşî bi awayek zelal radixe holê. Di hebûna netew-dewlet a ku di dîroka Rojhilata Navîn de wek jirêderketinek e israrkirin, jibilî karesatê (felaketê) ti tiştekê din nahilberîn e. Dewlet-netew a Tirk jî bi qirkirina Kurd a dawî re, wisa zan dike ku wek netew-dewletek 'bi welat û gelê xwe re bûye yekpare' bi ebed (ebediyen) bimîn e. Vekirî li holê ye ku ji bo paşerojek nêz netew-dewletiya Tirk paradîgmaya xwe negûherîne, di serî de gelên Tirk û Kurd ji bo gelên heremê û çandên civakî tenê wê rola kolandina goran û çêkirina qebrîstana gelan bilîz e. Rewşa paşeroja Îranê jî ji bo wê û heremê nediyarbûyîna xwe diparêz e. 
Rewşa Kurdan a di Rojhilata Navîn de netew-dewletbûnê perçe kiriye, di her perçeyê de qirkirin û pişavtin (asimilasyon) li ser tê ferzkirin jî, tam karesatek e. Kurd di rewşekî ku demek dirêj adeta mahkûmê êş kişandinê ve hatiye hiştin. 
JI NAV PENCÊ QIRKIRINÊ DERKETIN BI PROJEYA NETEWA DEMOKRATÎK MIMKÛN E
Kurdan şert û mercên derketina ji pencên qirkirinê çêbûye û bi gelên din re derketin bi projeya netewa demokratîk re mimkûne baş dîtin e û gav bi gav rêveberiya xwe pêş xistin e. 
Bakur û Rojhilat a Sûriyê, Rojava ku wek giravekê azadiyê bilind dibe hem ji gelên heremê re hem jî ji dewletên netew ên çareseriyê bixwazin re rêbazek daniye holê. Modela Netewa Demokratîk, ne înkara dewletên-netew ji wan re pêşniyara bi çareseriya destûra bingehîn a demokratîk pêşkeş dike. Li dijî hilweşîn û şerê di Rojhilata Navîn de kûr dibe modela ku divê were înşakirin, çareseriya destûra bingehîn a demokratîk ku hebûn û xweseriya bi netew-dewletê re netewa demokratîk esas digire ye. 
Çand û hebûnên kêman, olî û mezhebî yên ku di heremê de mîrateyekê dewlemend e encax bi zihniyeta Netewa demokratîk di nava aşitî, wekhevî, azadî û demokrasiyê de ligel hev bigire. Her çand ku ji aliyekê ve xwe wekî komek netewa demokratîk ava dike, li aliyê din jî bi çandên din ên di nava hev de dijîn re di asta bilind de di nava yekbûyîna netewa demokratîk de dikarin bijîn. Piştî feraseta netewa tekbûnê derbas kir êdî pêdivî bi hev helandinê namîn e. Di cihê wê de di halê yekpareyiya çandî de wek çewa ji dîrokê ve heya niha dijiyan wê bijîn. Ev tenê aştiyekê mayinde pêk nayine, di heman demî de ev tê wateya ji bêkariyê xilas bibin, bi hevrebûna endûstriya ekolojîk û aboriya komînal de bi hilberîna aborî û çandî re Ronesansê jî bijîn. 
Vaye Yekîtiya Netewiya Demokratîk a ku wê netew di nava xwe de bi pergala destûra bingehîn a demokratîk re ava bikin, bêguman wê pêşketinek mezin çêbike. Çewa ku ez her tim dibêjim Kurd, wekî rola di berbanga şaristaniyê de leyistibûn ev car jî dê li ser esasê Şaristaniya Demokratîk de bilîz in. Kurd çareseriya Netewa Demokratîk, ji bo vê her cûre hêzî (entelektuelî û hêza fizikî) bi zêdebarî pêşkeş dike. Di encamê de Kurdan bi motîvasyona exlaqî ya netewbûyîna demokratîk re DAÎŞ'ê ku encama tekbûna olî ye li ser navê mirovahiyê bi vê awayî têk bir. Dîsa bi Paradîgmaya Azadiya Jinê re jî di hemû cîhanê de hatiye halê modela rol. 
Îro pêşketinên di hêla Bakur û Rojhilata Sûriyê hatî jiyîn di qonaxeke girîng de ye. Rêveberiya Bakûrê Sûriyê û demokrasiya heremî ku nûnertiya Ereb, Kurd, Ermenî, Suryanî û hwd îfade dike bi mîsogeriya destûra bingehîn naskirin hem li hêla Sûriyê hem jî di hêla Rojhilata Navîn de wê pêşketinek pir girîng bibe. Piştî Destûra bingehîn a Demokratîk a Sûriye bi bangewaziyekî me ya ji Ewropa ji Tirkiye û ji her derî re paşde zivirandin wê mimkûn be. 
Bi Tirkiyê re nêzî sed sale şerê Kurd û Tirk berdewam dike de di sala 2019'an de ku me rewşa  û nêrîna xwe ya deklarasyona ji heft madeyê pêk dihat danîbû holê bi awayek pir zelal radixe ber çavan. Ji sala 1993'an ve ku me hewil dida mijara pirsgirêka Kurd bi rêbazên çareseriya demokratîk pêk bînin bangewaziya me ji her demî zêdetir bi awayek xûrtir çawaniyek xûrtir çêdik e. 
Di hêla me de ku me di 2013'an de dest bi pêvajoya diyalogê kir ku me di Peymanameya Newrozê de Sekina Îmralî diyar kir di biryariyek kûrtir û zelaltir bû ye. Ji lihevkirina Civakî û ji her cûre qutibûyînê û çanda pêvçûnê dûr bi rêbaza muzakereya demokratîk re pêdivî heye. Îro hemû pirsgirêk ne bi amûrên tûndiyê yên fizikî bi hêza nerm re dikarin çareser bikin. Heke şert û merc werin avakirin ez dikarim di nava hefteyekê de hêza çareseriyê ku îhtîmala rewşa pêvçûnê ji holê radike biafirîn im. Dewleta Tirkiye jî di vê demî de tam di devê riyekê de ye. An wê wekî dewletên netew ên din ên di heremê de heya bi dahûrîne dê riya xwe bidomîn e yan jî wê were çareseriyekê demokratîk a aştiyane û bi watedar. Ev tercîh wê bandorê ser qedera gelan û erdnigariyê bike. 
Her tişt çiqas wekî têkoşîna beranberî hev a aliyan, wê ewqas jî serkeftina Kurdan a ku wê bi rêya siyasetek aştiyane û demokratîk bimeşînin diyar bike û di encamê de jî dê azadî qezanc bike."